LinkedIn is the top professional networking platform online. Companies now go to LinkedIn to look for potential candidates to join their teams. Recruiters scout for potential candidates by looking at their work experience and interests. In this article, we are looking at adding interest on LinkedIn, which is a powerful platform to make professional connections. 
Unlike Facebook, Instagram, and TikTok, which are predominantly popular among youngsters, LinkedIn is designed for professionals of all ages.
Here is a fun fact, did you know the most significant tech acquisition was made by Microsoft when they spent over $26 Billion to acquire LinkedIn.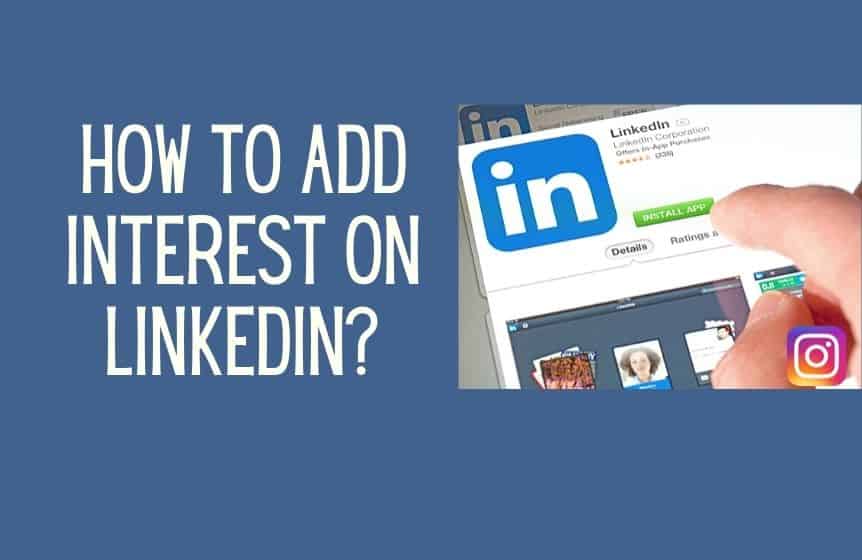 What is interest in LinkedIn?
How can you stand out on LinkedIn? Given that LinkedIn is now used heavily for recruiting fresh talent, every LinkedIn member must make their profile attractive.
LinkedIn users can add their educational qualifications, past job experience, work experience, independent projects, and other qualifications to help them stand out.
You can also list the exact job titles (software developer, graphics designer) you were appointed for previously and upload an online resume.
But there are other things too that users can add to their LinkedIn profile, such as interests.
But what is the Interest feature on LinkedIn? Interests consist of companies, LinkedIn influencers, industry leaders, and others you follow on the social media platform.
When you add a company to your Interest list, it can signify that you might be interested in working with them in the future. On the other hand, you can also add your past employers as your LinkedIn interest. 
Contrary to popular belief, the LinkedIn Interest section greatly influences how people assess you based on your LinkedIn profile.
Later in this blog, we will show you how to add interests to your LinkedIn profile. While adding interest, make sure you have a strategy.
If you add interests on a whim, it might decrease the attractiveness of your LinkedIn profile.
Why is it important to add interest on LinkedIn?
It is important to add interest on LinkedIn because it helps you personalize your profile.
Often, depending on your interests on LinkedIn, recruiters might feel interested in inviting you to a face-to-face interview.
Also, the LinkedIn interest section helps you display the specific industries you aspire to work for. This will help aspiring graduates to get a job in the sector of their preference.
When LinkedIn first started, it was meant to connect businesses with other relevant companies. But with time, the platform has slowly gravitated towards helping individuals land their dream job.
Another advantage of having a LinkedIn interest section is that it helps users connect with like-minded people.
Suppose you aspire to work for Google, and one day while browsing through LinkedIn, you come across a senior executive who had previously worked for Google.
Also, depending on your privacy settings (public profile or private profile), anyone can see the Interest section on your LinkedIn profile. This includes your followers, your professional connections, and other LinkedIn users. 
Anyone who lands on your LinkedIn profile from a generic Google search can also see the LinkedIn interest section on your profile.
If you are a content creator, the LinkedIn interest section is a treasure trove for you. By looking at the interest section of an individual, you can decide on which type of content they might be interested in.
For example, someone interested in Gmail might also be interested in knowing the top alternatives to Gmail or the top tips for getting the best out of Gmail. You get the idea, don't you?
Let us see how to add interest on LinkedIn.
How to add interest on LinkedIn?
Now that we have a clear idea about the LinkedIn interest section let us add interest to LinkedIn.
Visit the official website of LinkedIn, and log into your LinkedIn account.
Now place your mouse on the top search bar.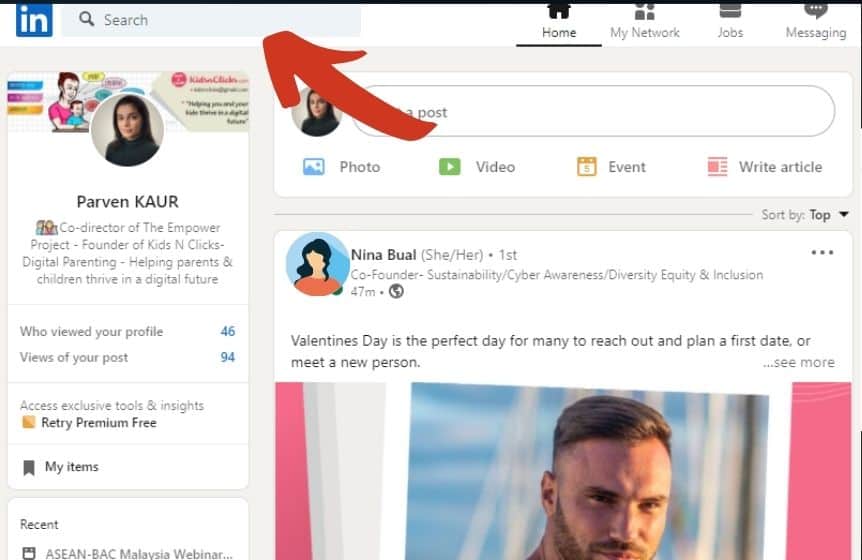 Now type in the name of a company or public figure you are interested in. 
If you are looking for a person, try typing in that person's full name. 
It can be any politician, global leader, business tycoon, or Fortune 500 company.
From the search results page, when you see the verified page of the company that you want to add to your interest section, visit their LinkedIn page. 
Right below the cover photo (top of your profile), you will see a blue "Follow" button. 
Click on it.
Now that particular company will be displayed on your LinkedIn interest area.
There is another way to add interest on LinkedIn. Follow the simple steps to learn how. 
Visit LinkedIn, and log into your account with your credentials. 
Go to your profile, and select the "Add Profile Section" option.
Scroll down until you see Add interest
Use your keyboard to type in the names of companies you want to add to your LinkedIn interest section from the next window. 
It is as easy as that. It is the easiest way to add career interests in bulk.
To save time, it is advised that you first prepare a list of companies, ventures, and public figures that you want to include in your LinkedIn interest area.
When you have the list ready, you can add them to your LinkedIn profile one by one.
Also, try not to add random companies to your LinkedIn interest section. If you add a company to the interest section that you aren't indeed a fan of, it might mislead your potential recruiters or potential employers.
Also, try to update the LinkedIn interest section every month. This practice will send out a message that you keep yourself up-to-date with the recent industry trends and all the buzz.
How to change interest on LinkedIn?
As we mentioned earlier, updating the existing LinkedIn interests section every month is a good practice.
It helps you add companies that have just recently made it big and generated mass buzz.
When updating the LinkedIn interest section, it is advised that you remove the topics that have grown irrelevant to your industry.
This might seem like a lot of work, but in reality, it isn't. Updating your LinkedIn interest section will only take a few seconds.
When it comes to adding new topics to the interest list, the process is the same. You already know how to add interest on LinkedIn.
To add a new topic to your interest list, click the Following button next to an interest to follow it.
The process is the same on desktop, iOS, & Android devices.
When you keep the LinkedIn interest section updated, you will get notified about new job opportunities and new blog posts shared on the same topic.
This means when you have your LinkedIn interest section updated, the posts that will make it to your LinkedIn feed will be curated according to that list.
If you show great interest in tech, you will only see blog posts and other relevant content to that particular topic.
In other words, you can say the LinkedIn interest section is essential for keeping your LinkedIn feed meaningful and rich.
And lastly, when you do a job search, only those job opportunities/ job openings relevant to your professional interests will make their way into the search results.
Why can't I add interest on LinkedIn?
In the above part, we have looked at two different methods for adding interests to the interests section of your LinkedIn profile. If neither of them works, check your Wi-Fi connection.
Often, when the internet connection is unstable, you might not successfully add interest to your LinkedIn profile.
Reload the page if you still face difficulties.
LinkedIn interest examples
As we have discussed earlier, the LinkedIn interest section helps individuals display the companies' names and public figures inspired by.
Just like potential recruiters/prospective employers can check the LinkedIn interest section, you can also check the interest section of potential employers.
To check the interest section, visit the LinkedIn profile page, and scroll down until you see the Interests section. You will see all the companies, topics, and people that person follows on LinkedIn.
If the interest list is often too big, you might have to hit the "See All" section at the bottom of your profile page. It will reveal all the relevant interests of that person. 
While going through the Interest section of that person, you can quickly add companies that you feel interested in but haven't added to your own LinkedIn interest list.
Click the blue "+Follow" button beside the LinkedIn profiles you want to follow. If you are already following a profile, you will see the word "Following" written in grey color.
Along with LinkedIn interest, you should also join relevant LinkedIn groups. Also, always add all the relevant skills that you might have.
If you need any professional help regarding adding interest on LinkedIn, you can always reach out to LinkedIn's customer support. 
Before you go, don't forget to check out how to get more followers on Social media