As one of the world's most prominent social media platforms today, the TikTok app is used very widely on many mobile devices. Ever since the TikTok live feature was launched, the app has received even more of a boost rather than relying solely on short-form videos from users. But have you ever asked yourself, "why did I get banned on TikTok live?" If so, this article is for you.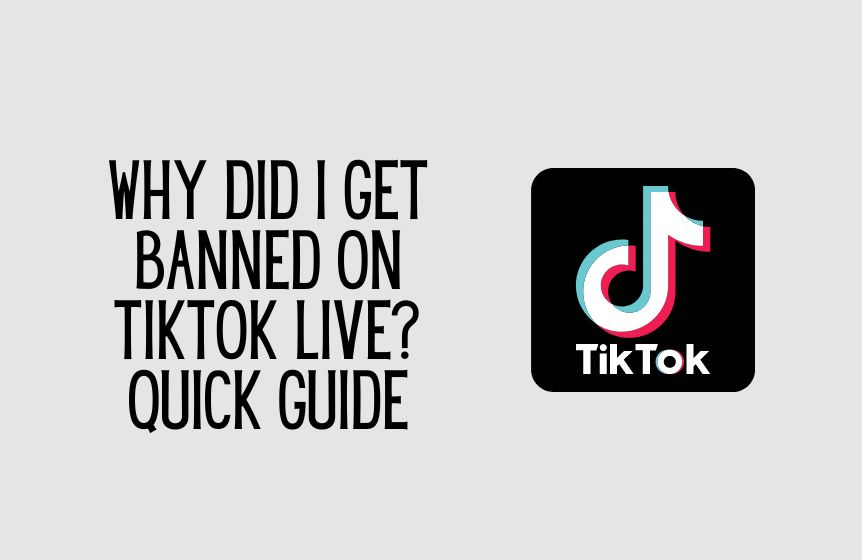 Why did I get banned on TikTok live?
TikTok has been receiving a lot of scrutiny from both the Chinese and the United States governments. As such, they take their community guidelines very, very seriously. If you are found to violate the TikTok community guidelines while you are live, your TikTok account will be banned instantly.
Even though it may seem like your account has been banned for no apparent reason, some of the reasons it could have been banned include the following:
Promoting violence
Violating child rights
Promoting illegal content and illegal activities
Self-harm
Harassment
Sexual content, nudity, and other graphic content
Hate Speech
TikTok's community guidelines ensure the safety of both content creators and TikTok users. Promoting such content that violates it will result in either a permanent or temporary ban. 
How to get unbanned from TikTok live?
If you want to get unbanned from TikTok live, it will depend on the type of ban. If you have been temporarily banned, TikTok will inform you how long this ban will last. With that information in hand, you can wait for the account to be unbanned.
Otherwise, if you can't wait or have been handled a permanent ban, you probably need to appeal to TikTok support. In that case, there are three main methods you could use:
E-mail TikTok Support:
The app has two official email addresses you can use to reach them
They are "legal@tiktok.com" and info@tiktok.comYou can email one of these accounts or both
Make sure you write a short email stating your complaint
They should get back to you in time.
If the appeal is successful, your account ban will be lifted.
Fill in the form
You can appeal a TikTok ban by filling out a feedback form
First off, visit the URL: https://www.tiktok.com/legal/report/feedback
Once there, fill in the relevant information like your email address, TikTok username, and so on.
Once that is done, detail the nature of the problem facing you, which, in this case, is an account ban.
You can also include any attachments to support your argument.
When satisfied with the form, click send.
Within a few days, TikTok support will reach back to you.
Report a problem on the TikTok app:
Rather than visiting any external website, you can report a problem directly through the TikTok app.
The first step is to open the TikTok app.
Then, open up your TikTok profile.
Once there, tap on the three dots to open up your profile settings.
Scroll down and select the "report a problem" panel.
Scroll down and tap "Live/Payment/Reports"
Select "Hosting Live"
Then, tap on "Live is suspended"
From the options given, tap on "No" and then tap on "Still have a problem"
From there, you will be able to detail your problem.
Click on "report" and TikTok support will receive the complaint.
TikTok banned my account for no reason. What can I do?
TikTok tends to take its community guidelines very seriously. This is to avoid scrutiny from powerful bodies like The Washington Post, The U.S. Government, The Chinese Communist Party, President Biden, The White House, various other government officials, and even Former President Donald Trump.
Most of these state agencies have national security concerns about TikTok. But because TikTok enforces its community guidelines so strictly, sometimes innocent users are caught in the crossfire and accidentally get handed shadow bans and permanent TikTok bans.
If you find yourself in this category, you can get in touch with TikTok support and send an appeal. The processes by which you can do this have been detailed above.
If this has happened to you, the most important thing is not to panic. This happens regularly to other users, both big and small, and insofar as you did not violate any community guidelines, TikTok will be happy to give you your account back.
There's a lot that TikTok can do to make its moderation more seamless. But until then, users just have to get comfortable with the appeal process.   
Related: How to join someone's account on TikTok?
What are the different types of bans on TikTok?
There are three different types of bans on TikTok:
Temporary Ban: If you violate the TikTok community guidelines but it's only your first violation, TikTok might only ban your account for a few days. This is meant to be a warning. After this, further multiple violations can result in a…
Permanent Ban: A permanent ban does not last for only a few days. Rather, it lasts forever. If you have been hit with one of these, then your only recourse is to start a new TikTok account. No matter how many follows you have on your old TikTok account, they are gone forever.
Shadow Ban: Finally, this is a type of ban that you won't find any allusions to on any of TikTok's official pages. Yet, most users have noticed that it exists. It is a type of ban in which you are not restricted from posting or going live, yet TikTok hides your content from your followers and most other users. This is a very frustrating ban, especially for people whose livelihoods depend on TikTok. If it happens to you, you have to ride it out.
FAQ:
How long is a permanent ban on TikTok?
As the name suggests, a standard TikTok permanent ban is permanent. If you get hit with one of these, you can kiss that account goodbye. In that case, your only option is to start a whole new account. It might be frustrating to build up a following again and find all the accounts you used to follow. But the earlier you start, the sooner your new account will feel like the old one.
There's another permanent ban, though, known as an underage ban. This is for users who join TikTok or go live when they are too young. If this happens to you and you don't age up within 113 days, TikTok will delete your account permanently.
How many violations is allowed until you get banned on TikTok?
The short answer is that it depends on the severity of the violations. However, the soft cap is between 4 to 5 community guidelines violations.
Obviously, in TikTok's community guidelines, some of the offenses are worse than others. For the less serious ones, violations will earn you warnings from TikTok support or even a shadow ban.
But if you commit a very serious violation, your account may be banned permanently on the spot.
With this in mind, know that you have between 4 to 5 community guidelines violations before your TikTok account is banned. This number does not reset, so make sure you are very careful.
How to avoid being permanently banned from TikTok live?
If you want to avoid getting permanently banned from TikTok live, then all you have to do is obey the community guidelines. If you are unfamiliar with what these guidelines are, make sure to look them up online.
The number one rule you must avoid breaking is the age rule. TikTok live is only available to users above 16 years of age. This is to protect children and underaged individuals. Before you go live, make sure you meet this requirement. Otherwise, do it under the supervision of someone who does.
The other community guidelines are a no-brainer. They have also been detailed above in the article. Avoid sexual content and nudity, avoid hate speech, do not promote violence, do not harass other users, do not violate child rights, and do not self-harm or encourage self-harm. If you steer clear of these issues, you should avoid any permanent bans.
How long does it take to get unbanned from TikTok live?
If you commit any offenses and happen to get banned from TikTok live, then you will have to submit an appeal to TikTok.
Being a big company with many users, sometimes TikTok receives so many users appeals that it becomes difficult to address them all instantly. In that case, it takes a while for them to respond to their users. Now, if you are wondering how long the appeal should take, the answer is within 5 working days.
To maximize the chance of getting a quick response, you could use all the various contact channels to see what gets you an answer the quickest. Then, you take it from there.