If you are a parent and not worried about screen time then I should learn from you. Many parents-including me-still struggles with finding the right balance. The UK's Royal College of Paediatrics and Child Health (RCPCH for short) has published some new screen time guidelines for parents.
The screen time study they are referring to is largely television time.
There isn't a direct answer provided- for instance, it does not specify daily time limit- that parents are looking for.
The RCPCH informed that "There is not enough evidence to confirm that screen time is in itself harmful to child health at any age."
However, the study identifies some concerns of high screen time, such as :
Less healthy diet which can be indicators of obesity

Depressive symptoms for those exposed to more than 2 hours of screen time

Poor educational outcomes
The study also concludes that  "the contribution of screen-time to wellbeing is small when considered together with the contribution of sleep, physical activity, eating, and bullying as well as poverty".
pssst, pin this

The study's advice to parents (the good part) :
"Our primary recommendation is that families should negotiate screen time limits with their children based upon the needs of an individual child, the ways in which screens are used and the degree to which use of screens appears to displace (or not) physical and social activities and sleep." 
While this is great advice, it is not easy to implement especially when you have more than one child with different needs. That is something many families are still struggling with.
The report recommends families to consider a series of questions to understand if screen time is harming their family. The four basic questions they recommend families to ask are :
Can you control screen time in your home?

Does it interfere with what your family wants to do?

Does screen interfere with sleep?

Can you control binge eating or snacking during screen time?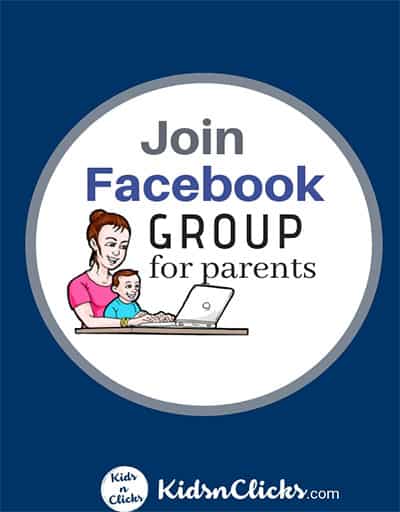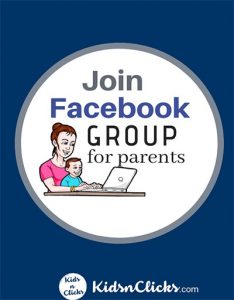 Think about your own device use
The report suggests that parents should consider they own device use and not just of their children's. Reflect on how you are using your phone. And try to pause your own screen time when your children are around.
Protect Sleep
RCPCH reminds parents to keep all devices away one hour before bedtime. They encourage parents to protect the sleep of their children.
Also, parents should focus on children's social interaction through face-to-face communication. This is particularly important for younger children that need regular play with other people. The American Academy of Pediatrics suggests that children below the age of two years old should not get any screen time, unless its face time.
The conclusion of the report
Have a screen time plan and stick with it

No screen time 1 hour before bedtime

Focus on face-to-face interaction

Reflect on your own device usage before telling children off

Screen time is not necessarily harmful- be safe with devices. For instance, keep children safe from bullying, exploitation and other negative influence, as you would do offline

What I think of the report
It has some practical advice and does not scare parents about screen time. I really think it is worth reading this. It is only 9 pages long. There is the fact sheet you can print to keep you reminded on healthy screen habits.
However, keep in mind that it is not so much about screen time rather what content kids are exposed to online. The research is looking more into TV as screen time where kids are passive consumers. If your kids are actively producing content and engaging with it then screen time can be a positive experience.
My advice to parents :
Know what your kids are doing online so you can be LESS worried about screen time.
Be involved in their online life
Have parental control in place to keep them safe from negative materials and influencers.
Focus on offline activities to help them have a balanced life.
Help your child have a positive relationship with devices. And we will discuss that below.
Here are 5 ways to help your child have a healthy relationship with screen time:
Step 1 : Be curious about your child's media use.
The first step is to understand what your child is interested in. Your child might first say Fortnite, and she loves to watch cooking shows and read some blogs.
Let your child do the talking. If you're judging from the second she said Fortnite, you will miss out on her other interests.
Be patient in trying to understand your child's interest. In 2019 do something your child likes to do. For instance, if your child likes to do the floss dance then start playing Fortnite. If your child in on Snapchat then download the app and start using it.
Your child will respond to your concerns better if they know that you have experienced some of the issues yourself.
Step 2: Integrate tech into everyday life.
Next, you will integrate technology into your family's daily routine. This means your child can choose some online things to do and some offline things to do.
it's actually that easy!
You and your child will do some of these things together or with other family members. For instance, pick a show on Netflix, or play an Xbox game. Having a moment together is the best way to take advantage of teachable moments that come up during the show or game.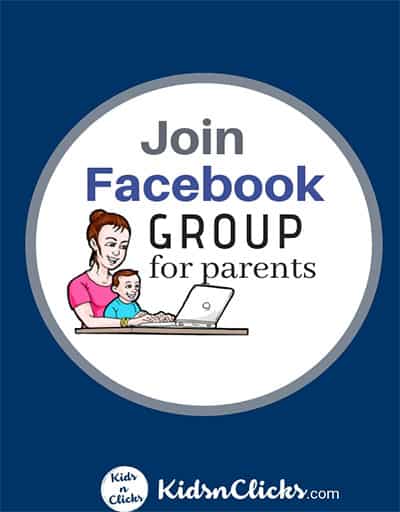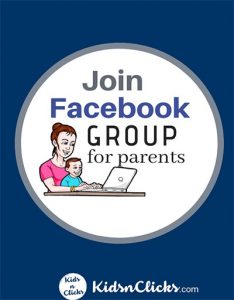 Step 3 : Take baby steps toward privacy
Talk to your child about online privacy. The easiest steps are to remind them :
Switch off location services on the phone
Change the password frequently
Turn off your Echo mic at home
Step 4 : Moving from offline and online
You are going to help your kids switch from online and offline activities.
Let her pick her next activity, as remember we discussed earlier having her choose the type of activities she is interested in.
You can set a timer next to her so she gets reminded when to switch off from the online activities. This now brings out to our next point which is…
Step 5 : Help kids manage screen time themselves
It is hard for children to manage their devices for two reasons. One, they are not great at self-regulating yet. Second, games and apps are designed to hook them up for the longest possible time.
The path to helping them manage their time will not be smooth sailing. But remember, your ultimate goal is to help them find the right balance.
Use screen time settings and parental controls initially to help them gain the skills needed to draw limits. Sometimes it is ok to be blunt and tell them to switch off the internet.
But over time support, encourage and guide them to do it themselves and they will eventually get there.
Conclusion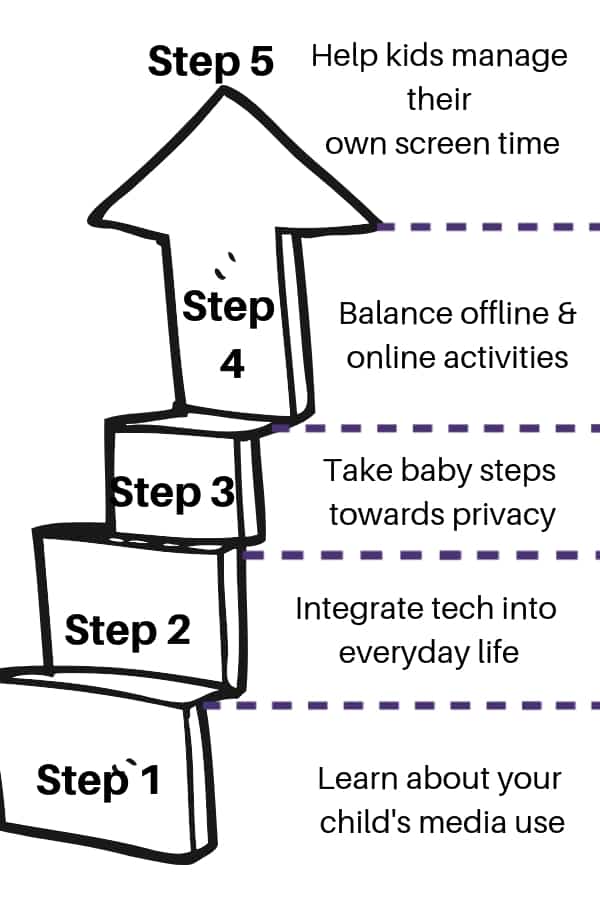 Here are other tips to you keep children safe in the digital age : 
Tips for Non-Tech Savy Mums :4 tips to digital parenting for non-tech savy mums
10 things you can do right now to keep your children safe: Easy and clever online safety tips
3 dangerous places for children to be online : 3 places kids should have limited internet access
Finally don't forget click below: