When it comes to cute anime characters, there are just so many of them. Cuteness is an important element of anime character design. There are many cute anime characters, both male and female that are admired for their looks and personality. This article lists down some of the cutest anime characters out there.
Cutest Anime Characters Boys
1. Mikoto Mikoshiba from Gekkan Shoujo Nozaki-kun
Mikoto Mikoshiba is a popular anime character from Gekkan Shoujo. He is close friends with Nozaki. She is responsible for taking care of flowers.
Despite appearing as a playboy, deep down he is a Tsundree.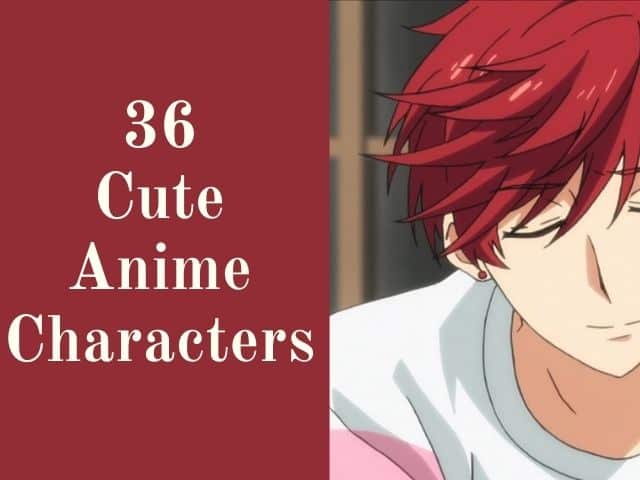 2. Lag Seeing from Tegamibachi (Letter Bee)
Lag Seeing from Tegamibachi is known for his secret weapon "Shin Gunjuu". He has a shy, and admirable nature. He is a cute anime boy.
Behind his charming personality, he has a tragic childhood. He has a reputation for being a cry-baby.
3. Shou Kurusu
Shou Kurusu is a member of the popular host club Starish. He is the roommate of Natsuki and the twin brother of Kaoru. He is pretty insecure about his short height but is still a very cute anime character.
4. Hanabusa Aidou from Vampire Knight
Hanabusa Aidou from Vampire Knight has the special power of freezing matter. He is a trusted companion of Kaname. He has a special bonding with Day Class Students.
5. Juuzou Suzuya from Tokyo Ghoul
Juuzou Suzuya is a skilled, and famous ghoul inspector. His specialty is searching for evil spirits.
He is resourceful, skilled, and highly motivated. Despite having a cute, and harmless charm, he can be quite evil at times.
He is definitely one of the cutest anime characters.
6. Shouyou Hinata From Haikyuu!!
Shouyou Hinata is an athletic high school student. He is the energetic middle blocker of his high school's volleyball team.
In general, he has a calm, and relaxed temperament. But when it comes to volleyball, he can lose his temper in seconds, and at the smallest things.
7. Nagisa Hazuki From Free!
We have another athletic cute anime boy on this list – Nagisa Hazuki. He is the cute breaststroke swimmer from Iwatobi High School. He is regarded as one of the best performers in his group.
He has a good rapport with all the other members of his group. He is quite straightforward and doesn't hold back. He likes to think out of the box.
Cutest Anime Characters Names
Below are some very cute anime character names.
· Mikio – A Tree
· Nobura – To Expand
· Osamu: Discipline
· Michi – Righteous
· Nori – Belief
· Yasu – Calm
· Toshiro – Talented
· Masashi – General
· Toru – Clear
· Kira – Hero
· Yahiko -Unique
· Yuuki – Gentle
· Arata – Fresh
· Hikari – Light
· Mao – Dance
· Kiara – Fortunate
Cutest Anime Characters Girls
8. Wendy Marvell (Fairy Tail)
Wendy Marvell is one of the main protagonists from the popular anime series Fairy Tail. After her guild gets destroyed, she joins the Fairy Tail. She is a shy girl by nature, and would not start a conversation on her own.
She is one of the cutest girl anime characters. Although she is first portrayed as an innocent, and timid person, with time, she comes out of her shell. With time she grows to be one of the most confident anime characters out there.
9. Yoshino (Date A Live)
Date a Live is full of cute female anime characters. But for this list, we are going with Yoshino. She has an alter ego. Her normal self is timid.
But she alter ego, "Yoshinon, is full of rage, and does all the talking. She is full of innocence, cuteness, and beauty.
10. Mayuri Shiina (Stein's Gate)
Mayuri Shiina from Stein's Gate is the cutest character in the series. She is cute and beautiful. She will greet people by saying the phrase "Tuturu".
This phrase is so popular that you will find mobile ringtones based on it. Due to her cuteness, over the years, she has become a cult favorite.
11. Kaede Azusagawa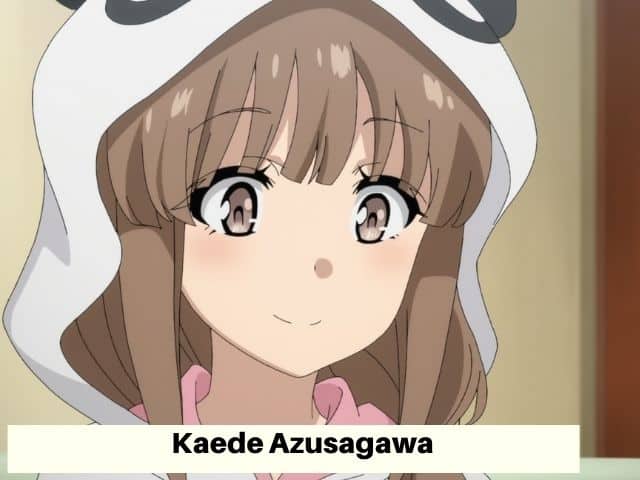 Kaede Azusugawa is the next cute female anime character on this list. Despite suffering from Adolescent Syndrome, she is undoubtedly one of the cutest characters out there.
Due to her sickness, she can't remember things for too long. This leads her to develop two distinct personalities.
Kaede will sit home and watch panda videos. This is her favorite pass time.
12. Mirai Kuriyama (Kyoukai No Kanata)
Mirai Kuriyama from the popular series Kyoukai No Kanata is a cute anime character who wears equally cute glasses. Despite her cute appearance, she is a lethal fighter who is also a member of the Spirit World Warrior.
She is quiet and shy by nature. She struggles to find a balance in her personal, and professional life.
Cutest Kawaii Anime Girls
Cuteness in anime is portrayed using different elements. Some characters dress up in a certain way that them look cute.
And some anime characters speak and carry themselves in a way that can be viewed asa cute.
This is true for both male and female anime characters. Lets's see some cute Kawaii anime girls.
13. Megumim (Konosuba)
If you search on Google for the top cute female anime characters, you will not find a list that has not included Megumim from Konosuba. This crimson demon is a top pick for every anime lover.
She is known for her explosive nature. She is seen calm one second, and the next second, she is lashing out at people around her.
14. Taiga Aisaka (Toradora)
Taiga Aisaka is the dangerous Tsundere from the anime series Toradora. Due to her height, and short temper, she is known as "PalmTop Tiger" by her peers.
Her friends and peers find it hard to take her seriously because of her small build. She hates people who call her by this nickname.
15. Carrot (One Piece)
This cute character from the anime series One Piece is not a human. Rather she belongs to the mink tribe originating from Zou. She is a hybrid of the human form and rabbit.
She has rabbit ears, and a rabbit nose, which adds to her cuteness. She is highly protective of her carrots. When she is not guarding her carrots, she likes spending time with her peers.
16. Mikuru Asahina (The Melancholy Of Haruhi Suzumiya)
Mikuru Asahina is a combination of all the good, and good qualities you look for in a young girl.
She is timid, shy, loveable and is kind-hearted, and is definitely one of the cutest anime characters.
17. Shera L Greenwood (How To Not Summon A Demon Lord)
Shera L Greenwood and Rem Galleu have many similar traits. Shera L Greenwood is a princess. But she grows tired and bored of all the politics that conspire around her daily. This is why one fine morning she decided to run away.
She is easy to talk to and is cheerful most of the time.
Related : 18 Trap anime characters
18. Shiro (No Game No Life)
Shiro is one of the main characters from the series No Game No Life.
From a young age, she grows an obsession with playing video games, and with cute things.
In her spare time, she is found sitting in front of her video game console.
Despite being the crush of many boys, she spends most of her time indoors, logged into NEET.
She is skilled at tactical analysis. However, she lacks many emotions that you would expect from a girl.
19. Fuko Ibuki (Clannad: After Story)
Any article on cute anime characters is incomplete without Fuko Ibuki from Clannad.
Due to her short build, she is often mistaken as a kid.
Unlike other anime characters on this list, Fuko Ibuki prefers to be alone most of the time.
She has an obsession with starfish, and would always refer to her in the third person.
20. Mashiro Shiina (The Pet Girl Of Sakurasou)
Mashirro Shinna from the Pet Girl Of Sakurasou has a hidden talent – she is a great artist. Too many anime watchers she is someone who lacks even the basic emotional instincts.
She has a best friend – Sorata. She would spend most of her time talking with her.
21. Hinami Fueguchi (Tokyo Ghoul)
Hinami Feuguchi is a popular supporting actress from the equally popular anime series Tokyo Ghoul. She had a tragic childhood.
Both her parents were murdered by fellow ghoul members, and soul eaters. Her parents were good people. She has puppy brown eyes with long brown hair.
22. Mio Akiyama (K-On)
Mio Akiyama is the famous bassist from the anime series K-On. The name of her music band is Ho-Kago Tea Time. She can be both warm, and rude to others. She gets annoyed at the little things.
Due to her shy nature, she hates being the center of attention. But she has a pretty face with green hair.
23. Nunnally Vi Brittania (Code Geass: Lelouch Of The Rebellion)
She pretends to be blind since the last episode of the series Code Geass: Lelouch Of The Rebellion.
We see her spend most of her time sitting in a wheelchair. She has a kind heart and is compassionate towards her loved ones.
24. Uraraka Ochaco (My Hero Academia)
Uraraka Ochaco is the female main protagonist of the anime series My Hero Academia. She wants to reduce the burden of her parents. This is why she spends most of her working. She is adamant about becoming a hero in her later life.
25 Himawari Uzumaki (Boruto: Naruto Next Generation)
Himawari Uzumaki is one of the main lead characters from the anime series Boruto: Naruto Next Generation. This is a direct sequel to the other popular series Naruto Shippeuden.
She admires her father and wants to be like her when she grows up. Sadly, she only gets to see her father once in a while as he is a famous Hokage.
26. Momo Belia Deviluke (To Love-Ru: Darkness)
Just like her older sisters Nana, and Lala, Momo Belia Deviluke is also shy and cute by nature. She has short pink hair.
The specific traits that make her cute are her large purple eyes, beautiful face, and a mischievous personality. According to some, despite being an ordinary girl, she is the cutest anime girl.
Cute Anime Kids
27 Killua Zoldyck from Hunter x Hunter
Killua Zoldyck from Hunter x Hunter is regarded as one of the most skilled child assassins.
Despite her profession, and is merely a little kid she has a cute face and a shy personality. He knows how to kill someone in seconds.
28. Conan Edogawa from Detective Conan
Conan Edogawa is a 17-year-old high school student.
He is trapped inside the body of a 6-year-old. He was forced into drinking medicine that shrank his body.
29. Rika Furude from Higurashi no Naku Koro ni (When They Cry)
Rika Furude from Higurashi is mostly known for using the popular phrase "Nipaa".
She has an upbeat personality all the time.
At the start of the series, the audience is fairly unaware of her true motives. It is only in the second season that we learn about her true identity.
30. Rin Kaga from Usagi Drop (Bunny Drop)
Rin Kaga from Usagi Drop is a cute character who does not possess any ninja or assassin skills.
Despite having a cute personality, and black hair, she is very cold-hearted.
This happened because, as a child, she had no one to resort to in difficult times.
31. Chihiro Ogino from Sen to Chihiro no Kamikakushi (Spirited Away)
Who hasn't watched Spirited Away? Chihiro Ogino is probably the most popular anime kid out there, and a favorite character of all anime lovers.
In Spirited Away she is introduced as a shy, and timid kid with green eyes.
She is not adventurous at all. But in the later parts of the movie, we see that she is spirited away into an unknown world.
She is undoubtedly one of the cutest anime characters.
32. Shippo from InuYasha
Shippo from InuYasha can take the physical form of many different creatures, and objects.
He is a playful character with blonde hair and pale skin.
At the beginning of the series, we see him as an immature kid. But as the series goes on, she grows to become a mature member of the group. Hands down, he is an adorable character.
33. Remi Barberin from Ie Naki Ko Remi (Remi, Nobody's Girl)
In the whole anime world, Remi Barberin had one of the toughest childhood. Despite her hard times, she grew up to become a mature individual.
As a child, she was sold as a slave. Real-life is cruel indeed. But she was consistent and adamant about pursuing a career in singing.
34. Shiro from No Game No Life
Shiro is an 11-year-old kid from the anime series No Game No Life.
She is known for her wit. She can solve complex real-life problems and loves learning about new things.
However, she is not at all skilled at understanding basic human emotions. Despite lacking emotional skills, she is a beautiful anime girl.
35. Sakura Kinomoto from Cardcaptor Sakura
Sakura Kinomoto is a cute kid with white hair from Cardcaptor Sakura.
She is an adorable anime girl. But she also possesses many destructive powers.
As she is a Cardcaptop, she can use her skills to save the world from Clow Cards.
36. Ciel Phantomhive from Kuroshitsuji (Black Butler)
Ciel Phantomhive is known for her big blue eyes.
She is a 12-year-old kid who comes from the royal Phantomhive family. He has to look after the entire family business on his own.
Wrap up
So, there you go. Now you know about all the cutest anime characters both girls and boys.
Other cute anime characters that were not mentioned in this list of cute anime girls includes Umaru Doma, Kotori Minami, Mayuri Shiina, Gekkan Shoujo Nozaki-Kun, Brother Sora, Mirai Kuriyama, Hinata Hyuga, Konata Izumi, Mitsukuni Haninozuka, Madoka Kaname, Moe Characters, Nene Sakura, and Mikuru Asahina.
Who do you think is the cutest anime character? Comment below
Before you go don't forget to check out best anime characters with red hair