Discord is a free social online platform that can be used for instant messaging, voice calls, and video calls, just like Skype. According to a 2021 report, over 350 million users are registered on Discord, and 150 million active users every month. This article will teach us how to login to Discord with a token. But first, we should also know about the discord application, the discord token, and how the user's token work.
Discord is available on every operating system, including Windows, macOS, Linux, iOS, Android, iPad, and web browsers. You can download the discord app on mobile from the play store or app store. You can also scan the QR code directly from the login page with your mobile application to log in instantly.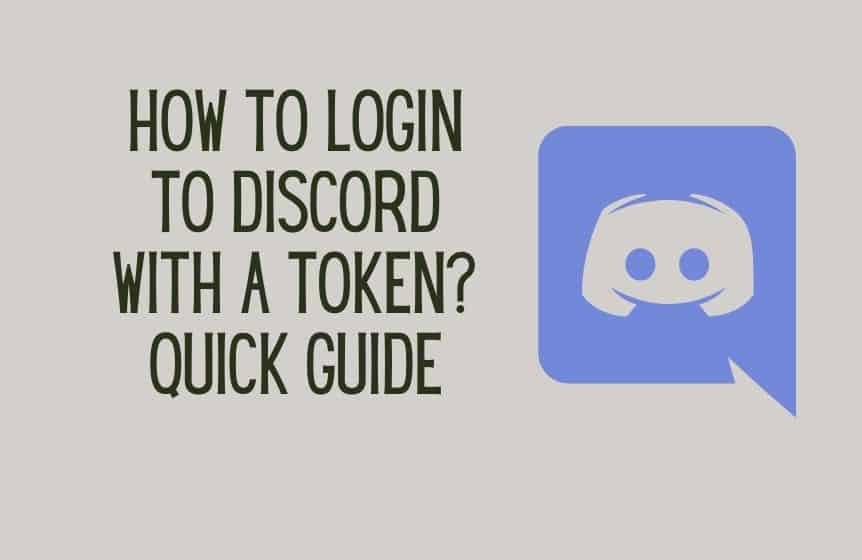 What is a discord token?
A discord token is an encrypted alphanumeric unique series of numbers that comprise your username and discord password. This is the encryption of your username, which generates when you sign up for the first time on Discord.
Discord token is an authorization code from which you can use Discord's server.
Like the username and password we use on other platforms to log into our account, here we use this discord account token to log in and use our account.
One thing that should always be remembered, the token of every user accounts change in 24 hours automatically. So if you log in with an old token, it won't log in to your account.
The official discord website is www.discord.com. You can sign up and create your account from the official website and use Discord directly on a web browser like google chrome or Mozilla firefox, or whatever you use. 
There is no need to install any application on your system and mobile device.
If you want to install the discord mobile app, you can download it from the play store and app store.
Now let's see the next step of today's topic.
Related : What is invisible on Discord?
How to log in to Discord with a token?
If you have created a discord account already, then you have a unique discord token from which you can log in to your account. Find that token and copy it, now is the time to login into the account.
This Discord token acts like your username and password. If you have the Discord token details of your friend, you can also login into their account. So never share the token details with anyone.
Now let's look at the steps to log in to Discord with a token.
Step 1. Copy the discord auth. token
Step 2. Open the discord website. You will see the different tabs, including download for Windows/download for Mac, and open Discord on your browser. Take a look at the image below.
Step 3. Click on the open Discord in your browser button.
Step 4. Press Ctrl+Shift+I on your keyboard to open the discord console on a window-based system. Press Cmd+Option+I or Cmd+Option+C on the macOS to open in.
Step 5: Go to the storage and local storage under the application tab. Here you will see https://discord.com click on it. Some keys and values will be open now.
Step 6: Under the key column, scroll down the screen and double-click on the last empty row. Here you can put the key you want. You have to type "token" here without quotes on the key column, and on the same row, double click again and paste the token here and then refresh the window.
Look at the blue part in the screenshot below.
You have now successfully logged in to your discord account. Always remember that the discord token is valid for 24 hours only, and you need to copy the token again if you want to log in with the token.
How to get a discord token?
Here are some steps from which you can get your discord token
Step 1. Open the official discord website i.e. www.discord.com and click on the login button at the top right side. 
Step 2. Log into your account using your email id & password from the login page. Now you are on your account dashboard.
Step 3. Press Ctrl+Shift+I on the windows system or Cmd+Option+C or Cmd+Option+I on the macOS system to open the discord developer tool.
Step 4. Click on the network toolbar available at the top of the developer tools window.
Step 5. According to your system, you must reload the page by pressing Ctrl+F5 (on windows)or Cmd+R (on mac book).
Step 6. Put API in the filter field on the developer window's left side.
Now, you will see a library option under the Name Section. Just click that option.
Step 7. You will see different tabs on the just right side of that window. Now select the Header tab in the library. In the Header tab, there is a subheader with name request headers. In this option, you will get your token details. This is just after the authorization.
Step 8. You can copy the token code from here and save it where you want.
Note: Remember never to share your discord token with anyone.
Related : Funny Discord name ideas
Can people take your Discord token?
Many websites pretend to be the official website of Discord and will ask you to enter your login details, like an email address or token detail to log in to your account. Yes, people can use anyone's token if they know it. So we should not share our token details with anyone else.
If you will submit the details on such websites, they will have full access to your discord account and can misuse your account by sending fraudulent links to your discord connections.
If they have complete access to your account, they can even check your public chat and personal information.
How to change the account token?
Hackers often try to hack discord user tokens to steal their servers and accounts. They send suspicious links through emails and attempt to steal their token data.
If you ever feel that someone accessed the token of your discord account, then you should act as soon as you can.
There are two ways to get get back access to your account. One is changing your account passwords, and the second is activating two-factor authentication.
When you change your discord password, then it will automatically change your account token.
To change the password, follow the steps below.
● Open Discord on your desktop browser or mobile app & go to the setting.
● Scroll down the page and select the change password option. Take a look at the screenshot.
Always choose a strong password to protect your account.
● Now enter your old password here and put in a new password to reset.
● Click done. You are all set now.
You can enable the two-factor authorization just below the change password button. To enable this, click the button and follow the on-screen instructions.
We hope you now know how to login to Discord with a token and the importance of keeping your token safe to prevent others from accessing your account. Leave a comment below if you have any questions on Discord token.
FAQs
What is a discord bot token?
You need to create a bot account in Discord for a discord bot token. In simple words, a discord bot token is your username or user token, which acts like your authorization code.
This is used to perform various tasks on your discord channel.
Why is two-factor authentication necessary on Discord?
This is so important for the security of your account. Token grabbers can steal your details and access your account, and your application becomes a lawless wasteland of phishing. The only way to recover your account is to change its password as soon as possible.