When taking a picture with your iPhone camera, the default file format it saves images in is JPG files or HEIC files/ HEIF image extensions. The HEIC images format is used by iPhone 8 and subsequent iPhone models. However, it is possible to save photos in PNG format. In this post, we will show you how to view PNG images on your iPhone and how to save images in PNG format.
Before showing you how to view a PNG images on your iPhone and convert pictures to PNG format, let us explain what a PNG file is.
What are PNG Files?
PNG files offer a broader range of colors than GIF files.
PNG, an acronym for Portable Network Graphics, is a type of lossless picture compression.
This means that the compressed file is decompressed when viewing the picture.
PNG is capable of displaying translucent backgrounds, as well as 24bit RGB color palettes and greyscale pictures. PNG also offers smaller sizes of files and is excellent for image overlays.
How to view PNG images on your iPhone?
Here are few steps to follow when considering how to view PNG on an iPhone and apps that can help you achieve this.
Step 1. Open the native Photos app on the Apple iPhone by clicking the Photos icon on the device's home screen.
Step 2. In the "Albums" section, tap "Camera Roll" to bring up thumbnails of all the photos and videos saved in your iPhone's photo library.
Step 3. Proceed to click on the thumbnail to display the full-sized PNG picture file(s).
Step 4. Use left and right swipes to navigate the Camera Roll.
Step 5. If you see the Photo application controls, hit the "Photo" button in the upper left corner to go back to the album overview.
How to save a PNG file in an iPhone?
Follow the steps below to save a PNG file in an iPhone:
Step 1. To save an image from an email or web page, hold and press the photo icon for a second until a dialogue box appears with the option to save to "Camera Roll".
Step 2. To save to "Camera Roll". Select "Save Image" and the picture will be saved to your iPhone's camera roll.
Step 3: For emails or webpages with several files, select "Save All Images." You'll have access to all of your photos later on the camera app roll.
There's no need to go through and individually choose each picture as the "Save All Images" option will save all in one go.
How to convert iPhone photos to PNG file?
The old versions of the iPhone allowed images taken using the camera phone to be saved in a PNG format.
However, the iPhone now only takes screenshots in PNG format.
The good news is that there are several methods for converting iPhone photos into PNG files.
You can do so using third-party apps to do this.
Now, let us show you some apps that you can use to convert an image from iPhone into a PNG format.
1. JPEG, PNG, Image Converter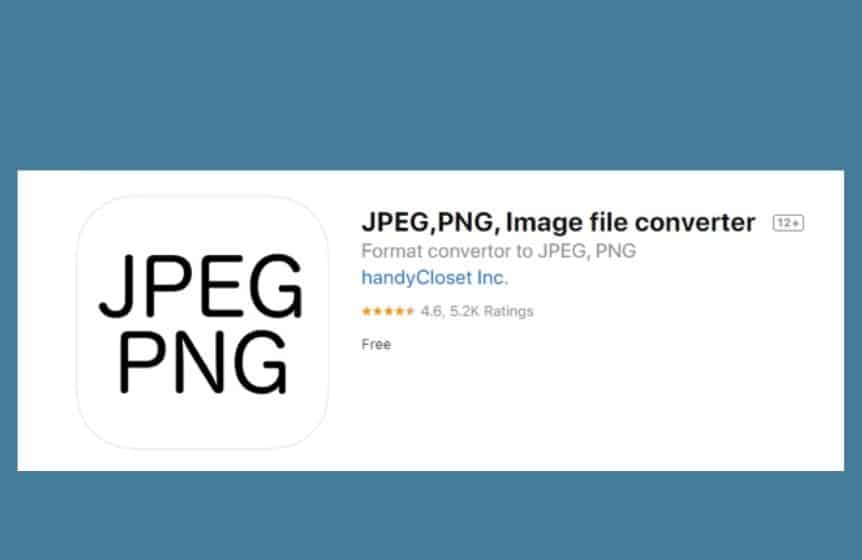 This app enables iPhone users to convert their images into PNG
Available for free and also a premium ad-free version going for $0.99
If you want to change the image file type on your iPhone, this app is an excellent choice.
You may use it anywhere and at any time, and it comes with a slew of conversion choices. In addition to JPG format and JPEG-related file formats like GIF and BMP, it also supports TIFF and TGA and High-Efficiency Image File Format (HEIF) and Heic formats.
Visit the App Store and download the app. Follow the steps below to convert your image into PNG format using the JPEG image converter app:
• Select the Upload a Photo button.
• Select the file format to which you want to save your converted image. PNG should be
selected in this instance.
• Click on the Save and Convert button.
• Save the picture as a PNG file.
2. Image Format Converter
Using this third-party app, you can resize and convert images in batches and convert them in several formats.
This app offers ad elimination and other features for $2.99 and a free version is also available.
Image Format Converter supports over 40 file formats.
An internet connection is required for picture conversion. The benefit of using this converter is that your original image will be preserved. To make use of this app, follow these steps:
• launch it on your iPhone after you've hit the download button to get it from the App Store.
• Select the photo you intend to convert.
•Choose between resizing your photo or file type right away.
• Choose the option to convert.
• Save converted image
3. File Converter – By Online-Convert.com
Audio, video, image, e-book, and compressed Archive files may all be accessed using this third-party software program. It is free to use.
You may get the Online-Convert.com File Converter app from the App Store.
The outstanding feature is that it's not only for picture conversion; you can also convert documents, movies, e-books, and audio files.
This app is free and straightforward to use. However, you'll need an internet connection to convert an image.
Because it's online software, you may continue to use your phone during the process.
Images may be converted into file types like BMP, EPS, GIF, HDR/EXR, ICO, JPG, PNG, SVG, TGA, TIFF, WBMP, and WebP with this software.
Follow the steps below to use this app:
• Launch it on your iPhone after downloading it from the App Store.
• Select the image you wish to convert.
• Select PNG as the file format.
• Begin converting by clicking the Start converting button.
• The converted image may be downloaded or sent by email directly from the app.
4. The Image Converter
Using Picture Converter, you can easily change the format of your images and photos to just about any other image format out there free of charge.
Image Converter is a powerful tool to convert your iPhone pictures to PNG format.
The following formats are supported: JPEG Files, PNG, DOC, HDR, ICO, TIFF, TGA, WBMP, WEBP ICNS, ODD, PS, XLS, XLSX, PPT, PPTX, DOCX, GIF, PSD, PDF, SVG, BMP, and EPS.
Conversion is done on the cloud and requires an internet connection.
Follow the steps below to use this app :
• Visit the App Store to download it.
• Pick the image you wish to convert.
• Your image will be converted into the selected format once you've made your selection.
• Tap the convert button.
•Open your picture on your iPhone or tap the share button to share.
PNG files not working on an iPhone: How to fix it?
You can try the following suggestions if PNG files are not working on your iPhone :
Update your device
Update to the latest version of iOS. Go to your setting and check to make sure your iOS devices are up to date
The next step is to restart the messages app. Force it to quit and see if it solves the issue.
If you are using iPhone X, navigate to the home screen and swipe up from the bottom of the screen.
If you are using iPhone 8, double-tap the home button, locate the messages app, and swipe up to quit.
2. Phone setting
Check the region setting on your device. Some apps cannot be used in certain countries.
Hence, ensure that your device is set at a region that supports the app.
3. Check Image setting
Re-add the #images. Add missing #images back onto your iPhone. Open a conversation > Touch the more … icon in the app drawer > Touch Edit > Remove the #images and re-add it back.
4. Check for bugs
Try iOS repair tool "Any Fix".
It's a tool for fixing bugs in the iOS, iPad, and Apple TV operating systems.
You can solve over 130 different iOS system issues using Any Fix, including iPhones that are stuck searching or won't charge.
How to convert JPG to PNG on an iPhone?
You can use image converting apps to convert JPG to PNG on an iPhone.
The same apps mentioned above can do it for you.
You may also opt to convert your Jpegs to PNGs online via web browsers on platforms like https://jpg2png.com/ and others.
It is important to note that different apps may have different functionalities and some may even be ad-free.
You can also sync your device to a Microsoft windows app to convert and save PNG files on your device.
How to make PNG images transparent on an iPhone?
Transparent backgrounds aren't supported on iOS 13 phones. Thus the final new images will have white backdrops.
This can be difficult if you are trying to view a PNG image on an iPhone. You may have tried background removal apps but find your transparent backgrounds changed to white automatically.
Follow the steps below to make PNG images transparent on an iPhone:
Remove the image from your computer's local storage by clicking the Delete button.
Change "Optimize storage" in your iCloud drive backup settings to "Download and keep originals"
Transfer the transparent background picture to your device.
Then go back to your iCloud backup preferences and adjust the selected setting to "Optimize storage" again.
Additional information is available here
Conclusion
We hope you now know how to view PNG images on your iPhone and how to convert PNG files on an iPhone.
There are many third-party apps that allow you to do this. Some apps are free to use but come with ads, while others are paid apps.
The functionalities of the apps are all similar. They all work towards converting images and files. You can choose any of the apps mentioned above to do it for you.
If you have any questions on converting image files on your iPhone, just leave a comment below.
Before you go don't forget to check out how kids bypass iPhone parental control system
.