Fire Stick is by far the most favorite streaming device from Amazon. Using this device, users can turn any regular TV into a smart one. Using the Fire Stick, you can stream your favorite TV shows on the internet.  In this article, we are looking at how to watch the NFL on Firestick in the US, Canada, and the UK. 
We will also look at how to watch the NFL free on Firestick and other streaming apps to stream NFL games.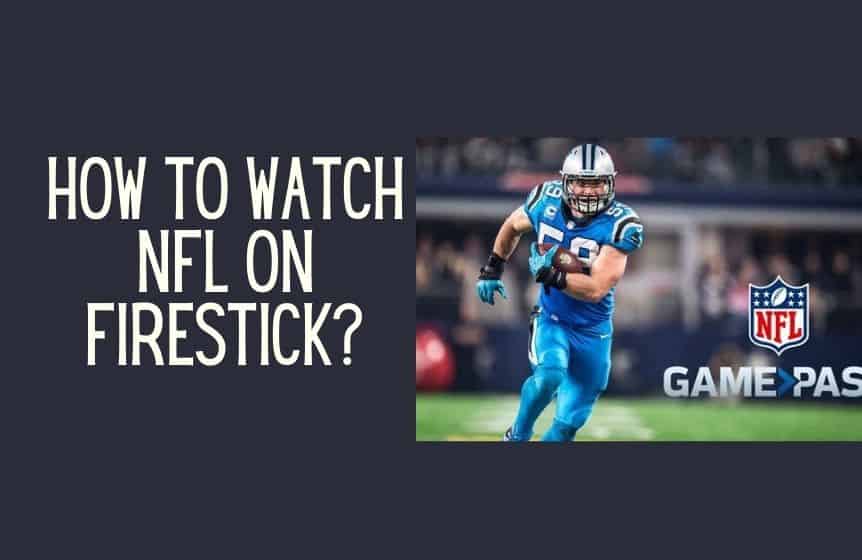 How to watch NFL on Firestick in the US?
A few years ago, the NFL signed a deal with NBCUniversal, ESPN, CBS, NFL Content, NBC Sports, and Fox. According to this deal, users can stream sports events and NFL games from all the popular streaming providers. 
The easiest way to stream NFL games from the USA is by using the official NFL app.
Currently, the NFL comes with an official app for all the popular platforms starting with Amazon Prime, Android TV, Apple TV, Fire Stick, Roku, and others for live streams. 
If you are a die-hard NFL sports fan, you should try the official NFL app, ass it offers highlights, preseason games, on-demand content, and quick replays. 
The lowest pricing for this NFL app is $19.99 annually.
The NFL app is available in almost all major countries, starting with the USA, UK, Germany, Canada, etc.
Besides the NFL app, you also have access to the ESPN+ app. Unlike the NFL app (National Football League), ESPN+ offers sports events from different leagues starting from Tennis, Cricket, Football, Badminton, F1, etc.
The ESPN+ app is available on different streaming platforms starting with Amazon Fire Stick, Roku, and other Smart TV providers.
ESPN+ does not come with a free trial period. However, this should not be a big concern as it is priced at only $5.99 a month.
Other than ESPN+ and NFL official app, there is also Hulu Live TV, Fubo TV, Peacock TV, Sling TV that will help watch NFL on Firestick in the United States of America. 
You might be considering getting a subscription to DirectTV. But know that DirectTV only covers Sunday Afternoon Games. You don't get access to Playoffs or any match highlights.
How to watch NFL on Firestick in Canada?
Fire Stick is compatible with DAZN, the only online streaming service that has the right to air all NFL games in Canada.
DAZN also stream games from other popular sports leagues, starting with Seria A, Liga BBVA, Premier League, and Olympics.
You will be happy to know that the monthly subscription fee for DAZN starts at only CAD 20. It is the most moderately priced sports subscription pack out there.
Sadly, DAZN does not come with any paid membership. And then there is Sportsnet Now. It also offers premium sports content at a moderate fee. It helps users stream sports events from both Canada and the USA. 
To use DAZN and Sportnet Now on Firestick, users will need to find these streaming services on the Kodi repository.
Furthermore, you can also use Amazon Prime to stream NFL games from Canada. However, you might need to use a VPN provider to do so. 
Download, and install a VPN on Fire Stick.
Pick any server from USA, and hit connect.
Use your credentials to log into your Amazon Prime account.
If you are looking for the best VPN services to stream NFL games in Canada, the top three are Surfshark, ExpressVPN, and NordVPN.
When you use VPN, it helps you hide your IP address and personal information. Also, it allows you to bypass geographic restrictions.
You can download and install the Amazon Prime app from Amazon App Store.
If you are wondering why you might have to use a VPN provider, particular pieces of content on the platform are only available to USA residents. 
This is why, if you are from Canada, or any other part of the world, for instance, the Middle East, you must use a VPN provider to bypass this restriction for watching sports channels.
How to watch NFL on Firestick in the UK?
So far, we have seen how to watch the NFL on Firestick in the USA and Canada. Now let us see how to do the same in the UK.
Several online channels have the right to stream NFL games in the UK.
The first one we will discuss is the NFL Game Pass subscription.
NFL Game Pass is offered at $175 for an entire NFL regular season. It offers a generous 30-day money-back guarantee.
If you want to start streaming NFL games from the next NFL season, NFL Game Pass is a good pick for you. With this pass, you get to watch all NFL matches. 
To watch all the NFL games for an entire season, users must take a subscription for at least four months. This is because NFL runs for almost 18 weeks or four months.
Besides the NFL Game Pass, you can also subscribe to Fubo TV. FuboTV comes with a 7-day free trial period.
You can also try YouTube TV. It comes with a 14-day free trial period. And lastly, you have Hulu TV. It helps users stream all popular sports events that are broadcast on ESPN.
NFL app on Amazon Firestick is not working. Possible reasons
You can watch all NFL games, enjoy the highlights, and run playbacks with Fire Stick. If the NFL is not working on Fire Stick, here are some reasons for why it might be happening.
The first reason may be due to an overloading cache. Fire Stick users who have been using Fire Stick for a long time generate huge cache files. The cache can get bombarded with unnecessary data after prolonged use.
Cache files refer to your preferences, account details, the thumbnails of already watched shows, and the metadata of all shows on the platform.
Here is how to clear the cache-
Open Fire Stick and navigate to Home > Settings > Applications.
Scroll down until you see the NFL Game Pass option.
Now hit the option Clear Cache.
Close the app, and relaunch the NFL Game Pass app. S
To clear the cache on your Amazon Fire Stick, follow the below steps-
Open Fire Stick and navigate to the Home Screen.
Launch the Settings menu.
How to watch NFL on Firestick
Select the Application menu.
From there, open Manage Installed Applications. 
Pick an app you want to clear cache, for example, Netflix.
Hit the Clear Cache option.
How to watch NFL on Firestick for free?
In this tutorial, we will take a look at how to watch NFL on Fire Stick for free using Lepto Sports.
From the home screen, select the Settings icon.
From there, select My Fire TV cube.
Now navigate to Developer Option.
Now select Apps from Unknown Sources.
Now navigate back to the Home Screen, and hit the Find menu.
Type in Downloader, and select it.
Hit the Downloader option.
Click on download, and wait for it to download on your device. 
Once it has been downloaded, click the install button.
Hit the open button to launch the Downloader app.
Run the Downloader App after the app has finished downloading.
From the security window, hit the Allow button.
On the guide Quick Start Guide, hit OK.
You would be taken to the default Downloader home screen. 
Paste the following URL and hit go bit.ly/lepto-apk.
After the download is complete from this link, hit the install button.
Open the app after the installation is complete.
Pick the NFL game you want to stream from the next window.
Streaming apps to watch NFL games
Every season the methods to stream NFL games change. This is because the NFL signs new contracts with new broadcasters and online streaming providers every season.
As we have seen earlier, NFL Game Pass is the best option to stream NFL games. However, it comes with one drawback. You can only stream the games after they are over.
Other than this, NFL Game Pass is a pretty good service that lets you stream NFL games from your mobile device, your laptop, as well as your set-top box, and other Fire TV devices.
Next, we have Paramount Plus, another great app to stream NFL games. It is a backdoor to all the CBS shows on TV. To get a subscription to Paramount Plus, you will have to pay $9.99 for a month.
And the last app we are going to talk about is Amazon Prime. Prime is the only streaming service provider with the right to stream Thursday Night Football and Monday Night Football.
Some other apps that you can use to stream NFL games are –
Sling TV
Gears TV (500+ Live TV Channels)
Live Net TV
Other alternatives let you stream the NFL playoffs for free. For instance, YouTube TV and Sling TV can stream channels that broadcast NFL playoffs, such as ABC, Fox, Yahoo sports App, Sky Sports, Fox Sports, and CBS.
Furthermore, the CBS Sports app is 100% free on Amazon Fire TV Stick. This means you can stream every single NFL game without having to pay a single dime extra.
Other than NFL games, the CBS Sports app gives you access to a movie library of 479+ movies and original TV shows.
Related : How to install Sportsdevil on Firestick?
How to jailbreak NFL Sunday tickets?
If you are an avid football NFL lover, you will do anything for the Sunday evening shows. There is an easy way you can jailbreak NFL Sunday tickets.
In this section, we will look at how to jailbreak NFL Sunday tickets and get access to all the premium content, match surveys, & highlights.
Switch your Fire TV Stick on.
Make sure your Fire Stick is connected to a stable internet connection.
Use the Finder Search Bar to look for the NFL app.
Hit the Get button to download the NFL app when you see it.
After installation is complete, log in to your NFL account using your account credentials.
Navigate to the NFL Sunday Ticket section.
Sign in to the area with your credentials.
And that's how easy it is.
Jailbreaking Sunday NFL games are different if you are using the Kodi Add-on.
Launch the Kodi app, and navigate to the Add-ons menu.
Open the Kodi Repository menu.
Select NFL Game Pass from the list.
Hit the Install button.
After the installation is complete, log into your NFL Game Pass account using your credentials. 
When you jailbreak NFL games on Firestick, you no longer need a cable subscription to watch NFL games.
FAQ:
1. Can you watch NFL games on Firestick?
Yes, you can watch live NFL games on Firestick. You can live stream NFL games, super bowl championship games, Vince Lombardi trophies, and other primetime games on different apps such as NFL Game Pass, ESPN+, Amazon Prime Video, etc.
2. Is it free to watch NFL games on Firestick Device?
There are both free and premium ways to watch NFL games on Firestick.