With the fall season in full swing and Halloween around the corner, pumpkin popularity is rising. Do you plan to take a trip to the pumpkin patch soon? Well then, with these pumpkin patch captions, it should be easier to document your journey and make it memorable.
The pumpkin patch captions included in this article are of a wide variety, ranging from funny to clever pumpkin patch captions. No matter what kind of pumpkin situation you find yourself in this fall, these pumpkin patch captions have you covered.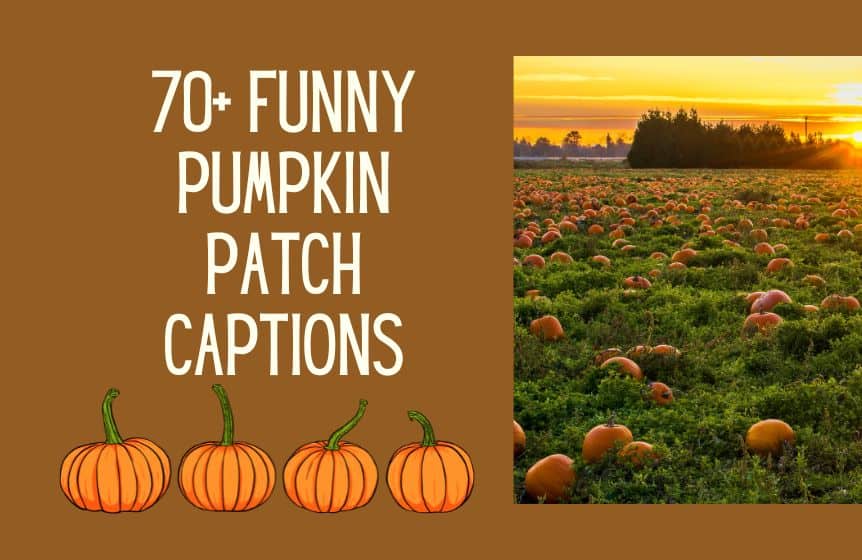 Funny Pumpkin patch captions
Do you feel like making your followers laugh? Well, these funny pumpkin patch captions will do the trick. They are composed of the best pumpkin puns and fall holiday-themed dad jokes. These funny captions are sure to elicit a chuckle from your followers.
If I checked my blood type, it would probably be P for Pumpkin
There's no such thing as a lousy pumpkin meal
Hating apple cider is an immature trait
Dear gourd, please fill me up with your goodness
I get excited at the pumpkin patch like it's a candy store
Rocking my oversized sweaters with pride this fall
I bet my favorite fall gourd is way cuter than yours
Do you know what my favorite movie to watch during the fall is? The gourd of the rings
Like Henry David Thoreau, I, too love to sit on Pumpkins
I wish I had thick skin like a pumpkin. I'd be way less sensitive.
Pumpkin patch captions for families
Families love to get together during the fall holidays. And to capture that unique feeling of family unity on your Instagram posts, this list of pumpkin patch captions will serve you incredibly well.
I made pumpkin pie for my cutie pies
Smashing pumpkins is an underrated family activity
The perfect pumpkin is the one that brings a family together
Sending good harvest wishes your way from me and my family
I love spending time with my family in the fall
The best thing about the fall holidays are family photos for our Instagram feeds
Fall is the best season for a family get together
Who else agrees that the best pictures of your family happen during the fall?
In this family, pumpkin pie is our favorite pumpkin dessert
Life's bounty is a truck full of pumpkins for the whole family
Funny how my kids love fall just as much as Charlie Brown
How do you love our matching fall sweaters?
What are some of your favorite fall family meals?
My kids are my smashing little pumpkins
Everyone in this family loves October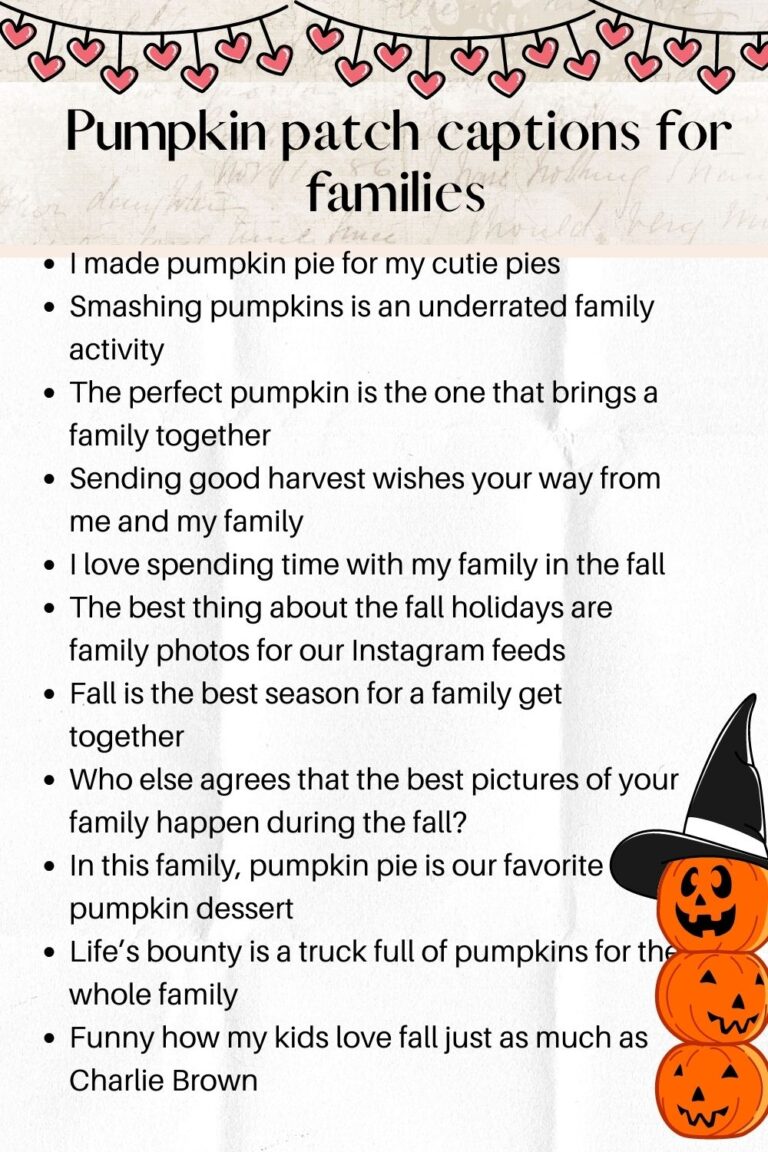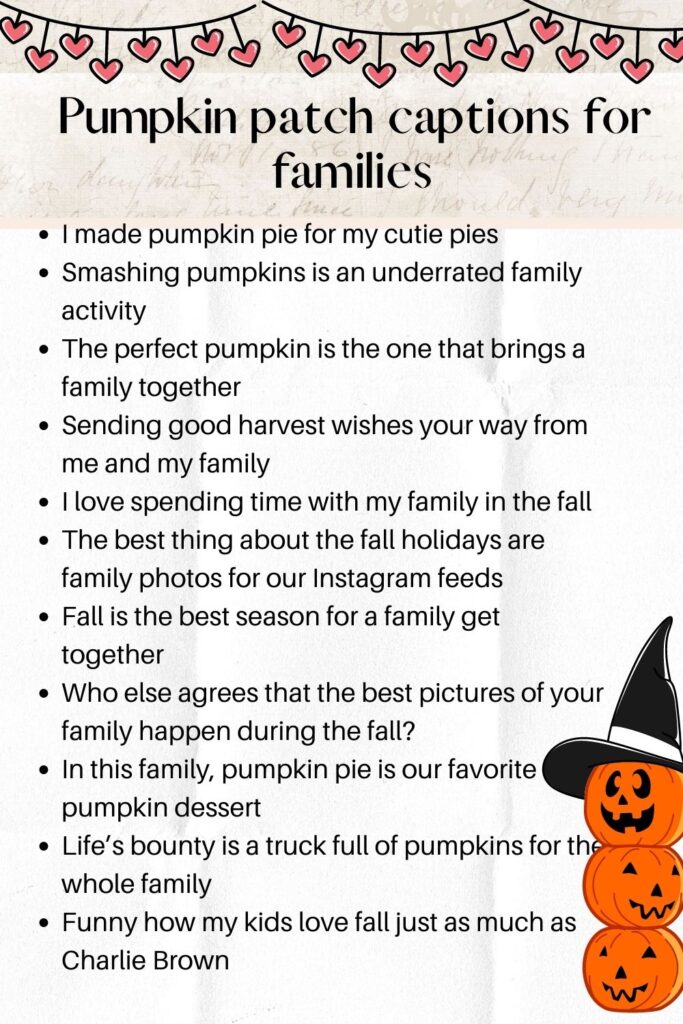 Dog Pumpkin patch captions
Some dogs love the fall. And they love pumpkin patches too. These pumpkin patch captions show off your dog's love for their favorite season of the year.
The cutest pumpkin in this field is my dog
Dog walks during pumpkin season are just magical
My dog loves to get lost in a corn maze
Believe it or not, my dog loves the crisp sunburnt leaves more than me
The best way to entertain your dog during fall is to take it on a walk
Nothing my dog loves more than a pumpkin patch that covers a large area
A dog with a jack-o-lantern head is a terrifying sight
In dog years, fall must last an eternity
No use sweeping the maple leaves during the fall. My dog is just going to scatter them again.
Outdoor pumpkin patches make surprisingly good dog parks.
Pumpkin patch captions for friends
These fall Instagram captions will perfectly communicate how much of a blessing it is to get together with your friends and hang out in the autumn.
Having fall fun with my besties
Sending pumpkin kisses to all my friends
Best friends accompany each other to the pumpkin patch
There's love and friendship in the crisp air of fall
My friends are the best pick for the patch
There are few feelings better than going down a pumpkin patch road with your best friends
You meet some of the best people in your neighborhood at your local pumpkin patch
Pumpkin picking is one of the best ideas for a platonic date
I and my two best friends are like the three heads of a maple leaf
Hanging out with my friends at apple orchards is one of my favorite things to do in the fall
Good Pumpkin captions
When it comes to great pumpkin Instagram captions, look no further than this list. While it's not a complete list of great captions, these clever captions and sweet one-liners will achieve a lot for your social media in very little space.
Only a little time left till the leaves turn golden
Sweater weather turns me into an Instagram fashionista
Here are some pumpkin patch photos to spice up your social media feed
Fall inspires the poet in me. What are some of your favorite fall quotes?
Pumpkin patch exploring is one of my favorite activities of the fall season
I love how autumn leaves crunch beneath my feet
Hey, baby. Can I be your hay baby?
Did you know pumpkin seeds are full of valuable nutrients?
Pumpkin patches are some of the best places to meet new people
I love fall becomes it comes in my favorite color
The best pumpkin patches are incredibly scenic
I'm your favorite pumpkin patch princess
Make sure to get plenty of sunshine during the fall. There are dark days ahead
What's your favorite Ann Drake quote about fall?
My hopes rise during the fall.
Related : Fun fall trivia questions for adults and children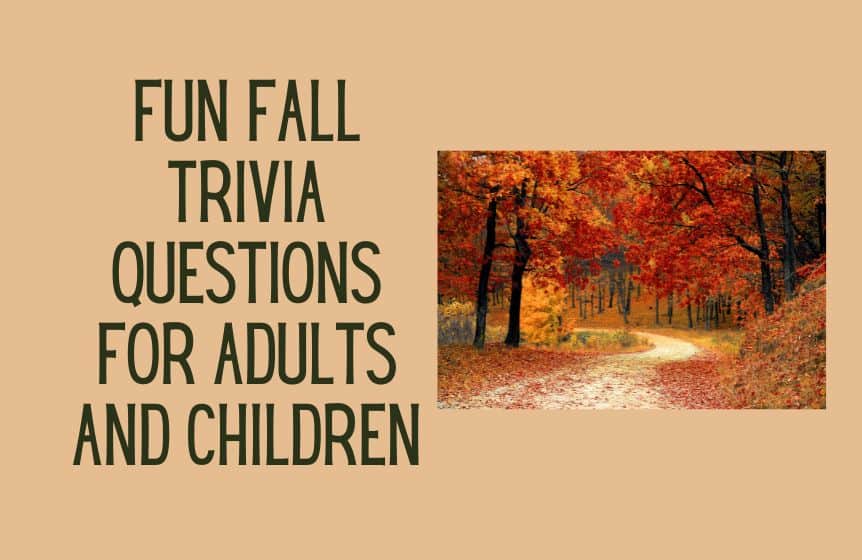 Pumpkin spice captions
If you think the perfect caption for your pumpkin spice Instagram post doesn't exist, think again. These clever quotes indicate just how much of a joy it is to work with pumpkin spice.
I tasted a pumpkin spice latte the other day, and I am now enlightened
The only spice of life is pumpkin spice latte
That sweet chill of pumpkin spice is utterly unmatched
Petition to change the name from fall to pumpkin spice season
On my latest trip to my local café, a pumpkin spice latte made my day
I change my breakfast order to pumpkin spice lattes are the very first hint of crispness
We need to build a statue for whoever came up with the concept of pumpkin spice
What are your favorite meals to make with pumpkin spice?
Did you know pumpkin spice doesn't contain pumpkins at all?
What on Earth were people putting in their pumpkin pie before pumpkin spice was invented?
Halloween pumpkin captions
Here's a selection of some of the perfect pumpkin patch Instagram captions. This Halloween, make your social media pop by using these to embellish your spooky posts and photos.
Ah yes! It's the spooky time of the year
Watching Halloween, one of my favorite movies
What are you dressing up as on Halloween?
Be Careful not to stay out too late on Halloween. There's a horseman with a Jack O'Lantern head roaming the streets
A grinning Halloween pumpkin is way scarier than a frowning one
Do you think Michael Myers loves pumpkin pie?
Do kids love receiving pieces of pumpkin pie on Halloween?
I know I did an excellent job on my Halloween pumpkins because they scare even me sometimes
I hope my Halloween pumpkins don't keep the trick-or-treaters away
Nobody makes a meaner Halloween pumpkin than me
Related : Fun spring break captions for boys & girls
Clever pumpkin carving captions
Some fall captions seem like they are trying too hard. But with these excellent pumpkin patch captions, your love for all things fall, mainly carving pumpkins, will be clear as day to all who visit your page and interact with your posts.
My hidden talent? I'm an excellent pumpkin carver
The only thing I love about fall is carving pumpkins
The fall season is the best time to let those pumpkins have it
Hoping you guys have a jolly gourd time with your pumpkins this fall
Here are some great pumpkin carving photos for you
There's no better way to spend your time during the fall than to carve pumpkins
After carving a pumpkin, the next thing to do is to reward yourself with some pumpkin spice latte
Pumpkin carving is a skill that takes years to master
Here's my pumpkin carving attempt. How did I do?
What are some of your favorite things to carve into a pumpkin besides faces?