"This channel cannot be displayed on Telegram"? is a common problem on the platform. It happens for a particular reason – when there is sensitive content in a Telegram channel.
The entire error message reads, "This channel can't be displayed because it was used to spread adult content."
You will encounter this message whenever you try to join a Telegram channel with sensitive content. Telegram flags both videos & images that fall under the adult category.
Every private channel that hosts graphic and adult content will be blocked if someone enables the content filtering option.
How to fix "this channel cannot be displayed on Telegram"?
Do you want to fix the "this channel cannot be displayed on Telegram" error? If yes, know that you will not do it from the mobile version. You need to download the desktop version of Telegram.
You can download the official Telegram desktop app (Telegram web) from its official website. Here is a quick link to the site :
If you use any other operating systems, click on the "Show all platforms" option. This will take you to the installation file for your OS.
But why do you need the desktop version of Telegram? To fix the "this channel cannot be displayed on Telegram" error, you need to enable the "Disable filtering" option. This filter is a sensitive content filter.
By default, the "Disable filtering" option is enabled on the Telegram mobile app.
This is why if the Telegram application detects sensitive content in any Telegram channel, it displays the "this channel cannot be displayed on Telegram."
After you have downloaded and installed the Telegram desktop app, you need to log in to your account.
Just like Whatsapp, you can log in to the desktop version of Telegram by scanning a simple QR code. You can also use this feature to log in to your Telegram account from other devices.
After installation is complete, launch the app, it will display a QR code. Now take out your mobile phone and find the Telegram app.
From the Telegram app, open the QR Scanner. Follow the simple steps listed below if you do not know where the QR Code Scanner option is on Telegram.
Launch the Telegram app.
Now tap on Settings. (Beside the profile image)
Then tap on Devices.
From there, tap on "Scan QR Code."
After you have successfully logged in to your Telegram account, you will be taken to your dashboard.
You can check your entire message history and chat list from the dashboard.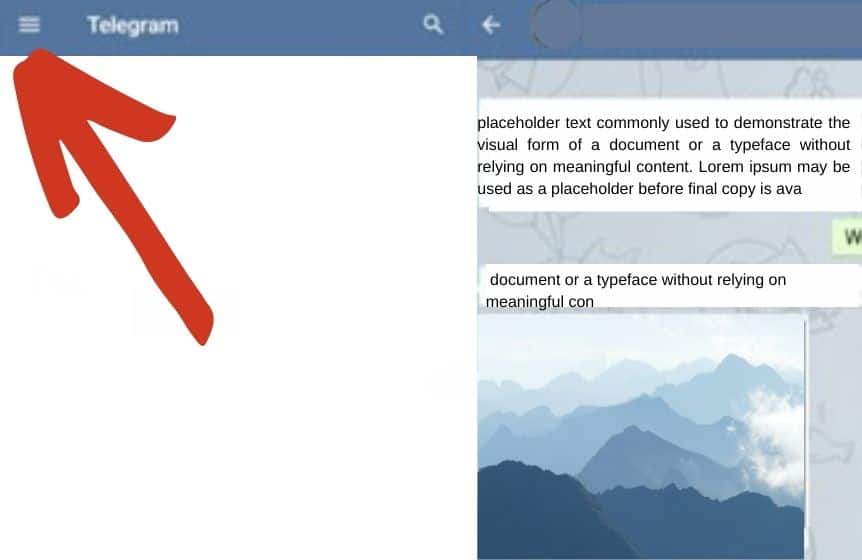 Select the Settings option.
After you tap on the Settings option, it will open multiple other options. Select Privacy & Settings from the next window.
Under the Sensitive content header, you will see the toggle option "Disable Filtering."
By default, this feature is enabled. This means that Telegram will automatically scan every channel (private channels, public channels) and group for sensitive content. And when it finds something shady, it blocks your access to that Telegram group or Telegram channel.
After you toggle the "Disable Filtering" option, Telegram will no longer block your access to Telegram channels and groups if it fits adult content.
Now quit the Telegram app on your phone. You might have to force quit the app to apply the changes.
How can I open sensitive content in Telegram?
Telegram is a popular instant messaging app. It exploded in popularity due to its user-friendly interface and end-to-end encryption.
Like WhatsApp, this app also offers file sharing, instant messaging, video calling, and audio calling features.
A large audience now accepts Telegram. Telegram users prefer it over WhatsApp, Facebook Messenger, other social networks, and social media apps.
If you don't have an account on Telegram, you can create a new telegram account today. You can sign up using your telephone number or email address.
After you create an account, you can access channels instantly. Quick add is a quick way to get connected to popular Telegram channels.
It is available for both Apple devices and Android devices. (Available on Google play store)
Here is a fun fact for you did you know the maximum number of members on Telegram is 200,000. Also, you can have an unlimited number of subscribers on Telegram.
Telegram has a strict policy for sharing sensitive content on the platform.
By default, it restricts users' access to see media files in channels and groups that were flagged for any form of sensitive things.
Telegram considers adult content, campaigns from right-wing extremists, plots against the federal government, hate speech, and graphic content as sensitive.
To bypass this default option, you must disable the "Disable Filtering" option.
We have already shown you a step-by-step guide on enabling the "Disable Filtering" option.
After disabling this feature, you can access any Telegram group and channel. You will no longer get the "this channel cannot be displayed on Telegram."
On Telegram, there are a lot of hidden channels. If you want to get added to a hidden channel, follow the below steps.
· the First step, from the upper right corner of the home screen, select the "Telegram Search" option. (Magnifying Glass)
· Next step, use the keyboard to type in the channel's name.
· You will see a Bullhorn Lam icon beside the hidden Telegram groups.
· From there, tap on the channel you want to join.
It is the easiest way to find hidden channels on Telegram. Hidden channels help closed societies, small teams, and secret groups stay connected on the platform.
When you find the group you were looking for, hit the Join button. You can search the telegram group for any particular member or message.
Let us know if you want us to put together a list of popular channels of this popular platform.
You can join Telegram groups using available invite links.
You can join the best Telegram channels using this method too.
Are Telegram channels safe?
Yes, they are. When it comes to data privacy, Telegram has deployed strong encryption to make all messages exchanged on the platform securely and safe against all breaching attempts.
Finally, Telegram is safe over both wi-fi connections and mobile data.
Although Telegram is a new messaging app, it has many advanced features. It is a preferred mode of communication for both professionals & youngsters. You can also create a VOIP account on Telegram.
On Telegram Secret Chats, you have client-client encryption. And when it comes to Cloud Chats, they come with server-client/client-server encryption.
Before you go, don't forget to check out what invisible means on Discord