Can you unread DMs on Instagram? Well, as it turns out, you can. However, to unread messages on Instagram, you need to be using a business account. In this article, we are looking at how to unread messages on Instagram.
Before we proceed, know that even after an Instagram user unread a message on Instagram, the "seen" receipt will not go away.
In other words, the message sender will still be able to see the "seen" notification. (read receipt). Then why should you use this feature?
If you are running an Instagram business account, you will encounter instances when you get completely overwhelmed by the sheer number of DMs you receive. (Number of unread messages)
You might receive hundreds of DMs from your customers or even your business collaborators.
Can you respond to all the text messages in a single go? Of course not! You can always reply with short prototyped texts, but this practice will never help you build a personal connection with your stakeholders.
After you unread Instagram DMs, you can come back the next day and get a quick view at which DMs are waiting for your reply.
Before we proceed any further, you should know there are over one billion active users on Instagram. The top three countries with the highest number of Instagram users are India (180 million), the USA (170 million), and Brazil (110 million).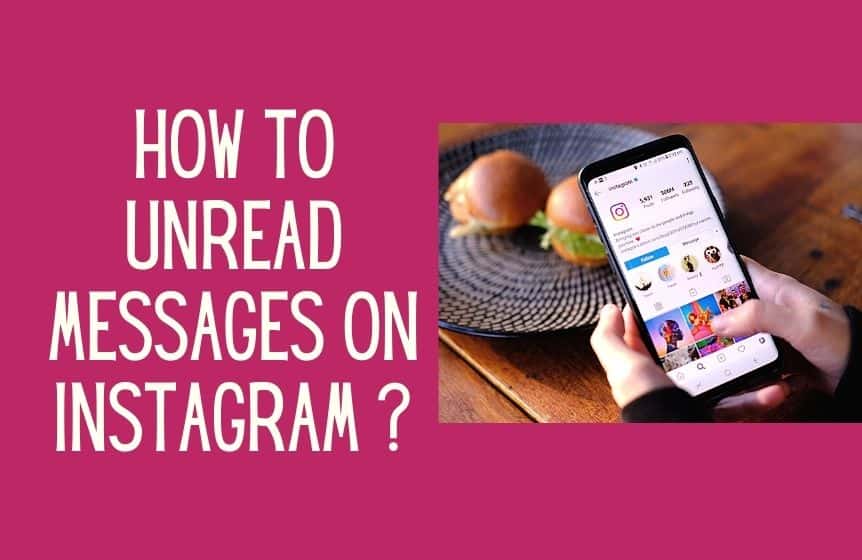 How to unread messages on Instagram?
It is time for us to see how to unread messages on Instagram. The below steps will work for both Instagram's primary inbox and the general one.
The primary DM tab hosts messages from your close friends and family members. In short, the primary tab is for anyone close and essential to you.
When someone sends you a text from your Primary list, you will receive an instant notification. You can individually tailor the primary tab on Instagram by adding or removing users.
Then you have the general tab, which hosts all the texts you receive from strangers.
Thanks to the general tab, you don't have the risk of unknowingly opening a conversation thread from a stranger. Also, the available account remains hidden in your Instagram profile.
Also, the steps are the same for Android phone users and iOS phone users. But remember, the only criteria to avail the unread messages on Instagram has a business profile.
Open Instagram and navigate to the DM section.
Pick the Instagram DM you want to unread.
3. From the upper right corner of the screen, tap on the Selecting icon. (Hamburger icon beside the profile icon/three-dot menu).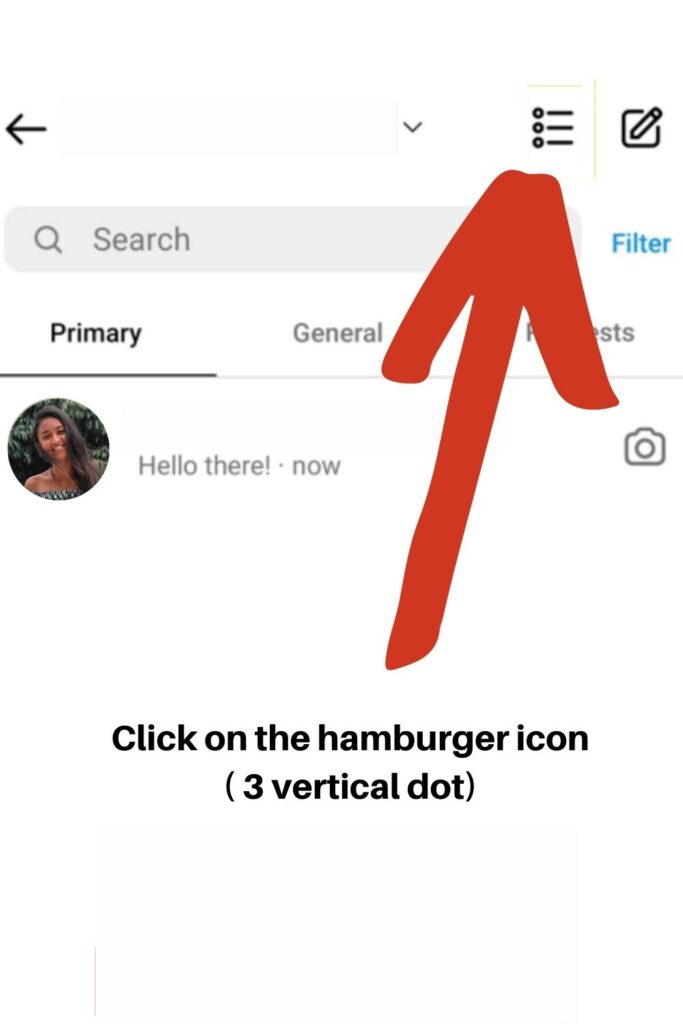 4. From the next window, select "More."

5. In the next window, you will see the option "Mark as Unread."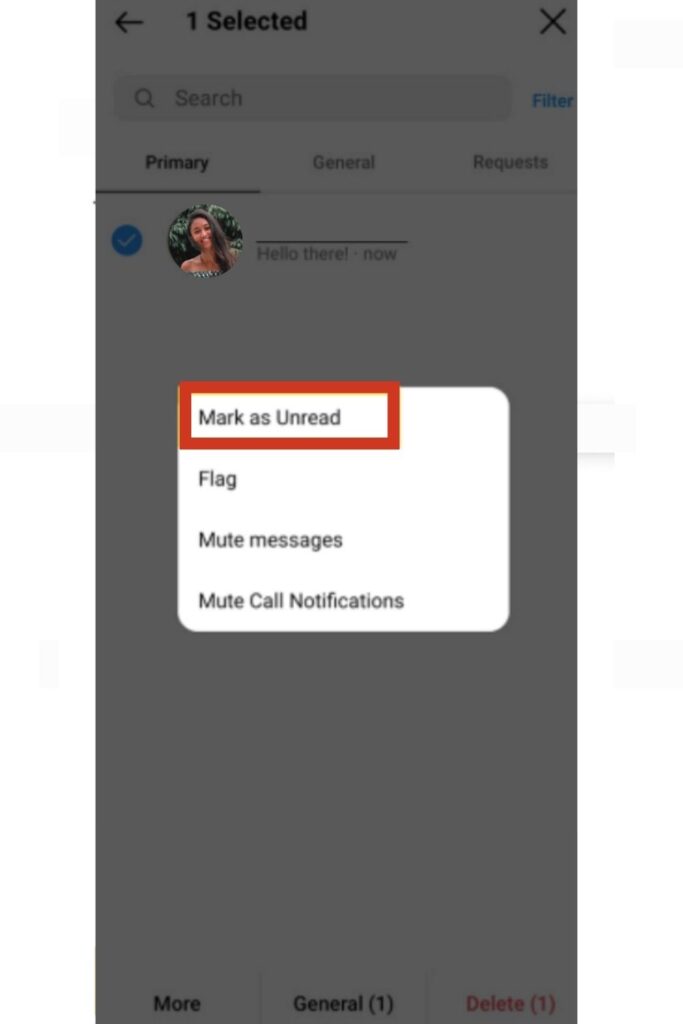 And that is it. You will see a blue dot beside the conversation you have just unread. Also, the red notification number will now appear on your Instagram feed. It might be one of the best parts of using a business profile on Instagram.
It is a reasonably new feature/new function on Instagram. If you do not find this feature, make sure you are using the latest version of Instagram. Download the latest version from Google play store or iTunes.
If you are using the latest version of the app and still can't find the feature, try clearing out the Instagram cache. It helps remove bulky Instagram direct message data from your smartphone.
How to mark messages as unread on Instagram?
On Instagram, users will see the "seen" icon under texts that have been successfully delivered and read by the client. This simple feature helps Instagram users check whether or not the recipient has read their texts.
But here is the deal. You cannot unsee an Instagram DM. The best thing you can do is mark Instagram DMs (paper airplane) as unread so that when you revisit your Instagram inbox, you can tell which conversation threads you have left unanswered.
Another feature to know about Instagram messages is that you can filter the list in chronological order to make your Instagram DM more manageable.
Also, know that the unread messages feature on Instagram is only available on its official app version. You will not find the same option on Instagram's web version.
How to unread messages without a business account in Instagram?
There are two different tiers of Instagram users – regular page & business page. Based on account privacy, you can have private accounts, personal accounts, or professional accounts. But let's not include that for this particular discussion.
If you are using a business Instagram account, you have access to an in-app feature that lets Instagram users unread messages on Instagram. Sadly, this feature is only available on Instagram business account clients.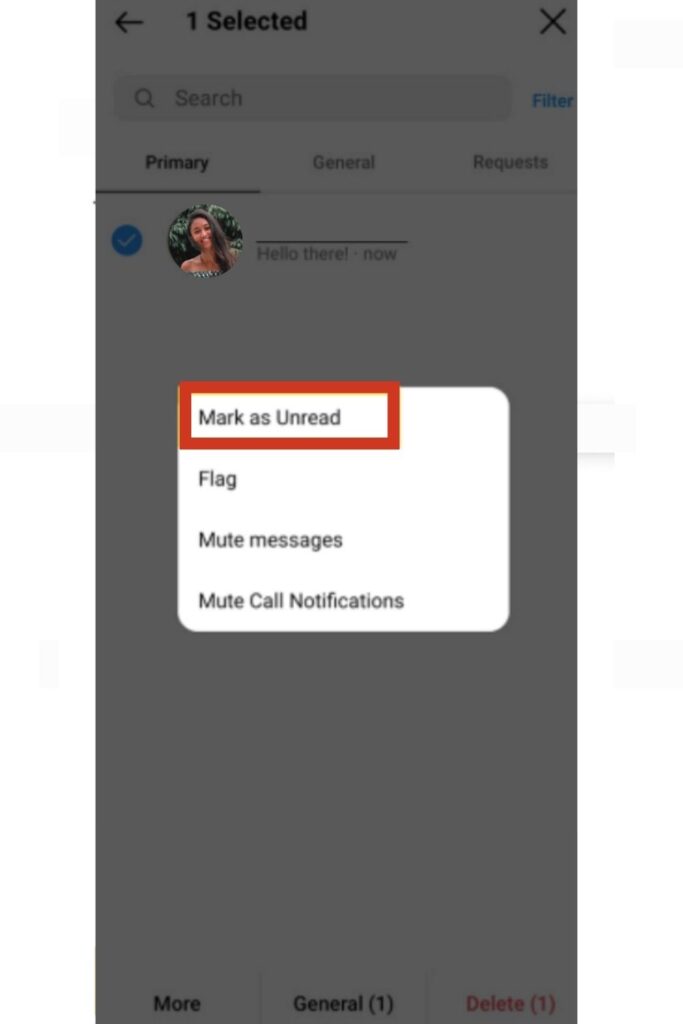 If you get DMs from random Instagram users, you will find these texts in the "Message Requests" section of your Instagram DM (paper airplane). Y
ou can read texts from unknown people from that tab. Doing this will not mark the texts as read. Instagram will only show the "read" notification icon when you accept their connecting request.
There is another way you can stop receiving texts from unknown strangers on Instagram – by restricting them from sending you a direct message.
You can restrict unknown Instagram users from both the desktop and mobile app versions of Instagram. You will not receive texts from restricted accounts. It is the easiest way to avoid receiving creepy messages.
And the last option to unread messages on Instagram is to put your phone on airplane mode before opening a text thread. It is the final way, and the easiest, to unread messages on the Instagram application.
Before you go, don't forget to check out how to view full size Instagram photos?