Volleyball is an energetic, fun, team-spirited, and action-packed game, which is no wonder it's one of the most popular sports. The rigorous volleyball practice and game time make for picture-perfect moments which go hand in hand with great volleyball captions for Instagram.
So, when you take great photos for your volleyball posts, don't spend much time thinking about the best captions because this blog post has made it easier for you. It contains collections of clever volleyball captions, short volleyball Instagram captions, e.t.c, to get you the perfect volleyball captions.
Whether it's the volleyball season or not, spread the love of the game on social media with your volleyball pictures and these Instagram captions. 
Short volleyball captions for Instagram
If you like to keep it straight to the point and don't like long captions, these short captions will do the trick:
Little shots, big hits.
My weekends are my volleyball time.
"It is not over until when it's over." – Yogi Berra
Believe in yourself, and you are halfway there.
Winners wear their bruises with pride.
Attitude is the difference between volleyball success and failure.
Here comes the weekend.
Our game is tighter than your spandex.
Volleyball is my love.
"Sacrifice early, and you'll win late.' – Charles Harley
Do what you have to do and be who you want to be.
To play like us, you need major mojo.
Defend till you see victory.
Teamwork will make the dream work.
You got served.
Funny you think this is a game.
I was born to shine in volleyball.
This is more than just passion.
Bump, set, spike! It is what it is.
One short, one kill.
Funny volleyball captions for Instagram
A little humor is always bliss for social media. It makes your posts less serious and more endearing. Well, these are not stand-up comedy funny, but they are light-hearted, and you can find a couple of funny ones below:
If you are here for a soft serve, you might as well look for the diary queen.
I'm sorry dear princess. Even if you were Cinderella, you still wouldn't get this ball.
Want a soft serve? This is not ice cream.
Volleyball is more of an intense version of the kids' game, 'don't let the balloon fall.'
Even though there might be many reasons for blunders in volleyball, there should be no single excuse.
I love volleyball more than my girlfriend… It's why I'm single.
Failure cannot be defined as the opposite of success. It is the learning process toward success.
My boyfriend made me choose between her and my love for volleyball. Big mistake. Anyway, I'll miss him.
"If I can think of the hardest thing I've ever had to do, then it has to be volleyball." – Liam Hemsworth.
I play volleyball because slapping people will cause trouble with the law!
Try volleyball if you want to express young anger without getting in trouble.
I wasn't pretty enough for the cheering squad, so I became a volleyball player.
The boys are so awesome. It's why there's a waterboy on each girl's volleyball team.
You know you love volleyball when spandex is fashionable to you.
You love volleyball when you keep playing even with a twisted ankle.
Shut up. The court's in session.
Tell me the difference between a good setter and a waiter.
My superpower is playing volleyball. What's yours?
If it were easy, it would have been football. 
Beach volleyball captions for Instagram
If you think playing volleyball on the court is fun, try playing at the beach: pure summer vibes and a perfect way to get in shape and hang out with new friends. Even if you are not a pro, the experience is worth it.
The next batch of volleyball captions are great to use as beach volleyball captions for Instagram:
Winning is not as important as the desire to win.
Sometimes champions have to lose many battles before winning.
The way we serve, we deserve to become waiters.
Rise till the last game.
This is not a game for wimps.
Another weekend for sand and volleyball.
You don't have to be the best, but how badly do you want it?
Champions are built, not born.
Just found another reason to be in love with the beach.
Did you want a softer serve? At the beach?
Beach volleyball is my latest hobby. So far, so good.
Are you game, or just another wimp?
99% volleyball, 1% muscle, and tone.
Sometimes, you only need the sand, a net, and a ball.
You don't need a beach body to enjoy the game… Just confidence.
Hitting on us is one thing, but scoring is another.
If you can hit, then you can stop.
Have fun, do your best and forget the rest.
Never disclose to anyone that you are not strong enough.
It will never become easier. Only you can keep getting better.
Volleyball and sand vibes.
We came, we spiked, we conquered.
Forget about your tan lines and focus on the game.
Beach volleyball is more than just a game. It's a time to bond with family and friends on the sand.
Volleyball at the beach is unforgettable – the sand, the fun, new friends.
Another season for summer volleyball.
It can get better than this -fun, sweat, and fun.
Mud volleyball captions
Beach volleyball is fun, and mud volleyball? Crazy fun! Here are volleyball captions you can use for this muddy game:
· When I have a great game, I can figure out what's important in life.
· Even though some games are tough, we try to take it one set at a time.
· You can't claim to be great if you've never failed.
· Step up your game even when you are trailing behind.
· "To check in with yourself is to check in with the whole world." – Aimee McGee.
· Always have your game on – whether you're on the court or not.
· It takes more than your pair of hands to win the game. #teamworkisthedreamwork
· Do you want to be judged by how old you are or by how young you feel?
· Always play every game like it's our last.
· There are days when I'm tearing down opponents while dodging their brutal slams on others.
· A spike will score a point and bring the team together.
· Let the competition know you are going for the spike.
· The team being in harmony during a game endears me to volleyball.
· There is no negotiating with the opponent, be aggressive, and win a good spike.
· Don t fear the ball, slam down your opponent and crush their hopes
Related : Football captions for Instagram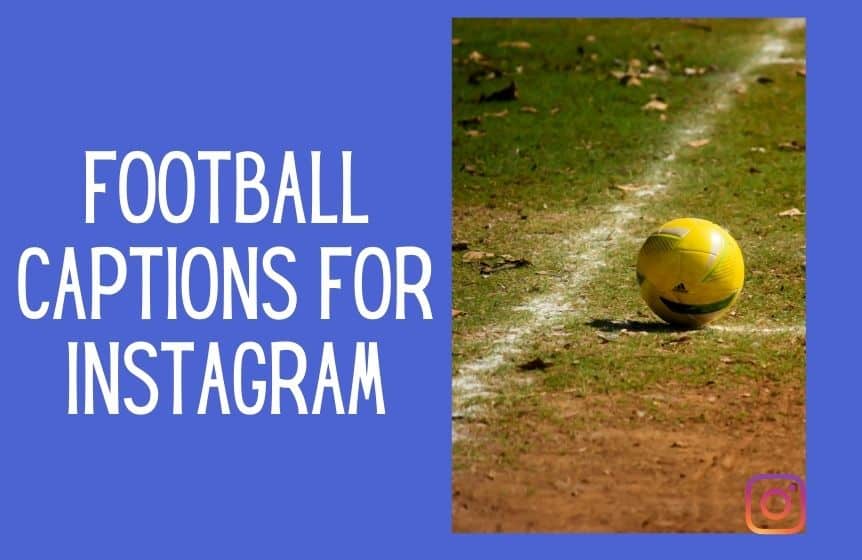 Volleyball captions with friends
A great game makes you some amazing friends. Here are great volleyball captions for Instagram to share with your friends:
My good God, Becky look at her block.
A volleyball match is a game of quick hands and quick feet.
What a great spike my love for volleyball is.
Here we trade sweat for power.
Big results come because of each little daily progress.
When you turn your cants into cans, your dream falls into plan.
You have to bounce high when you hit bottom coz success is up there.
Today I'm hitting like a girl, but you are still not keeping up.
You can't lose when everyone's playing attack ball.
You win as a team, not alone.
This is the block party.
You can't go far even if you are talented but don't know teamwork.
Become a winner when you are driven by passion and fuelled by hard work.
Attack quick, serve smart, block strong, and dig deep.
A river does not cut through rock because it is powerful but persistent.
No one said it would be easy, but it's totally worth it.
To shine in front of a thousand, work harder than a thousand when alone.
Friendship is the main reason why I love the volleyball court.
You can be better than the best when you give it your all.
It is great teammates that turn you into a winner.
It's not about winning or losing but having a great game.
To be the best, you have to work more than the rest.
Playing volleyball with your bestie feels more like having fun than a game.
I can't wait for the weekend to hang out at the court.
Sweat more in training so that you bleed less in the battle!
Senior year volleyball captions for Instagram
If you played volleyball in senior year, here are some volleyball captions for Instagram to share with others about your experience of playing this sport in school.
If you prefer a softer serving, go for ice cream.
Rise and make the last game victorious.
You better know that volleyball isn't just a game… It's a way of life.
A good setter is more like a waiter.
A core group that possesses similar goals can do wonders.
Any good team wins a volleyball game when leading, but it takes a great team to come from behind and win the game.
Always find a better place than where you are when the ball is in play.
The only thing that ensures a good day gets better is a volleyball game.
"Champions keep trying to improve their game until they get it right." – Billie Jean King.
When you feel comfortable, just know it's a sure sign that your progress has stopped.
Beat their expectations, set new standards, and eliminate the competition.
Give your players the freedom they need coz volleyball doesn't have a formula.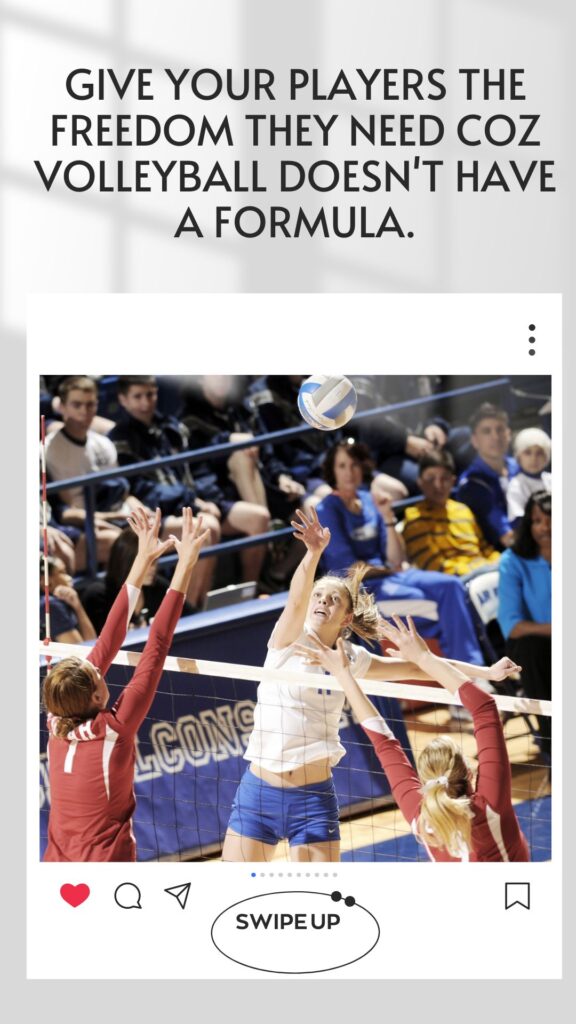 Become a masterpiece by imagining no limitations on what you do, have, or can be.
'While adversity causes some to break, it causes others to break records.' – William A. Ward.
Volleyball is not a solo act but teamwork.
When you put in the effort and give it your best, there will be no chance for regrets.
Only you can limit your fear and limitations because they are illusions.
Get on the court and show them what you are made of.
The only way to be good is to play a lot. It takes much practice to become a great team.
Let's unite for the national championship.
Volleyball is the only reason I can't wait to go back to school.
Best volleyball captions for Instagram
Below are some of the best volleyball captions for Instagram that you should use for your next post.
Sometimes you have to rise above the storm to find the sunshine.
I'm only fit because I have to work out for volleyball.
Trade hard work for strength, trade your fear for courage… trade doubt for belief, and don't trade volleyball for anything.
It is the accumulation of little things that become big things.
Do whatever it takes for your sport, even if it means going for early morning workouts.
The best secret of life is to keep aiming higher.
The biggest risk you can take is not taking any risks.
Part of our success is embracing failure and correcting our mistakes.
You can't find success without reaching the bottom rung.
If you want to know the best team look for the one where the players play together.
"The only way you can discover the limits of the possible is by becoming better and going into the impossible." – Arthur Clarke.
Your 'kill' isn't yours alone. Don't forget to also give credit to those who deserve it.
The win will always be late on that off chance when you penance early.
Court lights, lights on, game time!
Let's meet at the net!
Swing like their blocks doesn't mean jerk.
This is a combination of hard work and belief in our game.
To become great, you must have some passion for the game.
Always play like no one's watching.
Before you become a winner, you have to look like one too.
The point is to win while having fun at the same time.
Conclusion
With this exhaustive list of good volleyball Instagram captions, you won't have to struggle trying to create something creative for your Instagram post. After a volleyball match, you can flaunt your game and teammates by picking a caption and using it as your team caption.
Share the love of the game by following popular hashtags and any of the above captions.
Which are your favorite volleyball captions for Instagram? Share it with us in the comment box below.