Getting a new hairstyle is not a joke. It is a serious matter because you are altering your physical appearance. And being such a delicate matter, we have to let everyone who cares to know through our haircut quotes for Instagram.
Whether you want to cut your hair short, make it curly, or even change its color and texture, it is important to love your hair. And social media has become our place to get society's views and what they think about the different styles we adorn.
So naturally, you need a good caption to accompany that cool pic on your Instagram post. Luckily, you are in the right place to get the best hair captions.
This article contains a collection of insightful hair captions so you won't have to worry anymore about what to post on your socials once your hair gets that magical touch.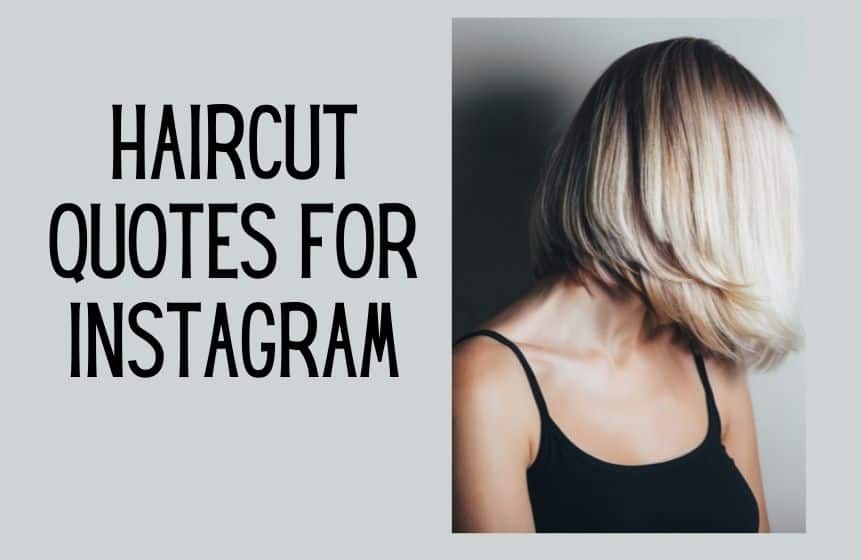 Funny haircut quotes for Instagram
I'll start with some of the best Instagram captions with a bit of humor because you won't get all the likes for being the most boring person, right?
Me: My hair looks great today.
 Rain: LOL, is that a challenge?
Let's have a moment of silence for the single hair that's always left out of the braid.
Sometimes I can't tell which is messier between my life and my hair.
Have you ever had a day where you look like a troll doll because of a bad hair day?
Sometimes humidity can leave you looking like a lion.
Dear hair, if you cooperate today, we won't have to do this the hard way.
While other girls look like fairy princesses when they rock a messy ponytail, I look like a founding father when I try a messy ponytail.
I hope you are having a day as good as my hair.
My lovely hair will not allow me to stay in for the weekend.
Straight hair problems: When your forehead seems huge because your hair is straight.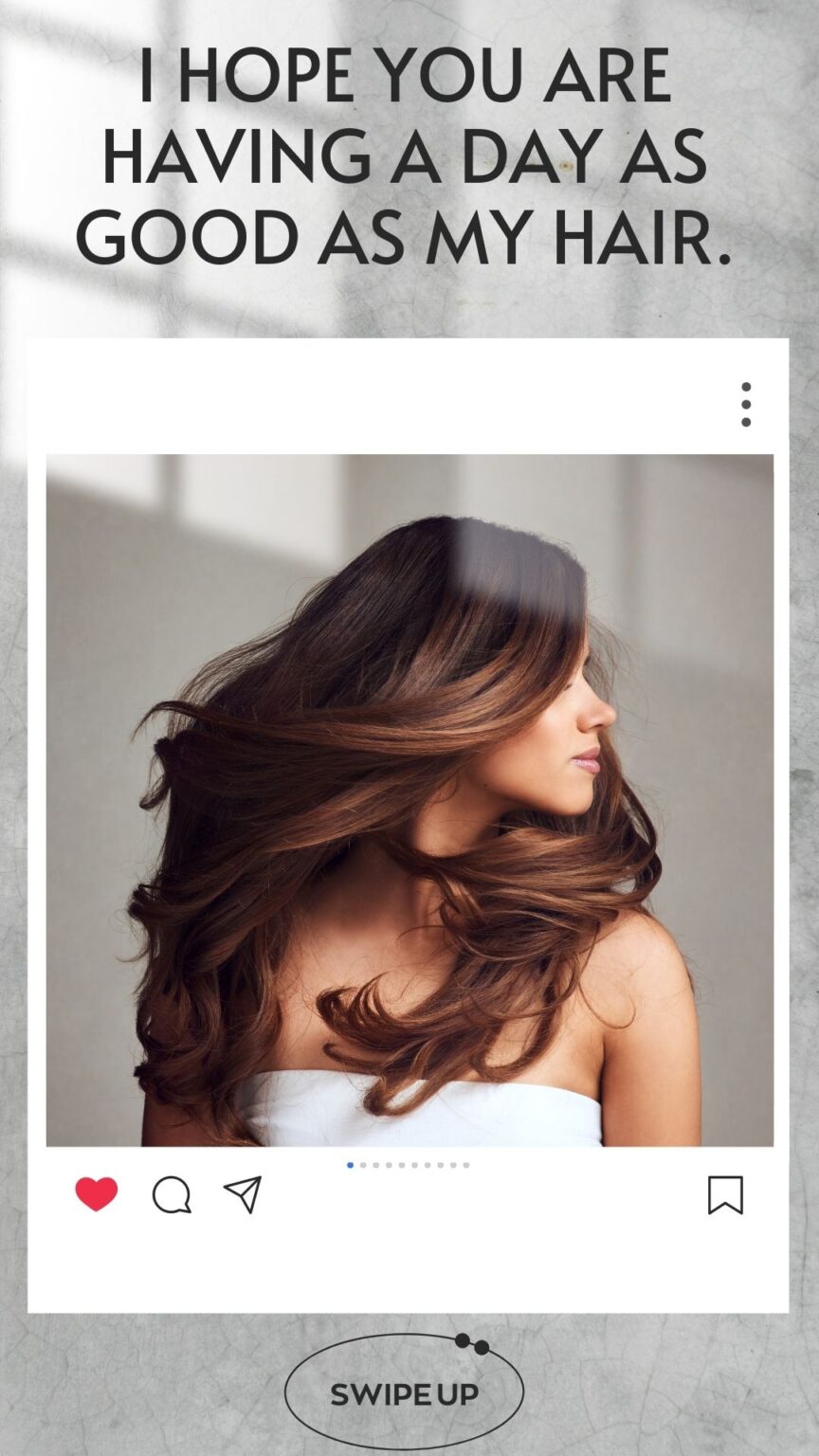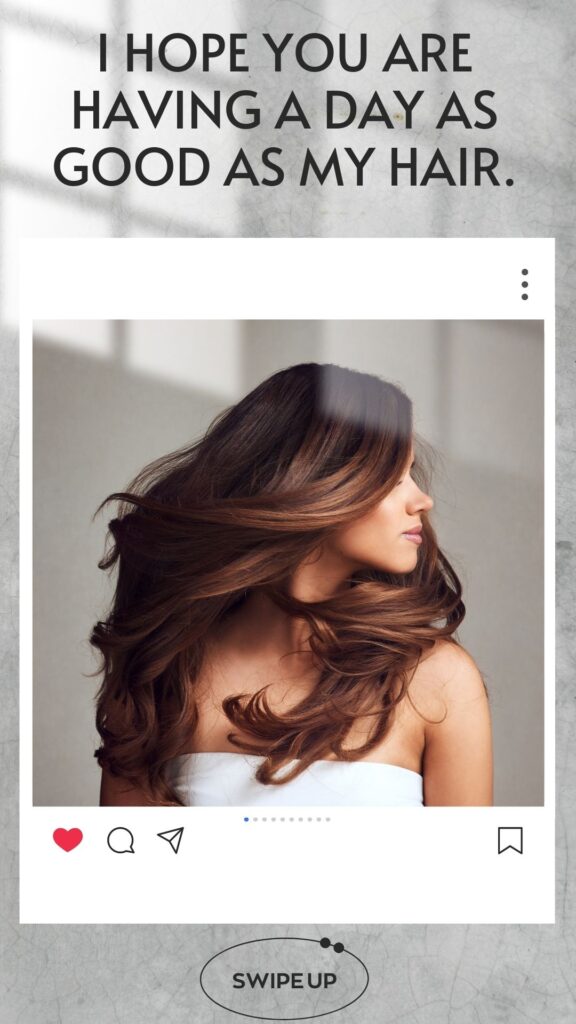 Short haircut quotes for Instagram
Here are some dope short hair cut quotes for Instagram:
Short hair on a woman is a statement of power.
Short hair, don't care.
Cut your hair to make them stop & stare.
Sometimes you have to let your short hair do the talking.
Short hair gives me much happiness.
The shorter the hair, the more they stare.
People will always judge you by your last haircut.
A fresh haircut makes you feel positive. There is something magical about changing your hairstyle.
Some of my haircuts have been the worst mistakes in my life.
"Trying new looks and new hairstyles is part of who I am." – Paul Pogba.
Looking youthful is relatively easy. Just get a modern, fashionable hairstyle.
This short hair is one of the cutest haircuts I've ever had.
A decent haircut will go a long way in how people define you.
Related : Smile captions for Instagram
Get a decent haircut and a suit if you want people to respect you no matter who you are.
As style icons come and go, so should your stylish hair cuts. 
A fresh cut and new clothes can leave you feeling therapeutic. When you look in the mirror and see that you have become a new person, the superficial change can lead to genuine change.
Remember that you are a statement – your haircut, clothes, and how you act speak volumes about you.
If you want to experience real trauma, get a bad haircut.
No one should underestimate the actual power of a fresh haircut.
Perfect haircut quotes for Instagram & long hair captions
Loving your long hair? Take a photo and borrow the best caption from this list:
Long hair is a woman's glory.
My long hair is a representation of my strength and patience in life.
Life is short doesn't mean your hair also has to be short.
My long hair makes me feel like a princess in my fairy tale life.
Long hair looks so adorable, but if only you could know about the struggles…
Long hair can give some of the best and worst moments in life. Wonderful and annoying at the same time.
A good hairstyle can transform a plain woman into a beautiful one and make a beautiful woman unforgettable.
Life is too short of having boring hair.
The best accessory you can always have is a great hairstyle.
I can't hear you haters over the volume of my hair.
Instagram captions for new hair color
Don't you love how a different color feels like a signal for a new adventure, a more colorful life? The experience is just daring and speaks of freedom – today you have black hair, the next time you have blonde hair!
Dying your hair is like making a bold statement: Happy hair, happy life! So, here are some great quotes to use for your captions on your hair pictures:
Love is in the hair.
I change my hair color to represent my whole new attitude.
Blue is such a bold statement. You know you've conquered it all when you can dye your hair blue.
The hair color represents the state of mind that you are in.
If you can't change anything else in your life, then change your hair color.
You got to love girls with colored hair for being free-spirited and having gypsy souls.
If she colors her hair after you break up, you'll never get her back.
Your hair should not just be basic. Color and brighten it up.
I love hair colors. They represent my feelings, state of mind, and freedom.
Respect a woman going through the red hair phase. It shows she's going through some deep stuff, so give her some space.
Colored hair is a sign of creativity and flexibility.
What if I told you the color of my hair reflects my soul?
I add life to my boring hair by giving it a touch of color.
I love my new hair quotes.
Nothing feels greater than a brand new hairdo. It plays important roles, from having healthy hair to bringing back our confidence.
So, whether you are looking for cute style captions or haircut quotes for Instagram to show off the new look, here is a list:
When my hair looks good, it gives me the confidence that I can deal with anything that comes my way.
True joy is having a good hair day.
Though I wanted to stay indoors today, my magnificent hair wouldn't let me.
On my great hair days like today, I feel like I can rule the world.
How disappointed do you get when you have a good hair day and no one important spots you?
Some people will never fully understand the power of a good hair day.
Having gorgeous hair is the best revenge you can have.
Even if your life isn't perfect, make sure your hair is.
The best makeup has the perfect hairstyle.
When my hair is excellent, I feel like I can breathe again.
They say hair doesn't make the woman, but a great hairstyle helps.
Sorry, I can't hear you over the awesomeness of my hair.
Total bliss is when somebody compliments your new hairstyle.
To love your hair is to love yourself truly.
If I want to experience life differently, I get a new hairstyle.
New hair look captions for girls.
A girl has to look good, and when she has a great new hair look, the social media world has to know. Great pics go with the perfect captions, and here are some cool captions you can use for your Insta posts:
New day, new week, new hair. Feeling like a new me.
A new hairstyle will always do if you want to be more beautiful and confident.
If you can't change anything else in your life, at least try a new hairstyle.
Trying to be bolder with my new hair look.
Try a new hairstyle once your life becomes boring and you want to make things a bit more exciting.
A girl can conquer the world on her good hair day.
Please don't care about my looks, but my hair is my best accessory.
When you have gorgeous hair and your skin is divine, it's your time to shine.
Whether you make it short, curly, or straight, always remember that your hair is beautiful.
Related : Good comments for Instagram pictures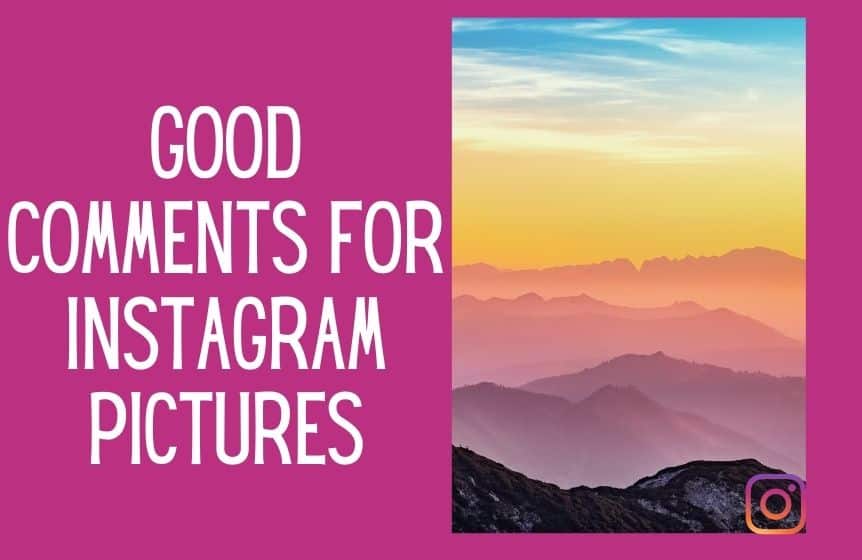 My big hair is full of secrets, just like my life.
All that matters to me is that my hair is perfect. I don't care about how imperfect my life is.
Don't dull your curls for anybody's trash talk.
Always thrill your life with a beautiful hair flip.
I love it when my new hairdo makes me feel and look younger.
Want to light up a girl's life. Compliment her hairstyle.
 I have to invest in my hair because it is the crown of my head that I will never take off.
I am a queen, and my crown is my gorgeous hair.
Messy hair captions
Try all we want, but sometimes we get our fair share of bad hair days. Nightmarish. Cringy. But what can you do? Be bold, take a pic, and laugh it away with your friends on social media.
Here are some good haircut quotes for Instagram and perfect captions to use on your messy hair days:
Bad hair days always have a way of spoiling your mood.
Have you ever looked into the mirror and wondered whether you spent the entire day looking like that?
Bad hair days remind you that you can't always have everything under control no matter how you try.
Is it a bad hair day or a bad hair life?
My hat is always my back up because I don't have time for a bad hair day.
There is no brilliant solution to a bad hair day – it is nature's way of telling you can't always have it all.
You will never catch me in public on my nightmarish hair days.
Bad hair days aren't that bad until someone takes a photo of you.
Getting a bad haircut is a sure way of putting you in a foul mood..
I will name my new hairstyle, "I tried."
Selfie hair captions
There is no such thing as a good hair day without a selfie. That would be just selfish! Kidding. Anyway, here are some awesome haircut quotes for Instagram you can use when you decide to take that selfie and show off your amazing hair:
Becoming fitter and getting a good haircut change how you look and your outlook towards a lot of things in life.
Losing a lover should be compared to getting a bad haircut. It is heartbreaking but will grow back in time.
"I have never liked haircuts." – John Updike.
What's the fun in keeping the same haircut for years?
Some say there is nothing like the perfect haircut, but I would beg to differ.
I love changing my hair, but I wouldn't say I like haircuts.
If you see a woman cutting her hair, know that she's about to change her lifestyle.
You're only as good as your last haircut.
New haircuts are the true definition of happiness.
A good haircut can be a powerful statement.
Avoid negative vibes. Surround yourself with beautiful hair.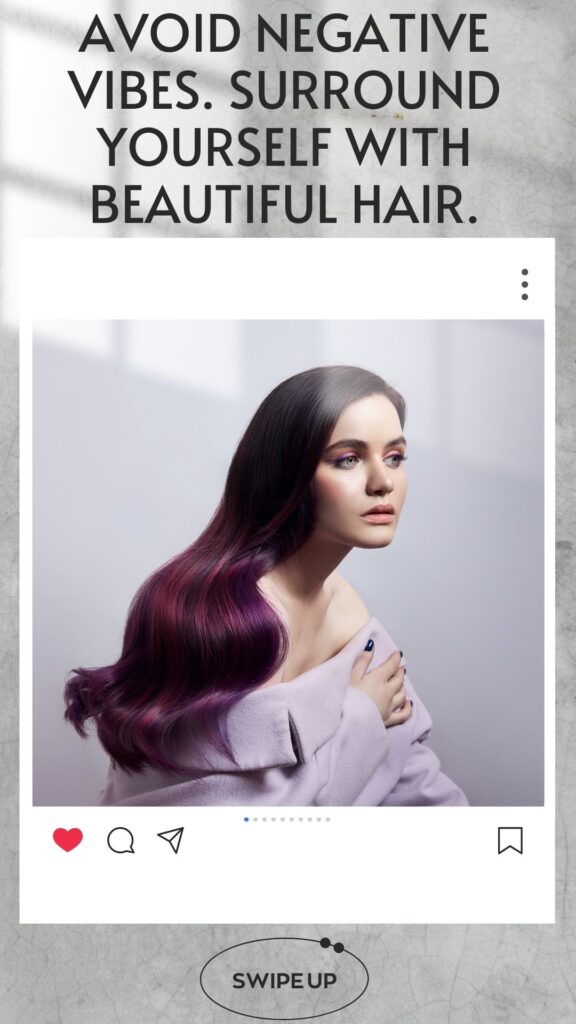 A large percentage of your selfies capture the head, so take good care of your hair.
What doesn't nourish your soul or hair should have no place in your life.
They talk about inner beauty, which is great, but I'm all about fabulous hair!
Life is too short not to mind how your hair looks.
Style your hair right, iron that clean outfit, smell good, and step out in clean sneakers. Treat yourself to a fresh new look.
Final words
Whatever you decide to do with your hair, the correct type of caption is a good way to share your experience. Choose perfect captions from above for your stylish hair and even haircut quotes for Instagram or your favorite social media.