Naming your new farm animal is a significant first step in building strong bonds with them. Cows are large creatures, and just like other farmyard animals, they deserve a perfect name that matches their unique character and personality traits. This blog offers a list of cow names that will give you a good laugh, inspire creativity, and ensure your new bovine friend feels right at home.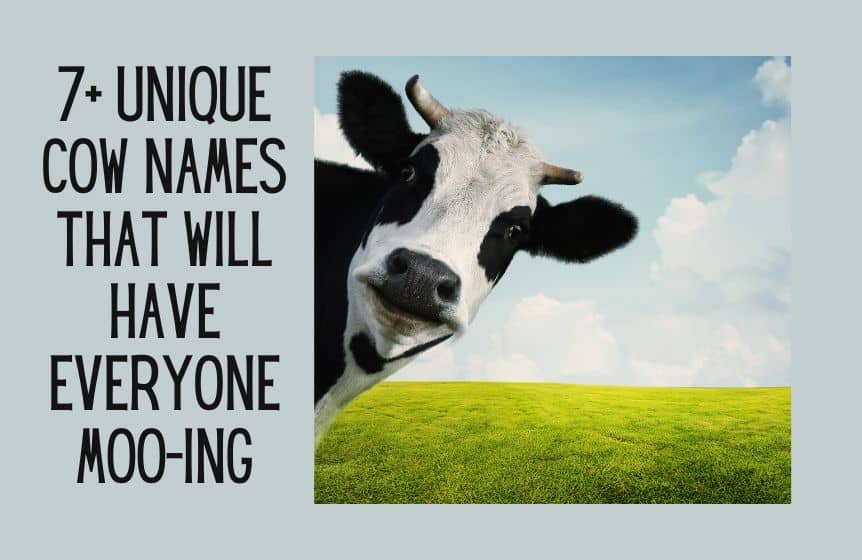 Funny Cow Names
If you are looking for funny cow names to tickle your funny bone and bring a smile to anyone who hears it, you're in the right place.
A good pun or funny names can create a personal connection and make for some memorable moments. Here are 40 funny cow names for your consideration:
Moochelle Obama
Mooly Cyrus
Dairy Queen
Sir Loin
Moo-donna
Beef Stroganoff
Moo Point
Udderly
Veal Deal
Moo Malone
Mootilda
Moojestic
Moo Goo Gai Pan
Milkshake
Bessie Moo
Bully Beef
Chuck Steak
Heifer Sutherland
Lean Beef
Angus Khan
MooDy Judy
Cowabunga
Milk Dud
Milk Jagger
Choco-Latte
Dooby Dooby Moo
Dairy Air
Moosical
Buttercup
Grazzly Bear
Moo-lan
Milky Way
Moogic Mike
Al Ca-moo-ne
The Great Mootini
Moo York
Moo-nica
Moo-nalisa
Moo-lissa McCarthy
Moo-stafa
Related : 50+ fun Robot names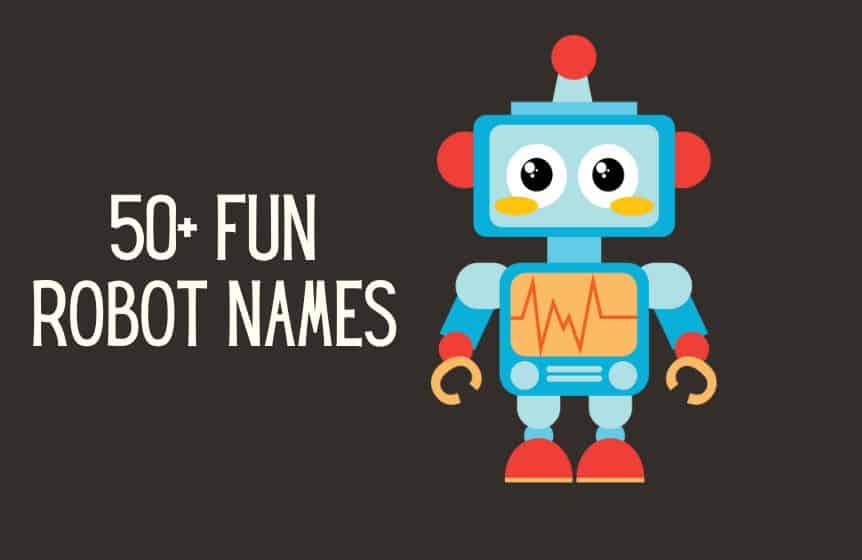 Female Cow Names
Naming your female cattle is a special event. A beautiful bovine deserves the best cow names. Whether you prefer traditional names or more unique cow names, there are countless options. Here are 30 female cow names:
Daisy
Belle
Buttercup
Clarabelle Cow
Dolly
Eleanor
Molly Moo-Cow
Gertie
Rose
Blossom
Betsy
Maggie
Honey
Lily
Lola
Stella
Violet
Clover
Elsie
Holly
Ruby
Star
Willow
Rosie
Winnie
Dottie
Ginger
Pearl
Petunia
Queenie
Black Cow Names
When naming a black cow, you may want to consider their color and unique character. Here are the top 30 black cow names:
Ebony
Midnight
Raven
Licorice
Black Beauty
Blackberry
Inky
Jet
Blackie
Galaxy
Smoky
Shadow
Coal
Espresso
Dark Knight
Moonlight
Thunder
Oreo
Velvet
Noir
Black Pearl
Cocoa
Mocha
Hershey
Black Tie
Panther
Sooty
Darky
Domino
Pumpernickel
Eclipse
Black Diamond
Darth Vader
Black Swan
Obsidian
Onyx
Pepper
Black Panther
Black Star
Guinness
Unique Cow Names
If you're in search of unique cow names, something offbeat, creative and perhaps a bit whimsical, you're in luck. From pop culture references to exotic words, here are some unique names for your new bovine friend:
Amaryllis
Baloo
Castalia
Daenerys
Elvendork
Fizzgig
Guinevere
Huckleberry
Izzybella
Jubilee
Kahlua
Labyrinth
Macadamia
Nefertiti
Oriole
Persephone
Quasar
Rhapsody
Starlight
Truffle
Unicorn
Valkyrie
Whimsy
Xanadu
Ygritte
Zephyr
Paprika
Quinoa
Kismet
Fandango
Nebula
Quasar
Marzipan
Andromeda
Serendipity
Babushka
Macaron
Ziggy
Sequoia
Halcyon
Xerxes
Bumblebee
Chrysanthemum
Wisteria
Zinnia
Cappuccino
Dandelion
Fibonacci
Hyacinth

Cantaloupe
Male Cow Names
Whether you're after classic cow names, traditional names, or the best male cow names, here's a list of 30 male cow names to help you pick the best name for your bull or steer:
Brutus
Duke
Tank
King
Maximus
Titan
Caesar
Samson
Hercules
Spartacus
Zeus
Diesel
Apollo
Thunder
Buck
Major
T-Bone
Bullseye
Jumbo
Rocky
Toro
Angus
Texas Longhorn
Brawny
Gunner
Beefcake
Buffalo
Chief
Rodeo
Outlaw
Famous Cow Names
From famous cows in children's books, TV shows, and animated series to cows in commercials and even real-life famous cows, here are 30 of the most famous cow names:
Elsie the Cow (Borden Company)
Clarabelle Cow (Walt Disney)
Ferdinand (Ferdinand the Bull)
Otis (Barnyard)
Pauline (Super Mario series)
Milka Cow (Milka Chocolate)
Bossy (Raggedy Ann series)
Heffer Wolfe (Rocko's Modern Life)
Blue (Blue's Clues)
Cow (Cow and Chicken)
Moo (Milk & Cheese)
Annabelle (Annabelle's Wish)
Maggie (Home on the Range)
Mrs. O'Leary's Cow
Babe the Blue Ox (Paul Bunyan's companion)
Clara (Back at the Barnyard)
Caroline (Caroline's Dream)
Cow (WordWorld)
Moopheus (The Meatrix)
Daisy (Super Mario series)
Milky-White (Into the Woods)
Moolissa (Ferdinand)
Daisy the Cow (Ben & Holly's Little Kingdom)
Cowardly Cow (Cow and Chicken)
Blackie the Cow (A Cow's Life)
Milky Way (A Cow's Life)
Moo Moo (The Powerpuff Girls)
Gau (The Tiger and the Cow)
Miss Bovina (Jakers! The Adventures of Piggley Winks)
Bessy (Back at the Barnyard)
Names for Brown Cows
The color brown, with its varied shades, offers numerous name ideas for brown cows. Let's explore 30 brown cow names:
Nutmeg
Brownie
Hazel
Muffin
Toast
Caramel
Toffee
Maple
Fudge
Latte
Autumn
Chestnut
Cocoa
Mocha
Raisin
Brandy
Hershey
Ginger
Coffee
Whiskey
Snickers
Almond
Acorn
Chocolate
Cinnamon
Pecan
Molasses
Tawny
Rusty
Teddy
Hamish Cow Names
Hamish is traditionally a Scottish name, often associated with the Highland cattle breed, also known as the Highland cow. In this light, here are 30 Hamish-inspired cow names that reflect this breed's cultural heritage:
Hamish
Bonnie
Morag
Isla
Angus
Lachlan
Dougal
Fergus
Iona
Skye
Flora
Nessie
Duncan
Callum
Mairi
Mac
Ceilidh
Brodie
Rabbie
Blair
Jura
Ailsa
Finlay
Lorna
Heather
Arran
Glen
Eilidh
Senga
Harris
White Cow Names
When you think of dairy cows or a pet cow, perhaps the image of white cows springs to mind. Here are 30 white cow names to match your bovine's milky coat:
Snowflake
Marshmallow
Cloud
Vanilla
Ivory
Sugar
Coconut
Cotton
Frosty
Lily
Pearl
Angel
Ice
Winter
Daisy
Stardust
Jasmine
Diamond
Crystal
Whisper
Ghost
Luna
Popcorn
Milky
Powder
Chalky
Snow White
Cottonball
Dove
Frostine
Cow names with meaning
Daisy: This name, commonly given to cows, derives from the Old English "daes eage," meaning "day's eye." It is the name of a bright, cheerful flower that opens and closes with the sun.
Clover: Named after a type of plant that cows love to eat, this name symbolizes good luck and prosperity.
Moolan: A humorous twist on the name of the famous Chinese legend Mulan, suggesting a cow that is brave and independent.
Bessie: This name is often used as a stereotypical name for cows in the English language. It originates from Elizabeth, which means "my God is an oath" or "my God is abundance."
Angus: Originating from Scotland, this name is associated with a breed of beef cattle known for its meat quality. It means "one strength" or "unique choice."
Clarabelle: A combination of "Clara" which means clear or bright, and "belle" which means beautiful. Clarabelle Cow is a classic Walt Disney cartoon character.
Moochelle Obama: A pun on the name of former First Lady Michelle Obama, suggesting a cow with a stately and dignified demeanor.
Mooly Cyrus: A play on the name of pop star Miley Cyrus, perhaps for a cow with a particularly vibrant personality.
Eclipse: A good name for a black cow, referring to the astronomical event where one celestial body obscures another.
Heifer Sutherland: A pun on the name of the famous actor Kiefer Sutherland, ideal for a cow who's the star of your farm.
Tips for Naming Your Cows
Consider Your Cow's Personality: Just like humans, cows have different personalities. Observing their behavior can give you a great idea for a name that suits them.
Think About Physical Characteristics: Often, the cow's color or unique markings can inspire a name.
Inspiration from Their Breed: Certain breeds, like Angus cattle or Texas Longhorns, can lend themselves to certain names.
Famous Cows and Fictional Characters: Cows from TV shows, children's books, and even real-life famous cows can be a fun way to name your cow.
Use Humor: Many people enjoy using puns or humor when naming their cows.
Don't Rush the Process: Take your time. The right name might come to you when you least expect it.
Whether it's a funny cow name, a classic name, or a name based on the cow's color, there are various ways to come up with a good cow name. Use this guide as a cow name generator to assist you in the creative process, and have fun while doing it!