As an NFL fan, apart from enjoying the regular season, it is always thrilling to form your team and join the fantasy football season to compete with other fantasy owners.  As there are many fantasy football teams out there, having great fantasy football team names gives you a good chance of standing out. Picking an awesome team name will make your team sound cooler and earn you respect among other team owners.
Luckily, it doesn't have to be stressful for you, as we have compiled a great list of team names – Funny names, creative names, good names, cool team names, e.t.c. These ensure you get the best team name for your fantasy football team.    
How to pick a good team name?
Choosing a great fantasy football team name should be considered a serious business. It is the name you want to be associated with during the entire season.
And you want your opponents to see your wit or get a hearty laugh when they see your team name and wish they were as creative as you are.
So how do you come up with a name that gives your opponents goosebumps? Or one that shows you gave some serious thought to the name before just picking it up?
1. Wordplay
The easiest (and expected) way is to take your best player's name and add a word or phrase that says something unique or hilarious associated with them. It might also be a rhyme or lyric that rhymes with their name.
2. Nickname
You can also pick up your nickname – or your ex's – and make it your fantasy football team name. You can also add some prefixes to your name to create a unique name. Just make sure it's creative enough to stand out.
3. Pun/humor
You can also pick a famous player's name and add a name or phrase with some pun. Some people also prefer a little kinky humor to create dirty fantasy football names. You should be cautious, though, not to go overboard so that you don't come out as offensive or a jerk.
A little sexy doesn't hurt, but too much might be inappropriate and leave a foul taste in other league members' mouths. You don't want that, do you?
4. Fantasy football team name generator
If you seem to hit a brick wall coming up with a juicy enough name using the above ideas, another good way (and a quicker one) is to use a fantasy football team generator. There are a couple out there, and when you insert a preferred name, it will come up with some random team name based on that.
However, in this article are some of the best fantasy football team names so that you won't have to go through all that. Just pick the ones that suit you – you can twist them to your liking – and make them your fantasy football name.
Creative Fantasy Football team names
Lambskin Larges
A Jolly Golladay
Punch and Jeudy
Is my name Watt? 
Beg Borrow and steal
Making the Mostert It
Batman and Dobbins
Najee a Trois
Von in 60 Seconds
Kick in the Butker
Here's to You, Allen Robinson
Josh Jacobs Ladder
All Barkley, no Bite
Goodwin hunting
Taylor made
Gallup Poll
Boyds to Men
Hot Locketts
The People's McCourty
Rushin collusion
No Hard Thielen's
Fresh prince of Helaire
Hasta Laviska Baby
The Point is Freiermuth
Sexual Thielen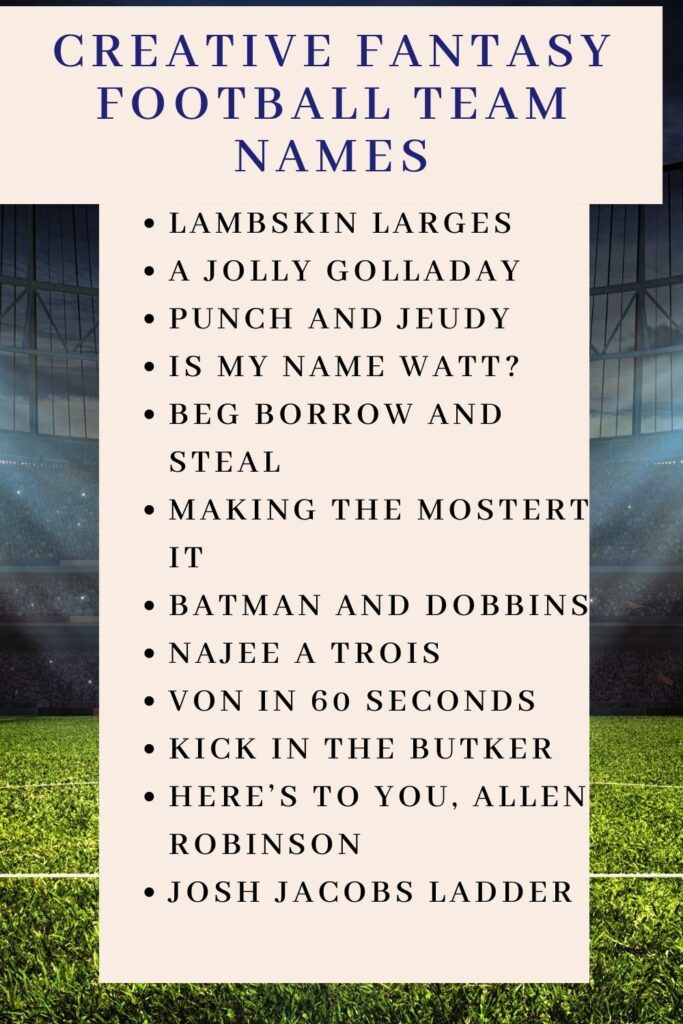 Waller in Self Pity
Another 'Quan bites the dust
Thank Evans!
McLaurin Order
Bourne in the USA
The Goedert, the Bad, and the Ugly
Blame it on the Bosa Nova
Another 'Quan Bites the Dust
Batman and Dobbins
Austin City Limits
Allen Robbed-in-Son 
All Barkley, no bite
Mo Alie Mo Problems
Forgive and Fournette
Derrick Rolled
Blow a Gaskin
Aaron Donald Had a Farm
Mims is the Word
School of Dawson Knox
Little Red Fournette
One Marquis Goodbye
Thank Godwin
Tee Price is Right
Bateman Returns
BigMac
bLuE BaLLeRs
BAKERS RECIPE
Big Meech
Baddest and Gurliest
Bakers Dozen
BARKLEY'S UP THE WRONG TREE
Bear Down
Ben Dover
Big Specials Kids
Baby Got Dak
Big Blue
Body Bag Ballers
BobbyBouche
Big TDs Win
BackfieldPenetration
Blazing Beefeaters
Baby BADine
Bad JuJu Voodoo
Big Papa
Big Woo
BOB LIGHT YEAR
Backdoor Heat
Bad & Breezy
Baba Yaga
Better Than Goodell
Balls Johnson
Big Dog
Bad Mother Tucker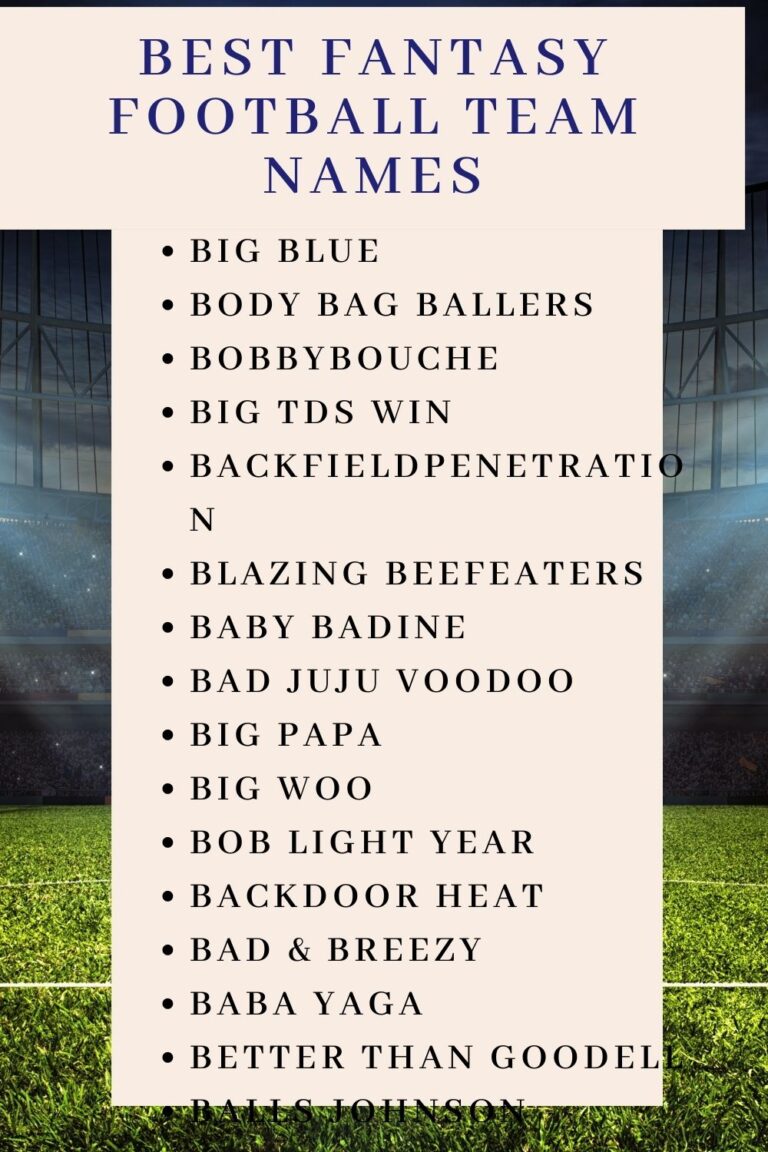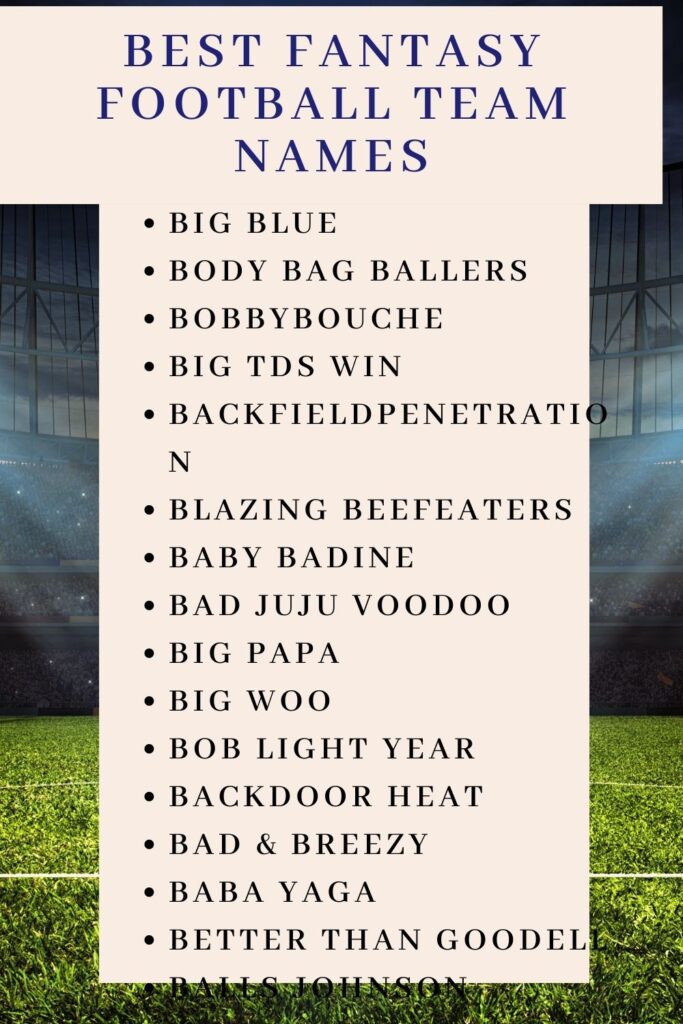 Funny Fantasy Football team names
Kraft Mac and Cheese
Jimmy G Q
Sleeping With Cousins
Mandatory Stafford Meeting
Will You Murray Me?
Me and My Mahomies
Goff my Lawn
Russell Broncos 
Rodger That
Turn Your Head and Goff
Quarterback Baggage Claim
Tua Much, Tua Little, Tua Late
Sir Lance-A-Lot
Peachy Keenum
Super Mario Brothers
Hurts So Good
Mahomes is Ma Castle
Dak to the Future
Justin Time
We Wish You a Murray Christmas
Life's a Mitch
Kirkland Brand
Beg, Borrow and Steal
Mahomes Alone
Related : Best Sweaty Fortnite Names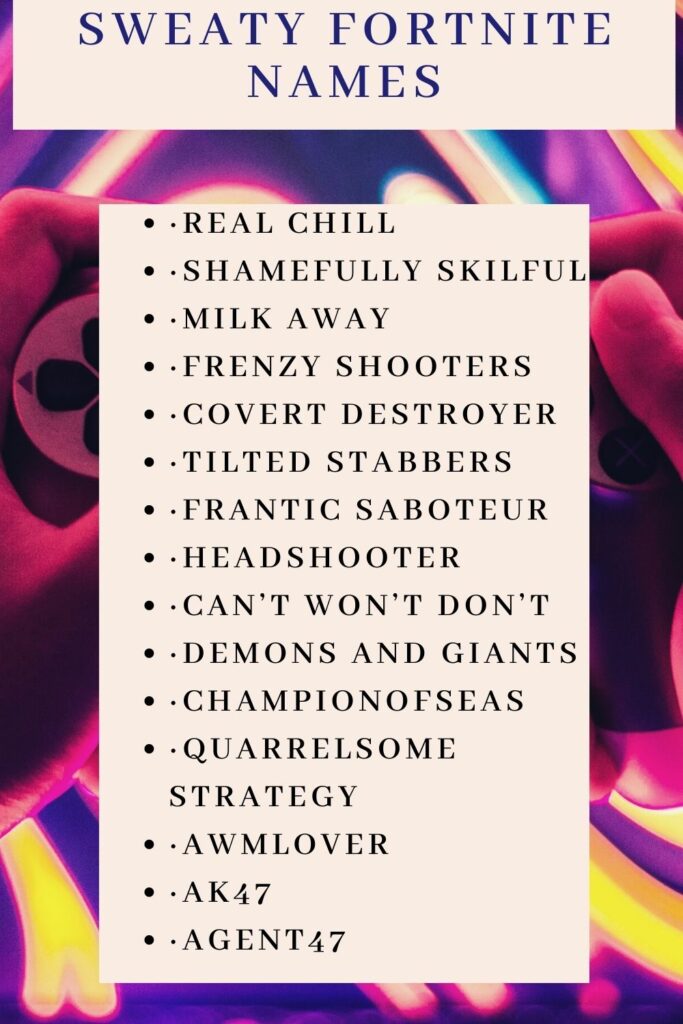 Call me Brady
Came and Wentz
Herbie the Love Bug
Wentz-Day Adams
Hit Me Brady One More Time
Brady Gaga
Aaron it Out
Baby Got Dak
You Can't Stafford Him
Trubisky Business
Hair Apparent (Hint::He has the best locks in the NFL)
Welcome to the Dark Side
Kobra Kyler
Daniel My Brother
Baby, You Can Drive my Carr
50 Shades of Trey
The Travorending story
Can you Smell What Dalvin's cooking?
School of Dawson's Knocks
Saving Matt Ryan
Unsolicited Dak Pics
Baker's Dozin'
Die on That Tannehill
Quit Joshin' around
The elite Mother Tuckers
Oh, Saquon, You See
The Myles High Club
ESPN Fantasy Football team names
D-J-Chark DooDooDooDooDoo
Day Dream Believers
El Vato
D+ Draft Grade
Dr. Chocolate Pudding
Dobbs Squad
Enigma
DA Statesmen
Dirty Randolph
Edward-Forte Hands
Dak Attack
Decepticons
DON
Drinkin Fortes
DADDY YANKEES
El Chingon
Diggs Chicks
DO YOU BELIEVE IN FITZMAGIC
I dropped the Le'Veon Ball
Double Doink
EAGLES FLYING HIGH
Da Juice is Loose
do easy
Dover's Demons
Dirty Sanchez
Dave Matthews Invented EDM
Dak In A Box
Dave The Real GM
I don't know Emoji
Deacon
Da Bears
Door Will Do It
Don't Care about FF
Ditchwitch
Doomsday
El Paso Outlaws
Dumpster Fire
EA Express
Deez Nuts
Dig Bick Energy
Dan Veto
Da Champ
Dad Bods
D's Nutz
Dude Burfict
Dominic Toretto'
Doctor Evil
Dumpster Fire
Donte Manqueefs
Don't Change My Name
DAKstreet Boys
Draft Expert
Double Mack Smack
Do It For 7
Dead and Confused
Denver Iron Manning
Donkey Eater
Daddy Daycare
Eat Your Chunky Soup
Dos Lobos
Dirty Laundry
DIRTY MIKE AND THE BOYS
dANIMAL
Don't KnowBoutPangea
Diabolical Donkeys
Dezpacito
Eagles
Da Boys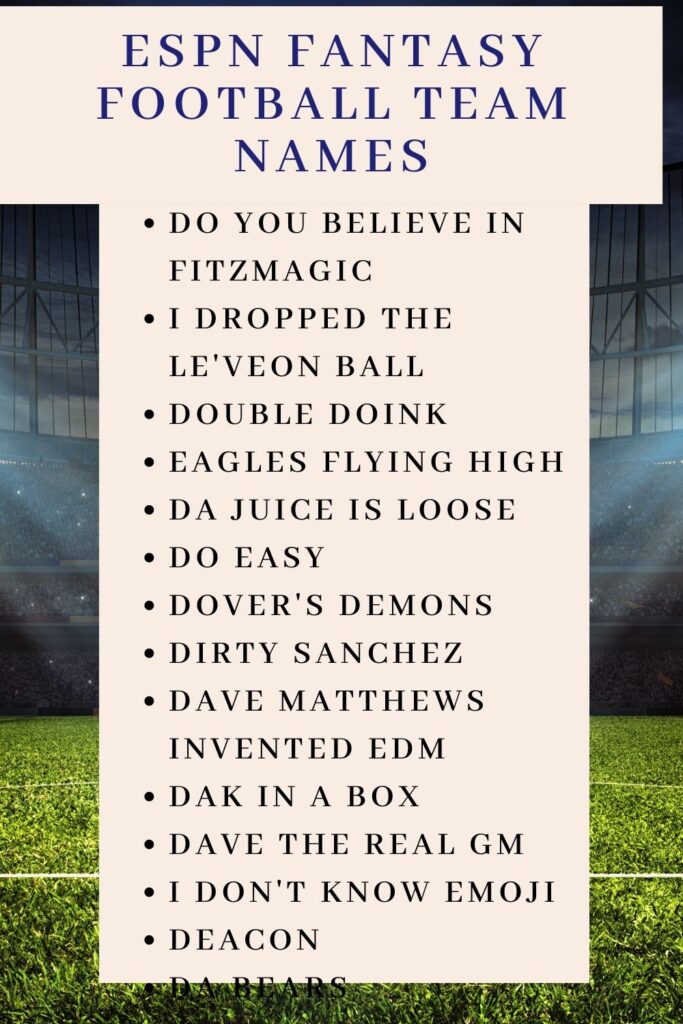 Elephant Egg
Drewbisky
Daenerys Did Nothing Wrong
Dick Glover
Daniel Jones' Locker*
DeezNuts 3.0
DadsGotWood
Devonta's Inferno
Dumb Football
Dan Quinn The Night Away
Duval Boys
Every day I'm Russelin
El Gleason
Davey Bitcoins
Eat_My_Crumb
Dick Chicken
ER Waiting List
Drew Daddy
Cool Fantasy Football team names
The Hubbard Was Bare
Hide and Go, Zeke
Drop it Like it's a Lock
This Gesicki Beat
Taylor-Made
Julio Think You Are?
ARSB Speedwagon
Koo, Are You?
Green Akers is the Place to Be
How I Met Your Mother
Tonsillectomy
Don't Hassle the Hock 
Pitts of My Stomach
Silence of the Lamb
Shaquill, a Mockingbird
Terrell Owens' Comeback
One for the Mooney
Kittles and Bits 
The Love Shaq
Hot Chubb Time Machine
Red Solo Kupp
Uphill Waddle
Related : Cool Clan names for Fortnite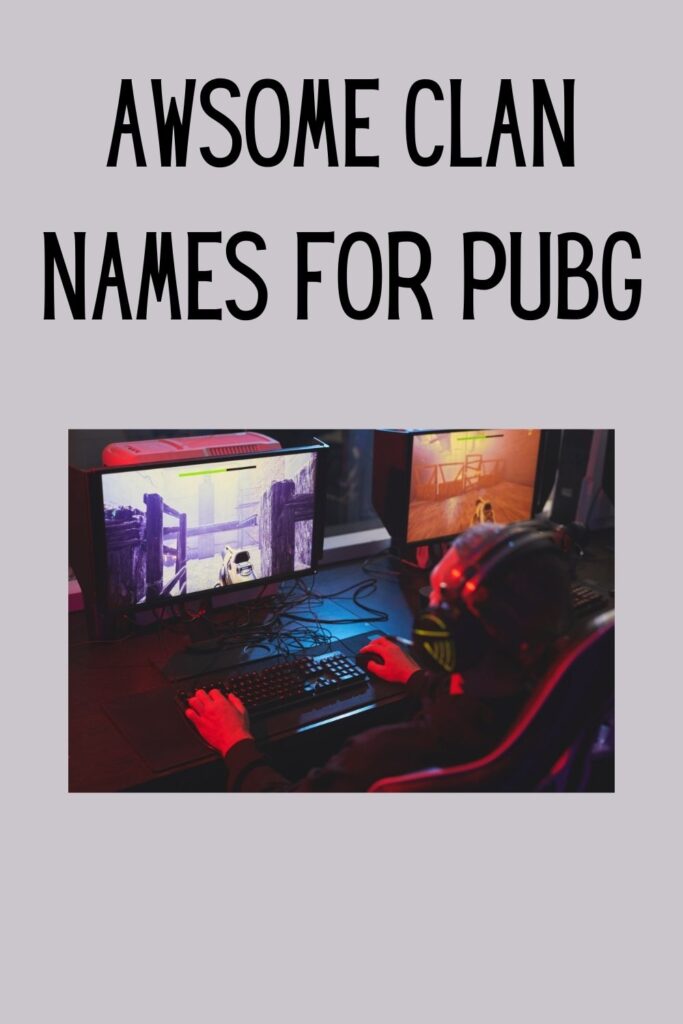 Thuney Bone 
Can You Smell What Dalvin's Cooking?
Swift The Gift
I Can't Fight This Thielen
Kamara, Lights Action
Swaim Old Song and Dance
My Kupp Runneth Over
Dirty Landry
The Office Succop
Rubba Chubb Chubb
Gaskin Prices on the Rise
Gettin' Ziggy Wit It
GK Spartans
Gold Blooded!!!
Give it to Lamar!!
Gimme Some TDs
Hawthorne Blitzkrieg
Hendo's Hounds
HoldMyBeer!
Good On Paper
Henne I Shrunk The Kids
GROS JAMBON
Giant Gonzalez
Guy Jones
gosportsteam
Hamilton Thunder
Hapless Hunks
Hit Em Where it Ertz
Hey Darnold!
Grandpa's Green Machine
Here We Go Again
Happy Little Leprechauns
Gravamen
Gridiron Gangbangers
Give the Ball 2 Tucker
GonnaDrinkYouPretty
HenryHudsonsChutzpah
Greasers
Ground N Pound
Genco Olive Oil
Goffman City
Gurley's Gone Wild
Guy Chesthairs
GoodellsAJoke
Hartwell's Hustlers
Henry Winkler
Hate to CTE it
Hell Yeah Brother
Goatpack Party
Go Niners
Golden Tate Warriors
Halloween Gang
Godzilla Evans
Hail Mary Jane
TaintGolden 
HARAMBE'S ANGELS
Gridiron Goons VIII
Hemingway's Hammer
Green-Eyed Monsters
Goffensive MVP
Gorey Hole
Grandma's New Knee
Green Bastards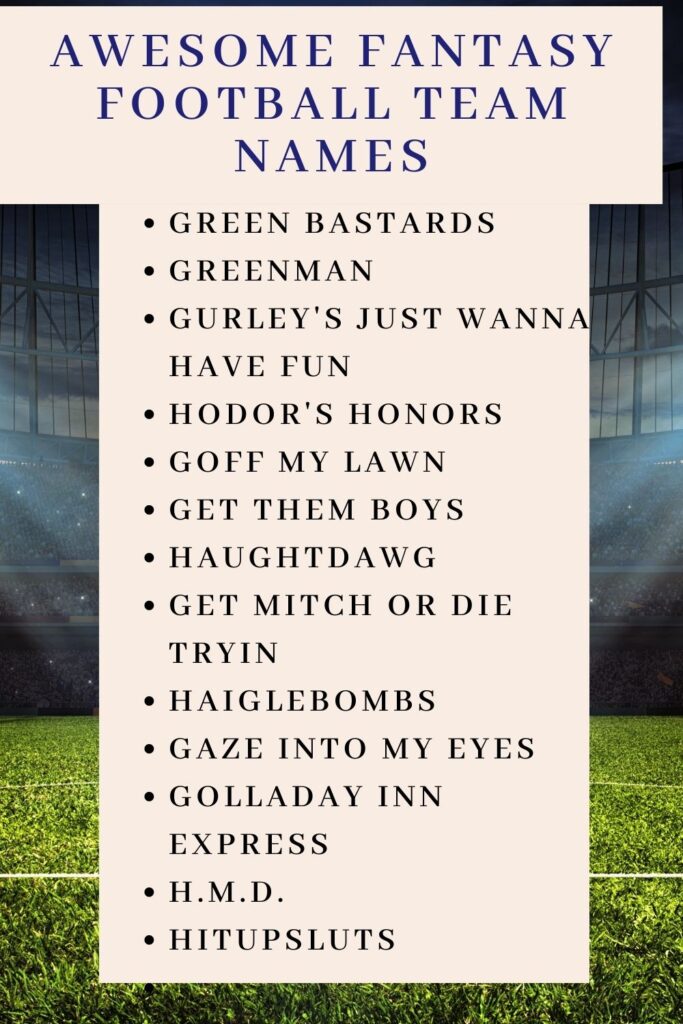 Greenman
Gurley's Just Wanna Have Fun
Hodor's Honors
Goff My Lawn
GET THEM BOYS
HaughtDawg
Get Mitch or Die Tryin
Haiglebombs
Gaze Into My Eyes
Golladay Inn Express
H.M.D.
Hitupsluts Peeinbutts
Hammer of Flohr
Hide and Zeke
Guns and Rosen
Gary Parahus
Hernandez's Hit Men
Going Deep
Gorilla Warfare
Gentleman Jack
HangingWithHernandez
Clever Fantasy Football team names
Golden Taint
green bay packers
My Ball Zach Ertz
golden state warriors
I'm Just Here so I Don't Get Fined
A Penei for Your Thoughts
Judge Jeudy
McKissic Before Dying
He's Just a Prater Boy
Micah Drop
Too Little Too Late
Say Hello to My Little Friend
Chark Attack
Just for Pitts and Giggles
Friends and Etiennemies
The Gould Standard
They Went to Jarrett
Straight Outta Gronkton
You've Got to Be McKittying Me!
Run CMC (Christian McCaffrey)
Waller in Self-Pity (Darren Waller)
Thank Godwin (Chris Godwin)
Hurts So Good (Jalen Hurts)
Tee Price is Right (Tee Higgins)
The Goedert, the Bad, and the Ugly (Dallas Goedert)
The More You Joe (Joe Burrow)
Keeping Up with the Jones (Aaron Jones)
Sir Lancelot (Trey Lance)
How I Metcalf Your Mother (DK Metcalf)
Mixon It Up (Joe Mixon)
Oh, Henry (Derrick Henry)
Austin City Limits (Austin Ekeler)
Related : PSN Names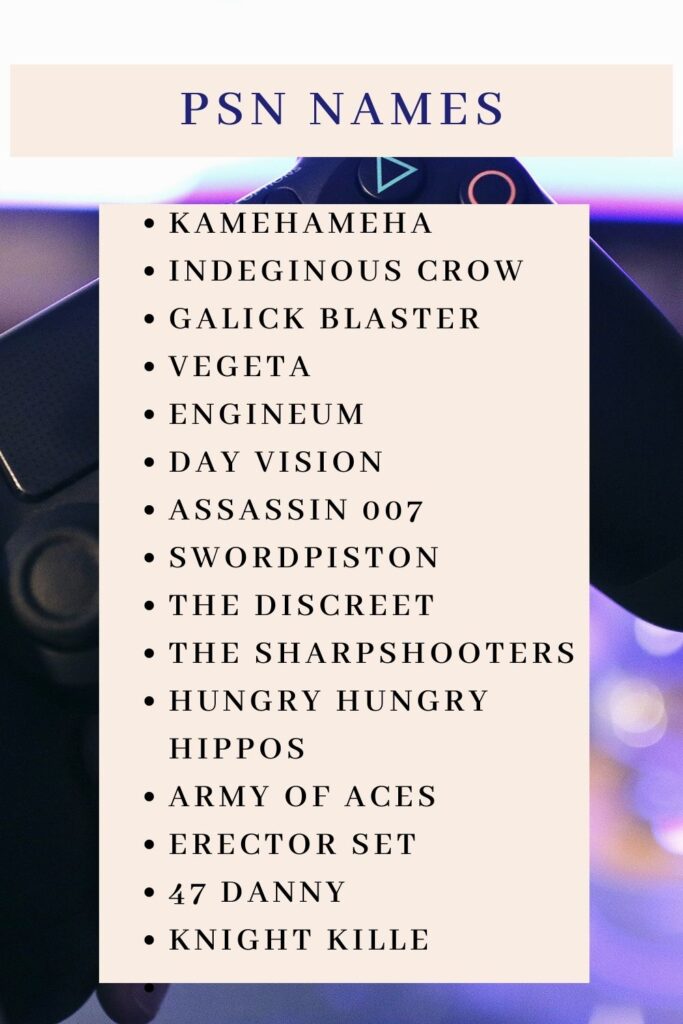 McLaurin F1 (Terry McLaurin)
Mo Alie Mo Problems (Mo Alie-Cox)
Life's a Mitch (Mitch Trubisky)
Super Mario Brothers (Marcus Mariota)
Kmet the Frog (Cole Kmet)
Tuafinity and Beyond (Tua Tagovailoa)
The Myles High Club (Myles Garrett)
Fresh Prince of Helaire (Clyde Edwards-Helaire)
What is Aaron Rodgers (Aaron Rodgers)
Die on That Tannehill (Ryan Tannehill)
All Barkley, No Bite (Saquon Barkley)
Sherlock Mahomes (Patrick Mahomes)
Daniel Jones' Locker (Daniel Jones)
Kittle Corn (George Kittle)
Mixon-Match (Joe Mixon)
Lawrence and Order (Trevor Lawrence)
Haha JK LOL (J.K. Dobbins)
White Pickett Fence (Kenny Pickett)
Super Kamario (Alvin Kamara)
Mandatory Stafford Meeting (Matthew Stafford)
Hey Darnold (Sam Darnold)
Kobra Kyler (Kyler Murray)
50 Shades of Trey (Trey Lance)
Wentz Upon a Time (Carson Wentz)
Elite Mother Tuckers (Justin Tucker)
Good fantasy football team names
In this section, there are some excellent fantasy football names based on some of the most popular NFL players. These are guaranteed to bring a smile to your face and you will definitely pick one (or more for future back-up).
Baby Got Dak (Dak Prescott)
Dak to the Future (Dak Prescott)
Dak and Better Than Ever (Dak Prescott)
Dak and Yellow (Dak Prescott)
Admiral Dakbar (Dak Prescott)
DakStreet Boys (Dak Prescott)
Mr. Jackson if You're Nasty (Lamar)
Here's to You Allen Robinson
Allen Robbed-in-Son 
Le'Veon on a Prayer (Le'Veon Bell)
Le'Veon My Wayward Son (Le'Veon Bell)
For Whom the Bell Tolls (Le'Veon Bell)
Wentz Upon a Time (Carson Wentz)
Hunt Fournette October (Leonard Fournette)
Forgive and Fournette (Leonard Fournette)
The Myles High Club (Myles Garrett)
Mixon it up (Joe Mixon)
Mixon Match (Joe Mixon)
Mixon Administration (Joe Mixon)
The Catalina Wine Mixon (Joe Mixon)
I Cam Your Father (Cam Newton)
A Newton Hope (Cam Newton)
Saving Matt Ryan
Romo's Crystal Balls (Tony Romo)
Julio Let the Dogs Out(Julio Jones)
Julio Think You Are? (Julio Jones)
Saquon Barkley
Watch What You Saquon
Quantum Leap
Quon Solo
Oh Saquon You See
Barkley up the Wrong Tree
Saquon for the Team
All Barkley, All Bite
My Barkley is Louder Than My Bite
King Quon
Patrick Mahomes
Check Out the Mahomes On This Guy
Mahomes Depot
Working From Mahomes
The Lights Are On But No One's Mahomes
Take Mahomes to The Country
Country Road, Take Mahomes
No Place Like Mahomes
Me and My Mahomies
Rollin' with Mahomes
Mahomes, Your Home
Welcome to Mahomes
Post Mahomes
Mahomes Alone
Sherlock Mahomes
Aaron Rodgers
Armed Rodgers
My Fantasy Team is in Jeopardy
What is Aaron Rodgers
The Lone Rodgers
Aaron It Out
Mr. Rodgers' Neighborhood
Aaron it Out
Alvin Kamara
Lights, Kamara, Action
The Kamara Adds 10 Pounds
Kamara Shy
Super Kamario
Toyota Kamara
Kamara Chameleon
Instant Kamara
Tom Brady
Brady Gaga
Here's My Number, So Call Me Brady
Lord of the Rings
Trade Tome Brady
Brady Antebellum
The Real Slim Brady
Dude Looks Like a Brady
The Brady Bunch
Dude Looks Like A Brady
Jared Goff
In Goff We Trust
Goff Balls
Waiting For Goffman
Goff the Hook
Goff Button
Goff With Their Heads
The Godfather
He went to Jared
You Can Luck Goff
Picked Goff
Goffman City
The Office
Goff the Magic Dragon
Goff Bless You
Goff Clap
Goff's Gift to Mankind
Turn Your Head and Goff
Goff Angeles Rams
Todd Gurley
This Gurley's on Fire
Gurley Gone Crazy
The Gurley Gates
Runs Like a Gurley
Big Head Todd and the Monsters
Later Todds
PowderPuff Gurleys
Gurley Men
The Gurley Show
Gurley Magazines
Gurley-Gurley
Related : Sailboat names
JJ Watt fantasy football names
Just because JJ Watt went to Arizona, does not mean that Texans, especially if you are a diehard Houston Texans, will stop adoring him. Well, you can still have your fantasy football team name inspired by him.
Here are some clever names and puns created out of the legendary JJ Watson's name:
Watt, Watt Don't Tell Me
Turn Down For Watt
JJ Wattaburgers
1.21 GigaWatts
Watt's Your Problem?
Power is Measured in JJ Watts
WattMore Could You Ask For?
JJ SWAT Team
Watson, Watt's Off
The WATS Team
Water Under the Bridge
What,Watt,Watson?
Naked as a JJ Bird
Jay-Jay Walking
Watt Me Whip, Watt Me JJ
Elementary, My Dear Watson
Watson Your Mind
Watt More Do You Want?
I guess it will be unfair talking about Houston Texans and not giving you other names inspired by the favorite players for Texans' fantasy teams. So, without further ado, here are other fantasy team names you can consider:
Tex Support
Watson, WATT'S Off
Texan Driving
Philip Service
Kiss the Cook
Lindsay Anything
Cooking With Gas
Houston of a Gun
Hou and Cry
Hou Stink
Houston
Sexy Beasts
Kill O'Brien
Foster, Austrian for Beer
Getting the KubiAx
Ingrampas
Ingram we Trust
Half 'Gram
Ingram Filter
Wham, Glam, Thank Ingram
Too Many Cooks
Ndin New Day
Sunday CookOut
Cook's in the Kitchen
Suck My Cook
DC United Football
Culley and Bones
Hitchcock and Cully
Mulder and Cully
Hou Ought to be Taught
Ingram Toenail
Andre the Giant Johnson
And here are some more names based on these popular player's names:
Thyroid Taylor
Tropical Ruler
Tyrod Lannister
Tyrod Taylor Soldier Spy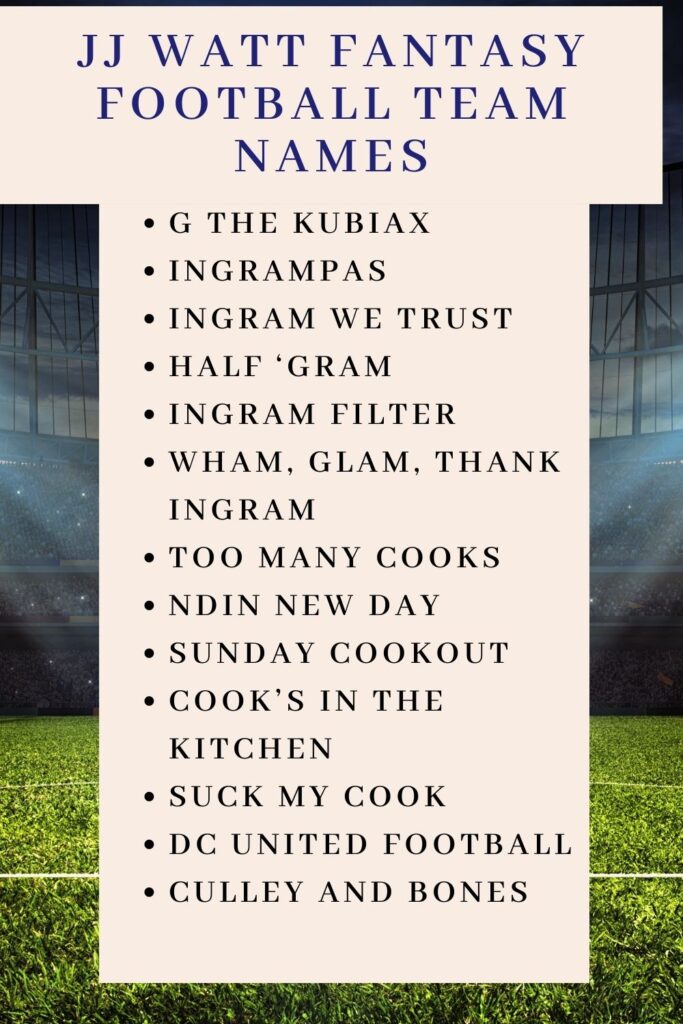 Tyrodasaurus Rex
Taylor Made
Deshaun Watson
Run and Tug
Watson the Other Side
WD-4
Demand Whackson
Deshaun of the Dead
Always Darkest Before Deshaun
David Johnson
DJ Football
Deej Your Heart Out
The Statue of David
Trending team names
Victorious Secret
Say Hello to My Little Friend
30 Rack of Matty Ice
The Usual Suspects
hard thielen
big ol' bortles
dirty fantasy
mo money manziel
forte ounces
big d
bell tolls
Brady bunch
like donkey kong
bad hombres
Arizona cardinals
Game of Jones
Game of Throws
Game of Thrones
Chung's Last Line Of Defense
Colorado Cowboys
Cooper Troopers
Cocktails and Dreams
Cooter Gang
Cajun Crew
Chicks Dig Scars
Cool Brees
Chicago Swamp Thangs
Churchville Villains
Commish's Crew
Colonel Sanders
Combination
Cry Me A Rivers
Cowboy nation
Cook Pu
Chernobyl Reactors
Cold as Guice
Chocolate Thunder
Christian Mingle dot Cam
Cincinnati Cutthroats
Chui-Tang Clan
Compton Punedaddies
Copperheads
CharkNado
Christian Mingle
Check my Chubb
Cam to the Bench
Code Brown
Chef's Special
Curry G.O.A.T.
Brownie Points
Colts Are Outta Luck
Crude Life
Christian Boys Love Breesus
Cole World
Claymore Bomb
Cheeseburgers
Corrupt Commish
Championship Run
Chillin' Wit Mahomes
Colonel Mostert
Chubby Pickle
Chronic Bronchitis
CMC's Team
D + Talent
D REC
Deshaun of the Dead
Green Eggs
Detroit Lions
J.L. Da Juice Man
I Like Turtles
I Came. I Saw. I Seat Smushed.
Irish Quakers
Jameis1of1
Jack n Goff
Injury Free Please
Huyzeefbaby
It's Never Shady In Philadelphia
illiterate Read option
Related : Cool Minecraft names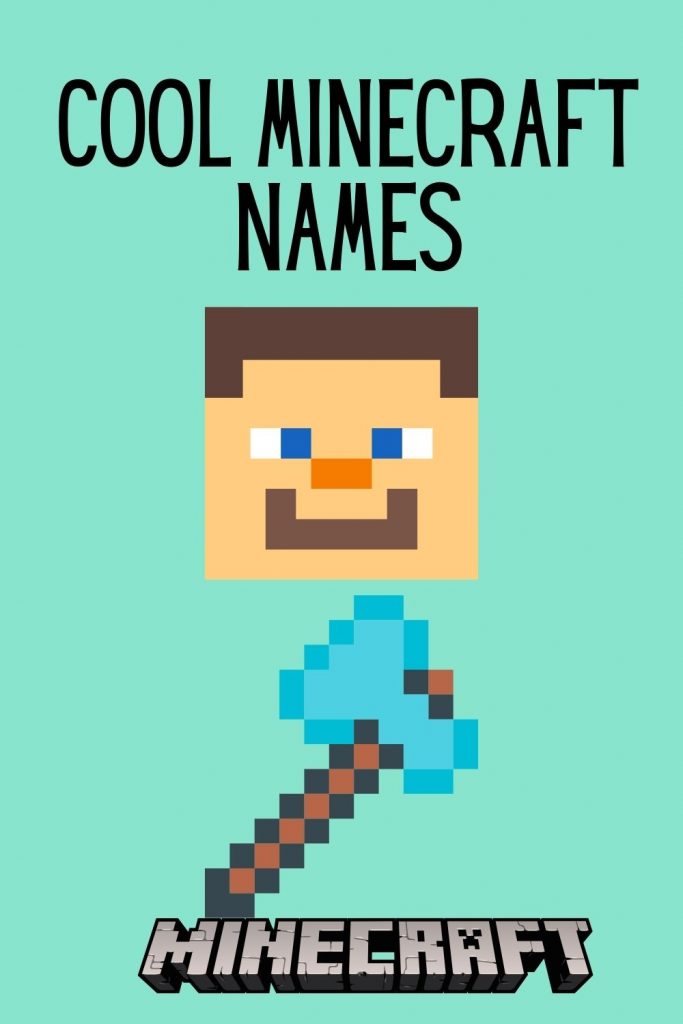 It's My Dak in a Box
Hurricane Gina
Invincible PT
Hunk Squad
Instant Kamara
Immaculate Ballers
I Was Sabotaged
Illegal Use of Hands
Hyde My Chubb
I'm Sorry Ms. Jackson
iLiv2givShannahandys
I Beat Tim
I Got a Chubby Johnson
Iron Lotus
IPlay4Keeps
I NEED ABOUT TREE FIDDY
House Targaryen
In a Von Down By The Miller
If you build IT
I Am Sizzle
I'm Hooked on a Theilen
Is It In
I've Doyle Myself
I'm Kind of a Big Deal
IBM Watson
It's-a-me, Lamar
I Piss Excellence
I Can't Believe It's Not Better
J In it to Win it
I like big TD's
Indomitable
Infallible Phalanx
IPA
I Win! Michael Loses!
Best multiplayer game names
Baby Chark
Blitzkrieg
Blood, Sweat & Beers
Big Poppa Pump
BEAN MACHINE
BNKOOL
Barry McCockiner
Big Jobe
Big Canta
Beaver View Blitz
BLOWN COVERAGE
Ballz Deep
BennyAnDaJETS
Beans Above The Frank
Bluegrass Stallions
Big Steel Mark
Bill Swerski
Big Al's
BluePrint Reed
Bear Force One
BabyBanBanDriver
Bobby's Bandwagon
Bend The Knee
Big Truss
Big Dawg Gotta Eat
AutopickDynasty
Big D and the Cram Sesh
BlitzMeBaby
BEEF CHIEFS
Bad Hombres
BEAUTYntheBEASTMODE
Big Chorizo
Beats by Ray
Bart's Stars
Baby Drizzy
Blouin Blue
Cloud 9
Cincinnati Donners
Cleveland Steamers
Count Chocula
Cute Fluffy Puppies
Caught Red Hernandez
Bulldogs
Chiellini
Catch-22
Bruce the Shark
CALYPSO
Cry Momo Cry
Browns 2.0
Conner Air
Crush'n It Gilly
Corvus Maximus
Can't Believe It's Not Cutler
Chi-Town
Clappin' Cheeks
Brown Trout
Cries of Deckard
Cheesus Christ
Christmas Miracle
Comancheros
Charged up H-Ekler
Chinese Assassin
Chicago Beers
Cowboy Destroyers
Captain Crunch
Cowboys Fan
Clot Busters
Wide Receivers
Houston Texans
New York Jets
New England Patriots
Big Al
Fabulous Baker Boy
Conclusion
I know you have found some fantasy football team names you will add to the ultimate list of team names to consider. At the very least, you now know how to create your elite team name.
As you enjoy the fantasy league, don't envy other fantasy owners' team names. Just pick one or more from the above list.