Unicorns are some of our most popular and beloved mythical creatures. Especially among women, girls, and young children. What makes each Unicorn unique is its personality, and a considerable part of its personality is informed by its name. So, how are you supposed to create the right unicorn names?
In this article, we've provided a great selection of unicorn names that you can pick and choose from. These cover a wide range of different situations. We've also provided a quick guide by which you can come up with your unicorn name should the need arise.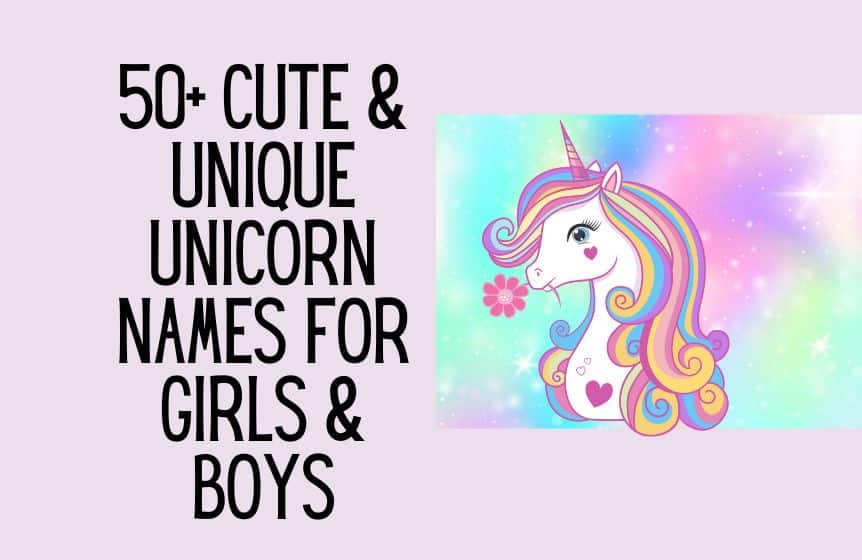 Famous unicorn names
Unicorns are some of the most popular fantasy creatures in our pop culture. These are the most popular unicorns from the most beloved franchises in the world. Certain huge franchises have featured many special unicorns. Ahead, we list a few of their names.
Twilight Sparkle, from My Little Pony
Rarity, from My Little Pony
Jewel, from The Chronicles of Narnia
Lady Amalthea, from The Last Unicorn
Uni, from Dungeons and Dragons
Moondancer, from My Little Pony
Glory, from My Little Pony
Majesty, from My Little Pony
Rapidash, from Pokemon
Feathers, from Planet Unicorn
Cadillac, from Planet Unicorn
Tom Cruise, from Planet Unicorn
Rose, from Filly Funtasia
Blue, from Charlie the Unicorn
Unico, from The Fantastic Adventures of Unico
Lady Rainicorn, from Adventure Time
Knight, from Gauntlet: Legends and Gauntlet: Dark Legacy
Julian, from Animal Crossing
Morell Thule from Everquest
Unicorn names for girls
A lot of unicorn aesthetics primarily appeal to femininity. In the same way, boys typically love dragons; girls usually love unicorns. Many girl children wish that unicorns are real. Well, they can easily name their imaginary unicorns with the names provided below. 
Queen Legiana
Nebulae
Star Trail
Rainbow Lily
Red Ribbon
Pale Flower
Sweet Stubble
Arcadia
Kimmy Kup
Tingy
Purple Pony
Guardian Angel
Crystal Lilac
Heart Trail
Warm Embrace
Cloud Cherry
Le Fleur
Aura Supreme
Glitter Way
Marie Rose
Cute unicorn names
All fantasy creatures have some unique-sounding names. But unicorns have the cutest names of the bunch. We've provided a selection of some of the cutest unicorn names ever. These names will always get an "aww" from you or your friends.
Snuffles
BeeBee
Puni Uni
Charlito
Ether
Fayette
Vine
Pinky
Lady Lyra
Ashai
Rhaena
Twilight Twinkle
Urania
Sweet Vanilla
Alize
Russia
Yuki Love
Katrina
Chiara
Gemstone
Related : Unique clown names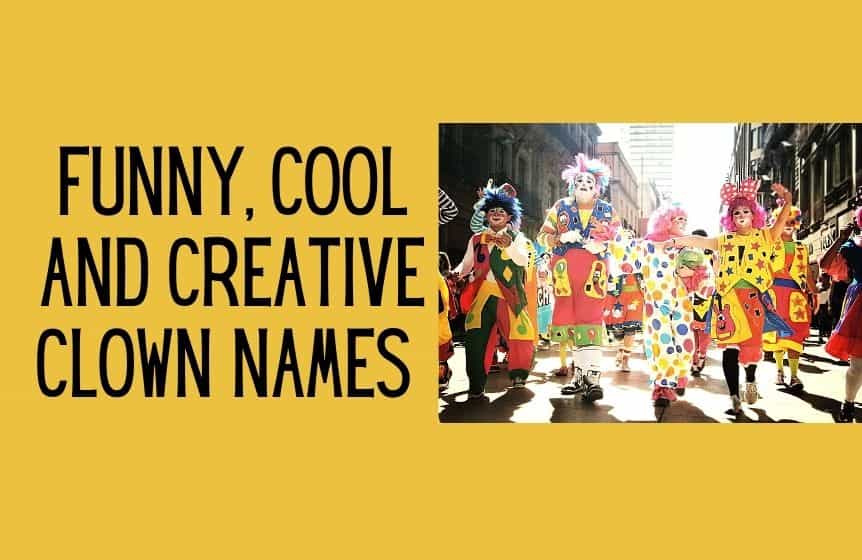 Funny unicorn names
Sometimes unicorns are best when not taken too seriously. The following list of funny unicorns reminds us of that fact. These names are guaranteed to remind you that unicorns are meant to be a source of joy, happiness, and laughter.
Snow Sniffer
False Gallop
Quenched Fire
Darker Material
Lost Lord
Horned Horse
Ninth Foal
Fur Jacket
Warm Icicle
Fur Forest
Heavy foot
Bubble Gum Princess
Midsummer Nights Dream
Shakespeare's Bane
Jolly Good Girl
Melted Ice-cream
Red Ruby Rose
Tasty Sprinkles
My Little Nutmeg
Flower Pop Wave
Princess unicorn names
Having a unicorn is one thing, but giving it an appropriate name is a challenge. Is any princess an actual princess if she doesn't have her unicorn? Below, we've provided a great selection of royal names for a princess's unicorn.
Feather Light
Glitter Wave
Crystal Sea
Pinky The Stallion
Golden Eyelash
Winged Wish
Crownie
Rainbow Dash
Purple Saint
Platinum Diamond
Doe Eyes
Lovely Luciana
Mystic Maiden
Bubbly Blue
Valiant Voss
Lady Blue Moon
Crystal Smile
Lady Joy 
Ether Aura
Thena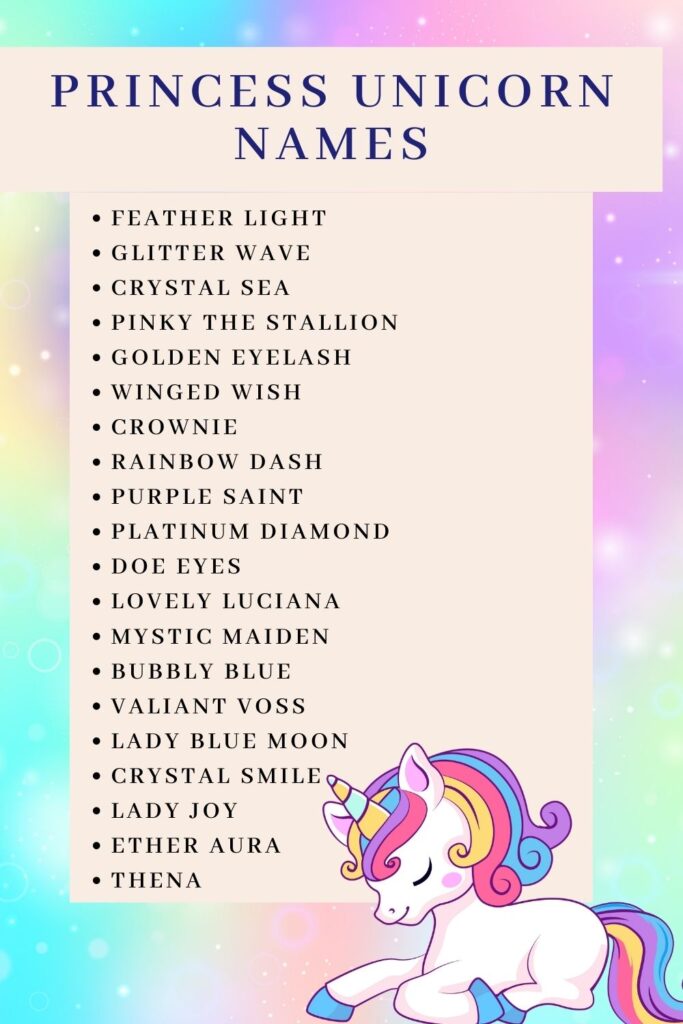 Unicorn names for Instagram
Instagram is the best social media app for image-based content. So if you want to show off your unicorn aesthetic, that app is your best bet. You may have the pictures ready to go, but have you put much thought into what you're putting into your caption? To avoid that pitfall, consider using the following Unicorn Names for Instagram.
Fiona's Apple
Little Miss Pretty Unicorn
Lady Dawn
Lady Dusk
Baby Rose
Shimmer Sleeve
Butterfly Burst
Circo Loco
Queen Choreomania
Cyber Ghost
Cassiopeia Ultima
Miss Fortune
Lady Snow White
Sisterella
Mona Monalisa
Tinkerbelle
Jolly Lucia
Lady Pegasus
Adorable Dora
Crystal Light
Unicorn names for boys
Although Unicorns are typically associated with girls and all things feminine, boys have also recently started taking an interest in these marvelous mythical creatures. In this list, we've provided a list of cool unicorn names for boys to make getting into them a little easier.
Shadowfax
Red Rush
Ember Heart
Fire Eyes
Thunder Hooves
Wind Walker
Black Reaper
Iron Will
Titanium Horn
The Shadow Runner
Shadow Steed
Draco Nocturn
Flame Mane
Dark Wing
Serpentine
Vesper Vox
Lord Boaz
Ivory Heart
Azure Flame
Lip Lightning
How to come up with your unicorn name?
On the off chance that none of the unicorn names included in this list are doing it for you, we've provided a quick and nifty guide for coming up with your unicorn name below. There are many ways and means by which you can easily do this.
Coming up with a good unicorn name is easy. As mentioned earlier in the article, unicorn aesthetics have much to do with femininity. And so, to come up with a good unicorn name, think about the things that girls typically like. Like flowers, bright colors, jewels and crystals, and fashion.
You could also break convention by going for something entirely different. More and more boys are getting into unicorns these days. So, you could instead think of something typically related to masculinity.
You could also let a unique program known as a fantasy name generator do much of the heavy lifting. These programs generate countless names for you after receiving a simple prompt. While they are very useful in some situations, sometimes their output could be more generic. So, keep an eye out for that.
We hope you have no trouble selecting or coming up with your unicorn name. Once you've found something that feels right, trust your instincts and go for it.
Unicorns are majestic creatures in and of themselves. With the correct name, they take on an even more regal quality. Make sure you take your time to pick out the perfect name.