Even if you have the most fantastic photo to post on Instagram, you must add a caption that goes with the image. Whether you have a group photo or a photo from your last vacation, you will find sassy captions for Instagram in this article. 
Currently, there are over a billion active users on Instagram. It is one of the most popular social media platforms out there. If you judge by region, Instagram is most prevalent in India (201 million), followed by the USA (157 million).
If you want to stand out to your Instagram followers, you need to use captions for your photos that complement the subject matter.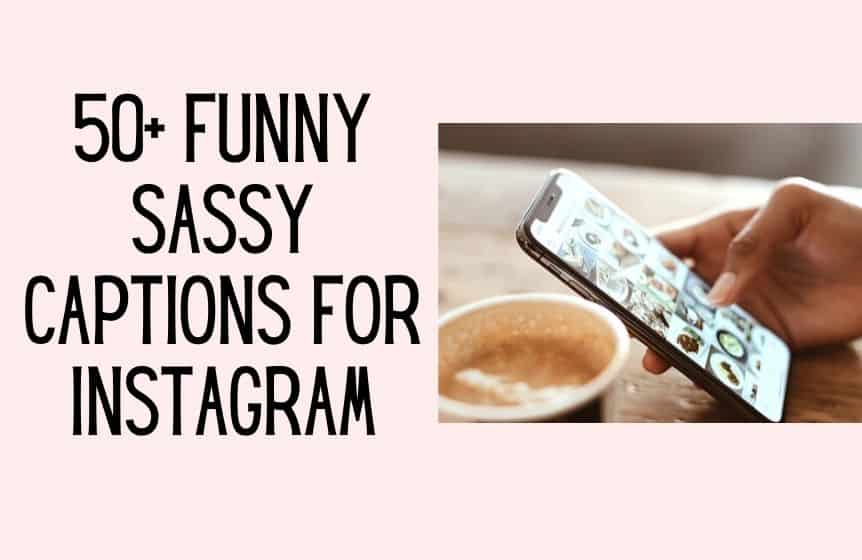 Funny sassy captions for Instagram
Everyone knows the language of humor. If you can add a bit of humor to your Instagram caption, you can easily attract your followers' attention.
I am never upset.
Sorry, but I am too busy making money.
I love coffee just like I like myself.
If you make me angry, be prepared to face the consequences.
I am too hot for you.
Tell me not to do something, and I will do it a hundred times.
I am the king of my world.
To me, looks do not matter.
I am all about vibes.
Can you take some epic beat?
I love my hair.
If I have a good hair day, you can never beat my confidence.
My height is 5′, but my attitude is 6′.
I know my worth.
I don't need anyone to remind me of my worth.
Eat, sleep, and repeat.
I hope you found some funny captions from the above list for your Instagram pictures.
Good sassy captions for Instagram
Instagram is mainly known for sharing photos and videos. When you add a caption to an Instagram picture, it helps you add context to it. However, due to the sheer number of Instagram posts, you must use a good caption to go with your Instagram post.
Using sassy captions for Instagram is essential for both regular Instagram profiles and business profiles. Being sassy can never be a bad idea.
The below list contains many good sassy captions for Instagram. Let's dive right in.
"Darling, I'm a nightmare dressed like a daydream." — Taylor Swift, 'Blank Space.'
"Be young, dope, and proud." — Lana Del Rey, 'American.'
"Don't call me an angel. You can't pay my price." ― Ariana Grande
"Didn't they tell you that I was a savage?" — Rihanna
"You could be the king but watch the queen conquer." — Nicki Minaj
"Didn't they tell you that I was a savage?" — Rihanna
"I could be your girl, but would you love me if I ruled the world?" — Lady Gaga,
I am always classy.
I am never trashy.
Do not mess with me.
Have a sass day, keep yourself motivated.
Only you can push yourself to become phenomenal.
I will get what I want.
Whether you take my side or not, I will achieve my goals.
I can be both sunshine and a tornado.
Catch flights, never feelings.
Life is too short to waste it worrying about others.
When I make my mind move on, you can never make me change it.
Be savage, never average.
Are you a player? Am I the coach?
The difference between a pizza and your opinion is that I only asked for a piece of pizza.
If you listen closely, you can hear me not listening.
I am too hot for your Instagram feed.
I will only give you my worst if you do wrong to me.
Hurt me once I will break you twice.
"I'm Mrs. Extra! Extra! This Just In." — Britney Spears
Sassy captions for girls
When you write a caption for an Instagram post or video, you should treat it as a marketing sales copy. Start by writing a draft, then move on to make necessary corrections. Do not rush into any caption. If you have to redo it, do it.
It might take days to come up with the correct captions. But do not worry. We have you covered. You can use any of the sassy captions for Instagram in the below list.
Do not be cocky.
Be humble, or you will fall before you know it.
Be energetic, and you can conquer any battle.
Strong women do not waste time thinking about attitudes; they have their standards.
I find comfort in chaos.
Always remember, you are a masterpiece.
My behavior depends on how you treat me.
I get stuff done.
Fashion fades, but your personality is ever-green.
Her hair is so significant because it is full of secrets.
You should always be ambitious.
You are your hero.
Seize the moment; who knows if you will be alive tomorrow.
Silence is the best response if you are trying to avoid an idiot.
She is a rainbow, but she also comes with the fury of a hurricane.
I never take off my crown.
Darling, you need to buy a new personality.
Make yourself worth your while.
People will stare, make sure they get a good view.
You look like a sketch I made with my left hand.
Every innocent face has a wild look.
Home is where I don't have to wear my bra.
True sensuality is classy.
Haters are going to love.
Awkward moment.
There are too many trends, but I always aim to be a classic.
Related : Lake captions for Instagram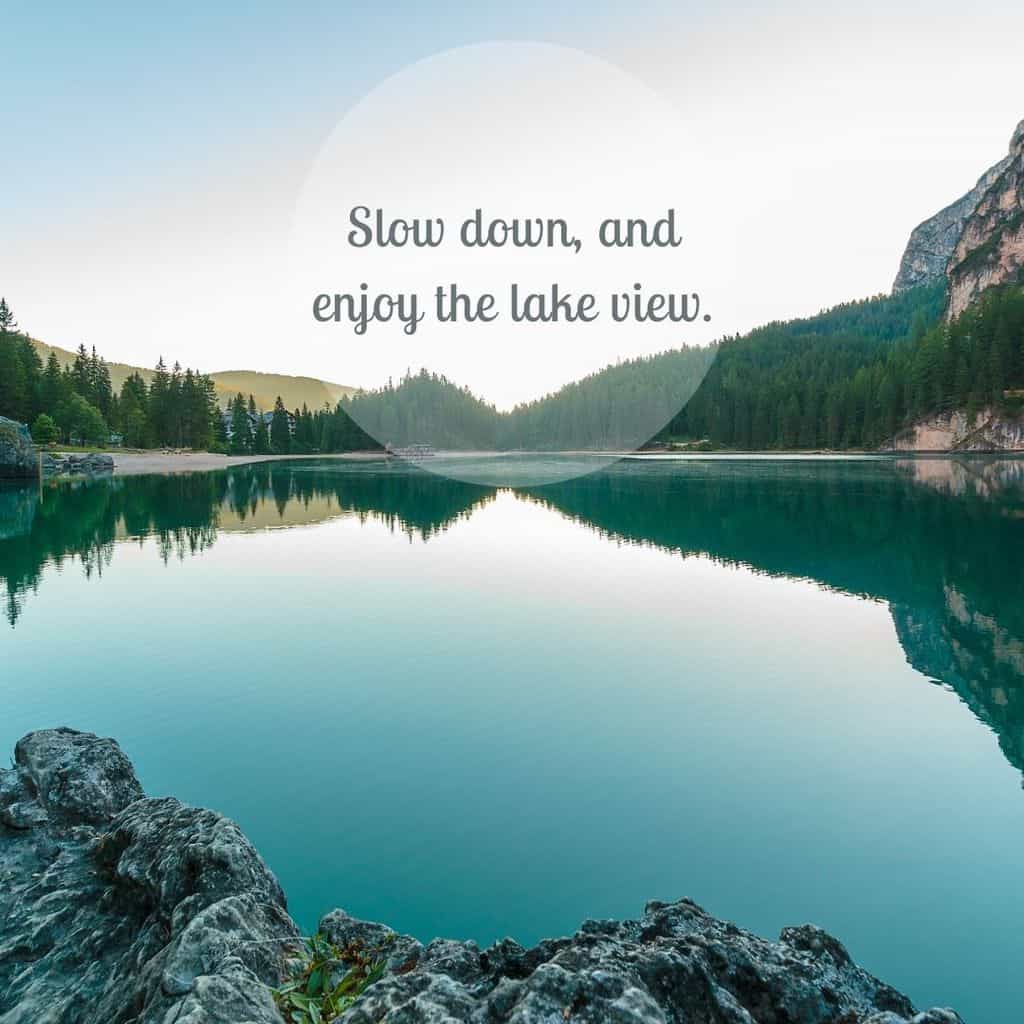 Every day she went to war.
I am as simple to understand as quantum physics.
Don't do me wrong; Karma will slap you first.
I am not like you. I will still wish you good.
No pressure, no diamonds.
Spread love just like you would spread Nutella.
Have faith in you so that the world has no other option to believe in you.
When you are too busy obeying all the rules, you miss out on the fun.
My heart says yes, but my mom says no.
The truth has the power to set you free, but first, it will piss you off.
You cannot deal with me.
Be yourself; no one became famous trying to mimic others.
Be you, do you, for you.
I am the princess of my kingdom.
Be happy – that should be the only motto in your life.
Beach sassy captions for Instagram
Do you love the beach? Who doesn't? When we go on a vacation, like anyone else on the planet, we like to take pictures. From taking photos of the food to taking pictures of the resort we are staying in, we will take photos of everything.
We are waiting for our next vacation. After the holiday is over, we will return home and miss the vacation days. Don't feel miserable.
Until your next vacation, you can post pictures of your last vacation on Instagram. Sharing those special moments with your Instagram followers will help you relive some of those moments.
Shell Yeah!
I'm an aquaholic.
I will never give in to peer pressure.
I just want to hang with my gull-friends again.
Take me back.
Beach days – when I used to feel fantastic.
Salty and sweet, that is how I like it.
Going to the beach gives me happiness.
I am having a whale of a time.
Beach daze always.
Seas the day.
I like my sassy attitude.
You cannot handle my sassy side.
Do not worry, beach happy.
I am all about high tides and good vibes.
I will always get my daily dosage of vitamin D.
Beach hair, do not care.
If you are not barefoot on the beach, you are overdressed for the vacation.
Life is a beach.
The ocean breeze is all I am about.
Happiness always comes in waves.
Girls just want to have some sun.
Beach hair, do not care.
Related : Pool quotes and captions for Instagram
I do less worrying, and more enjoying.
When I am on the beach, I make sure I have a good time.
Long time, no sea.
You are my pina, to my colada.
Life is best when you are wearing flip-flops.
Nothing can stop me from seizing the moment when the beach calls me.
When in doubt, paddle out.
Life takes you down many paths, but my favorite ones lead to the beach.
I followed my heart, and it led me to the beach.
You're not a wave; you're a part of the ocean.
Confident sassy quotes
According to many research studies, there is a strong correlation between confidence and success. Furthermore, researchers have also found that confident people are more attractive.
These people are great at sales. Also, who would not want to have a confident leader. This theory applies in politics, entertainment, and all levels of society.
If you are confident in real life, you should always use a secure sassy quote for every Instagram post.
You don't worry about fitting in when you are custom-made. – Drake
Life is short. Smile while you have teeth. — Mallory Hopkins
Get a better mirror if you can't see anything beautiful in yourself. — Kendall Jenner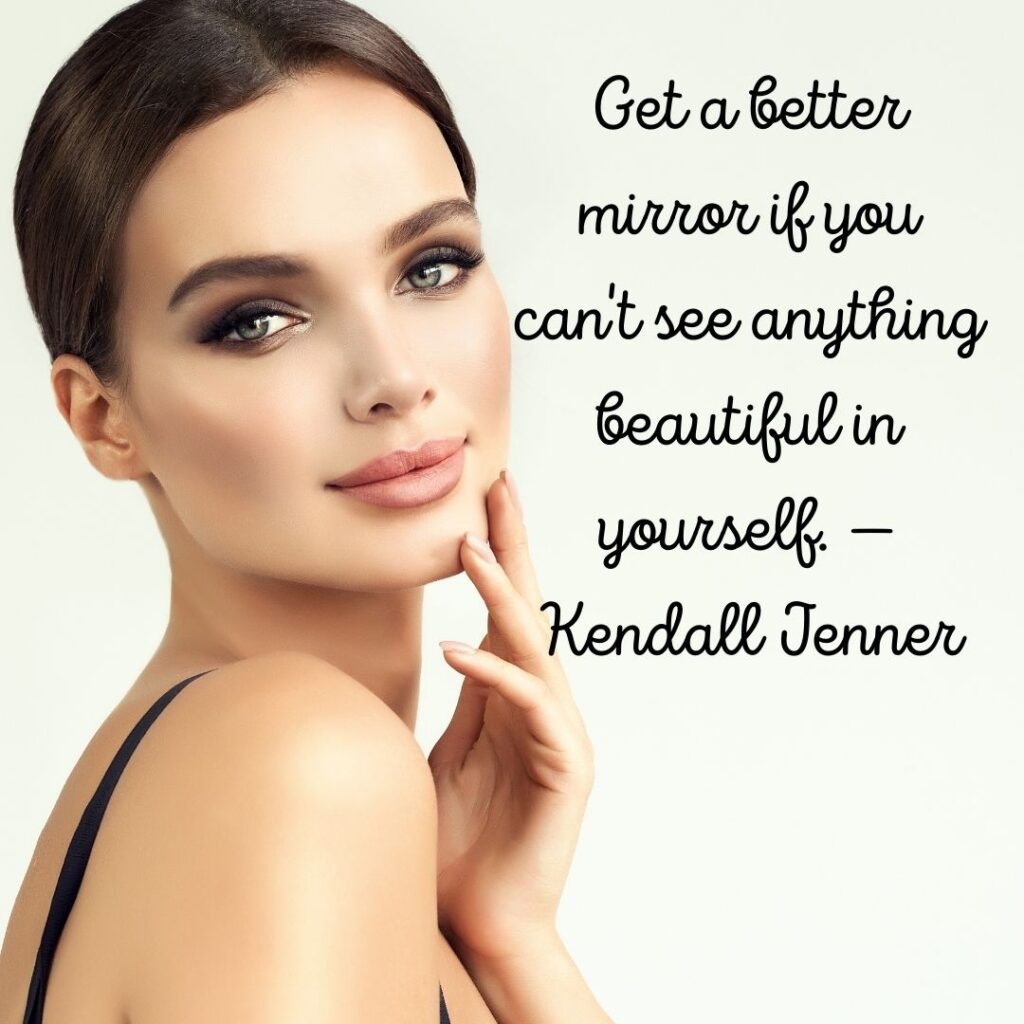 You determine your self-worth. You don't have to depend on someone to tell you who you are. — Beyoncé
Even miracles take a little time.
My mood depends on how good my hair looks.
I'm not lazy; I'm on energy-saving mode.
Sure, I do marathons on Netflix.
Mood changes with the situation.
I don't know what's tighter, our jeans or our friendship.
Good talks always put us in a good mood.
Self-love is the best love.
Confidence level: Instagram Selfie with no filter.
But first, let me take a selfie.
Smile big, laugh often.
Make them stop and stare.
Life is better when you're laughing.
Pretty in pink.
Be a stiletto in a room full of flats.
I doubt Vodka is the answer, but it's worth a shot.
Wine not?
I am a sassy girl.
Happy hour o'clock.
It's time to wind down.
Stop and smell the rosé.
I'm not bossy. I've got leadership skills.
Sometimes you have to be both a beauty and a beast.
I can, and I will. Watch me.
Messy bun and getting stuff done.
The only thing I'm committed to right now is bettering myself.
I just dropped my new single. It's me; I'm single.
Trust that an ending is followed by a beginning.
I'm everything you want but can't have.
Be confident; it will attract beautiful things.
Be a star; the rest of the stars will follow you.
I hope you found some Sassy captions for Instagram from the above list.
Classy Instagram captions
How to be classy? If you want to be elegant, you do not have to put up a show. You do not have to fake anything. Always remember, if you affect it, you will never make it. Even if you do, you will not be able to make your success sustainable.
How you talk to others, treat others, and carry yourself in public, says a lot about your class.
Sorry for the honesty.
I may be fat, but you're ugly. And I can lose weight!
Nobody can hurt me without my permission.
Hating me doesn't make you look better.
No Money, No Friends, No Respect only Me and My Dreams.
Kill them with success, and bury them with a smile.
Eat, sleep, and repeat.
I do not have any prejudice. I treat everyone the same.
I got my attitude from my mama.
We only rise when we lift others with us.
Too glam to give a damn.
Men have a selfish desire to make always sense.
My life's not perfect, but my attitude is.
I'm the girl you will never have.
Be classy, not flashy.
We hope you liked the above list of sassy captions. It has some of the best Instagram captions.
Short sassy captions
You do not need to say much to be sassy. A few words are sufficient.
Little but fierce.
Drinking water & minding my business?
Let whoever thinks whatever.
Family.
Truth hurts.
Be who you are.
Freedom.
Fearless.
Use your common sense.
Progress.
Fairies are real; they are called sisters.
The best of me is yet to come.
Chocolate is cheaper than therapy.
Cool.
When you can't find the sunshine, be the sunshine.
Wake up and make up.
Confidence Level: Selfie with no Filter.
Wake up and make up.
I am a heater, babe.
Be you, do you, for you.
We hope you found some cute Instagram captions from the above list.
Selfie sassy captions
Are you a selfie freak? If you mostly post selfies on your Instagram account, here are some sassy captions for your selfies.
You are for you and me.
Love is beautiful; sisterhood is better.
Be more of you and less of them.
They told me I couldn't. That's why I did.
Be more of you and less of them.
Be a stiletto in a room full of flats.
Don't follow your dreams; follow me.
Morning coffee because anything else is worthless.
You don't have to be perfect to be excellent.
Never beg to be loved.
Cancel your subscription because I am done with your issues.
They are using sass, like an overly excited kid uses confetti.
Tell me not to do it & I'll do it twice.
Don't depend too much on anyone.
Two words one finger keep it simple.
What is life without a bit of risk?
I'm sweeter than honey.
Throw sass.
See Rejection as a Redirection.
We hope you liked the above list of funny Instagram captions.
Captions for best friends for Instagram
You are lucky if you still have best friends. After a certain age in life, people struggle to make good friends. Even if they succeed in making friends, they fail to form that human connection.
Consider yourself lucky if you still have good friends. You will find some good sassy captions for Instagram. Showing off your friends on Instagram is never wrong. If you have good friends, showing off a little bit won't harm you.
Nothing Can replace you!
Invest the now in tomorrow's dream.
Never a failure, always a lesson.
I am a sassy pant.
Good things come to those who hustle.
Love is a song that never ends.
I need vitamin U.
Be your kind of beautiful.
Lift your head, princess; if not, the crown falls.
Don't be like the rest of them, darling.
I hope you found some good Instagram captions from the above list. 
Related : Car captions for Instagram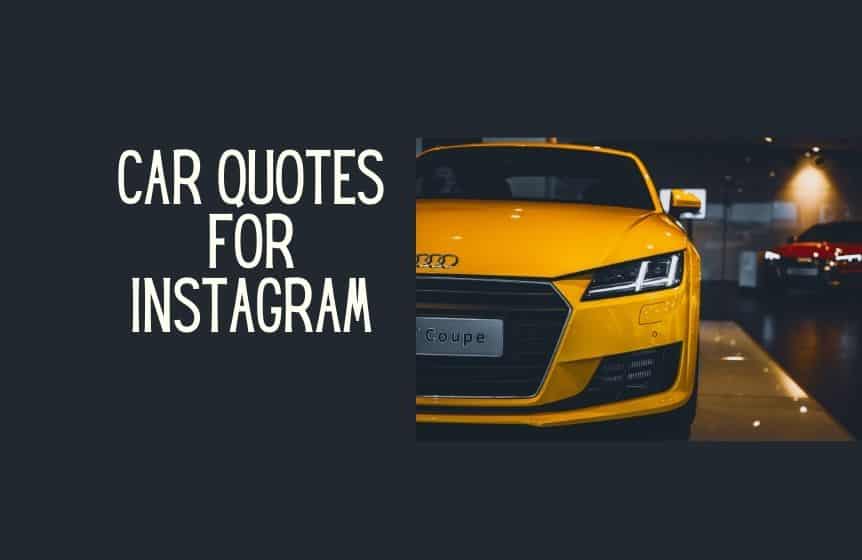 Flirty sassy Instagram captions
Who doesn't like a player? The vibe you get from a flirt has its charm. You will find flirty, sassy Instagram captions for your fantastic photos.
Heaven in her eyes, hell behind mine.
You don't know about me; you only know what I allow you to know.
To generalize is to be an idiot.
I need a six-month holiday, twice a year.
Be sunshine mixed with a bit of hurricane.
2% a girl, 98% anxiety.
Tropic like it's hot.
Beach bum.
I am happy as a clam.
I am the sun of the beach.
This is my resting beach face.
Who does not like a midsummer ice cream?
Who likes shady beaches?
Hot legs or dogs?
Whether you are trying to impress a girl or a boy, the above captions are a cup of tea for everyone.