Because you are busy with your dance moves and taking dance photos, you might not have much time to think about captions. It is precisely for this reason we have compiled this great list of dance captions for Instagram.
So, don't sweat about that next Instagram post's caption. This is the right place to get the best dance captions to increase your posts' engagement. Since dancing is a universal language, these captions will relate to your followers who feel your dancing style.
Let's get into it and help you find the best captions.
Funny dance captions for Instagram
If they ask you to dance or go to jail, which prison would we visit you?
Don't be moody. Shake your booty.
Don't mind the grins on their faces. You can do it!
Dance things: Feeling like nodding to the tune in your head, but you can't coz you are in the classroom.
If you had an emoji for your dance moves, what would it be?
Your moves are as weird as your facial expressions.
She accidentally tripped her way to the dance floor. She never came back!
You can't think and dance at the same time. They just don't go hand in hand.
If you can't dance, stay in your seat, lift your hands and nod your head like you are about to make a mad move but holding back.
Dancing in heels should be declared one of the world's modern wonders.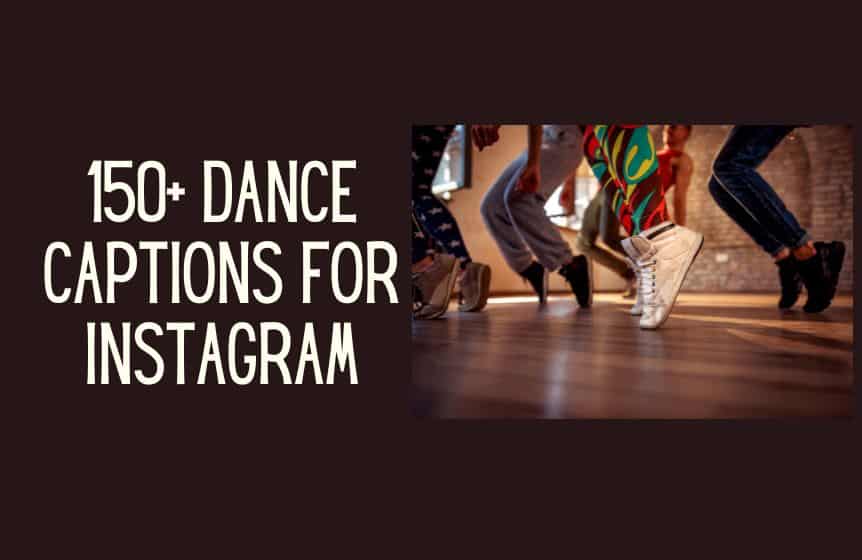 As long as you are confident, people will assume you are a good dancer in your weird way.
I'm always excited when I hear a good tune. I dance like it's my first dance.
There is nothing as meticulous as the reflection of a dancing lady.
The meaning of a goddess is someone who isn't afraid of her moves.
Make sure your body moves when you are on the dance floor. Don't stand there like a statue.
Dance like you are all alone on the dance floor. Don't listen to any snide remarks thrown at you.
Dancing is the only social life that I have.
Trying to be someone else is your biggest mistake when you step onto the dance floor.
If you ace it, people will cheer. If you are whack, they'll cheer and make you a meme! You can't lose in a dance challenge when you are confident.
When everyone's dancing, join in. No one will notice your two left feet if they are having fun!
Can she dance? Yes. Does she move with the beat? Interesting question!
If you can't dance when drunk, you are wasting the alcohol.
If you dance in the rain, you will either fall in love or catch a cold – a loss-loss situation.
I feel like dancing is multitasking body parts. I suck at multitasking.
Short dance captions for Instagram
Shut up and dance!
Dancing like I'm nuts.
Dance your heart out.
Express yourself in dance. It's not a competition.
This is not dancing; it is a lifestyle.
Dance when the beat drops.
Don't just stand there, do a jig!
I can tell you are fun by the way you dance.
I don't have much, but I can dance.
Need me some dance therapy.
I have two left feet. Dancing ain't my thing.
State one person you would love to dance with. Go!
Dancers create magic with their moves.
If we could define you by a move, who would you be?
It's not that serious. Just dance?
Will you give me this dance?
Let your sparkle show your love for dance.
I'm a slave to the dance floor.
Close your eyes and dance it out.
Ain't no party without a dance.
It is in your heart. You were meant for this.
Dress classy. Dance sassy.
Welcome to the night.
Take a deep breath; you've got this!
Wanna dance?
It's dance floor o'clock.
Life's for the living – dance merrily.
Classical dance captions for Instagram
Tonight, I'll tear apart the dance floor with sick moves.
Even if you miss a step, make it look like part of the dance.
What's better than dancing to the beat of your dreams?
You don't have to be a professional dancer; the simple moves will give you freedom of dance.
Try any kind of dancing. It is better than not dancing at all.
Dancing is the only way your body can show what the heart feels when you hear music.
Free dance and imagine you are the wave of the sea.
Dance songs are such great visual representations.
Want a great way to relieve your stress and let go of everything? Dance!
Don't lose the beat. Each step matters.
I did not come to compete – just doing my thing.
If you can't dance, try a little liquor.
You can wait for the storm to pass or dance in the rain.
Sometimes dialogue dance is the only thing that makes sense amidst all the noise in the world.
Dance has and will always be a timeless interpretation of life.
Dancing has no formula. Create your little happy dance
I love dance music coz all you have to do is jump and scream.
Practice like you are going for a competition so that you can have it easy on the dance floor.
Nowadays, dancing is more really entertaining – almost better than watching the circus.
Dancing is all I have left, so I might as well make something out of it.
Dancing can only be compared to poetry with feet and arms.
Related : Viral Tik Tok dance video
Sassy dance captions for Instagram
Dancing salsa is like a game of extreme emotions.
Make the little dances in your life count for something.
Instead of being a party pooper, get in there and dance.
The natural order of the dance floor is to dance first and think later.
Today's dance has morphed into something wonderful, more than the circus.
Happy Holi, I'm way too excited for the oncoming dance competition.
Dancing will give you a whiff of freedom when things seem to be going south. Try it sometime.
I can't stop thinking of how she was twerking at the dance party.
The things we did on the dance floor… I guess now we are dance lovers.
If I could turn back time, I would ask you to dance with me.
And the connection was in the dance.
Sway your hips like there is no tomorrow.
If this is some kind of therapy, then I found my cure.
Twerk at your own risk.
Music or no music, my feet will always swing in a type of way.
What more would you wish for when he's cute and can dance?
If the trees can dance to the rhythm of the wind, why won't you try to dance?
No more excuses, time for the dance floor.
Loud music is suitable for therapy – scream and dance your pain away.
Dancing will set you free when you feel like you are in captivity.
Do you know what time it is? Time to report to the dance floor!
You've got to dance if you don't want to lose your partner on the dancing floor.
The DJ's great. The beats are loud. What a night. Dancing till dawn.
Is there a relationship between dancing and insanity? Because some moves are just nuts.
It started with a hi, and now we are on the dance floor.
Yesterday I had a dream that I was the best dancer. I woke up and am now the best dancer in my living room.
First, make your move, then think of the consequences when it's set in motion.
If you don't break a sweat, are you really dancing?
Wedding dance captions for Instagram
When stars twinkle, they dance to the rhythm of your happy heart; other times, they are as still as sculptures of open-armed sadness trying to embrace your heartache.
A dance with you is way better than the best gifts.
If it doesn't have a dance session, is it even a party?
Find your true self in dance.
This was the one dance I've been dreaming about since I was a kid.
When she honored me with the first dance as my bride.
Finally, I have you in my arms. The stars must be cheering.
As long as we dance together, I don't care what anyone else thinks.
What God has put together…
It started with a hi, and now we are here.
Dreams are made of this.
If dancing could wipe all the heartbreaks away, I am lucky to do it with you.
If they are the only person you think about, you deserve a dance with them.
I went for dance lessons just for this moment.
This is our song; let's slow dance to it.
Funny how dancing affirms your love for each other.
I feel like they sang this song so that I can ask you for a dance.
When dancing with your sunshine and people love the eclipse.
This is the dance that crowned our emotional journey.
Why would I need wings to fly when dancing with you makes me feel this way.
Dance quotes for Instagram
"All things here in the universe have their own rhythm. Dance to everything." – Maya Angelou
"Sing and dance to music. Embrace the little blessings. Make today a worthy memory." – Steve maraboli
"Even if it's in your living room, just dance." – Kurt Vonnegut
If you can think it, you can achieve it.
Dance is your body's way of expression when you don't want to utter a single word.
If you lack words to speak, sing. If you can't express yourself in song, dance.
Practice like you are in front of a big crowd – perform like no one is watching.
Whenever you see me dancing to no music, just know I'm listening to the music in my heart.
It takes one step, two-step, a sway on the hip, and a nod on the head. That's it, dance.
Dancing is both fun and physical exercise. What better way to stay fit than to dance?
Shoot your shot and ask her for a dance.
Dancing expresses how your soul feels when you listen to music.
You know you are a fun person when you wanna dance to your jam when the beat drops.
Dance without glancing over the next person. You don't have to be the greatest dancer, just dance and have fun.
Can I be honored to have the last dance with you?
Happy are those who make dancing a part of their daily life.
"Just stand up and move to the beat. You don't have to be the best. The great dancers became so because of their passion." – Martha Graham.
Don't worry about the stares. People are hooked on their phones, so you might as well just dance.
Trying and failing is more progressive than not trying at all.
But everyone is a dancer. It's only the dance styles that differ.
I've always heard of the zone. I never knew until I stepped onto the dance floor and became a sensation.
Dance till they can't ignore you.
Sweetheart dance captions for Instagram
Can I hold you when we dance?
"It is only dance that will afford you the freedom of being yourself." – Paulo Coelho.
If life was a big floor, would you adapt to the different dance styles of different people, or would you stay rigid to your same old style?
Dancing is the only art that lights a fire in my soul.
The International Theater Institute gave us the freedom to dance, and we are thankful.
Even if you have no control over the music life plays for you, you can choose how to dance to it.
The rhythm of the music takes me to my special place – into a different zone that I call my happy place.
Dance is a natural remedy for the human cure.
I see real passion when I look at the dance profession.
Go ahead and make your silly moves. The only person you need to impress is yourself.
Why go to the gym when I can dance?
I had a dance with my crash, so I'm living the dream.
Party. Dance. Sleep. Do it again.
So, what if they are watching? Dance like you don't care.
Yes, there are natural dancers, but mostly people acquire the skill through practice.
The joy found in dancing is inexplicable.
When they say party, all I hear is dance.
You know you are lucky when you dance into someone's heart.
Who said only skinny people can dance
When tequila says you can dance, you've got to obey and dance.
Never forget your love of dancing.
Whoever said smiling is a way of easily connecting with people never knew anything about dancing.
You need to be athletic to dance, but to be good at it, you'll need to be artistic.
It is through the synergy of intellect that grace and artistry exist. They are a dancer's blessings.
Dance was the game, and the dance floor was the ring. I was a mighty warrior.
School dance captions for Instagram
Let yourself go for a moment and dance.
All work and no dance made Jack a dull boy.
There is always absolute joy in dance.
How about we do a jig and a two-step?
Dancing is all about forgetting about our troubles.
I am not a professional, but if you teach me the moves, I'll do my thing.
Folk dance and old dance moves speak volumes to me.
I'm not good at sports, but I always look forward to the school dances.
You can be the best if your most significant competition is you.
Don't be too competitive; just do your move and appreciate others.
Fun happens when you let loose and dance from within.
This is meant for fun purposes only. Be entertained.
I knew I had a purpose in school – the school dance!
Don't disregard the beats like that. Dance to the rhythm.
If dancing is an art, then I must be Piccasso.
Dance is just an expression of confidence.
When you dance from your heart, you spread cheer no matter how bad at it you might think you are.
It never got easier. It is you who became better with practice.
Dancing will never fade, but with time you will. So why not join and move your body?
Nothing else really matters as long as I got my beat and my two-step.
Dance is a means of communication. Ever wonder what the message is?
We started as schoolmates, but dance made us best friends.
This is what happens when you take the treacherous roads of persistent practice – you do it so effortlessly.
Couple dance captions for Instagram
The only time I'm truly free is when I'm dancing with you.
What more can I wish for other than being all alone with you dancing to beautiful songs?
Dancing in the club like we are all alone; we don't care what they say.
When you let your heart lead, your feet will gladly follow.
Forget about the day's worries. Look into my eyes and dance it out.
Since we danced to that song, I have never listened to it in the same way.
Let's dance in the rain like they do in the movies.
If I could make a wish, it would be to make this night last forever.
This is what happens when you mix love and dance.
Love happened on the dance floor.
"I see a bloomy sky when I'm with you." – Sinovuyo Nkonki
One look into your eyes, and I miss my beat.
Dance is the most engaging and physical art form.
You are my dance teacher, and all I do is follow your moves.
I can't trade this feeling for anything else in the world.
The best thing about dancing is that when you do it from your heart, your body will follow the rhythm.
I'd rather have the worst dance with you than the best with someone else.
First, I found love, and now I'm learning how to let loose and dance.
Cute dance captions for Instagram
Close your eyes, listen to the music, and move how the soul desires.
If you can't do it from the heart, just stop.
A bad dance is better than just standing there.
When dancing, be open to falling in love.
That was more than a dance. I felt a real connection.
I thought I had seen it all, but, boy, can you dance!
Half the dance battle is won when you put on an adorable facial expression.
My best friend is the coolest dancer, yet he is the simplest human I know. 
My dance friends are the coolest yet simplest people.
The world is your dance floor. Wherever you are, go on and dance.
Related : Body-confidence quotes for Instagram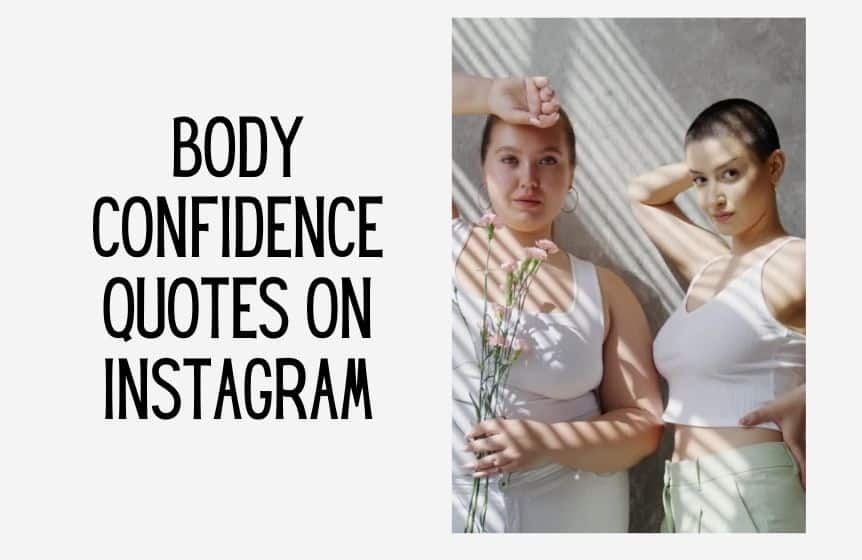 Don't worry. With a bit of practice, you'll get there.
When you believe you have already conquered half the battle.
Lucky is the one who finds passion in their profession.
Can't stop, won't stop.
If you are not having fun, then you are doing it wrong.
I love those moments when I'm in the zone, and my body dances on its own – like it's on autopilot.
Learn to sing or dance. Choose your beautiful struggle.
If I weren't a dancer, probably stress would have won the battle.
Stumble like a pro. Embrace it and make them believe it was a routine.
The goosebumps when your crush appears on the dancefloor and wants to dance with you.
Instead of going to therapy, join dance classes. So, therapeutic.
Final thoughts
I hope you have made your mini collection of good captions for future posts. You can now complement your dancing pictures with perfect dance quotes. Just pick any that suits the moment and tailor it in the way that makes you happy.