Key Takeaways
Captions should capture the essence of the bath experience, whether relaxing, joyful bonding with a baby, or enjoying bath bombs.
Instagram captions for bath photos should be short, sweet, and relevant to the content, reflecting the mood or vibe of the picture.
Specific categories like baby and dog bath captions cater to different scenarios, providing a range of options for various bath-related content.
The article provides categories of bath captions, including baby bath captions, bath bomb captions, dog bath captions, and bubble bath captions, offering creative and cute options for different bath-related posts.
Bath captions for Instagram; who needs 'em? Given that they help products like bath bombs and essential oils pop out on your Instagram feed, you would be wise not to underestimate the power of these cute and clever captions. Ahead, we discuss creating the best bath captions for your Instagram posts. We also provide a list of cute and clever captions that match the mood of your Instagram feed and help your Instagram account stand out.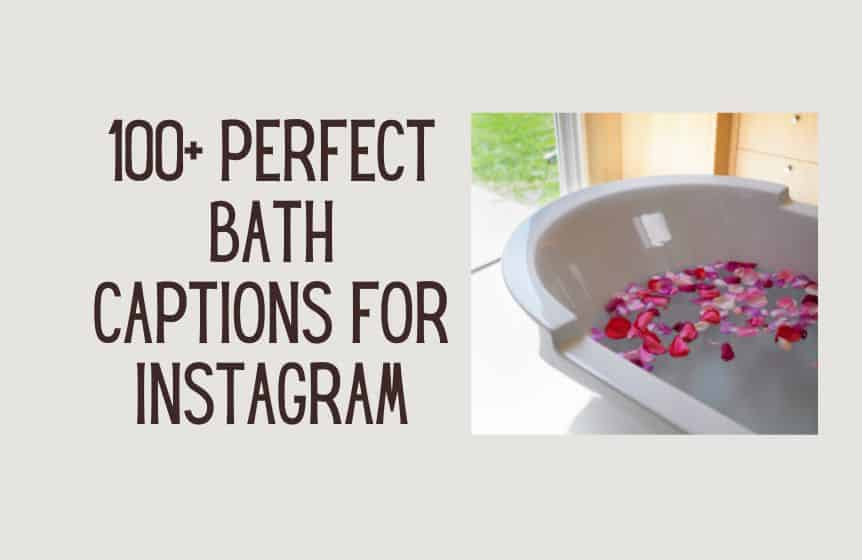 How Do You Come Up With An Excellent Bath Caption?
A general rule is to keep your Instagram bath captions short and sweet. Also, it should relate to the content of your picture somehow. Are you at the pool? In the jacuzzi? Then, for the best caption, some references should be in order. Otherwise, try to capture the vibe you're going for. Are you aiming for serene vibes? Relaxing after the end of a long week? Destressing during your favourite part of the day? Revelling in good vibes? Then, the best way to go about your bath caption is to employ bath quotes that match the mood.
Baby Bath Captions For Instagram
Baby Baths are a good way for mothers to bond with their newborns. As a mother, these baby bath captions will show your followers what a joy it is to spend time with your baby.
Back in the water, my happy place!
Chunky dunks for the chunky boy.
Having a splash-tastic time with my mommy!
Best way to ensure a good night's sleep.
My birthday suit is the best bathing suit.
A good soak always gives me sweet dreams.
Baths, one of the great pleasures of the outside world!
A good bath a day keeps the germs at bay.
The best thing about baths is that they are a great way to bond.
Ensure to keep a basket of towels on hand to dry your baby.
Wait, this feels just like my old room!
Now he/she feels like a newborn all over again!
Playtime with the rubber duckies.
How I wish bath time could last forever.
Guess who's in the mood for a warm, cosy bath?
A bath is really just a wet, warm hug.
Nothing makes them laugh like a good bath.
It's easier to bath them when they see their toys love it too.
Baths are some of the best exercise for babies.
It's cute how fascinated they get by the bubbles.
Giving my baby a bath is the best part of the day.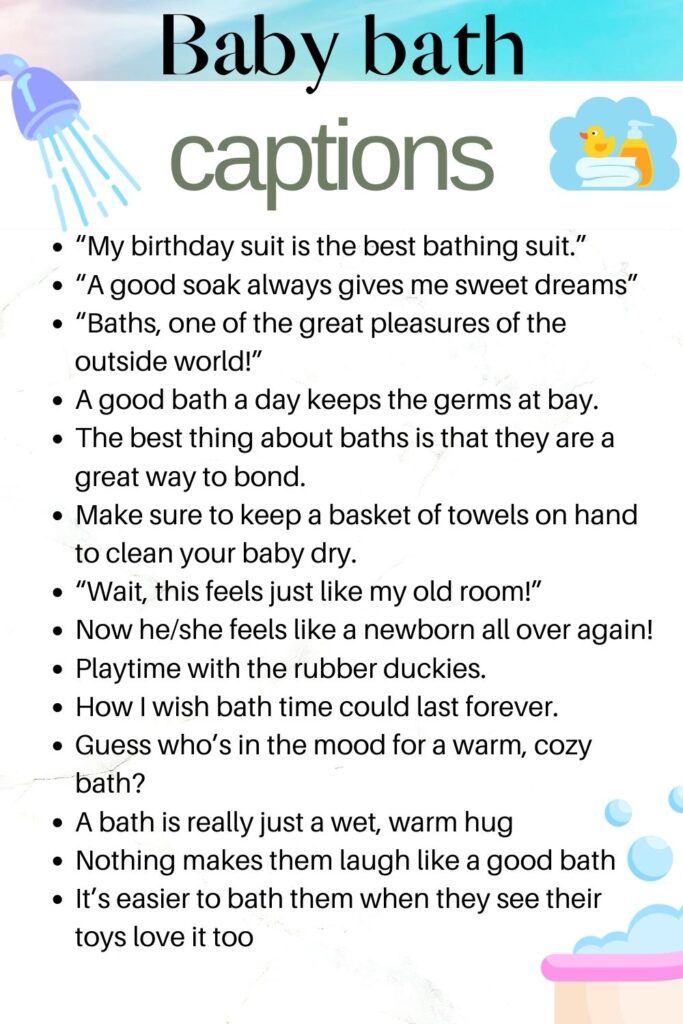 Bath Bomb Captions
Even the crankiest among us loosen up and let the good vibes wash over us whenever we settle down in a bath bomb. The following hot tub quotes will communicate how soft and cosy you felt in your oversized jacuzzi with your glass of wine and favourite bath bomb.
Hot baths are the perfect place for a bit of mischief.
A coconut bath is always better than a water bath.
A different kind of happiness.
The best cure for a stressful day.
A good bath is so simple to set up, yet it's such a wonderful indulgence.
The right kind of bath is easy to get in and almost impossible to get out.
The little things, like a warm bath, make life worth living.
Warm water kissing your skin is a natural ingredient for happiness.
Now, I need a glass of lemon water to put the cherry on top of this bath.
Relaxed muscles are my favourite hot tub happening.
Yes, taking a bath is, in fact, a noble deed.
The best place to cleanse the feet of a dirty word.
Best way to unwind at the end of the day.
The only place I can drown all my worries.
The best spot for my renunciations of the day.
Bubbly girls deserve bubblier baths.
I close my eyes, and my mind takes me to some hot spring in a forest somewhere.
Strip, dip and slip into happiness.
Bath bombs are so good that sometimes they feel illegal.
I'm addicted to these scents, to this water, to this life.
I don't need to be a scent to the bath.
Do you pack snacks when you take your bath?
Bath beauties love bath bombs.
They are called bath bombs because they make you explode with happiness.
These fragrances elevate me right to heaven.
Bubble baths hit differently with bath bombs.
There would be world peace if everyone took a long bubble bath every day.
Bath bombs always make me feel brand new.
Come into the water.
I can give up wine, but I can't ever give up bath bombs.
Bubble baths give you wings.
Related: Cute Pool Captions for Instagram
Dog Bath Instagram Captions
Some dogs may not like bathing, but dog bath bombs and shampoos make the process much more pleasurable. The following captions will help you fondly recall bath time with your dogs.
Every bath is a music bath if you splash through it.
Water, a dog's next best friend.
After a long day of being a public menace.
And now a pack of snacks for being so good.
Favourite scrubs come before favourite snacks.
And I would have gotten away with it if it weren't for those pesky bathroom rules!
Pro tip: make sure your god is out of energy before you bring it to the bath.
What do you mean this isn't a great splash spot?
The bubble bath of my dreams is made of hot chocolate!
I should have given up all hope of staying dry.
They always pretend they hate baths until they get into the water.
Baths are so pawsome!
Guess it's time for a pool pawty.
And now, it's time for the most legendary shake-off you've ever seen.
All good dogs love hot baths.
Gotta stay fresh for friends at the park.
Now, it can lick my face as much as it wants.
A pawsitive experience.
They act like they don't love it smh.
Can anyone order more photos of wet dogs?
Ready, Set, Splash!
First the bath, then the snacks.
Bubble Bath Captions
Who doesn't love a great bubble bath? When you share your next bubble bath on social media, these Instagram captions can help you portray that quality time.
Feeling waterful. That is the magic of bubble baths.
Hot bubble baths are a great way to catch up with Helen Keller's writings.
Few things feel better than skinny dipping on a sunny day.
Wild girls embrace the mermaid life!
Cool day for a pool day.
Face Masks got me feeling like a watery superhero.
Why be in hot water at work when you can be in hot water at the pool?
My favourite thing to do after a busy day.
A beautiful diva loves a long soak.
Like the moon, I make my waves.
Bubble gum and bubble baths: an underrated combo.
Good bath, good mood, good night.
Hot tub baths are a crucial ingredient for vespertine pleasure.
How great do I look in these bubble bath pics?
One of the better ways to end a stressful week.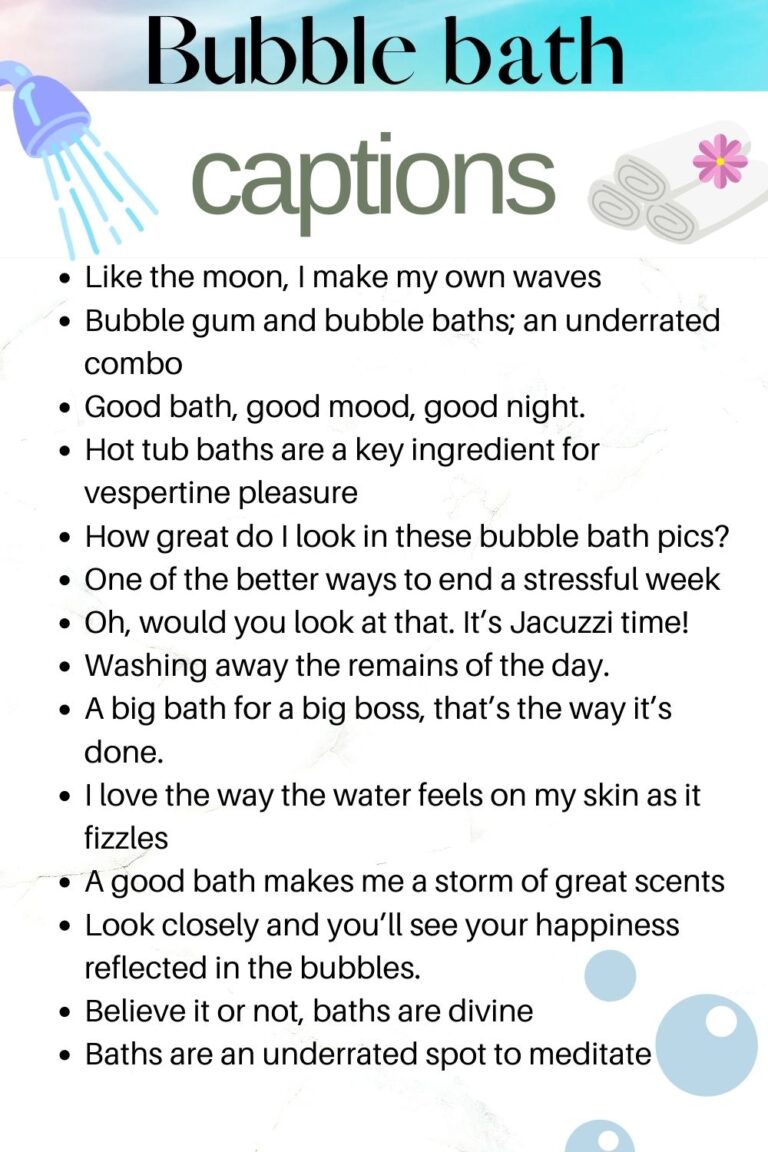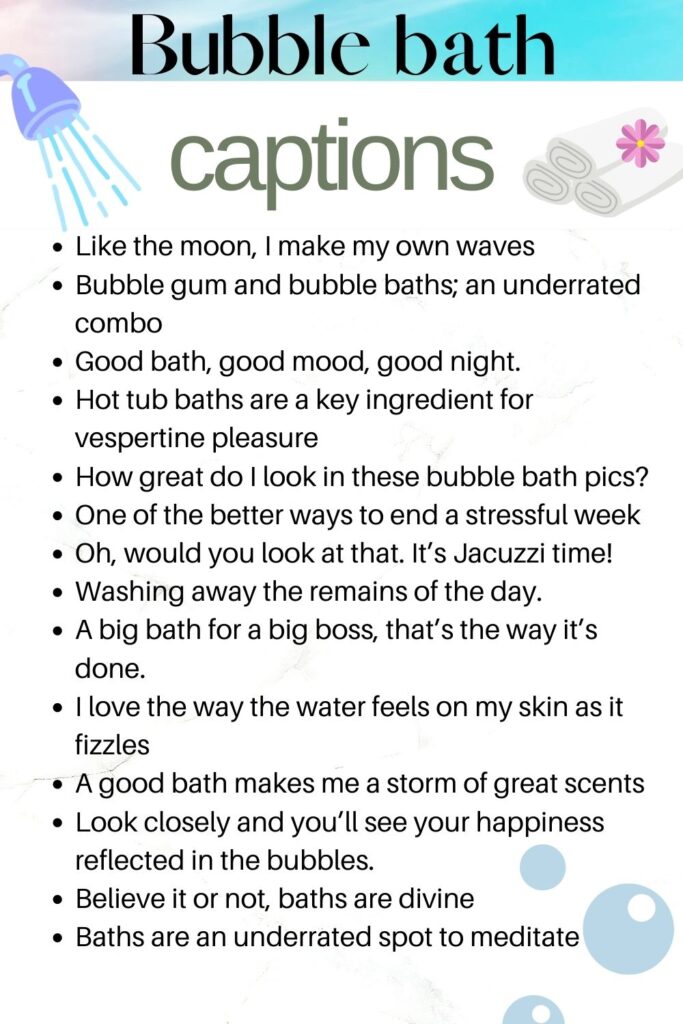 Oh, would you look at that? It's Jacuzzi time!
Washing away the remains of the day.
A big bath for a big boss, that's the way it's done.
I love the way the water feels on my skin as it fizzles.
A good bath makes me a storm of great scents.
Look closely, and you'll see your happiness reflected in the bubbles.
Believe it or not, baths are divine.
Baths are an underrated spot to meditate.
Bubble baths make me levitate.
Nothing like a bubble bath to relax during a hot day.
Blessed are they who enjoy bubble baths.
Bubble baths are a complete cheat code.
When the world gets under your skin, bubble baths make you feel new again.
Bubble baths make my skin pop.
This is what pure joy looks like.
This article should be a handy guide for bathtub quotes, bathroom captions, jacuzzi captions, hot tub captions, and hot tub quotes. But on the slight chance that you don't find something you like, you now know how to craft the cutest captions for your Instagram photos to make your content stand out.
Check our following related articles
Was this helpful?
Good job! Please give your positive feedback
How could we improve this post? Please Help us.