The summer is already here. Ready to jump in the pool and share the awesome pool pictures with your friends on Instagram? This article will list some really awesome pool captions and quotes for Instagram.
Summer pool captions

Do not shy away from bringing out your swimsuits if you love the pool. Even if they have outgrown you, it should not stop you from having a good time in the pool.
Who does not like sharing their pictures on Instagram – the number one photo-sharing app on Earth? In summer, who likes to stay home? Of course, some people hate the sun. But once you get in the pool, it should give you the relaxation you need and deserve.
Please do not disturb me.
I will stay in the pool as long as I want to.
You cannot stop me from diving into the pool.
We all float; we all need some pool time.
The pool is where peace is.
Don't be afraid of the pool.
Getting in the pool should be the favorite part of your day.
Sorry, I don't need any safeguards.
When in doubt, take a deep dive in the pool.
I only have a pool on my mind.
I want long days in the pool.
I dream of summer that ends with pool time.
One splash at a time.
Take a dip in the pool, and it will take all your worries away.
Summer, why does it have to be so long?
Can I get a day job sitting beside the pool?
What do you smell? Its Chlorine.
If you ever see me swim, it will only take a second to fall in love with me.
It would be best if you had a story for every summer.
A dip in the pool keeps the doctor away.
Never say no to pool time.
It is time for me to take a dip.
Related : Prom quotes for Instagram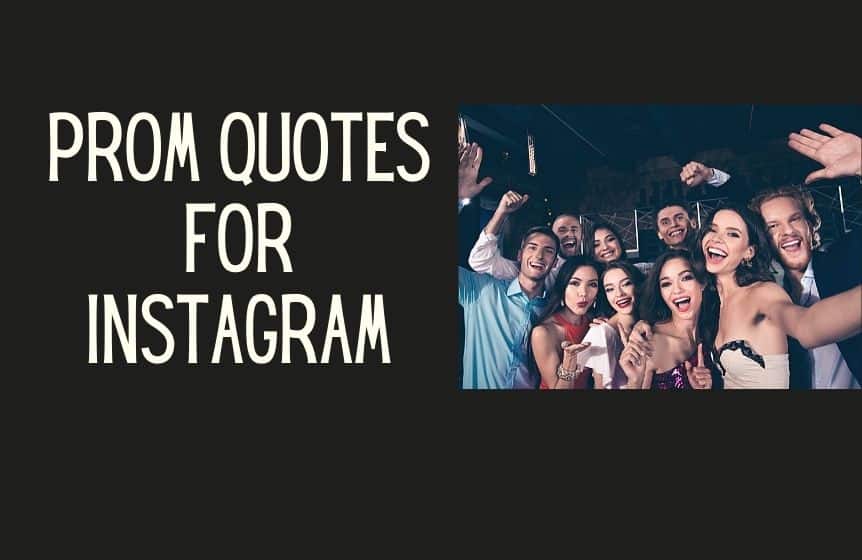 Chill pool quotes
Are you one of those studs who has a pool in the backyard? If yes, what is stopping you from organizing a fantastic pool party.
How can you build the hype? How about you start by posting your pool pictures with chill pool captions and quotes for Instagram.
I am all about the flow – get it?
It is a beautiful life.
I want to beat the heat.
I always look like this.
Life is excellent when you are near the pool.
Let's soak in the sun and take a bath in the pool.
Happiness is when you take a dip in the pool.
Did you know you can swim your worries away?
When in the pool, you should feel tropical.
You need one good swim to brighten up your mood.
I have gone swimming.
I love my wet pool Hair.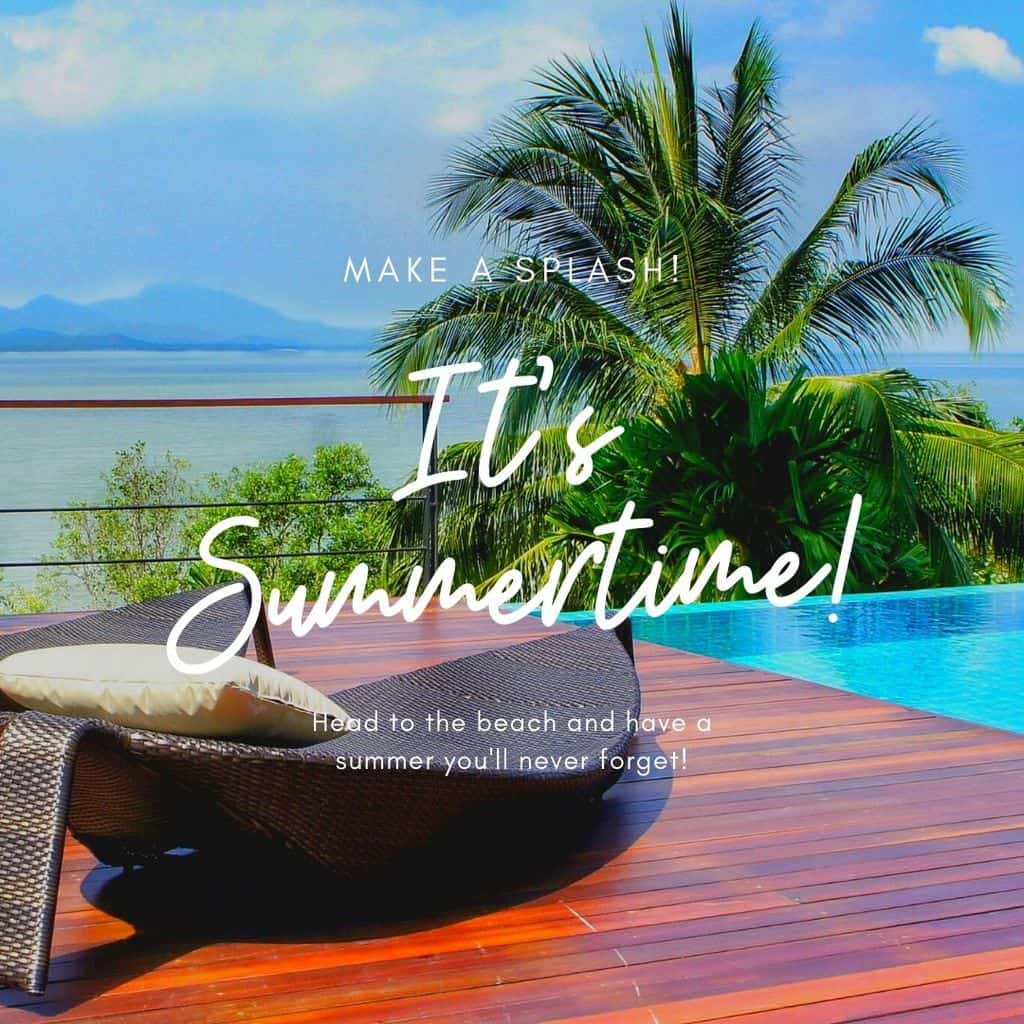 Pool time is all you need in this warm weather.
Eat, dip, tan, repeat.
Keep calm, jump in the pool.
Dive in!
The memories you make in the pool will last a lifetime.
Sundays are always fun.
Swim your heart out.
When I am in the pool, it washes away all my worries.
Who is up for a pool party?
Pool captions with friends
Some people like to spend time alone. And then some people enjoy time with good friends.
Cocktails by the pool.
Swimming is my medicine for everything.
The pool will only give you good vibes.
He was splashing away the day.
When you make your waves, you are happy.
Summer is incomplete without a swim in the pool.
Mood for the day.
My happy place is the pool.
I am floating in summer-like.
Swimming set of minds.
Swimming is the best form of therapy available.
I need the whole pool to myself.
Related : Car quotes for Instagram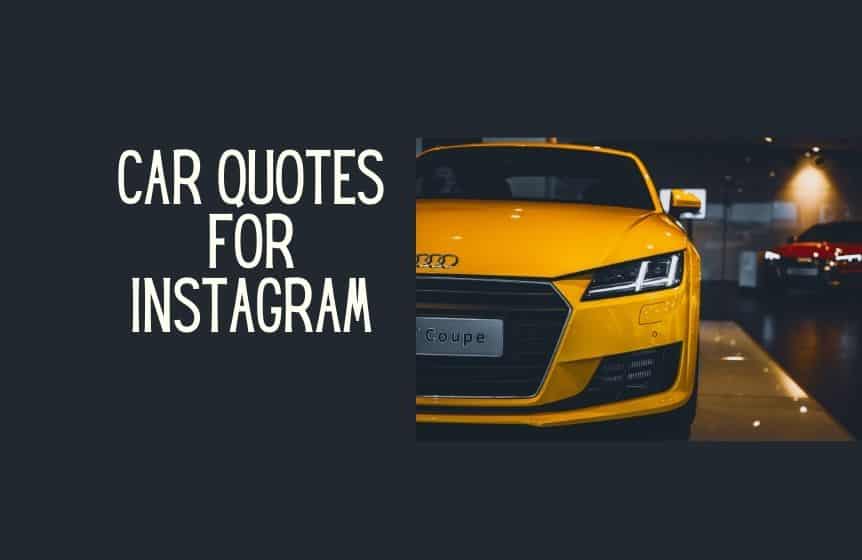 Awesome pool quotes
Are you looking for some awesome pool quotes? You have come to the right place. These awesome pool quotes will want others to befriend you.
I am perfectly imperfect.
I am always onto better things.
Never settle for less.
The pool is all about feelings.
Stay crazy – no one will mess with you.
Know your worth.
Now that you have repaired my soul, it is time to move on to better things.
Always be yourself.
I now have a better soul.
Pool fixes my soul.
Did you like any captions in the above list? They say there is nothing as a perfect caption, but we know there is.
Short pool quotes for Instagram
You don't always need extended captions to share how you are feeling.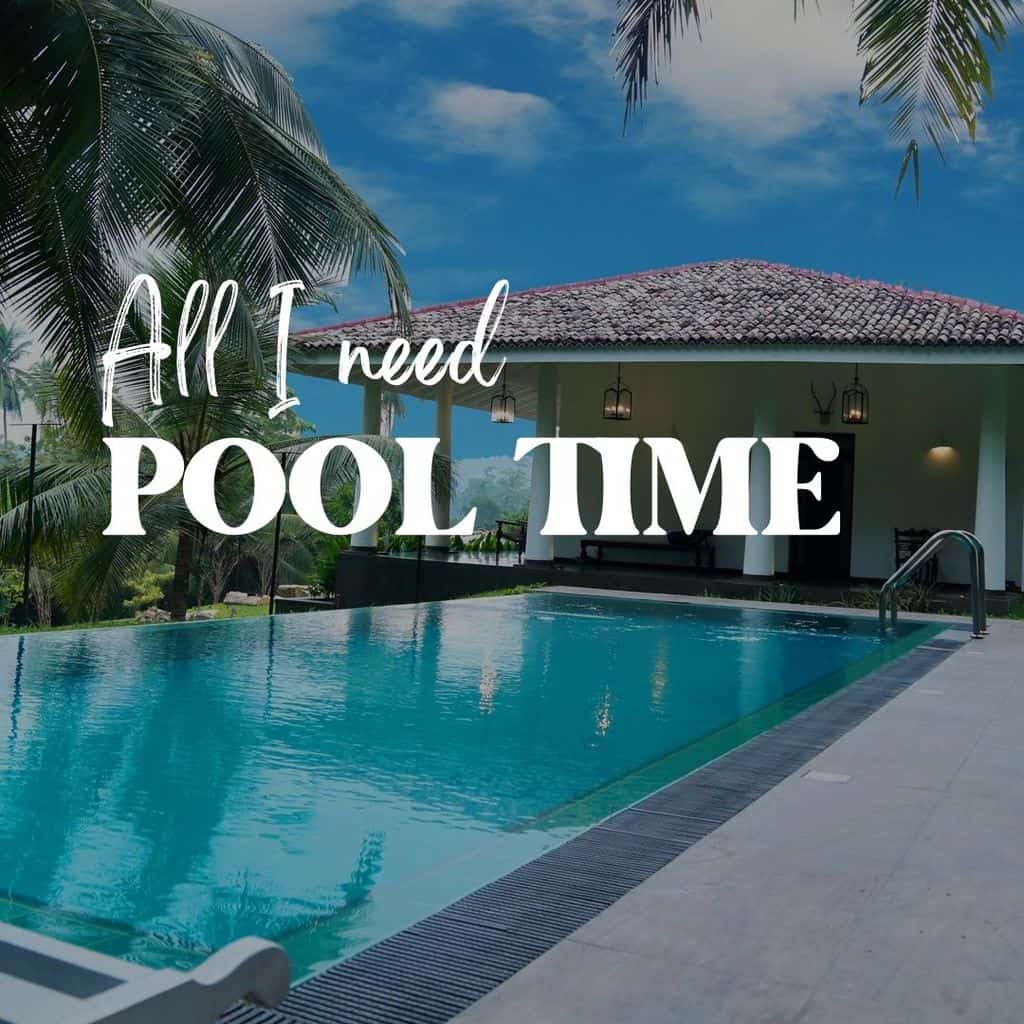 Be carefree, be a rebel.
The pool gives me pure bliss.
I am blessed to have you.
Always smile, even when you are underwater.
Sunshine and pool time.
Jumping in the pool is the best way to relieve stress.
Day by day, I am falling in love with the pool.
So much to be thankful for – but nothing beats a few hours in the pool.
Living a dream – take a dip in the pool.
All I need is a little bit of pool time.
Stay golden, stay happy.
When I am near the pool, I don't have a care for the world.
Pool always makes me happy
The above list contains some of the best cool captions for short pool quotes for Instagram.
Infinity pool captions
Let's look at some pool captions and quotes for Instagram to bring you more likes and comments from your followers.
Don't waste time thinking about what others will think.
If I were funny, I would use a different Instagram caption.
Tell your dog; I send my regards.
If you jump in the pool with me, I will take a nerf bullet in the heart.
I came, I saw. Now it is time for the pool.
When taking a swim in the pool, you are lost in your thoughts.
Less is never more when you are in the pool on a hot summer day.
You do you.
Best sunrises from the pool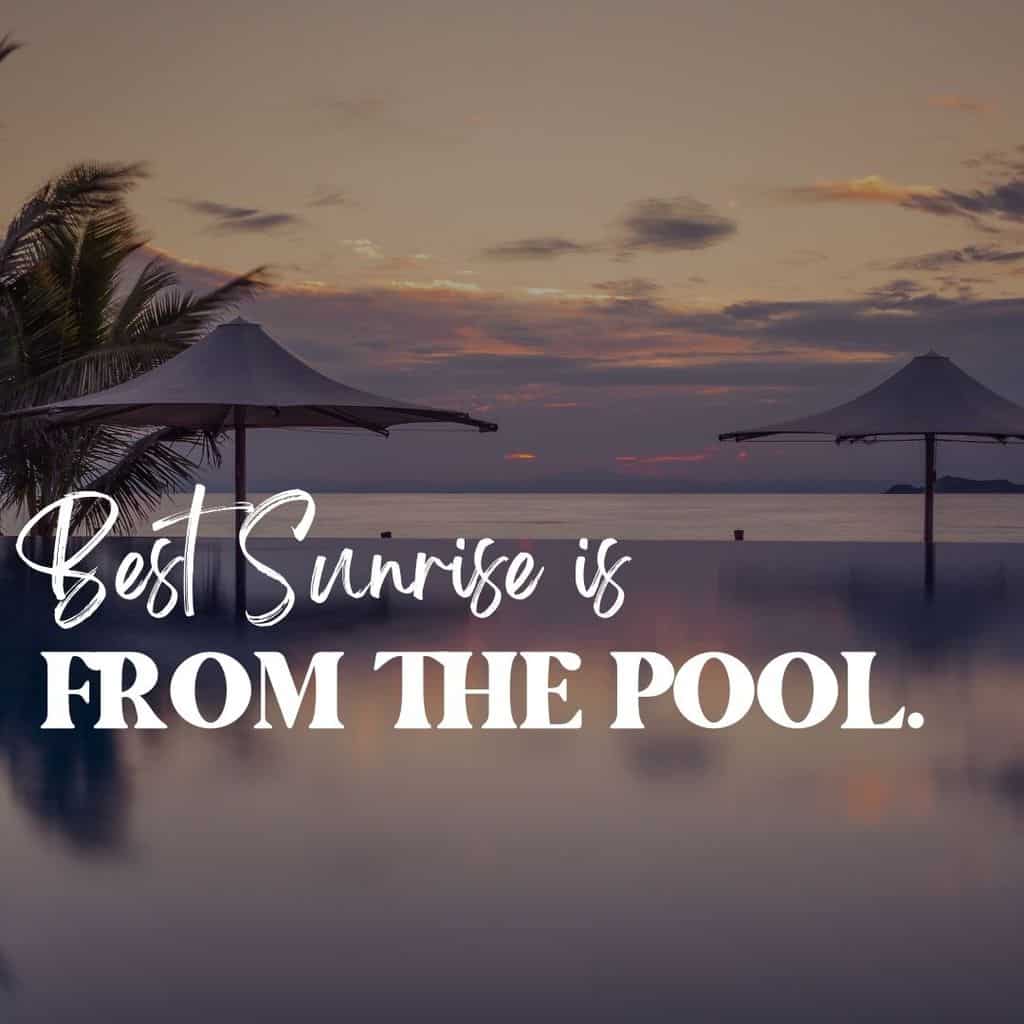 Taking a dip in the pool always ensures an excellent start to the day.
Time to bring out your pineapple pool floats.
Hot tubs, I like.
Your best memories are made in the pool.
It's time to go on vacation.
Funny pool quotes for Instagram
According to research, people are more likely to respond to an Instagram post that comes with a funny caption. Here are some funny pool quotes for Instagram.
Catch flights, not feelings.
Look alive.
What am I doing in the pool? Well, I am trying to look alive.
Escape the ordinary, take a dip in the pool.
Don't just exist; live.
The summer season is back.
I was swimming in the pool, with the entire blue sky on top of me.
Could you keep it simple, dive into the pool?
I thrive on upgrading my pool at any cost.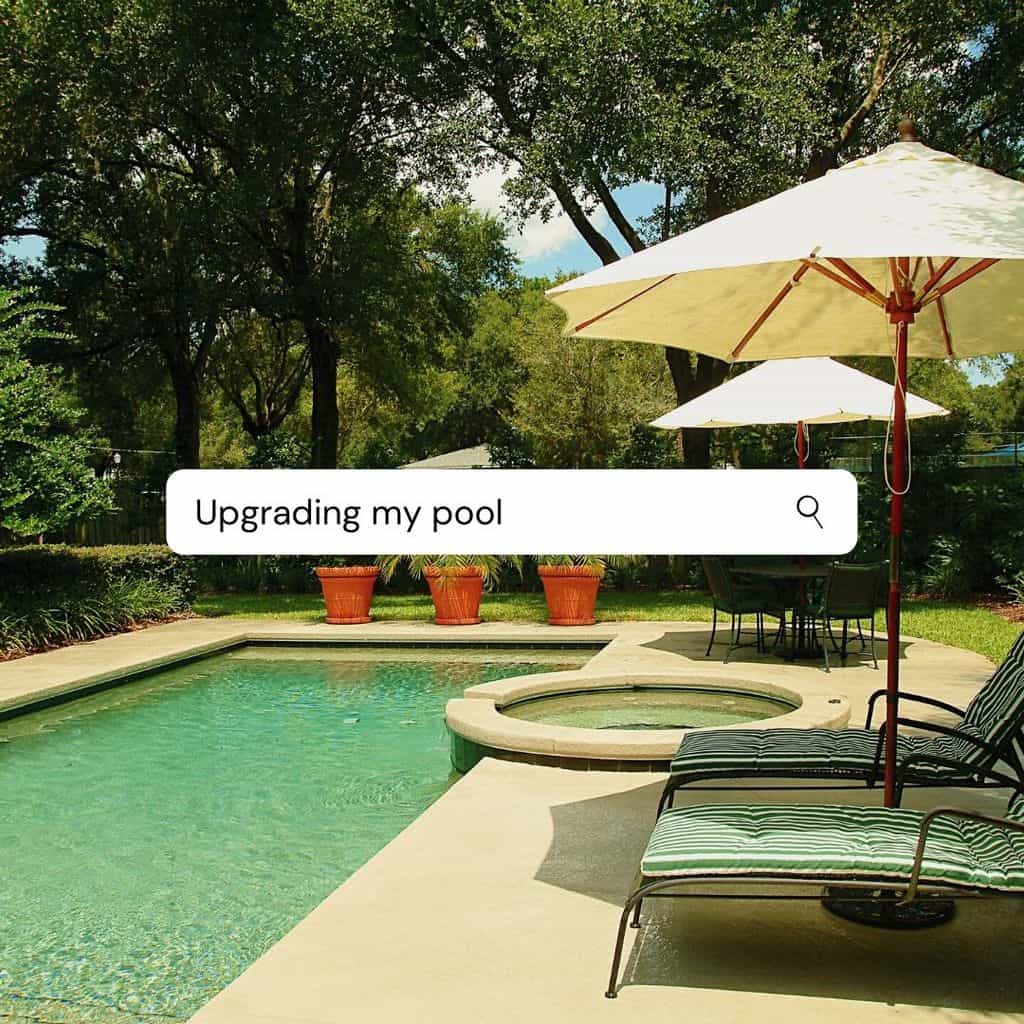 I aim to make history by lying in this pool all weekend.
Pink flamingos for the pool.
My favorite part of the day is taking a dip in the pool.
Pardon me if I wasn't available. I was busy rebuilding myself.
Taking a swim helps you rebuild your confidence.
Did you find any funny pool caption for your pool post on Instagram?
Perfect pool captions
Some say there is nothing like a perfect pool. But wait until you check the below list of the best pool captions and quotes for Instagram.
You can't swim with us.
Always be nice to people who have a pool.
Home is where you have your pool.
I want to jump into the pool.
In the past life, I must have been a mermaid.
Take my hand, and follow me to the end of the pool.
I want to have a fantastic time.
Did you know swimming is cheaper than therapy?
Salty, but sweet.
I love this bikini kind of life.
Splash spots from the pool.
The pool season is back.
Mermaid life suits me.
When in doubt, try to swim it out.
Sorry, we have no lifeguard on duty at the moment.
Pool time for the good kids.
The pun in the sun.
Keep calm, and take a dip.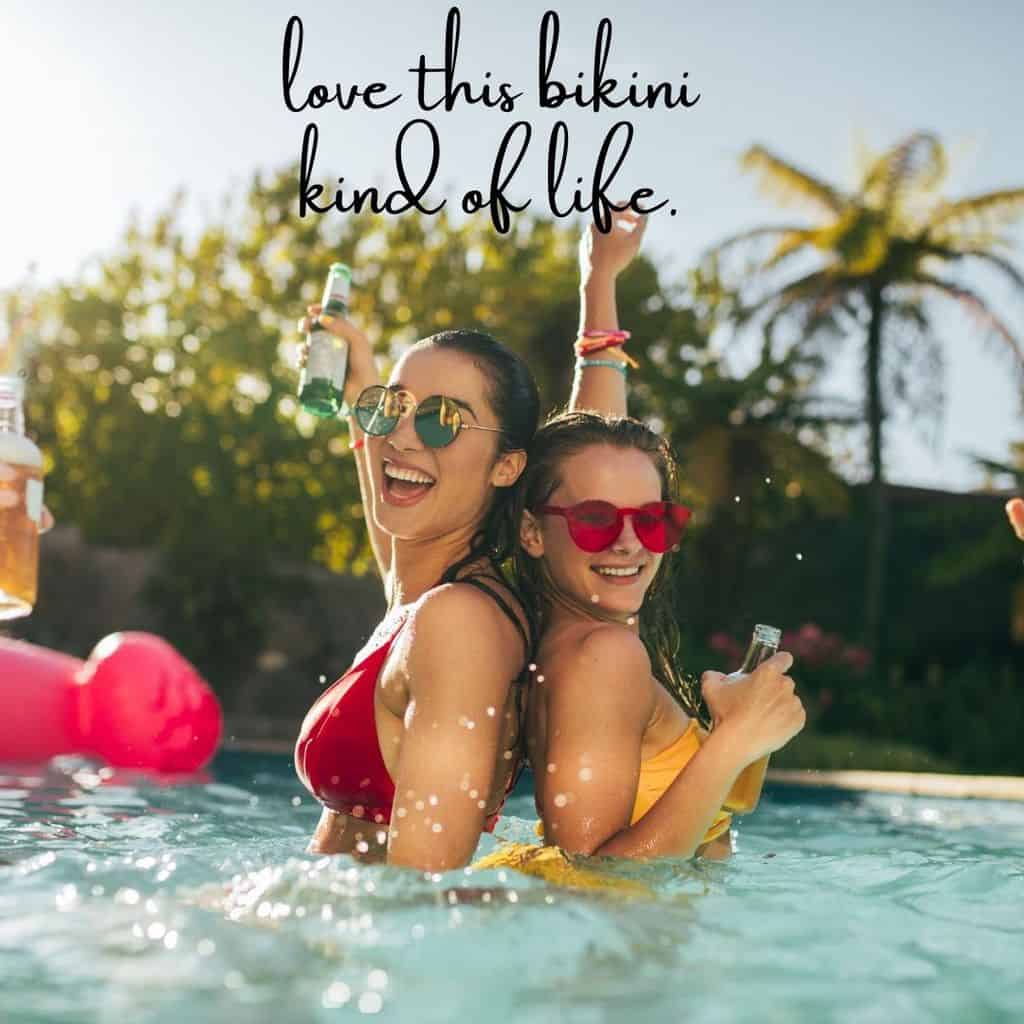 Did you like any good captions for your pool photos?
Party pool captions for Instagram
Who would not want to be invited to pool parties? No one! The below list contains cute pool captions and quotes for Instagram.
Take a swim in the pool, and you will indeed have a good mood.
On the pool, I feel calm.
Crazy pool party going on. Mad!
Sunny days are back.
Clearwater for the pool.
Partying like Jay Woodman.
When you are frustrated with life, dive into the pool.
My pool, my happy place.
Poolside glass of wine.
Flip flops and pool days.
Summer vacation is here.
I tried to capture the best pool moment.
Time for a beer break.
Hand pool selfie for your Instagram account.
I was never good at swimming pool captions.
The above captions will work for other social media sites too.
Cute pool captions
In the last section of this article, let us look at some cute pool captions and quotes for Instagram.

Worry less, swim more.
Look alive; take a dip in the water.
No bad feelings, only pool chills.
Always try to live a good story.
Stop me if you can.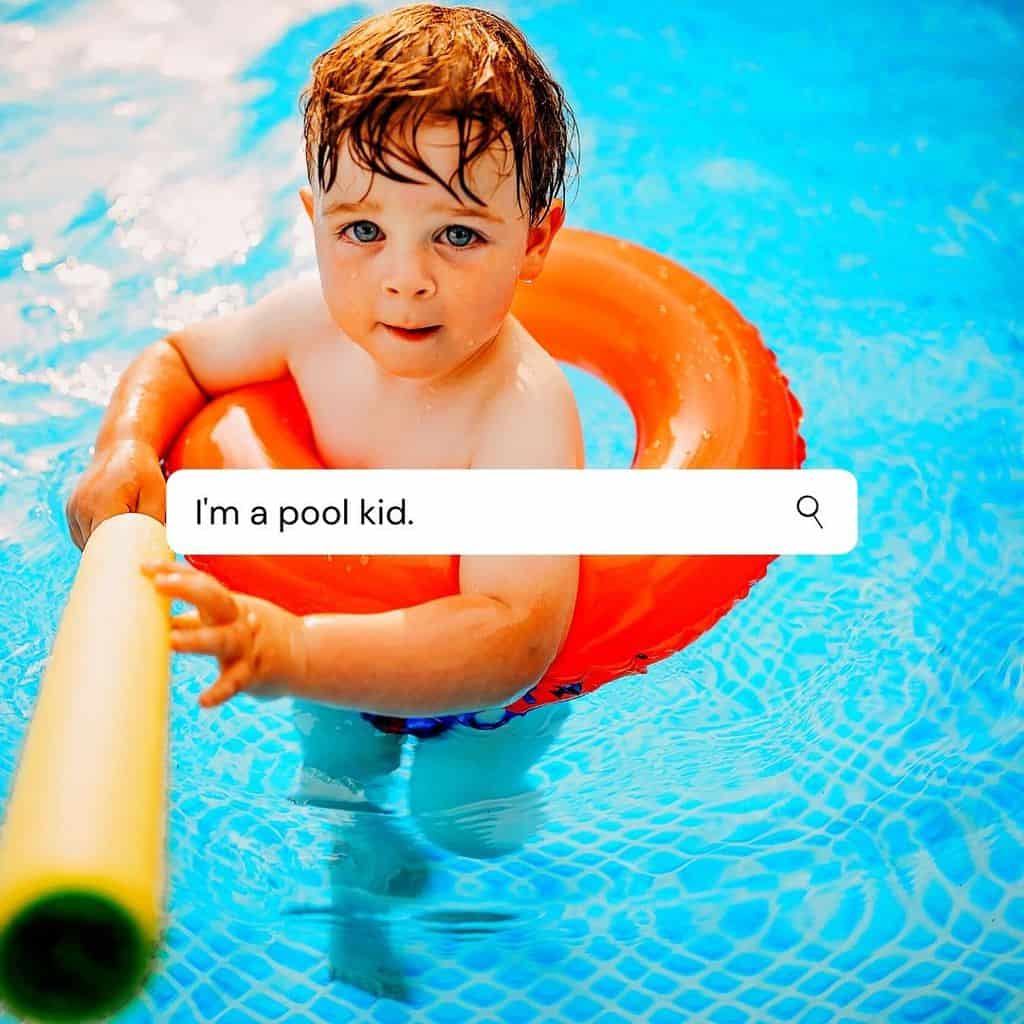 Wicked paradise pool party – you all are invited.
It's a crazy day.
The mood of the day – I want to stay the entire day in the pool.
Infinite possibilities when you are in the pool.
Pool time for a relaxed state of mind.
I'm a pool kid.
I love pool sounds.
He either sits on the side-line or else swims.
Lovely weekend to spend in the pool.
Nothing beats a long swim accompanied by a glass of chilled wine.
Swim more, keep your heart healthy.
Did you find any pool pics for your Instagram pictures? We hope you did. Enjoy your summer weekend.
Was this helpful?
Good job! Please give your positive feedback
How could we improve this post? Please Help us.