Finally, this is the moment you have been waiting – your last day at school. You cannot wait to impress your friends on social media with the best captions and senior quotes for Instagram.
After all, you have persevered through the challenging classes, late-night studies, and extra hard work to get here to your graduation. You have been through bittersweet moments at school, and now the only thing in your mind is having the best graduation party.
The festive cake and your graduation gifts will not go unnoticed because you also want to commemorate the day by posting and sharing with your followers on Instagram.
 To accompany your graduation pics on your Instagram post, you will find here the best Instagram captions that you can choose from to help you get that perfect caption.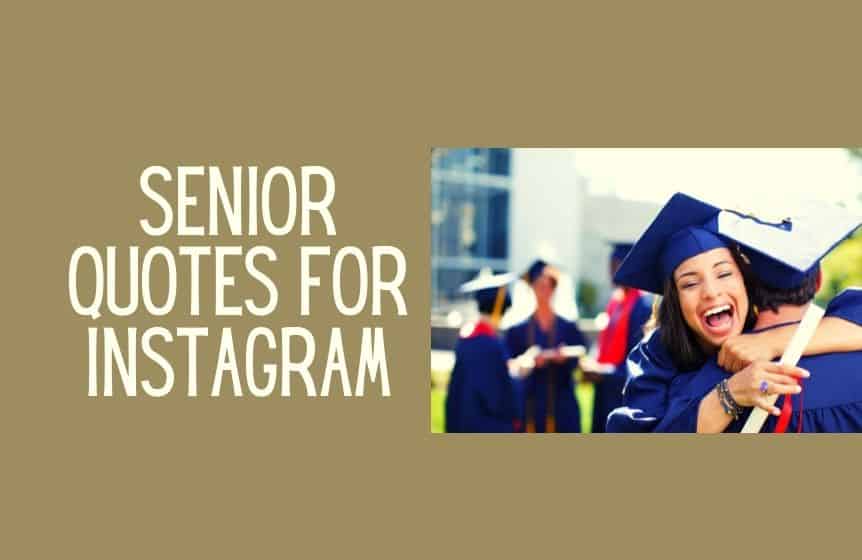 Funny senior quotes for Instagram
If you don't have the right words to articulate your senior picture captions, worry not, for you are in the right place. To start you off, here are some funny quotes to post caption your best moments:
Seeing everyone graduate this year makes me believe I will also graduate.
When you fall, you have to get up. The world only cares when you get up more times than you have failed
If you are not wise, pretend to have wisdom because the world only cherishes knowledge.
Dear fellow seniors, once we graduate, we are about to enter the most uncertain and exciting period of our lives.
Little responsibility and good pay are two things that never go hand in hand.
When they finally give you that diploma, keep walking. Just in case they might want it back.
I have no idea where I will go from here, but all I know is that I am going.
Wishing that I could become a freshman and do it all over again.
I know you will miss me when I leave.
Dream as though you will live forever. Live as if it's your last day.
A ship might be safer at the shore, but that is not where it was built to stay.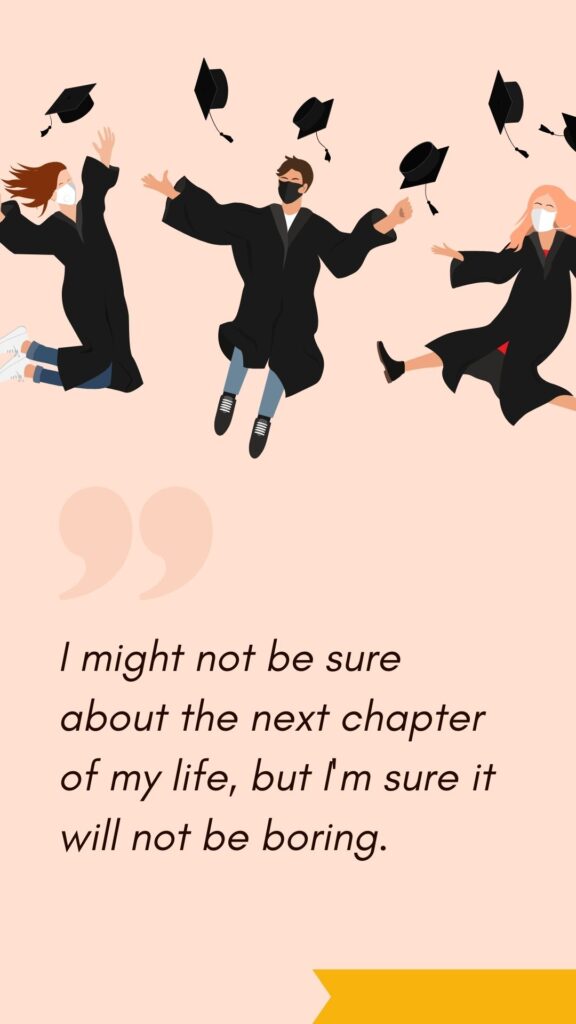 You will never truly appreciate a moment until it becomes a good memory.
Don't say the sky's limit when footprints are on the moon's surface.
I can't wait to hear how they mispronounce my name at the graduation ceremony.
In the dictionary is the only place where success comes before work.
The key to success is hidden under the alarm clock.
I completed none of my assignments, but I'm completely done.
From now on, you can call me a chemistry cylinder – I am graduated.
Fun senior captions for Instagram
Here are some senior year captions to help you celebrate your college life:
I might not be sure about the next chapter of my life, but I'm sure it will not be boring.
I'm so excited to be finishing this chapter of my life. Through the ups and downs, I loved every moment.
In the book of life, there are no answers at the back. Find them on your own.
It is during your senior year that you truly discover who you are.
I'm wondering who will miss me when I leave.
I feel honored to be a part of this school and the bittersweet moments. Finally waiting for graduation.
So close to the finish line. What an exciting time this has been.
Related : Car quotes for Instagram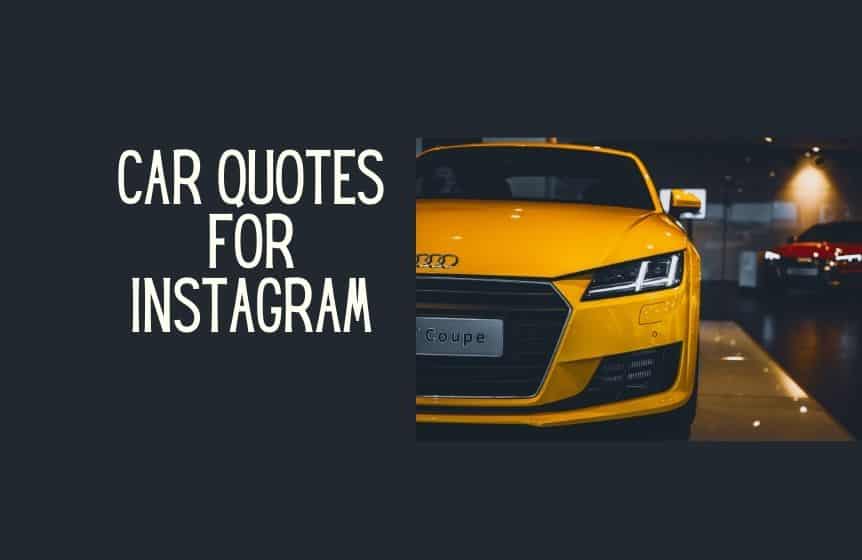 We did not come this far to fail! We are the winning team.
The future is brighter than where we came from.
If I made it this far, I could only hope for better things in the unknown future.
This is a significant milestone in my life. So proud of myself.
Dear past, I truly learned from all the lessons. Dear Future, I'm prepared for new adventures.
This is the moment we are making great history for the future.
My goal is to leave a lasting impact in my senior year.
Master degree Instagram captions
The best time to reflect on your profound knowledge is when everyone else is asleep—Goodnight world.
I just got my Master's degree; how time passes quickly when you decide to follow your dreams.
Great days only get better with a cup of coffee by your side. #Master's
I can't wait enough to get this significant accomplishment and start a new beginning. #Mastersdegree
Thinking about it, I cherish all the tough decisions the precise concentration that led to this divine moment. #Mastersdegree #Graduation
Cheers to the program. I never got to study this hard in my life. #Mastersdegree
I'm glad I finally found my calling. Feeling accomplished! #Mastersdegree
Congrats to the Master's Degree class of (Insert Year), It wasn't easy, but seeing all of us succeed makes it worth it. To a better life.
There is no better way to learn than to teach. Hoping to impact the world, inspire, and mentor others with my #Mastersdegree
The university does not only make you a student but an author of your life's destiny. You are working harder towards that graduation day.
There is no end to hard work—only significant milestones. 
This is my dream come true. I hope you accomplish yours. #Mastersdegree
Nobody was born with the skills to achieve greatness. It results from preparation, hard work, and exceptional time dedication. All you need is to start, go and get yours too. #Mastersdegree
A master's degree is the best career decision I have ever made. Glad I made all the sacrifices.
High school senior Instagram captions
To most, the last year of high school is an essential year in which you can have some of the most memorable days of your entire life captured in plenty of photos. Here are some captions to mark that important high school photo gallery:
If you find a path without obstacles, it most likely will lead you nowhere.
The road to success is full of many tempting wrong turns.
Even though nothing lasts forever, we'll still have these memories to cherish.
Four down, zero more to go.
I thought this would be exactly like in the high school musical.
I will always love the friends I made in high school.
Not even missing my freshman year.
I can't wait to finally finish the final stretch of my high school days. It has been a big adventure.
The most memorable moments in life are made in high school.
Oh, I'm in love with the respect accorded with being a senior.
It is all part of growing up, a little adventure coupled with rebellion.
My senior buddies are just the coolest. I will miss the magical time we had.
This is just the beginning of great things to come and making new memories.
Nothing better than the senior year. I love this chapter.
I never imagined my star would shine this bright in high school but thank God, here we are.
Greatest graduation Instagram captions
Your graduation is proof of your outstanding efforts in school. Celebrating this crucial time of your life with a creative graduation cap and taking those cute gown pics is a great way to shine in your graduation photos.
Here are some graduation quotes to go along with the photos and show the direction of your dreams:
This is where your journey to a great future starts. Never give up.
All the great moments, scary times, and blunders we made along the way helped shape who we are today—waiting for an exciting new chapter.
Keep working hard for one day. All you've been pursuing will be worth the struggle.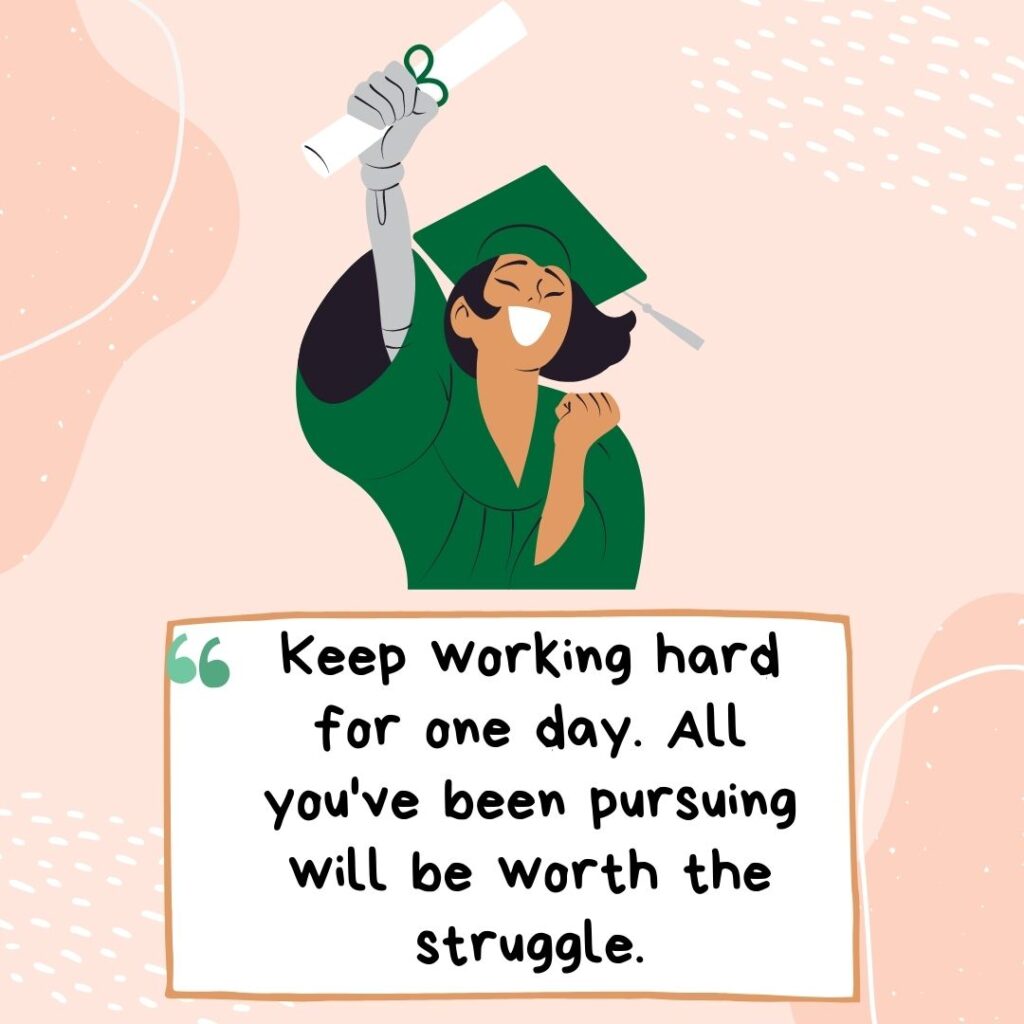 Glad I got to meet these next generation of problem solvers _ Cheers to the class of (Insert year).
Never let anything or anyone stand in the way of your dreams.
I wish that your cap will fly as high as your dreams.
There is no greater joy in life than to know your parents are smiling because you made it.
Have huge dreams, focus on them, stay focused on that path and surround yourself with good people.
Aim for the stars, and one day you might shine like one.
Best senior quotes for Instagram
Below are some great senior quotes for Instagram that you can use for Insta story or even captions.
Anything that doesn't challenge you will never change you.
Today is my first last day here. I can't be more excited than this.
I never imagined it would be this hard to say goodbye.
I am 100% sure that I have no idea what I'll do from here.
We're almost there and nowhere near it. All that matters is we're going. — Gilmore Girls
Never let go of the worthy pursuit that lights up your soul.
Without a doubt, I'm going to make it.
I hope I'll understand the next chapter of life better than this.
This is just the beginning of the things we dreamt of.
Can you tell from the smile that I'm a senior?
Only you can choose the legacy you want to leave.
Stop counting your days, but make them count.
We hope you enjoyed the graduation and senior quotes for Instagram in this post. Which quote reflects your true feelings right now? Share it with us in the comment box below.
Related : Quotes about children learning