A good teacher can be one of the best influences in a child's life. This is why it is sometimes essential to send them thank-you messages for all their hard work. Below, we've included a great list of thankful quotes for teachers. You can send these to a great teacher to show your appreciation.
These teacher appreciation quotes cover a wide range of use cases. You can use them for those who went the extra mile, were terrific role models or even had a significant impact on the lives of children. 
Short thankful quotes for teachers
Here is a list of short thankful quotes for teachers. They fit perfectly on gift cards and convey feelings of appreciation and gratitude without being too long. They are also helpful for a wide range of situations.
Thank you so much for being the most wonderful teacher.
Brilliant teachers are like a needle in a haystack; we are so thankful to have found you.
Dear teacher, thank you for making school fun and formative.
You're the most awesome teacher I could have asked for. Thank you!
You were the highlight of every school year. Thank you.
You are a fantastic teacher, and I hope you never forget it.
Through all the grades I went through, you remain my favorite teacher.
Good teaching is one thing; having a great personality is another. I'm thankful you had both.
A child's teacher is meant to be one of the most important figures in their life. You fulfilled that promise. Thank you.
No number of words of gratitude is enough. So, in short, thank you.
Everyone could learn from all the great work you do. Thank you.
The good work you do as a teacher does not go unnoticed. Thank you!
It takes you one-fourth of the preparation time to do twice the work. And that's why you're the best teacher.
Thank you so much for fostering my love of reading.
By way of Henry Brooks Adams, you are a teacher whose influence spans eternity.
Everywhere you go, people sing your praises because you were a great teacher.
You have helped an entire generation find their confidence. Thank you.
Because of how gentle you are with me, I am similarly gentle with my children. Thank you for that.
I never thought I would amount to much until you showed me I had limitless potential. Thank you.
I aspire to be as good a teacher as you were to positively impact many people.
Sweet messages for teachers
These sweet messages are some of the best teacher quotes you can send to your favorite teachers. These are guaranteed to put a smile on the faces of your favorite teachers and educational figures.
You stand as a shining star in the entire teaching profession. 
You serve as a brilliant example and put all mediocre teachers to shame. 
My creative expression would have remained stunted if I hadn't met you. So thank you. 
You're a superior teacher in every sense of expression. 
Fantastic teachers are a dime a dozen, and you happen to be one of them. 
The whole world could learn from the kindness in your big heart. 
My love of learning comes from your love of teaching. Keep going!
You are an incredible teacher, and I wish you endless incredible days. 
I'm forever thankful for having crossed paths with a truly special teacher. 
I'm eternally grateful that you oversaw so many days of diligent studying that made me who I am today. 
You're the individual most deserving of teacher appreciation day. Enjoy it!
I sincerely hope you enjoy your summer vacation. You've earned it more than all your students. 
Young people are not always easy to deal with. Thank you for making it look so effortless. 
Thank you for nurturing my love for William Shakespeare and, by extension, my love for literature. 
Like Josef Albers said, "Good teaching is more a giving of right questions than a giving of right answers." Thank you for teaching me which questions to ask. 
After spending time with you, I realized the truth of Oliver Wendell Holmes's quote. Your words affected me like magic, and I am grateful for that. 
Robert M. Hutchins said that teachers should seek to inspire rather than reform students. Thank you for living by this saying. 
When personal troubles depressed me, your smile in class was the sun that took me out of the darkness. 
Your children are truly blessed for getting to spend more than an hour with you each day. 
If I was half as good as you at teaching, I'd still be better than 90 percent of teachers worldwide.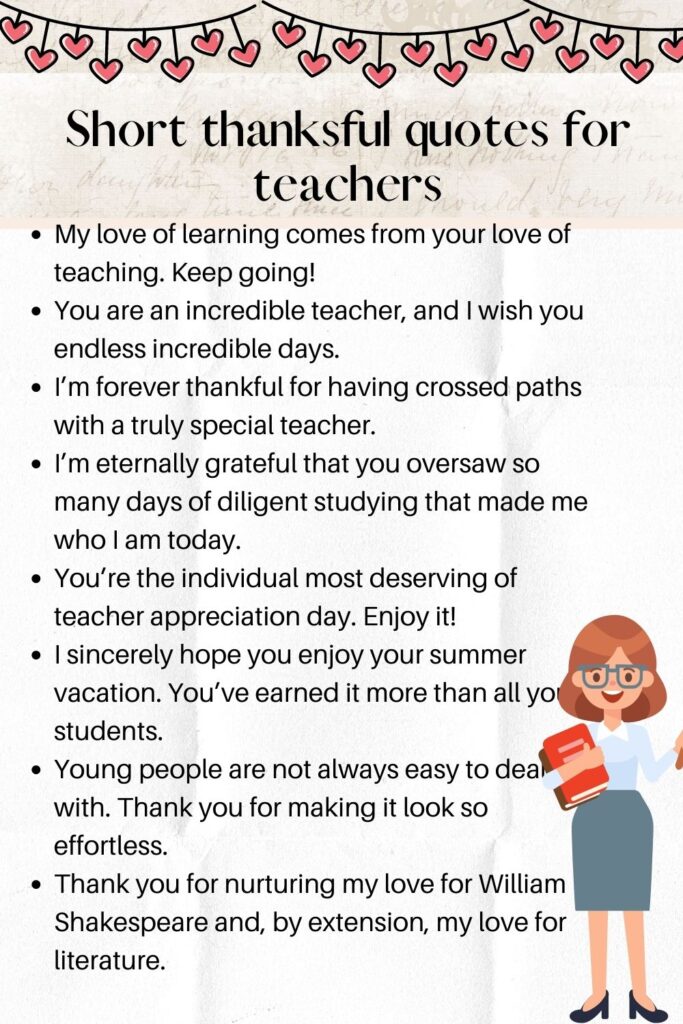 Thank You messages for teachers
If a particular teacher markedly improved your education experience, these thankful quotes for teachers will serve very well in letting them know that. If you struggle to express your thankfulness, now you have nothing to worry about. 
Every week should be teacher appreciation week. And even then, it would not be enough to convey our gratitude to you.
I've had several great influences in my life. But very few have been greater than you. Thank you.
A good teacher is one of the greatest signs of success. Thank you for being mine.
You are an absolute master in the art of teaching. Thank you so much.
You were a vital element of my academic success, and I'm immensely grateful for that.
Many doubted I had the necessary raw material to make it. You were not one of them. Thank you.
None of the usual right words will do for you. Just know that I'm eternally grateful you were my teacher.
I'm a better person because of you. So, thank you.
You are the very beating heart of the educational system. For that, all your students are grateful.
You're a positive impact on the human form. Thank you so much for everything!
Thank you for giving me great reasons to look forward to the school day.
You're so loved because you're such a kind teacher. Thank you.
Thank you so much for teaching me how to deal with tough problems.
I never thought I'd ever have a teacher like Mr. Rogers. That is until I met you.
True to William Butler Yeat's quote, you lit a fire in me for learning. Thank you.
John C. Maxwell once said that students don't care what you know until they know you care. In the classroom, we knew you cared, and it made us all excellent students. So thank you.
Fred Rogers once said that the best teacher is someone who loves what they do and loves it in front of you. Your love for teaching was always very evident to your students. Thank you so much.
Thank you for showing me the error of my ways and teaching me to be a better person.
Looking back, the day I walked into your class for the first time was one of the best days of my life.
If all teachers were like you, the world would be a much better.
Word of Gratitude for teachers
For the great service they render, teachers do not ask for much in return. However, a few words of gratitude could go a long way in making them feel valued and appreciated. To that end, use these words of gratitude to lift their spirits and make them feel important.
Of the numerous human feelings, gratitude is what you inspire in me the most. 
Many people have teaching degrees. Thank you for putting yours to the best possible use.
Thank you for guiding me toward a better place than I could ever hope to be. 
Teaching kids is way harder than it seems. You carried on that role with grace. Thank you. 
Student-teacher relationships can be such a beautiful thing. Thank you for putting effort into building and sustaining one with me. 
You were the highlight of my past year. Thank you so much for being my teacher. 
I must say, you are well versed in the supreme art of the teacher. 
You have a true skill for dealing with different people from various backgrounds. 
You bought me so much extra time to pursue my dreams by teaching me how to learn. 
I'm grateful that I'm a better student now than when I first met you. 
I hope your next year as a teacher is even better than your last. 
All your students had a great year because of you. You're the best!
Some make the task of an excellent teacher seem like a burden. You were far from being one of them. 
When it comes to teaching, you are Albert Einstein. Thank you. 
Tom Brokaw said it's easier to make a buck than to make a difference. Thank you so much for prioritizing the latter of these things. 
Your students are eternally grateful to you for adopting the Benjamin Franklin method and involving them intimately in their own studies. This made them learn better. 
I am so grateful that you gave me the confidence to pursue my interests. 
I hope you are as thankful to have had us as students as we have had you as our teacher. 
Thank you for not killing my curiosity and passion for learning. 
You deserve to receive words of affirmation every day thanking you for your wonderful service as a teacher. 
Related : Inspirational journal quotes
Thank you notes for teachers
A good teacher positively affects you for eternity. Express your appreciation for that with these thankful quotes for teachers. Use these appreciative teacher messages and teacher quotes to make your favorite teacher know the impact they had on you.
Thank you for doing your best to nurture young minds. 
We were the luckiest students to have you as our teacher, so thank you. 
Thank you so much for putting all your students on the right path. 
You were one of the most wonderful things about going to school daily. 
I didn't know what the object of my education was to be until I met you. So thank you. 
Thank you for lighting our little minds with your passion for education. 
Even the highest award in the world would not be enough for you. Thank you. 
All your students will be grateful to you for the rest of their lives. Thank you for your service. 
Not a single day goes by that I'm not grateful for your care and guidance as my teacher.
In my youth, I was a growing plant. You did your best to see to it that I flourished. Thank you for that. 
Thank you for teaching me how to ask the right questions. 
The school was so much fun with you around. Thank you. 
In a school with great teachers, you were a phenomenal teacher. 
Carl Jung said that an understanding heart is everything in a teacher and cannot be esteemed enough. Your heart is the most understanding of all. 
True to Mark Van Doren's words, you assisted me in discovering so many things about myself. Thank you for that. 
Kahlil Gibran said that the most important thing a teacher can give a student is not wisdom but faith and love. Thank you for ensuring I was passionate about learning rather than memorizing facts. 
Thank you for showing me where I went wrong with my homework.
I'm so jealous of all the new students who experience your awesomeness. 
You are such a great teacher that they should write poems and sing songs about you. 
If you ever wonder if you've made a difference, know that you've inspired an entire generation to be the best version of themselves.  
We hope you like the thankful quotes for teachers above. I am sure whichever quote you chose to go for, your teacher will highly appreciate it.