Spring break means vacation time for most students and is usually one of the most memorable parts of high school and college. The Spring season is unique as it marks the beginning of warm weather and an end to the cold weather. We have compiled a list of spring break captions you can use to show others what a fantastic holiday you had.
One thing is for sure — whether you choose to go on a vacation or settle for a nice staycation — you will need great photos to light up your Instagram posts. We have compiled the best spring break captions for your cool pics.
So, when you visit the perfect place for your spring break adventures, take photos that will help you create memories. Then, pick the perfect caption for pics from this vast collection. You can copy and paste it to make it an Instagram caption.  
Fun spring break captions
Tan lines are a sign of good times.
Good friends make our adventures greater.
Summer vibes = Good vibes
Instead of catching feelings, try catching flights too!
In love with the beach! Shell yeah!
When you wanna clear your head, look for a beautiful place.
We live for great adventures.
"Try to make one night last forever. Once it's gone, you can't get it back." — Luke Bryan, Like We, Ain't Ever
"Today I don't feel like doing anything." — Bruno Mars, The Lazy Song
"Living is all about having a good time." – Miley Cyrus
"Each of us needs to break free of the cares that do not want to let go of us." – Maya Angelou
Excuse the girls when they want to have some fun.
I never knew I would have so much fun while staying offline.
All I remember is someone saying, 'Aloha.'
I feel like making the beach my home and enjoying my new life as a beach bum.
Feeling as free as the ocean waves.
Dear beach, sorry for staying away for so long.
Sorry, can't hear you over this nice ocean breeze.
Beach body formula: *have a body *head to the beach
Thinking of staying and becoming a mermaid.
I need no other B.S except Bikinis and Sandals.
All I needed was the sunny beach; then I got unforgettable memories.
Short spring break captions
If you prefer your spring break captions to be short and straight to the point, then you will love these captions:
Enjoying my me time.
Soaking up the sun.
Relax and tan.
Feeling wavy.
Fun comes in waves.
Work hard, play harder.
Shell yeah!
Party in the sun.
All I needed was Vitamin Sea.
Oh, beach, please!
Seas your day.
Salty vibes.
Having fun on this sun of a beach.
Life's a beach!
Vacation calories are worth it.
New day. New adventure. Blessings.
Clever spring break captions
These clever captions are ideal for your spring break pictures:
The beach is the cure for my disease.
Travel when you can. You Only Live Once.
While the tan fades, the memories remain.
Let the ocean guide my vacation.
You know you are on vacation when you can't tell what day it is.
The only reason I love working is so I can afford a vacation.
No matter what you go through, you've got to love the palm trees and the ocean breeze.
The ocean breeze is the only thing on my mind right now.
The ocean really understands how to treat me during my much-needed break.
Life should have more vacation days.
Spring is nature's way of making you have fun.
Go to the beach and unleash your innerspring breaker.
If I could have a new life, I would live on a beautiful beach!
I'm always open to new adventures, and this one is no different.
The sunny beach is the cure for all boredom.
While chasing the sun, I found myself at the beach.
When is it not a happy hour at the beach?
It is because of the cold winters that the spring is so pleasant.
A selfie while smiling in the sun.
Shell I say I missed the beach so much?
You know you are on vacation when you don't have anything to do, and you have the whole to do it.
Don't go looking for a beautiful place. Make it.
Don't stress the crowds; sometimes it's much better to have time alone.
I can't keep calm on my vacation. This is the result of hard work.
Vacation vibes mean letting go of all your stress.
Sunny days are fun days.
Related : Awesome fishing captions for Instagram
Good holiday captions
It doesn't matter if you are a nature lover or prefer taking poolside pics after a dip in the water during your vacation time. These spring break captions will be great for your photos:
"And we sleep all, sleep all day, sleep all, we sleep all day." — Jason Mraz, Sleep All Day
"Let's go to the beach, beach. Let's go get away." — Nicki Minaj, Super Bass
"Enjoy the sunshine. Swim in the ocean. Take in the wild air." – Ralph Waldo Emerson
"Spring has a natural way of saying, 'let's party.'" – Robin Williams
"Alright, spring breakers, you know what time it is." – The Lonely Island, Spring Breakers
Visiting new places can revitalize your soul.
Love it when the sun burns hot, but the wind blows cold.
Spring is with us to remind us of beautiful changes.
A flower does not think of out-blossoming the next one. It just blooms.
Always be grateful when you tick a bucket list destination.
Travel, see the scenes, and create memories.
Never keep a vacation waiting.
When you go on vacation, leave your worries behind. 
"Only amateurs suffer from jet lag." – Dick Clark
Feeling kind of beachy.
You know it was fun when all you can remember is the palms waving, the sun shining, and the water splashing.
Bye-bye, gym, I'm going to spoil myself a little.
This is my definition of heaven.
Under the palms creating the next great story.
Oh, sunsets! Why do you always cut onions—I can't stop the tears.
Explore until your heart discovers new homes.
Visit unknown sites and re-discover yourself.
Travel and confirm the stories for yourself.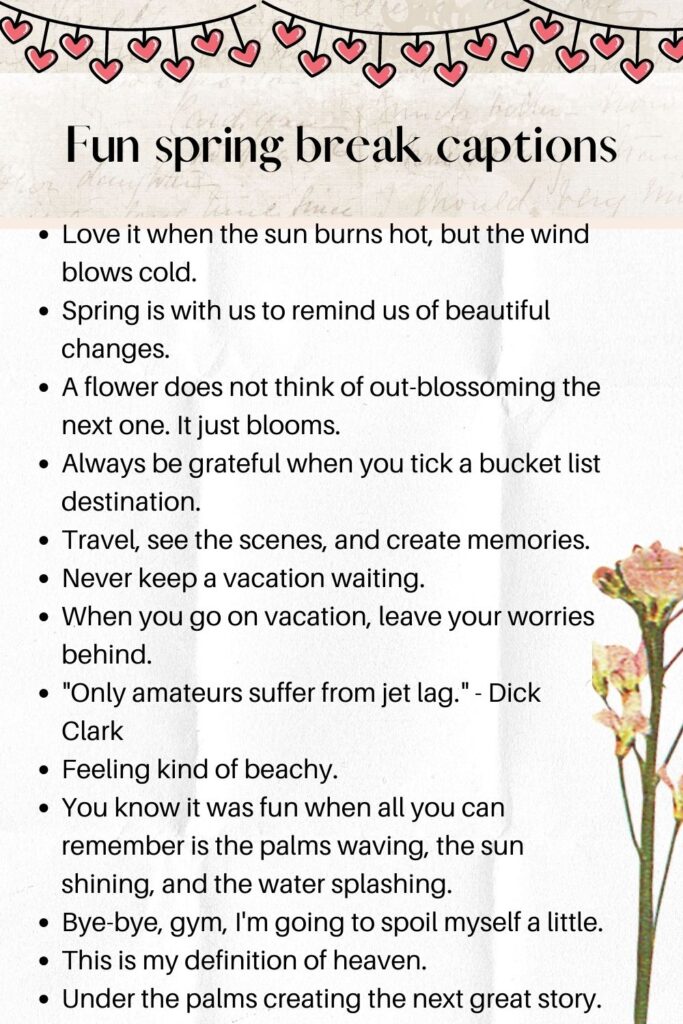 Spring break caption for guys
Namastay. Namaleave!
My dream is to become a beach bum.
Never heard of anything like too much beach.
The motto is, 'Good vibes only.'
Anything more than being barefooted is being overdressed.
The beach made me realize I'm an aquaholic.
You can only cross the ocean once you gather the courage to lose sight of the shore.
You can do anything, but only if you have enough nerve.
The worst way of wasting a day is spending it without laughing.
Travelling and eating are my favorite activities.
Wander as far as you can and discover new sites.
Thinking of staying and never going back to school.
You know it's fun when you don't even know the time—or the day of the week.
Time flies, but days before your vacay are awfully slow.
Sandy hair and salty air. This is paradise.
You can't travel to paradise, but you can make your destination heaven on earth.
Ain't nothing on my mind but the beach.
I just need two holidays in a year. Each should be six months.
It's not how far you have gone that counts—It's the memories you made on the way.
My hobby is making friends from all over the world.
Spring break holiday with friends captions
Friends make an excellent holiday better, and spending vacations with them strengthens the bond as you build more memories. Here are some great spring break captions for the photos you take together:
Spring break brings with it the best times at the beach.
The tan lines and sandy toes can tell the story better.
Vacation mode activated.
The beach trip was the best thing that happened to us.
This is how the vacation mood was officially activated.
Enjoying my dose of Vitamin C.
The high tides come with good vibes.
Always grateful for the simple things in life.
Live today the best way you can. Tomorrow isn't guaranteed.
If you want a new beginning, then the time is now.
What would become of spring breaks if it wasn't for friends, the sun, and beaches?
You can't choose family, but you can always select friends.
Stay on the beach and become a sea child.
Just having a better life in my flip-flops.
If I don't enjoy my vacation, that would be bad manners.
Wherever the road leads are where the fun begins.
Family is who you make memories with.
"I had so much fun alone at the beach, " said no one.
We persevere school together, so it only makes sense to vacay together.
"I live for the nights that I can't remember with the people I won't forget." — Drake, Show Me a Good Time.
The takeaway
Nothing will significantly tell your spring break story as the cute photos you take during the short holiday. These spring break captions will help you as you post the pics on your favorite social media sites.
Pick a good caption for each photo, and don't forget to share with your friends and family.