A good fishing captions for Instagram lures in a lot of interactions. Your fishing pictures don't have to be bland and uninteresting. You can supplement them with good fishing captions to take your content to the next level. 
The perfect caption does indeed exist for your fishing post. Instead of racking your brain hard trying to think of one, here's a list of the best fishing captions to take your next post from good to great. With these, your social media game will go up a level.
Funny fishing captions for Instagram
These funny fishing captions for Instagram will make your followers laugh and show them how much of a good time you are having. These clever fish captions use jokes, idiomatic expressions, puns, and pop culture references to get the point across. 
I'm a reel expert at this fishing thing
A great fishing rod is an essential element of life
There's a fine line between catching fish and screwing around
Would you look at that? It's fishing time. 
Don't judge me. I'm a compulsive fishing freak
Today, a whole lot of big fish are about to learn about air
The early fish gets the worm
My biggest worry is that I'll bait a shark or a gator one day
I wonder if fish tell themselves human stories like we tell each other fish stories
Fishing is a great occasion to sit around and do nothing
Fishing hits different on weekends
Gone fishing. I hope the fish aren't gone
A great day to see what the fish are up to. 
Fish for bait sounds like a good trade to me
Sorry I missed your call. I was on another line. 
Fishing is hard, but it's cheaper than therapy
Why go wrong when you can go fishing?
Today, it is my wish to catch a huge fish
Something seems fishy around here
I never fail to keep it reel
Who taught these fish to be Koi?
Are these fish being for reel right now?
The only El Dorado I know is a type of fish
My goodness. And I thought I was a loudmouth. 
I'm all about my trout. 
There's always a bigger fish
Why keep calm when you can keep clam?
Day one of your pilot fish program: Never let go!
They call me captain hook for a reason
I think I need to scale up
Would you look at that? It's fish o'clock!
You've cod to be kidding me. 
To tell you the truth, I'm reeling with happiness
There's a fish line between the water and the air. 
I'm selfish with my shellfish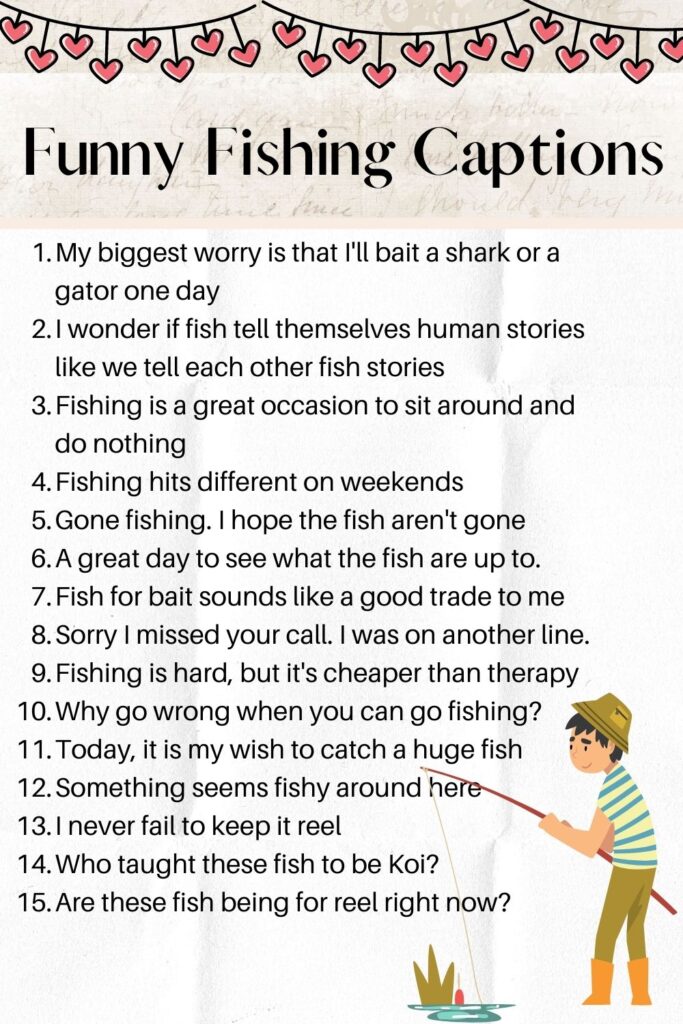 Cute fishing captions for Instagram
Fishing can be a cute and charming activity too. Some see fishing as pretty rough work. However, with these cute fishing captions, you can show your followers that they need not get down and dirty to bring in the big fish. 
Here are some cute fishing captions for Instagram that any couple can use.
A bad day of fishing, but a good day of boating
Waiting is half the fun of fishing
Hoping for good things at the end of the line
Fishing; is the perfect pastime for the patient man
Apologies for the shortage of fishing poles in the stores
Indulging in the fine simplicity of our forefathers
Fishing trips are some of the best times of my life
Enjoying nature is part of the charm of fishing
The warm breeze out here makes fishing so much more fun
Patience is the best tool for a fisherman's job
Good things come to those who wait
Books about fishing are great brain food
No one ever forgets their first fish 
The best days are fishing days
There are not enough fishing posts on Instagram, so here you go
"So long, and thanks for all the fish" -Douglas Adams
Every moment on the river is a gift
Rise and shine. It's fishing time. 
I'm fishing, and I'm flourishing
Don't hesitate to cast away your troubles
Drop a line and stay awhile.
Good things come to those who bait 
Live, laugh, fish
Praying to god that I find a lot of cod
The most incredible catch of the day was my piece of mind
Did you ever doubt that I'd bring in this trout?
The fishing boat is my happy place
I'm having a reel-y good day today
Fish-mas came early
I fish. Therefore I am perfect. 
Related : 100+ Classy wine captions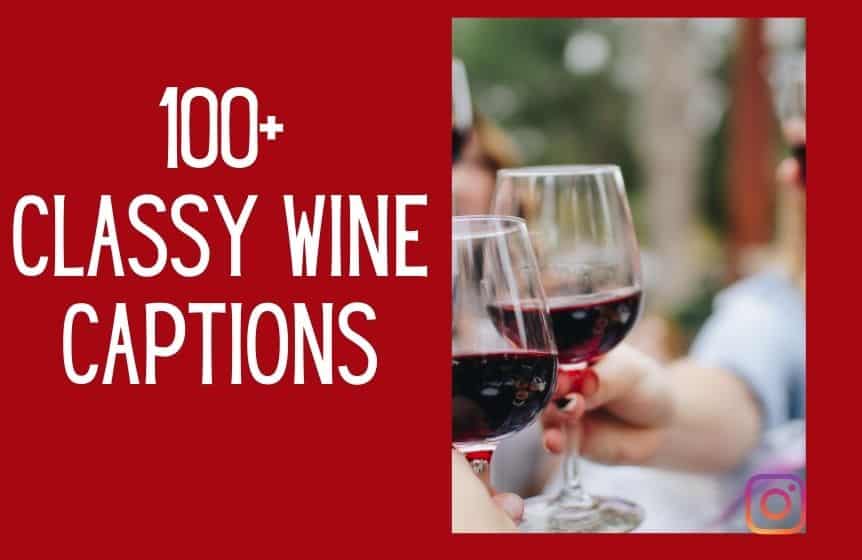 Fishing captions for guys
As incredible as fishing is, sometimes guys struggle to communicate what fun they are having with their followers. Finding the right words can be a headache at times. Well, with these short fishing quotes and simple statements, that task should be much easier.
The type of fishing rod doesn't matter as much as your mentality.
"Many go fishing all their lives without knowing that it is not fish they are after." —Henry David Thoreau
Nothing like going fishing with your good friends
Tight lines get my blood racing.
Guess who's having Shushi tonight?
Fish N Chips is such an underrated delicacy.
Nothing gives me a good laugh like catching a great big fish.
"I love fishing. You put that line in the water and don't know what's on the other end. Your imagination is under there." -Robert Altman
Brought plenty of bait to catch plenty of fish
It is my long-held private conviction that fishing is the best pastime
Fishing is like philosophy. With deeper immersion comes more remarkable finds.
The first time I went fishing, I knew I had discovered one of the great joys in life
Holding on tight is a pretty significant rule for fishing.
Hunting and fishing are essential things in life.
"The charm of fishing is that it is the pursuit of what is elusive but attainable, a perpetual series of occasions for hope." -John Buchan
I'm as passionate about Fishing as Herbert Hoover was.
A bad day at the fishing pond is better than a good day at my office desk.
Floundering happens sometimes. The most important thing is to stay focused.
There's a fish out there somewhere with my name on it.
I was craving sushi. So, I got on my fishing boat.
All I do is eat, sleep and fish.
I'm itching to go fishing.
Visiting the dam with my fishing fam
Finding fish is more rewarding than seeing me
I'm Mad for Mudfish
I've got several kilos of minnows.
On the route to get some trout
No one noodles quite like me.
I'm harpooning at noon.
I'm angling and dangling.
Fishing captions for couples
Fishing is an underrated couple's activity. For couples tired of going on dates to the same places, these captions help relay to them what a cute, romantic, and uniting fishing activity can be.
Out of all of the fish in the sea, I choose you. 
You're my perfect fishing buddy 
I could spend an entire lifetime fishing with you 
I love spending time with you this way 
"When you fish for love, bait with your heart, not your brain." – Mark Twain
We're having a good time on our fishing boat
It's a good day to fish with the love of my life
He's my kingfish of the forest
Fishing together is a great way to bond
The fishing boat is one of my favorite spots for a date
Husband fishing was way easier than this. 
You're the only fish in my ocean
Baiting my lover was a lot easier than baiting these fish
All the fish in the sea would come by if I used you as bait
The couple that fish together get rich together
What a real catch you are. 
As usual, fishing you were here.
You're my biggest catch ever 
Just a lovely couple in search of mackerel
No pearl diver will ever find a jewel like you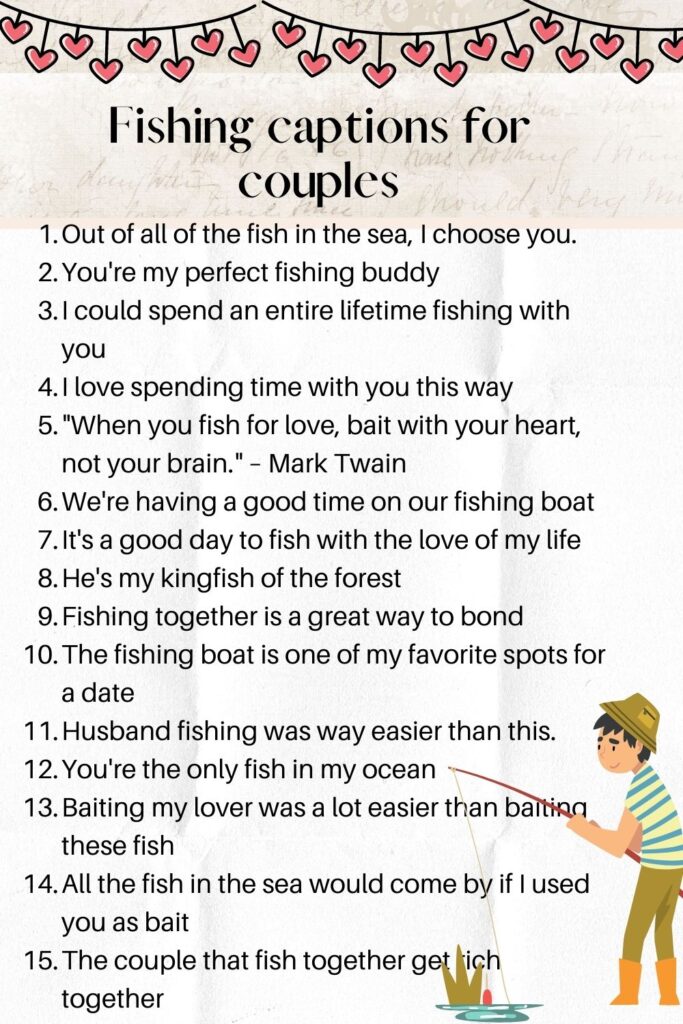 Good ice fishing captions for Instagram
Ice fishing is a whole other ball game, and what an awesome activity it is. Unfortunately, it's something you can only ever indulge in at specific places or specific times. With these short fishing captions, you will never forget how much of a joy it is to go ice fishing.
I'm cold, but it's worth it.
It's an icy way of life
Contrary to popular belief, the desert is not the right place for ice fishing
Sometimes, ice fishing feels as meticulous as brain surgery
With ice fishing gear, better to have and not need than need and not have
Ice fishing is the only time I enjoy getting cold
When ice fishing, I become a cold-blooded predator
The ice is thick, but my will is thicker.
Whoever said blood is thicker than water was clearly not an ice fisher
Props to the fish for being able to withstand these temperatures
To snowmen, ice fishing is just…fishing.
Someone tell the fish that this hole in the ice is not the least bit suspicious
Ice spy with my little eye…some great fish
The colder I get, the tastier the fish is.
Ice fish really need to catch sunlight, and I'm here to help them.
Good bass fishing Captions for Instagram
The best captions about bass fishing communicate just how fun and competitive it is. And this list of fishing captions does exactly that. Different people have different opinions on bass fishing. But none of them can deny it's here to stay.
Because you know I'm all about that bass
We'll see who comes out with the biggest bass
Best part of bass fishing is cruising on my bass boat
I am the Rafael Nadal of bass fishing
Bass fishermen are the best type of fishermen
Bass fishing is actual fishing and I'm not arguing about that.
Bass fishing is just so much fun
You can kiss my big black bass
Like bass fish, I get into trouble when I open my mouth
Bass fish take my bait like moths to a flame
I'm as hooked on bass as they are as hooked on my line
Bass fishing is the best exercise
I'm having a very basstastic day
When it comes to bass, I'm in a class of my own
Hoping to catch a great mass of bass.
How to come up with a great fishing caption for Instagram?
This fishing captions list is not exhaustive; if you cannot find something that suits you, worry not. There are techniques you can use to come up with your clever fishing captions.
Some will recommend using an automated caption generator, but this can be bad. The captions they churn out are often bland and nonsensical. 
Besides these caption generators, you can try a different source, like fishing book quotes. There's so much literature about fishing, many of which contain great quotes that will spark your content. 
Conclusion
The best fishing quotes are simple and straight to the point. And they honestly do boost your social media content. Don't hesitate to use this best collection of fishing captions to find a wider audience. Just like you wouldn't hesitate to use bait to catch fish.