Only a few people are sold on the magic of camping. Well, with these camping captions for Instagram, you'll be sure to communicate precisely how much fun you're having.
Witty camping captions
Time for me to grace the great outdoors with my presence. 
Send a warning to the lions and tigers and bears. I'm going camping!
Hey, look, this is like Into The Wild.
The moment I go camping, I start wondering what the point of modern civilization is. 
Going camping, I sure hope it doesn't rain!
I may not be the best camper, but give me a desk and a laptop, and I'll impress the heck out of you. 
Time to see what all the fuss about the great outdoors is. 
I hope the deer are not too shy today. 
I may not thrive in the wild, but none of these animals would thrive in the city either. 
Time to make my caveman ancestors proud!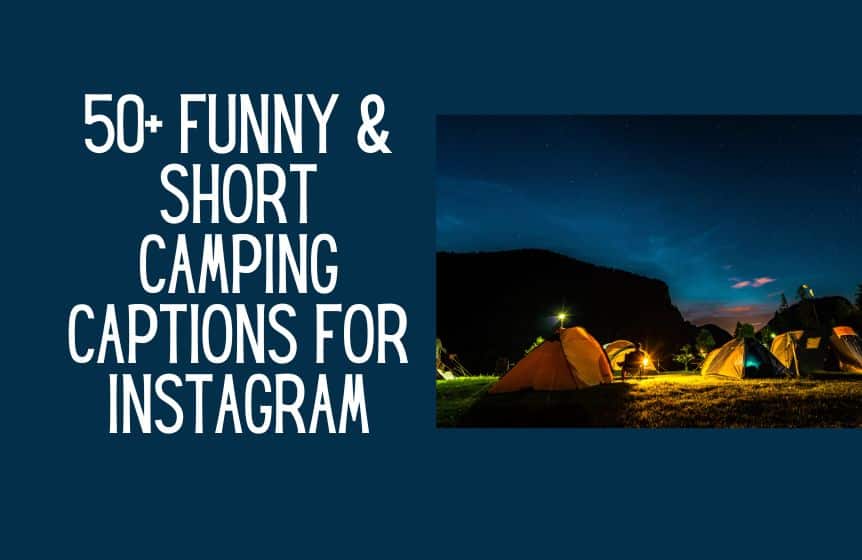 Tent captions for Instagram
I honestly would not mind moving out of my house and into my tent permanently.
Your first attempt at putting up a tent can be such a hellish activity.
You're not the master of the tent. It's the master of you.
What's the best fabric for an outdoor tent?
Back in my day, a tent was a simple contraption. These days, a tent could pass for a house.
I'm the record holder for quickly putting up a tent in my family.
I have seen the light. Inflatable tents are the truth.
Boy, I sure hope this tent can withstand some very strong winds.
Finding a good spot to pitch your tent is like finding gold.
As tricky as tents can be at times, they are still so useful.
Funny camping captions
I should have taken boy scout lessons way more seriously.
Thank god for houses, cities, takeout, and civilization.
If I encounter any wild animals, my main tactic is to plead.
Massive props to early man for surviving perennially in these conditions.
I wish I had kept my scout badges better when I was younger.
I would permanently move here if it weren't so far from my office.
Now, why exactly does Chik-fil-A not have a branch way out here?
Wow, the Wi-Fi reception over here sucks.
I'm finally free of my TV and I'm not going back!
I'm moving way out here because I hate my ex that much
Related : Swimming captions for Instagram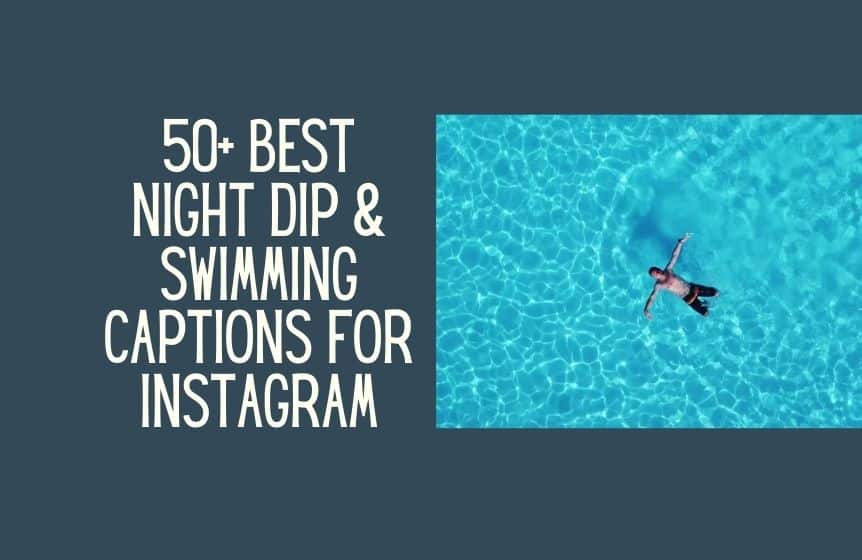 Short camping captions
I love camping. There, that's it.
Reading in the wild is a unique activity.
The noises of nature are such a magnificent symphony.
Being outdoors makes you celebrate all the little things you usually take for granted.
Being outdoors really makes me feel at peace with nature.
Nothing heals my spirit quite like camping.
Camping reminds us that we're nothing more than sophisticated animals.
I love camping. It's the only time I get to just be me.
Grateful to my parents for taking me camping when I was younger.
There's so much to do when camping, but nothing beats doing nothing.
Night camping captions for Instagram
The best part of camping? The beautiful night sky.
The night sky sure looks magnificent without all the noise pollution.
If you're paranoid, every noise you hear at night could make you very alarmed.
Camping at night would be romantic if it weren't for all the damned mosquitoes.
I miss the city lights, but I prefer the night sky lights.
At night, chirping crickets and croaking frogs form the perfect lullaby.
When camping, there's a good argument for sleeping during the day and working at night.
I wished upon a falling star tonight. I hope my dream comes true.
Bringing my telescope to the camp was one of my best decisions.
Every time I start to miss the city, I look up at the night sky, and peace returns to me.
Summer Camping Captions
Summer heat is made more bearable than the cool woodland breeze.
It was this or the beach, and I currently have no regrets. 
I was not too fond of Summer Camp as a kid. Now, I can't get enough of it. 
Nature is the best summer blockbuster there is. 
If there's one thing I wish I could have right now, it's some ice cream. 
I will remember these hot summer nights forever. 
When you go summer camping, remember that all the wild animals aren't asleep yet. 
Summer is truly the best season to go camping. 
Hot summer nights, mid-July, when you and I were forever wild. 
My favorite part of summer camp is watching movies outdoors.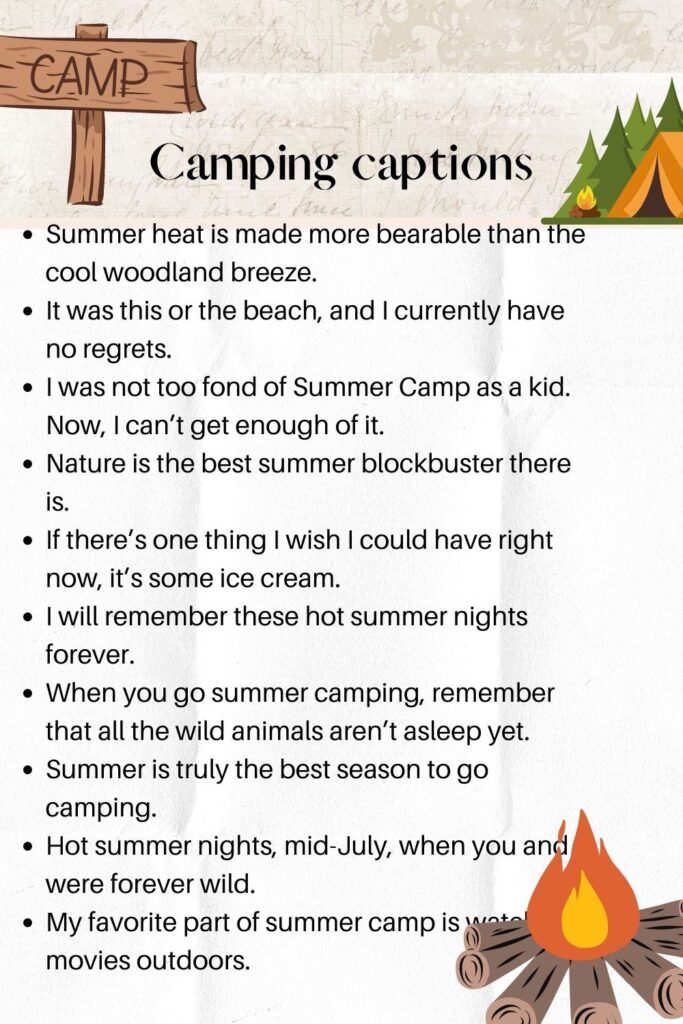 Camping with friends: Captions for Instagram
The great outdoors is made all the better with your buddies.
Glad I have someone to experience this great beauty with me.
Camping is way less intimidating if you have a helping hand.
Camping alone can get boring. With friends, never.
The group is only as strong as its weakest camper.
Camping is one of the best-ever bonding activities.
Nothing will test your friendship quite like camping together.
Hey, look! This is just like Lost!
We came out of the camp as closer friends than when we entered.
The secret to camping with friends? Gotta pull your own weight.
Wild camping captions
Wild camping sure isn't for everyone.
I'm feral, and I'm free.
Wild animals don't bother you when they realize you're just as wild as them.
Don't knock this lifestyle if you haven't tried it.
The wild, wild, woods are better than the wild, wild, west.
Wild camping really builds character.
The whole camping experience is different when you have no windfall.
Believe it or not, wild camping makes me better at dealing with my daily life.
The deeper you go, the more authentic the camping experience.
Everyone must try wild camping at least once in their life.
Was this helpful?
Good job! Please give your positive feedback
How could we improve this post? Please Help us.