Basketball is life, and the moment a great team steps into a court, it's almost as if they can read each other's minds and dance to the same beat. Add some great pics accompanied by basketball captions for Instagram, and the love is spread all over social media sites.
You don't have to be a professional athlete. You might be a basketball fan of the NBA who also loves to shoot hoops with your friends during your free time. If you want to show your love of basketball to your followers, this article has the best list of basketball captions.
From inspirational basketball quotes from one of the best basketball players – Michael Jordan – to cool basketball captions for Instagram, you are spoilt for choice to make sure you pick the best captions.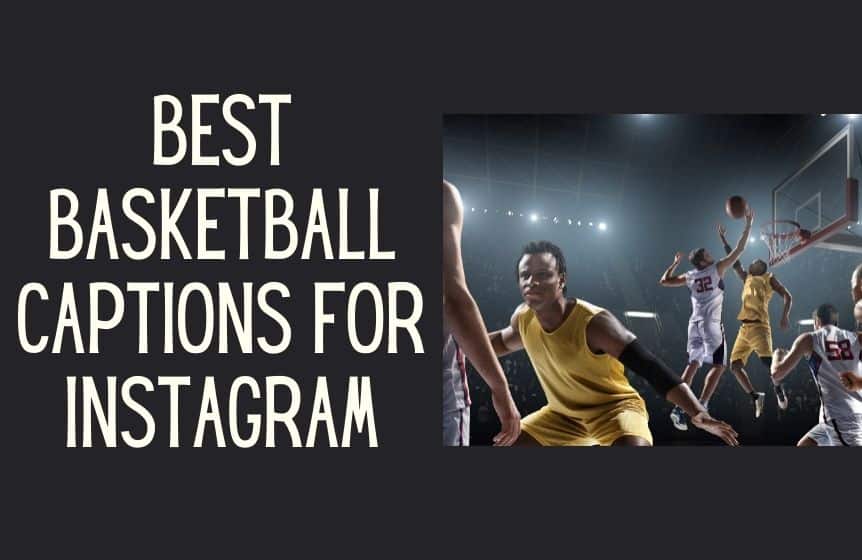 Short basketball captions for Instagram
Let's start the extensive list with some straight-to-the-point basketball captions for Instagram:
Fall. Rise. Believe.
Stand tall, play ball, less talk.
Believe, rise, and shine!
I ball, I don't fight.
Can't stop, won't stop.
You are either in or out – no half-hearted performances.
We're on a roll!
Smokin' hot
Electric team
Sizzling hot.
Game on!
Attitude is everything.
Defend till the final whistle.
How you play reflects how you practice.
Forever legends.
Unless you work hard, your dreams will always be dreams.
Work for it while they wish for it. So good they can't ignore.
Dominate, destroy, then defend.
You can't stop us even if you wanted to.
This is the team to be.
Play like it's your last game.
Play like there's no tomorrow.
Simply the best
On fire is an understatement
Bow to the greatest.
I can share the winning formula – hard work + teamwork.
Don't you just love it when all the hard work pays off?
My team's hotter than yours.
The great team is doing what we do best.
Doing it for the love of the game.
Basketball is more than a sport – it is a way of life.
The last game is a must-win.
It is not just about being a good player but also a great teammate.
If you love what you do, you will do great work.
The only way to do it effortlessly is to do it wholeheartedly.
I'm in the game only to see you lose.
Striving for greatness.
Chasing dreams.
I find my shine once in a while.
Perceive, then achieve.
If you don't believe in your dreams, who will?
Not trying is worse than failure.
Aim for the sky, land on the clouds.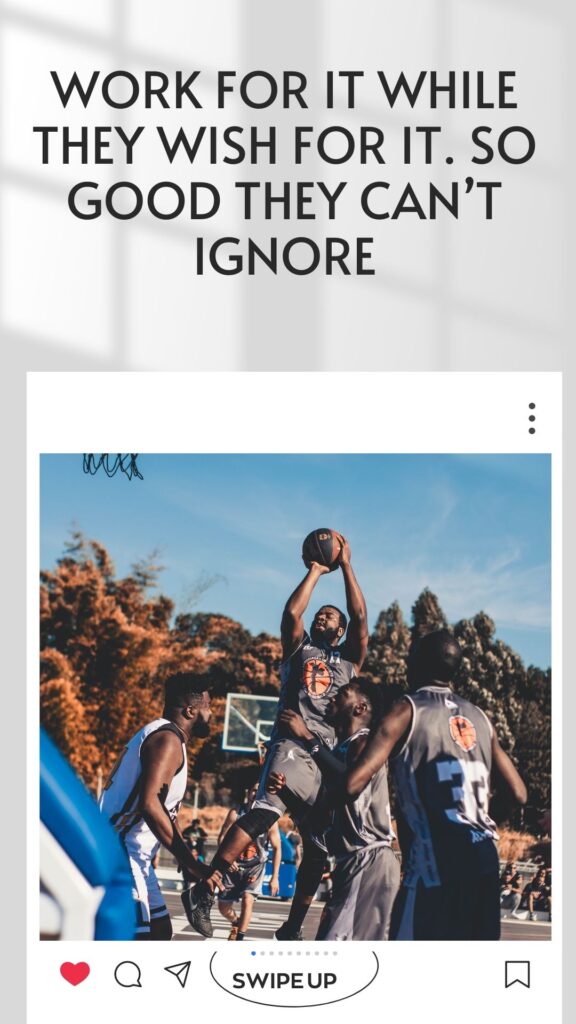 Passion is running deep in my veins.
It takes perseverance and a lot of patience.
One day it will all be worth it.
Hard basketball captions
This section contains some great basketball captions for Instagram that show the tough love side of the game. Because the nature of the game is that it needs hard work and endurance, but you already know this, right? So, here's the list:
Basketball is the same as a war zone – Once the offensive weapons are released, it takes a long time before the defenses catch up.
Much as it is a team sport, in basketball, sometimes you have to take matters into your own hands.
"Everything negative, whether it's challenges or pressure, is an opportunity for me to rise." – Kobe Bryant.
"Push yourself every time. Don't give an inch until the final buzzer sounds." – Larry Bird.
"When people asked me if I could fly, I said, 'Yeah… for a little while!'" – Michael Jordan
"There are times when the coaches tell me to be selfish, but my kind of game won't let me be selfish." – said LeBron James.
The only difference between a bad shot and a good one is whether it goes in or not.
If you fear failure, you will likely miss the chance of success.
Good defense has a higher chance of winning than a good offense.
Basketball and photography are so much alike – If you lose focus, you get a negative.
Don't be too hard on yourself – I was the better baller.
Much as the offense buys tickets, it is the defense that wins games.
Related : Classy wine captions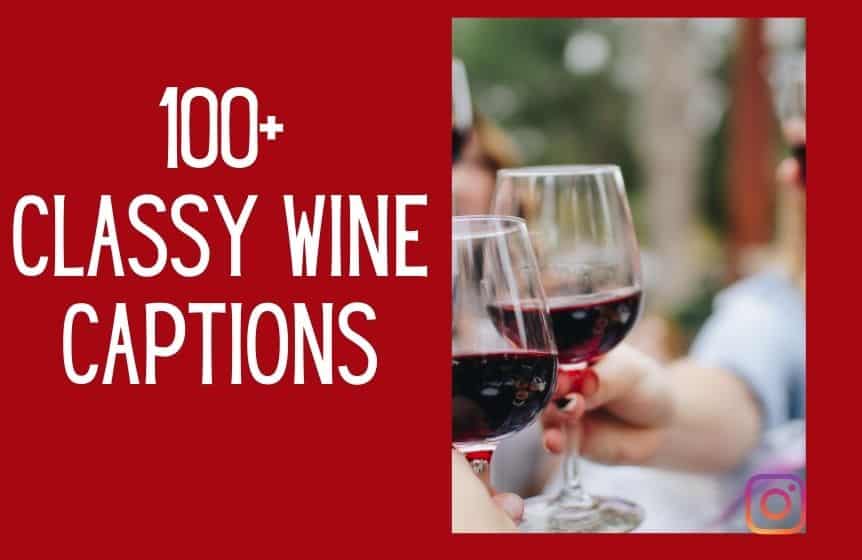 You are better off shooting an air-ball than not shooting due to fear of missing.
The trick is to make your opponent believe you can block all the shots.
Once you're on the court, forget everything else and stay in the game.
I heard them say it's just another game – no, it is a lifestyle.
The points matter little if you are not winning. 
Don't try to make any excuses. Create your free throws.
Just stay calm and continue ballin'.
It is players who shoot shots, but it is teams that win games.
If it does not hurt yet, you are not playing hard enough.
Funny basketball captions for Instagram
Hilarious basketball captions for Instagram always work like magic when looking for good captions for your Instagram posts. Here is a list of some of the best:
Just try your luck elsewhere. You can't get the ball from me.
Stop the excuses and make the damn shot.
Maybe the more we sweat, the luckier we might get.
If you want to succeed, forget about the elevator and take the stairs.
If you think I'm not the best player on the court, just know I'm not the worst either.
Want to have a good time and stay fit at the same time? Start playing basketball.
Tell me a better way of blowing off some steam other than shooting hoops.
To win or lose doesn't matter as much as when I'm having a great time playing basketball.
No matter the score, playing basketball is always a relaxed vibe. 
Despite not being the tallest player on the court, I dream of reaching for the stars.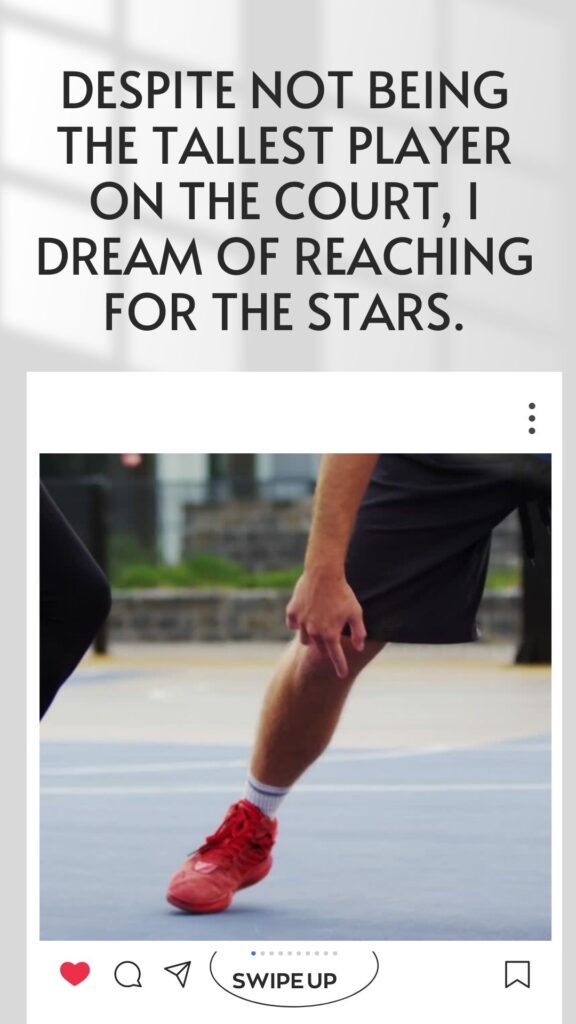 I eat, breathe, and live basketball – I can't wish for a better game.
The absurdity of the game endeared me to basketball – you just can't know what may happen in the next minutes.
Forget about being the best player on the court. I'm always the one who has the most fun.
Even though you are an adequate player, you are yet to be a basketball champion.
Basketball is a stress reliever for me whenever I'm going through some stuff.
You must have a boring life if you don't play basketball.
Yes, I can't dunk! But yes, I shoot some pretty neat three-pointers.
I might not be as tall as LeBron, but I promise I will give it my all on the court.
Senior basketball captions for Instagram
Basketball is also a huge sport among high school and college students – where most start their careers before going pro. Here are some cool senior year basketball captions for Instagram that you might fall in love with:
Age is not an issue as long as you still got the game.
Old or not, I still captain this team.
Age is all in mind. As long as you don't mind, it doesn't matter.
Basketball is all about overcoming and adopting.
Every great game reveals how great the coach is.
The will to risk and give it all is admirable even if you lose the game.
When being good is not enough, then be great.
Sometimes, in fun, the end justifies the means.
Overcoming obstacles strengthens your resilience. All you have to do is believe in yourself.
With age comes experience.
If you put all your mind into your dreams, you can turn them into reality.
Related : Football captions for Instagram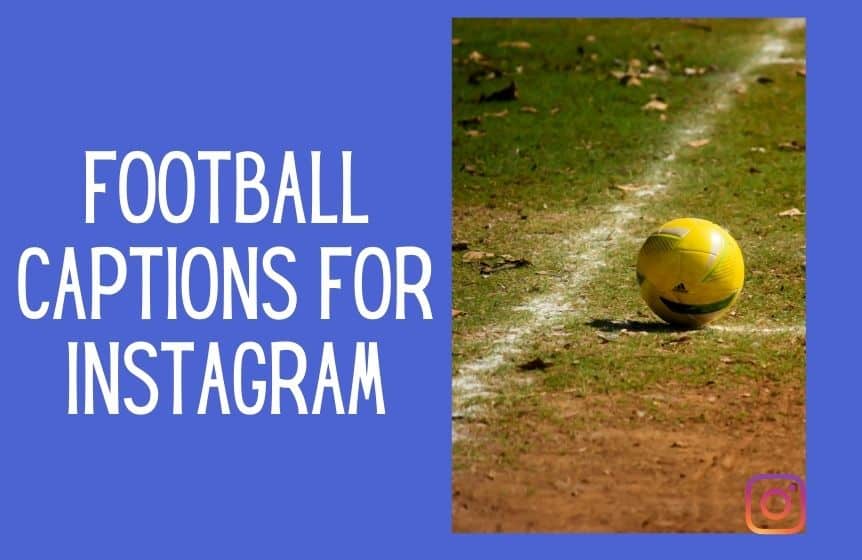 Never forget to stay hungry but humble.
To get something extraordinary, you must do something extraordinary.
With every new day, you gain experience.
The person you are today is slightly better than the one you were yesterday.
Nothing is unachievable when you are willing to put in the work.
Age is nothing but a number – don't let it define you.
In basketball, being senior matters lesser than passion and dedication.
If you want to be better than a role model, just be great at what you do.
A great team makes great players.
Hard work and passion are the keys to success.
Each game gives you another opportunity to improve and learn from mistakes.
Capitalize on your strong points and work on your weak points.
It is through basketball that I've learned about teamwork, hard work, and dedication.
Lessons learned from basketball are life-changing and will remain with you through other chapters of your life.
Basketball is life – I can't count the memories and friendships I've made through the game.
Ever since I can remember, I've been so into shooting hoops.
Something extraordinary is born when you give it a hundred.
Don't worry about your today – One day, you will have it if you want it bad enough.
You can't always lose when you never give up.
When you lose, dust yourself, learn from the mistakes, and train harder.
To succeed, you need growth in all areas of life – spiritual, mental, emotional, and physical.
Cute basketball captions
Need some clever basketball captions for Instagram (in a cute way) that will make your social media posts worthy of positive reactions from your followers: Here is another section:
My game's so sick you'll wish it was contagious.
There's more to the game than winning,m but it makes the efforts worth it.
I'm not the best player, but I'll give you a run.
I'm always working hard to better my shots.
When you love basketball as much as I do, you know failure isn't an option.
If you constantly work towards being better, you will accomplish exactly that.
I'm never giving up on my dreams of being a great baller.
Don't let go of your balling dreams. All goals are valid.
We can achieve perfection through hard work and dedication.
If you want it done right, then do it yourself.
Even if I'm not the best player, you get more than you bargained for with me.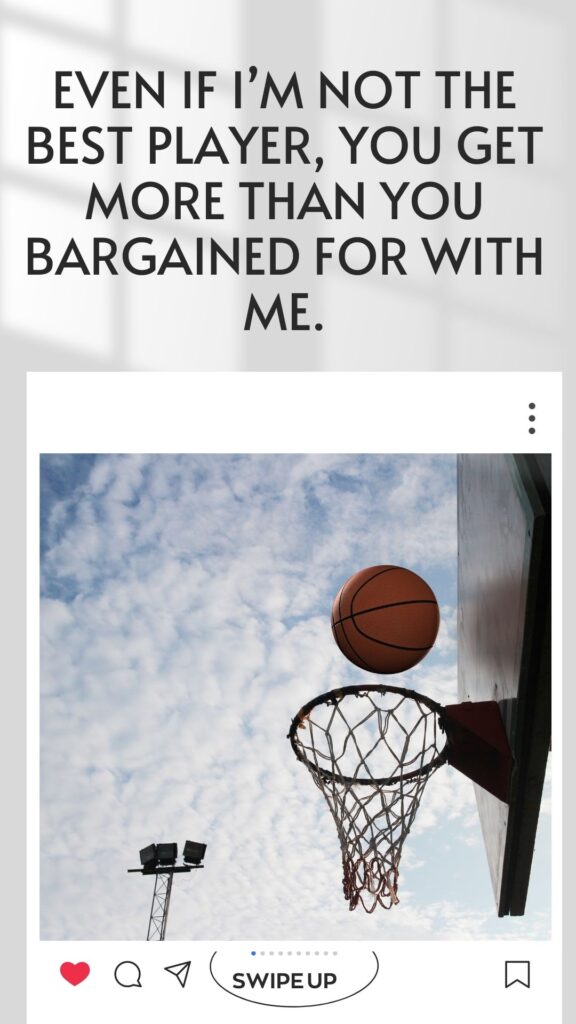 Basketball is not your average sport. It is a game for those seeking to be the best.
Being great is more about passion, will, and determination.
Looks might be deceiving, but never underestimate a person with a strong will to win.
If you want to stay focused, steer clear of distractions.
Dreams will remain just that if you don't work hard to achieve them.
Use the passion that burns deep inside your chest to fuel your success.
It might take time to condition yourself for success, but once your body and mind adapt, then it becomes easy.
If you can't dunk, at least make sure you can shoot.
Discipline is key for you to commit effectively to your goals.
Learn to have a tough skin for the rough seasons. After all, dark times are only temporary.
The accessories don't make all that different when you've got skill.
Without passion, be sure that you can't succeed in basketball.
Our team is hotter than your Instagram feed.
When you play like a champion, victory is your crown.
Started from the bottom now the whole team's here.
Try spelling awesome without me!
Just keep at it. One day it won't be as difficult as it might be today.
There's no better time to start than today.
Try harder not to become a backup.
The way you finish is more important than how you start.
You might eventually get there if you are determined to do the work.
Don't dream too much and forget to put in the work. That's time-wasting.
Practicing is more rewarding than hoping.
Start a nobody, but finish a legend.
Shooting hoops with your friends doubles up as a chance to have a good time and relieve your stress.
Michael Jordan captions
If you've never heard a Michael Jordan quote, be sure you probably heard it, but you never knew who said it first. For his motivational quotes, this guy was a legend on the court and off-court. Here are some of his greatest quotes that are worth being basketball captions for Instagram:
"Relax and never think about what's at stake. Just think about the basketball game." 
"Be true to the game."
"To be successful, you have to be selfish or never achieve. And when you get to your highest level, then you have to be unselfish."
"I believe greatness is an evolutionary process that changes and evolves from era to era."
"I never looked at the consequences of missing a big shot. When you think of the consequences, you will always think of the negative result."
"Stay reachable. Stay in touch. Don't isolate."
"Enjoy every minute of life. Never second guess life."
"Some people want it to happen. Some wish it would happen. Others make it happen."
"I know fear is an obstacle to some people, but it is an illusion to me. Failure always made me try harder the next time."
"If you accept the expectations of others, especially negative ones, then you will never change the outcome."
"Winning isn't always championships."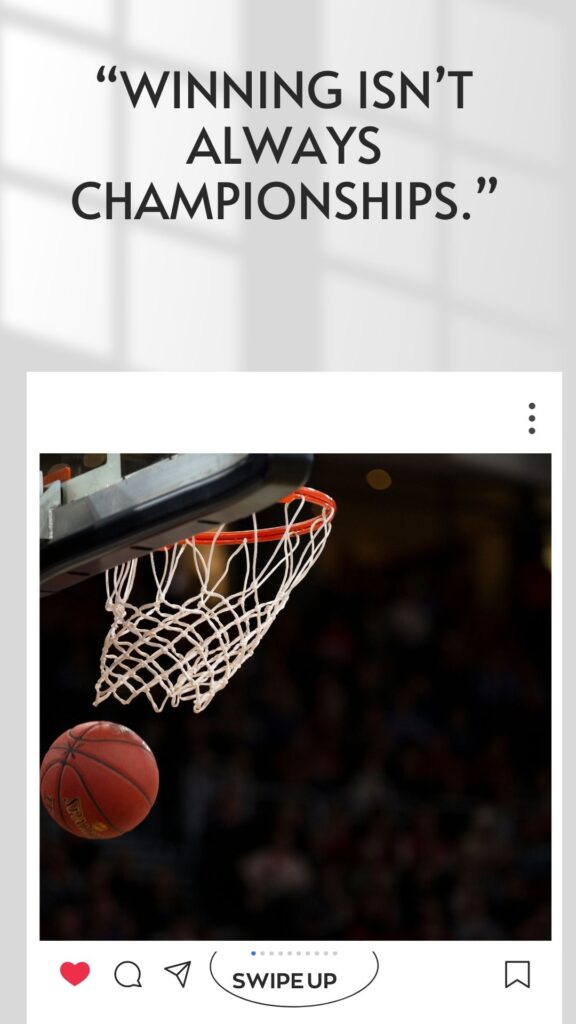 "When I lose the sense of motivation and the sense to prove something as a basketball player, it's time for me to move away from the game."
"If you quit once, it becomes a habit. Never quit."
"Everybody has talent, but ability takes hard work."
"I want to wake up every day and do whatever comes to my mind and not feel pressure or obligation to do anything else in my life."
"There is no such thing as a perfect basketball player, and I don't believe there is one greatest player either."
"My father used to say that it's never too late to do anything you wanted to do. And he said you never know what you can accomplish until you try."
"You have to expect things of yourself before you can do them."
"I play to win during practice or a real game."
"Always turn a negative situation into a positive situation."
 "Learning's your gift. Even when pain is your teacher."
Baddie basketball captions
Want a secret? Have eight skilled players and an additional four cheering like crazy.
When talent cannot work hard, then automatically, hard work beats talent.
If you miss us at home, find us at the basketball court.
If you think you've seen me crazy, wait and see me in the basketball season.
Stop making excuses and make your free throws.
Basketball becomes a beautiful game as soon as the five players play with the same heartbeat.
It is only teamwork that will make the dream work.
You can hate basketball. After all, it's a smart people sport, anyway.
My only favorite season is the basketball season.
Even foul shots will win ball games.
I decided to play basketball because I am too cute to be a cheerleader.
Dribble, tricks, ankle-break, and a good smile – a life of a basketballer.
The major difference between an excellent and bad shot is whether or not it goes in.
Even if I'm not the best player on the court, I always give it my best.
My dream has always been to be a basketball player, but my height won't let me.
A dash of crazy, hectic, and chaotic – the actual description of an ordinary basketball game.
The most important aspect of the game is enjoying it and having fun.
A jump shot eases the game's tension. For that little while, you can enjoy yourself and relax a bit.
There are a lot of things in your life that you can control, and effort is among the most important.
The only thing that beats my love for basketball is the joy of watching my kids love it.
The basketball court is my place of refuge.
Foul shots bring victory in ball games.
Every American boy dreams of growing up super tall and becoming a basketball star.
A great game plan always starts with defense.
Basketball captions for best friends
What could be better for a basketball fan like you than having a great pal who shares the same love for the game? This section contains some lovely basketball captions for Instagram that you share with your BFF:
When we are so good that they can't ignore us!
It is only through teamwork that we saw our dreams work.
As you wish for it, we work for it.
It is not by our strength but by perseverance and endurance.
In practice, we trust.
They were celebrating our setbacks but weren't ready for the comeback.
Coaches show the way, but players win the games.
Your headband is the perfect crown.
We gave it our all because the goal was too real.
All things seem difficult at first before they are easy.
Game on!
Related : Las Vegas captions for Instagram
Never back to a challenge.
Your support makes it all seem easy.
They can put us in separate teams but can't take away our love for basketball.
Fear is only as real as you want it to be. It is just an illusion.
If you miss us in the house, find us in the court.
We are a testimony to how hard work pays.
In the game, hard work pays better than good luck.
Conclusion
There you have it! The exclusive list of great basketball captions for Instagram. You can pick the best ones and save them for every time you are making a post about your favorite sport.
Don't be left clueless anymore, wondering how you will caption those magnificent basketball pics. Make sure you get noticed using any of the above basketball captions for Instagram.