What is more Instagram-worthy than a picture of you in the pool? Pictures of people swimming form one of the more popular pictures on Instagram. How will you ensure that your friends stop scrolling when they see your swimming pictures? These great swimming captions for Instagram will get them to pause and admire your swimming post. 
This article shares some excellent swimming captions you can use for your next post. Are you taking a nighttime dip? Or do you want to show your cool, calm, and collected side? Regardless of the scenario, you're covered.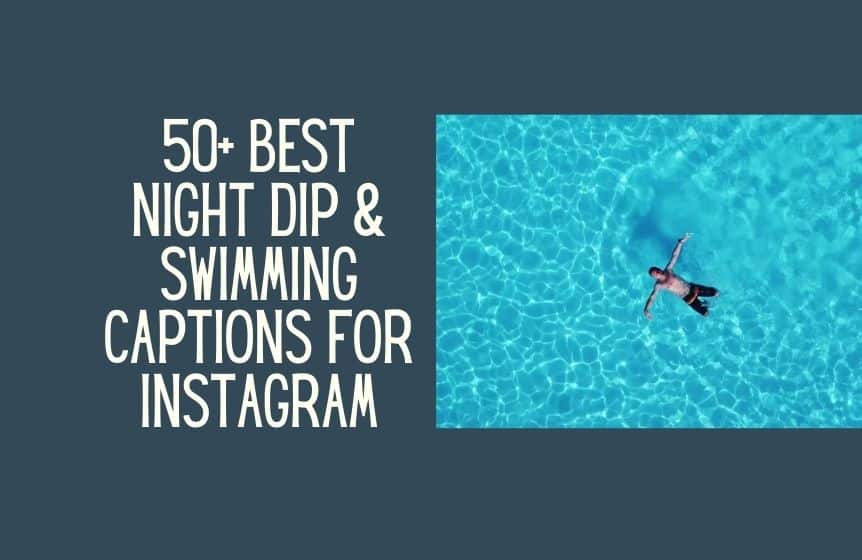 Funny swimming captions for Instagram
Want your followers to chuckle at your swimming post? Then these funny swimming captions for Instagram would be a great bet. There's a lot to laugh about when water or swimming pools are involved. Dive in and find out.
You call it a swimming pool. I call it a swimming cool.
I hope no sharks also decided to come and take a swim today.
I could be as fast as Michael Phelps if I wanted to. Fortunately for you all, I just don't want to.
I am hoping to meet a couple of cool mermaids today.
I beat the swimming world record today. It's a pity no one was around to witness this.
I told a fish today that I was enjoying the water. He asked me, what's water?
I could beat Namor in a fight in the pool.
I always wish I could breathe in water. But then, I'd hate the thought of having gills.
If you could talk to fish, do you genuinely think they would have anything worthwhile to say?
I'm the best swimmer in the pool when I'm the only person in it.
Night swimming captions for Instagram
Swimming at night is one of the best activities anyone can partake in, and nighttime pictures at the pool do a lot to capture that vibe. But to take things a step further, try using the following night swimming captions for Instagram. Make your followers want to jump right through the phone and into the pool.
I love how night lights shimmer on the water.
The water gets extra cool at night, and I love it.
Visibility may be poor. But my swimming ability is way better.
I hope no creatures of the night also decided to come and take a swim.
There is nothing better than the comfort of a swim after a long day.
Date nights that end in the pool are so underrated.
I love swimming at night, but I miss the blue reflection of the sky in the water.
The best thing about having a pool at home is that there is no closing time and I can swim at night if I want.
Drinking wine at the pool at night is such an unmatched vibe.
Stargazing from a pool is such a great activity.
It's great that it gets dark sooner now because I love nighttime swimming.
Nighttime swimming is better when the water is hot.
City night lights shine extra bright when they hit a pool.
Swimming at night makes you forget all your problems in the world.
I would have broken down a long time ago if it weren't for these nighttime swims.
Deep dive swimming captions for Instagram
Deep diving as a leisure activity is gaining more and more popularity. Some are not too sold on the whole endeavor; for them, the following deep dive swimming captions for Instagram will do a lot to communicate just how awesome an activity this is.
Every time I dive deep, I have one thought: Here, there be monsters. 
Deep sea diving is way less intimidating than people give it credit for. 
My favorite thing about deep diving is the sense of discovery it comes with. 
With how often I go deep diving, I may be reclassified as a deep-sea creature now. 
Believe it or not, deep-sea diving helps me deal with the pressures of daily life.
Modern technology has made deep diving such a breeze, and for that, I'm grateful. 
The deep sea is just as exciting of an expanse as the great frontier of space. 
It takes toughness to be an excellent deep diver, which is why I love it. 
I love deep diving. You never know what you're going to discover. 
More people should try out deep diving. The world would be a much more chill place. 
Related : Pool captions for Instagram
Cool swimming captions for Instagram
People sometimes visit the pool to vibe, be calm and be chill. For them, these cool swimming captions for Instagram would do very well. They are the perfect captions to show just how laidback you get when you're at the pool.
I always look excellent at the pool.
One thing I love about going swimming is all the cool people you meet.
I love a few things more than flexing my shades at the pool.
I always feel so cool when I dive into the pool.
Saying Hi to you from one of my favorite places in the world.
What's better to cool you down than a dip in the pool and an ice-cold drink?
Sunlight quite literally hits differently at the pool.
The pool is the most excellent stress-relieving device that humanity has built.
Water makes me feel good about myself like nothing else.
I may be an outlier here, but I love cool tiling at a pool.
Poolside swimming captions
Vibing and chilling by the pool is all well and good. However, sometimes, you want to get into the water and hit a butterfly stroke or two. Let your followers know just how great your swimming technique is. Look no further than the list below for Instagram's best poolside swimming captions.
I can't speak for everyone, but I get very competitive when I'm at the pool. 
Swimming with my dogs is one of the great pleasures of my life. 
What is your favorite song to play while you're swimming? I need great recommendations. 
Like Aquaman, I get stronger and faster whenever I'm in the pool. 
I'm here working hard on perfecting my backstroke. 
Swimming races always get me so excited. 
The more elegant the shape of the pool, the better the swimming experience. 
Everyone needs to swim in a rooftop pool at least once. 
This pool has transparent walls and makes me feel like a fish in a tank.
Frank Ocean was right. Poolside convos at night are undefeated.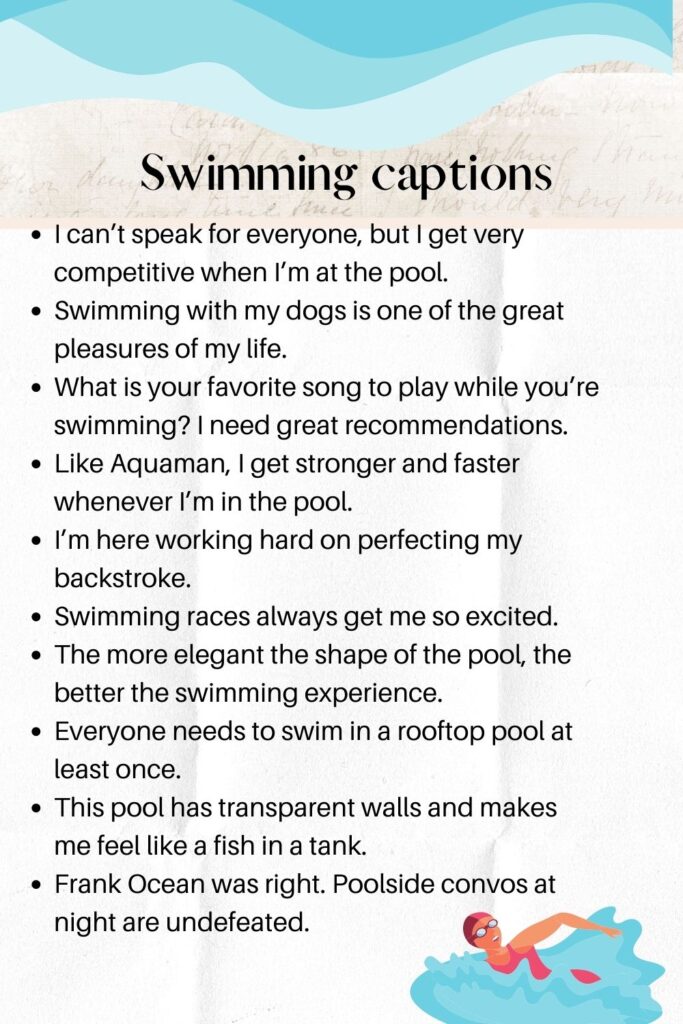 Famous swimming quotes
The world's best swimmers are some of the most inspirational personalities and mentors that an individual can have. The best of their wisdom is listed in the list below. Use these on Instagram to add an extra layer of sophistication to your swimming post.
"Swimming is simply moving meditation." — Cesar Nikko Caharian
"Remember to do the things you enjoy away from swimming, regularly." — Ian Thorpe
"Swimming is normal for me. I'm relaxed. I'm comfortable, and I know my surroundings. It's my home." — Michael Phelps
"If you're scared to lose rather than excited to win, then that's the wrong way to approach a race." – Cate Campbell
"Never worry about what anyone else is doing…Just swim your own race." – Dara Torres
"Enjoy the journey, enjoy every moment, and quit worrying about winning and losing." – Matt Biondi
"I concentrate on preparing to swim my race and let the other swimmers think about me, not me about them." – Amanda Beard
"I can't control what everyone else swims but if all goes well I know there are no limits." – Leisl Jones
"I want people to see the passion I have for swimming and become more involved in the sport." – Ryan Lochte
"The water is your friend…you don't have to fight with water, just share the same spirit as the water, and it will help you move." — Alexandr Popov
"A huge part of swimming for me is I love it, and it is so much fun." – Missy Franklin
"I always tell people, I'm a better swimmer because I'm a mom and a better mom because I'm swimmer." – Amanda Beard
"The best swimmers are the ones that almost don't try the most… It's just about relaxing and enjoying it." – Cate Campbell
"In training everyone focuses on 90% physical and 10% mental, but in the races its 90% mental because there's very little that separates us physically at the elite level." – Elka Graham
"People ask me 'what was going through your mind in the race?' and I don't know. I try and let my body do what it knows." – Ian Thorpe