Are you trying to post something on Facebook but it is failing? Facebook failed to post comments is quite a common error. In this article we will look at the different reasons as to why you cannot post on Facebook and how to fix the error.
If you cannot post comments on Facebook, there are several reasons for this. The problem is usually caused by a sluggish internet connection (slow internet connection).
Also, Facebook may fail to post comments due to web browser extensions/third-party browser extensions (browser issues), Facebook-related extensions, VPN server services, or a problem with Facebook's servers.
Let's look in a more detailed explanation as to why Facebook failed to post comments and what does it actually mean.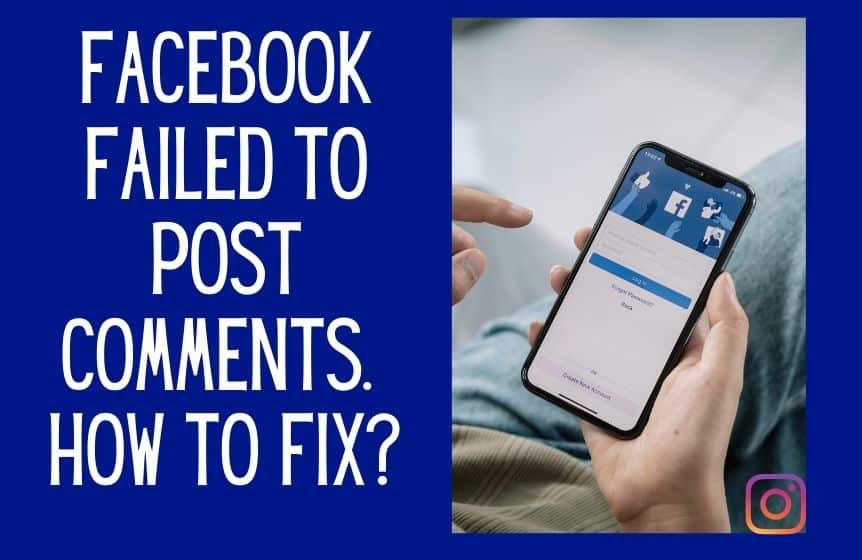 What does Facebook fail to post comments mean?
Before we jump into solving the Facebook failed to post comments error/comment fail, let's look at this Facebook error.
Below are some common reasons why you cannot post on Facebook.
1. Bad Internet connection
A bad network connection is one of the most prevalent reasons for Facebook comments not loading.
It would be best if you had a solid and reliable Wi-Fi or cellular internet connection/internet connectivity to load your Facebook comments. You might try repeatedly turning off and on Wi-Fi/mobile data on your smartphone.
2. Blocked
People can also block Facebook users from commenting on specific posts. It's an automated new feature restriction imposed on you because you've been posting too many comments too quickly or reported a few comments. You'll have to wait for the limitation to be lifted in either case.
3. Deactivated account
If you believe Facebook deactivated your account in error, you can appeal for up to 30 days after it was deactivated. To recover access to your account, you'll need to produce proof of identification, such as a driver's license or government ID, and provide convincing evidence.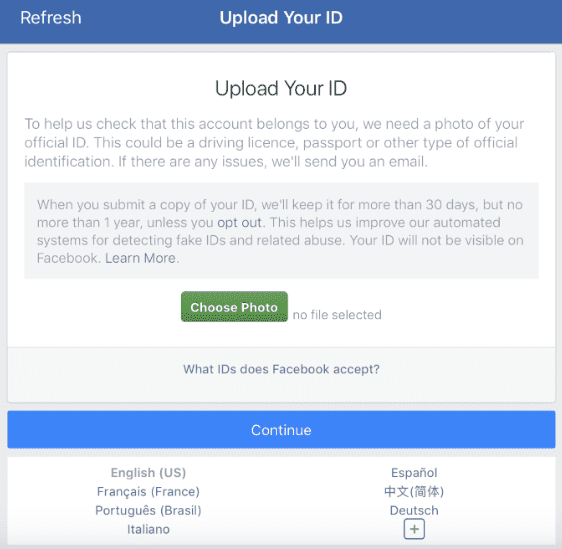 How to fix Facebook comments not loading?
There are many common reasons you might encounter the Facebook failed to post comments error.
Re-enter your Facebook password
The first solution to Facebook's failure to post comments is re-entering your Facebook password.
If Facebook isn't working correctly on your end, it's usually due to a short account problem. Thankfully, this is a simple repair that can be accomplished by simply refreshing your account data.
Launch your Facebook account from your Browser software and click on the Accounts button.
· From the Accounts Tab, select Logout.
If you're using an iOS device, use the step-by-step guide below to get you through the process.
· To open the Facebook app on your iOS device, go to your home screen and tap on it.
· Then, from the bottom navigation bar, tap the Menu button.
· Scroll to the bottom of the page and tap the Log Out button. Finally, enter your login information and click the login button to re-access your account.
· Finally, to reopen your Facebook account, input your account credentials and click the login button.
Clear Browsing Cache and Cookies
The second solution for solving the Facebook failure to post comments is by clearing the browser's data cache and cookies.
Having too many cookies and cache stored on your smartphone might be the primary reason you might encounter the failed comment error.
Browser cache and cookies are temporary data/files saved locally on your computer and are used to increase the speed with which your browser loads websites.
However, the data collected over time can lead it to malfunction rather than aiding your browser.
Your browser may struggle to function normally since larger files are more difficult to load. To increase the performance of your browser, erase your browsing data.
Follow the steps below to clear cache:
First, to open the History tab in your browser, use CTRL + H on your keyboard.
Click the Clear Browsing Data button from the side menu within your browser's history.
Your browser will now open to a new page. Check the boxes next to 'Cookies and Other Site Data' and 'Cached Images and Files.
Finally, pick 'All Time' from the Time Range menu. After that, press the Clear Data button to begin the procedure.
Return to Facebook and try posting a remark after clearing your browser's data to see if you have any problems. You might also check whether the Facebook servers are running using the Down Detector tool. (DNS server)
Turn Off VPN
The third solution for solving the Facebook failure to post comments is turning off the VPN restrictions.
Using the internet through an unsecured connection, you risk being targeted by hackers and other criminals who conduct unlawful activities online. This can also lead to failed Facebook posts.
People are adopting VPN services to protect their information and surfing data to avoid this. It works by masking your IP address and redirecting your traffic and data to their servers located far away from you.
When running, however, it has the potential to cause network instability. A strong connection between your browser and website servers is not created since it randomly switches your IP address.
If you're having trouble accessing Facebook, try disabling your VPN first and see if the problem disappears.
Related : How to fix can't send friend request on Facebook?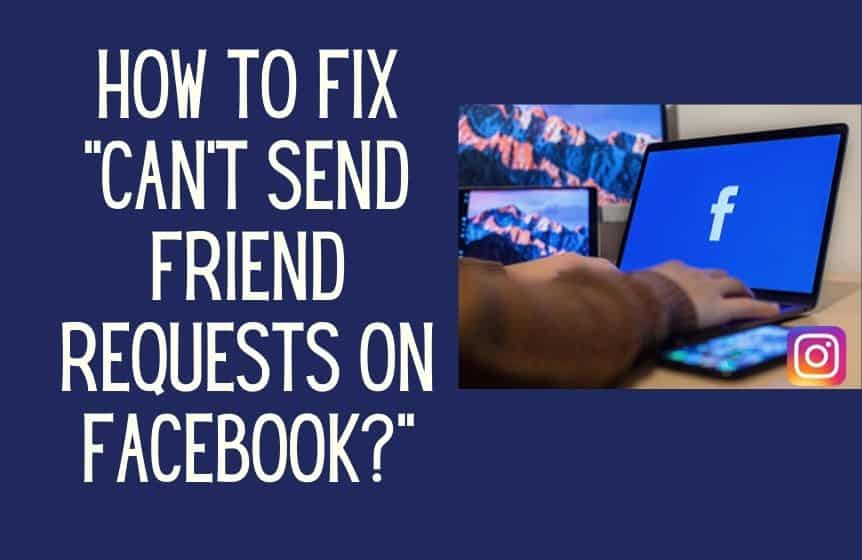 Install Updates
You might encounter the Facebook failure to post comments if you are using an older version of Facebook.
Running an out-of-date version of any application could cause Facebook issues. This may cause problems with your device and the application's servers, so you cannot leave comments on Facebook.
Furthermore, obsolete applications do not have the most recent security patches, putting your account in danger.
If you cannot post comments on Facebook, try updating your Facebook app.
You can update the Facebook mobile app on Android devices by completing the following:
To open the Play Store, tap it on your home screen.
Click on your profile icon on the top right corner of the screen
Tap manage Apps & Device
· Finally, click on Updates available To install the update, tap the Update button beside Facebook if it's accessible.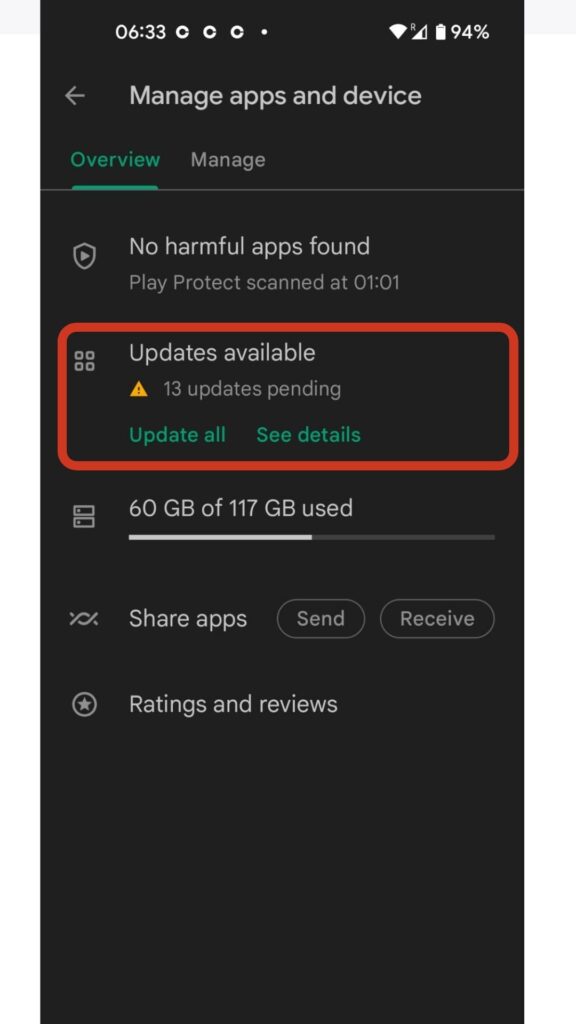 Using a faulty version of the Facebook app might be the culprit of the problem. Using the latest version of Facebook is the easiest way to solve unknown errors.
Remember always to use the newest version of the app/latest version of Facebook.
We hope you can now post on Facebook without any errors. Always follow Facebook's privacy policy by not sharing inappropriate content like hate speech or controversial content.
Also, always use the latest version of the app and check your internet connectivity before posting on Facebook.
FAQ:
What is the maximum number of words allowed in a Facebook comment?
Facebook imposes character limits for usernames, Page descriptions, and previous comments in addition to posts (scheduled posts) and ads. The character limit for usernames: at least 5 and up to 50 characters. 255-character page description. Comments on Facebook are limited to 8,000 characters.
How to comment on Facebook when there is no comment section?
The blue Comment button has been removed from Facebook; instead, you can now leave a comment simply by pressing the Enter key. If you are trying to post a comment on inappropriate content/hate speech, you will not find the comment section.
Why can't I comment on a Facebook live video?
The broadcaster of a live video can use comment moderation settings to limit the ability of viewers to comment on their live stream. You may receive one of the notices below explaining why your comment was restricted or prohibited in some situations.
Was this helpful?
Good job! Please give your positive feedback
How could we improve this post? Please Help us.