In the world of sports and gaming, a team's name can be its greatest asset. A well-chosen name can boost team spirit, create a unique identity, and draw in fans. But it's not an easy task. Whether you're playing a social media game, participating in a trivia night or setting up a sports team, the right team name can make all the difference. In this article we will give you over 150+ iconic team names to choose from.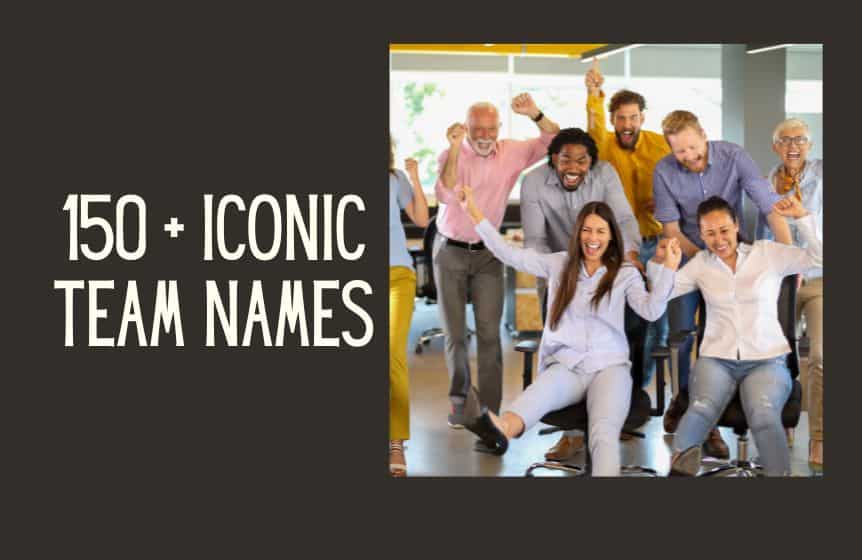 Iconic Team Names for Games
Whether you're in the virtual realm of esports or engaged in office games, here are some of the best iconic team name ideas:
Blue Phoenix
Digital Dragons
Silver Sabres
Cosmic Invaders
Frost Giants
Galaxy Guardians
Ironclad Immortals
Virtual Vipers
Shadow Sorcerers
Firewall Furies
Glitch Gladiators
Pixel Predators
Techno Titans
Binary Barbarians
Quantum Quake
Neon Nightmares
Cyber Centurions
Data Demons
Code Crusaders
Red Raptors
Electric Echelons
Algorithm Avengers
Silicone Spartans
Digital Desperados
Network Nomads
Terabyte Titans
Binary Berserkers
Megaframe Marauders
Silicon Sirens
Virtual Valkyries
Pixel Pioneers
Code Cobras
Digital Dreadnoughts
Quantum Quetzals
Cybernetic Centaurs
Silicon Samurai
Firewall Frenzy
Megabyte Marauders
Data Dragoons
Cybernetic Cheetahs
Binary Brawlers
Microchip Mercenaries
Pixel Protectors
Quantum Queens
Firewall Phoenix
Terabyte Tornadoes
Digital Direwolves
Cybernetic Cyborgs
Nano Navigators
Quantum Knights
Related: creative art business names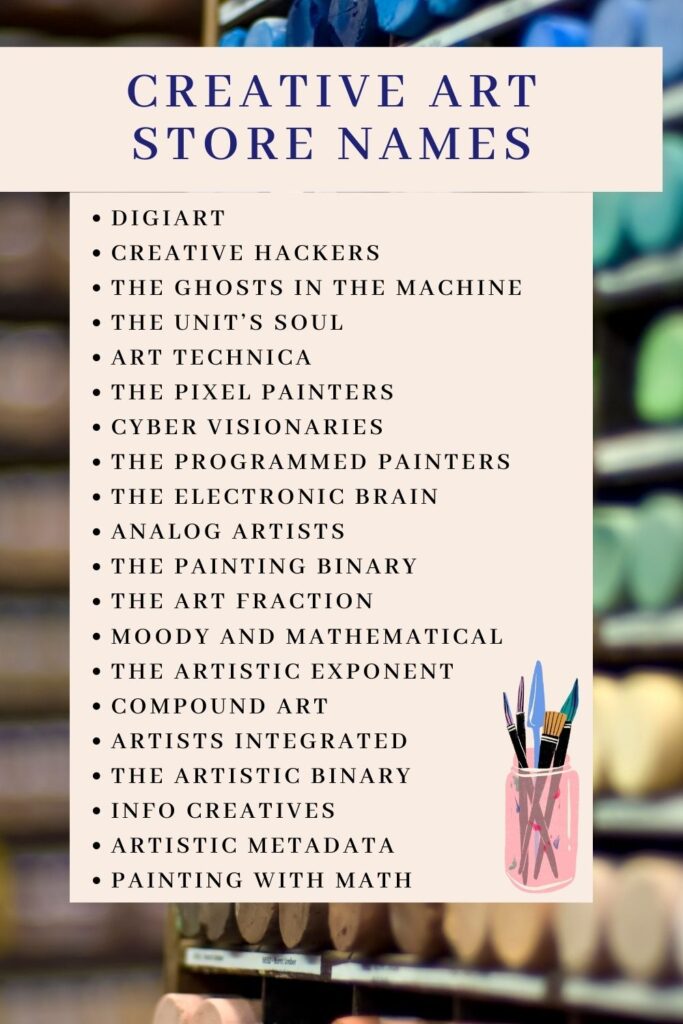 Powerful Team Names with Meaning
Golden Eagles – representing freedom and strength
Black Panthers – for a team with stealth and agility
Red Rhinos – symbolizing power and resilience
White Lions – signifying courage and wisdom
Silver Stags – showing grace and independence
Turquoise Titans – for an invincible and formidable team
Crimson Cobras – expressing stealth and strategy
Indigo Infernos – signifying passion and intensity
Jade Jaguars – representing agility and ferocity
Onyx Owls – symbolizing wisdom and mystery
Sapphire Sharks – for a team with speed and agility
Bronze Bulls – representing strength and stability
Coral Cobras – for a team that strikes fast and powerfully
Garnet Griffins – symbolizing power and majesty
Titanium Tigers – representing ferociousness and power
Platinum Pythons – for a team that is patient and precise
Amber Avengers – signifying justice and fearlessness
Obsidian Orcas – representing intelligence and teamwork
Diamond Dragons – for a team that is fierce and majestic
Emerald Eagles – symbolizing freedom and courage
Ruby Raptors – for a team that is swift and deadly
Topaz Titans – symbolizing power and immortality
Pearl Pumas – for a team that is powerful and graceful
Jet Jaguars – symbolizing agility and stealth
Quartz Quetzals – for a colorful and majestic team
Onyx Orcas – representing strength and intelligence
Topaz Tornadoes – for a team that is powerful and fast
Pearl Panthers – symbolizing power and courage
Quartz Quails – for a small team that is wise and quick
Garnet Gargoyles – representing protection and vigilance
Citrine Cheetahs – for a team that is fast and precise
Sapphire Scorpions – symbolizing mystery and death
Amethyst Ants – for a team that is small but strong
Malachite Mambas – representing speed and fearlessness
Pearl Penguins – for a team that is friendly and cooperative
Jade Jackals – symbolizing resourcefulness and intelligence
Ruby Ravens – for a team that is intelligent and adaptable
Topaz Turtles – representing wisdom and longevity
Quartz Quokkas – for a team that is small but brave
Garnet Geckos – representing adaptability and regeneration
Ruby Red Pandas – for a team that is rare and endearing
Sapphire Salamanders – representing fire and passion
Jade Jaguars – for a team that is agile and powerful
Amethyst Armadillos – symbolizing protection and endurance
Topaz Tarantulas – for a team that is fearless and patient
Quartz Quetzals – for a beautiful and majestic team
Pearl Peacocks – symbolizing beauty and integrity
Garnet Grizzlies – for a team that is powerful and brave
Emerald Elephants – representing strength and intelligence
Ruby Rhinoceros – for a team that is powerful and resilient
One Word Team Names
Single-word team names can pack a punch, and they're easy to remember. Here are some of our favorites:
Thunderbolts
Mavericks
Revolution
Intrepid
Vortex
Guardians
Phoenix
Wanderers
Titans
Comets
Cyclones
Arsenal
Renegades
Hurricanes
Spartans
Avengers
Pathfinders
Centurions
Dominators
Challengers
Pioneers
Gladiators
Conquerors
Invincibles
Legends
Commandos
Velocity
Marauders
Vanguard
Reclaimers
Outlaws
Scorpions
Dreadnoughts
Revolutionaries
Illuminati
Terminators
Transformers
Crusaders
Enforcers
Juggernauts
Cavaliers
Sentinels
Paladins
Blitzkrieg
Excalibur
Rumble
Warlords
Leviathan
Alpha
Omega
Funny Team Names
Tequila Mockingbird
The Smarty Pints
Sofa Kings Good
Nacho Average Squad
E=MC Hammer
Let's Get Quizzical
No Pun Intended
The Three Must-Get-Beers
Beer Pressure
Quizlamic Extremists
Trivia Newton John
Ain't No Stoppin' Us Now We're On The Scroll
My Drinking Team Has A Trivia Problem
We Thought This Was Speed Dating
Agatha Quiztie
The Abusement Park
Sore Losers
Dumbledorks
I Am Smarticus
Punderstruck
Awkward Turtles
Not Fast, Just Furious
I Can't Believe It's Not Gutter
Not in the Face!
Your Pace or Mine?
Scrambled Legs
Game of Throws
Ctrl Alt Elite
Rumpleforeskin
Cunning Linguists
We Were on a Break!
Norfolk-in-Chance
Multiple Scoregasms
Masters of Confusion
Taking Care of Quizness
The Cereal Killers
Quizteama Aguilera
Smarty Pants
Knights of the Square Table
Sherlock Homies
Dastardly Villains
Spud Guns
Stairway to Devon
Quiz Hurley and the Blizzards
Muffin Stuffers
Oedipus and the Momma's Boys
I Blame Your Mother
Bed Bath and Beyoncé
Dolly Mixtures
Son of Pitch
Clever Team Names
Quiz Khalifa
Wu Tang Clams
Backstreet Bowlers
The Prose Before Bros
Ain't Got No iDeas
Menace to Sobriety
Unstable Women
Out of Eligibility
BasketBrawlers
Victorious Secret
Bocce Balboa
Furious George
Ebowla
The Pace Makers
Alcoholocaust
AlcoBallics
Cunning Stunts
The Young and the Rest of Us
Alcoballics Anonymous
Super Heroes In Training
Kinda Lika Big Deal
Fellowship of the Quiz
Notorious D.I.G.
Obi-Wan Kenobi Nil
Cranium Krushers
Mind Bogglers
Nerdy by Nature
Simply Masterminds
You Can't Sit With Us
No Child Left Behind
Pug-et Sound
Cerebral Assassins
Quiztopher Quiztopherson
Quiz in My Pants
Between a Walk and a Hard Pace
Mind Over Splatter
No Scope Angels
Net Results
Chafed and Confused
Risky Quizness
Pub Med School
Wicked Witch of the West Wing
What Would Jeopardy Do?
Headless Chickens
Quizlamic State
Trivia Newton-John
Night of the Living Spread
Quizly Bears
Six Degrees of Kevin Bacon
We Who Shall Not Be Named
Animal-themed team names
The Roaring Lions
The Cunning Foxes
The Majestic Elephants
The Swooping Hawks
The Quick Rabbits
The Clever Monkeys
The Happy Hippos
The Slithering Snakes
The Swift Cheetahs
The Mighty Eagles
The Agile Antelopes
The Witty Walruses
The Grinning Gorillas
The Playful Pandas
The Soaring Seagulls
The Prancing Peacocks
The Bouncing Kangaroos
The Dancing Dolphins
The Hopping Hares
The Spiky Porcupines
The Curious Cats
The Giggling Goats
The Pouncing Panthers
The Whispering Wolves
The Brave Bears
The Silly Seals
The Gliding Gulls
The Growling Grizzlies
The Humble Hens
The Chirpy Chickens
The Diving Ducks
The Quacking Quails
The Dashing Dogs
The Flashy Flamingos
The Gracious Gazelles
The Thundering Thoroughbreds
The Stealthy Sharks
The Boisterous Beavers
The Scampering Squirrels
The Jovial Jackals
The Dandy Dalmatians
The Twirling Turtles
The Mellow Meerkats
The Bumbling Bees
The Nifty Newts
The Energetic Emus
The Hasty Hummingbirds
The Bubbly Butterflies
The Jazzy Jaguars
The Whiskered Whales
Hero-themed team names with meaning
Valiant Defenders: A team that stands strong, defending their cause with bravery.
Liberty Legends: A team dedicated to fighting for freedom.
Guardians of Justice: Protectors and upholders of fairness and righteousness.
Tenacious Titans: A group of determined individuals with exceptional strength.
Fearless Saviors: A brave team unafraid of taking risks to protect others.
Noble Knights: A team that upholds honor and chivalry.
Resolute Rangers: Determined protectors, inspired by heroes of the wild.
Soaring Eagles: Symbolizing freedom and strength, this team aims for great heights.
Gallant Gladiators: A fearless team that never backs down from a challenge.
Heroic Heralds: Bringers of change, standing tall amidst adversity.
Crusaders of Courage: A team that embraces bravery and takes on any obstacle.
Steadfast Spartans: Unyielding and persistent, inspired by the ancient warriors.
Radiant Phoenix: A team that bounces back from adversity with renewed energy and vigor.
Courageous Comrades: A team bonded by their bravery and unity.
Invincible Ironclads: A team that is strong, resilient, and virtually indestructible.
Mighty Marvels: This team is wondrous and impressive in their heroic feats.
Righteous Rogues: Unconventional heroes who fight for justice.
Harmonious Hawks: Symbolizing visionary power and clear sight in achieving objectives.
Daring Dragoons: A team of bold and brave individuals ready for any challenge.
Dauntless Daredevils: Fearless and adventurous, this team never backs down.
Benevolent Batmen: Inspired by the Dark Knight, a team that stands for justice.
Gallant Green Lanterns: Symbolizing willpower, strength, and resilience.
Supernova Superheroes: A team with an explosive impact and an outshining presence.
Celestial Champions: Heroes that go above and beyond, reaching for the stars.
Resilient Rescuers: A team that is always ready to lend a helping hand.
Virtuous Valkyries: Representing strong, heroic women, inspired by Norse mythology.
Harmonious Hercules: A team with immense strength, both physically and mentally.
Truth Titans: A team that values honesty, transparency, and integrity.
Victorious Vanguards: A team that leads the way towards victory.
Defiant Defenders: This team is fearless, brave, and protective.
Justice Juggernauts: An unstoppable force advocating fairness and righteousness.
Peaceful Paladins: Noble and heroic champions fighting for peace.
Fearless Firestorms: A team that is passionately intense about their cause.
Quantum Quicksilvers: A team that operates with incredible speed and agility.
Infinite Incredibles: Unlimited potential and strength defines this team.
Majestic Meteors: A team that makes a grand and impressive impact.
Omega Overlords: This team asserts its supremacy and dominance.
Starlight Saviors: A team that brings light in the darkest times.
Unyielding Ultrons: A team with a formidable and resilient presence.
Valorous Vipers: A team that strikes with precision and effectiveness when least expected.
Paramount Protectors: This team is of the highest importance in defense and protection.
Quantum Quasars: A bright and powerful force to be reckoned with.
Eminent Empyreans: Superior beings who are all-powerful and all-knowing.
How to choose iconic team names
Choosing the perfect team name can be quite the task. A name is the unique identity of your group of people. Whether you are brainstorming for your basketball team, football team, or a trivia team, the right name can create a tremendous team morale boost. So, how can you select a name that reflects your unique squad, whether for your office game, intramural sports, or active group chats?
Start by considering the type of team you are naming. Different categories of teams may require different ideas for names. For instance, sports teams like a baseball team may need cool team names that express power and competitiveness, like the "Black Widows" or "Bad News Bears". Trivia teams, on the other hand, might lean towards clever names, or funny trivia team names, to get a laugh at quiz night.
Next, consider your team's unique characteristics. Are you all soccer players from San Francisco? Perhaps "San Francisco Strikers" would work. Are you a fun team who loves Star Wars? Why not go for a cool group name like the "Mighty Morphin Power Rangers"?
You could take inspiration from your favorite movies, favorite names, or even come up with a name that tells a story from a real place you all hold dear. But if you're stuck, there's always the team name generator that could provide the best names or at least give you some creative ideas.
Inject humor if appropriate – a funny name or funny group chat names for text convos can lighten the mood and be memorable. But, avoid names that could fall into the wrong hands, and become inappropriate.
Consider trendy team names or famous team names, like the 'Fighting Irish' or 'Mighty Ducks'. But if you're after a badass team name, "Dirty Dozen" or something inspired by mythical creatures might be just the ticket.
You may want to consider descriptive words that express your team's spirit or purpose. If you're all about the latest gossip, maybe the 'Spice Girls' would be a fun homage! An awesome team name will stick in people's minds and give your team its own distinct name.
Also, remember that the best way to choose the perfect team name is to involve everyone. People could suggest their ideas, and you can have a naming process, maybe a vote to pick the most popular one.
In essence, a great team name, a good team name, or even the coolest team names are all born out of understanding your team, considering your shared interests and experiences, and a good idea or two.
Conclusion
The process of naming a team is more than just an exercise in creativity. It's a chance to define your group's identity, to give your team members something to rally around, and to set the tone for your team's future.
So whether you're picking a name for your sports team, your trivia team, or your group of friends on social media, remember: a great name is the first step towards a great team. Good luck choosing an iconic team name.