Key Takeways
1. Accessible Materials: Utilize everyday items like popsicle sticks, cotton balls, and paper plates, making these crafts budget-friendly and easy to set up.
2. Creative Space: Designate a crafting area where kids feel comfortable and free to express their creativity, enhancing their crafting experience.
3. Foster Creativity: Encourage kids to personalize their crafts, allowing them to explore their imagination and develop their artistic skills..
As the winter season rolls in, my kids often prefer the warmth of indoors over the chilly outdoors. To keep them engaged and entertained, I've turned to arts and crafts, a cozy and creative alternative. Understanding that many parents face the same challenge, I've put together a collection of winter craft ideas that are not only enjoyable for my children but can also be a delightful experience for yours.
These crafts are designed to be simple, using easily accessible materials, and offer a wonderful opportunity for kids to express their creativity while staying snug indoors. So, grab some craft supplies and get ready to create some winter magic with your little ones this season
Easy Winter Craft for Kids
Puffy Paint Snowman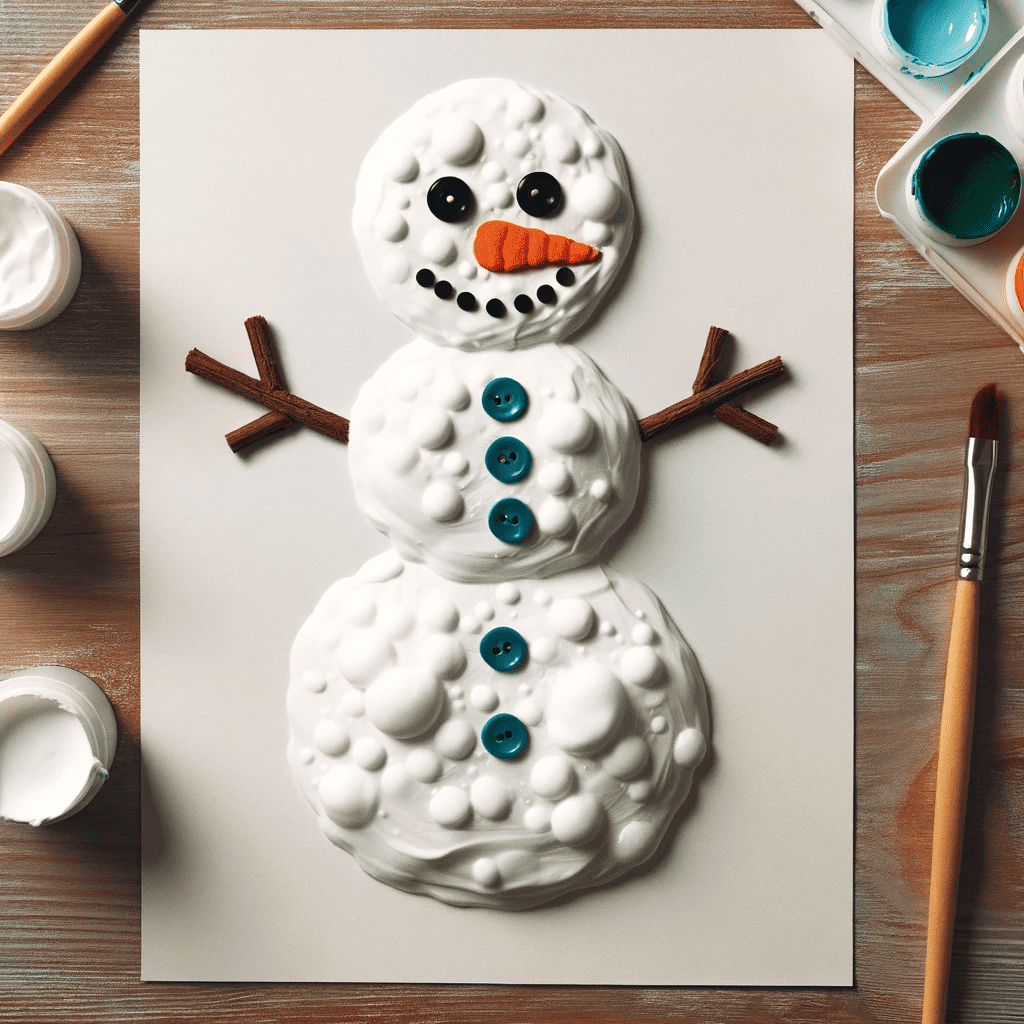 Materials: White puffy paint, construction paper, googly eyes, orange paper (for the nose).Steps:
On a piece of black paper, use the puffy paint to draw three circles to make a snowman.
Add googly eyes and a small triangle of orange paper for the nose.
Let it dry and you have a fun snowman craft!
Popsicle Stick Polar Bear
Materials: Popsicle sticks, white paint, black paper, white paper, googly eyes.
Steps:
Paint the popsicle sticks white and glue them together to form a body.
Cut out a circle using the white paper to make the face and stick it on the popsicle
Cut out ears and a nose from black paper and glue them on.
Add googly eyes to complete your polar bear craft.
Handprint Winter Mittens
Materials: Colored paper, ribbon/string, paint.
Steps:
Paint your child's hand and press onto paper.
Cut around the handprint in a mitten shape.
Decorate and punch a hole to thread ribbon through
2. Winter Craft for Preschool
Stick Snowman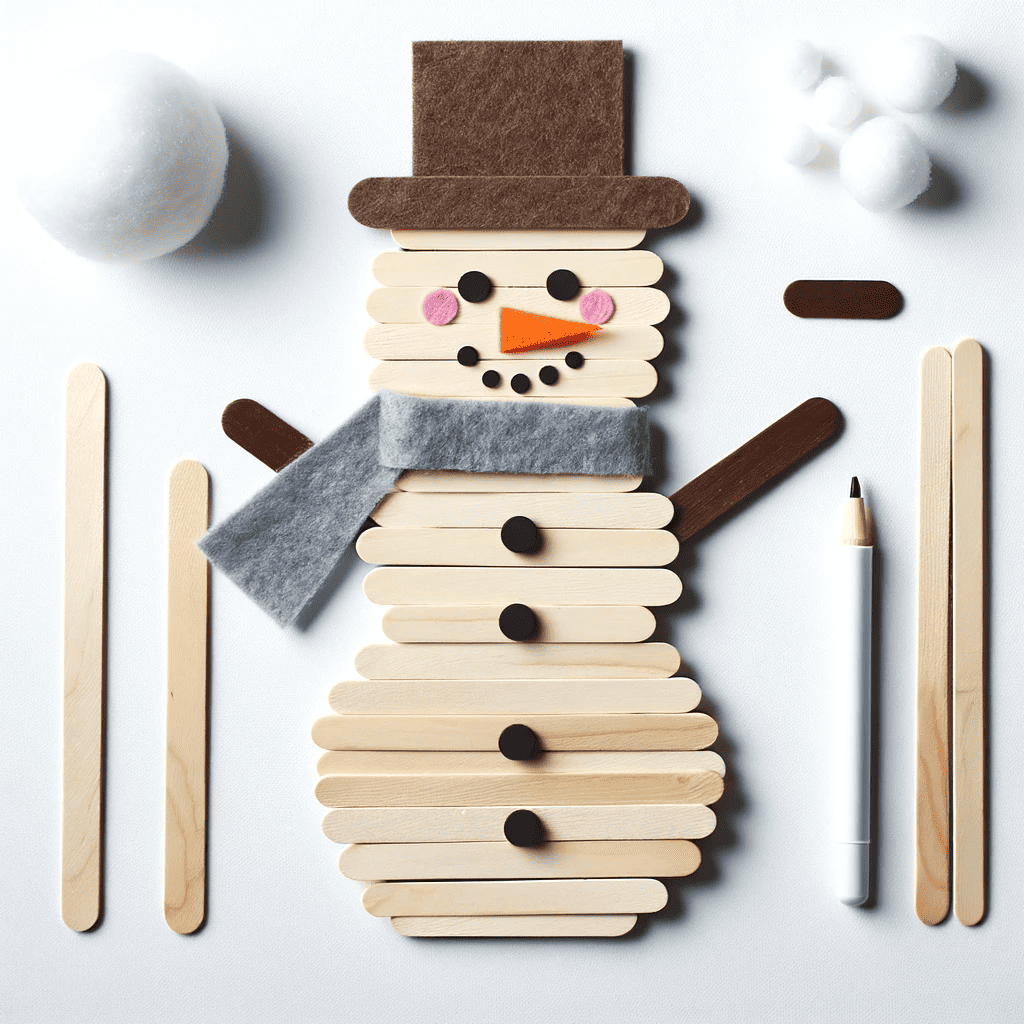 Materials: Craft sticks, white paint, felt, ribbon, markers.
Steps:
Paint the craft sticks white and glue them side by side.
Decorate with felt to create a hat and scarf.
Use markers to add eyes, nose, and mouth
Cotton Ball Snow Globe
Materials: Paper plates, cotton balls, glue, markers.
Steps:
Glue cotton balls onto a paper plate to create a snowy scene.
Using cotton ball create a snowman shape. Keep in mind that the snowman might fall so use glue to stick the body and the head together.
Using black paper cut round shapes to make the buttons on the body and eyes
Decorate with markers to create a perfect winter craft.
Handprint Arctic Animals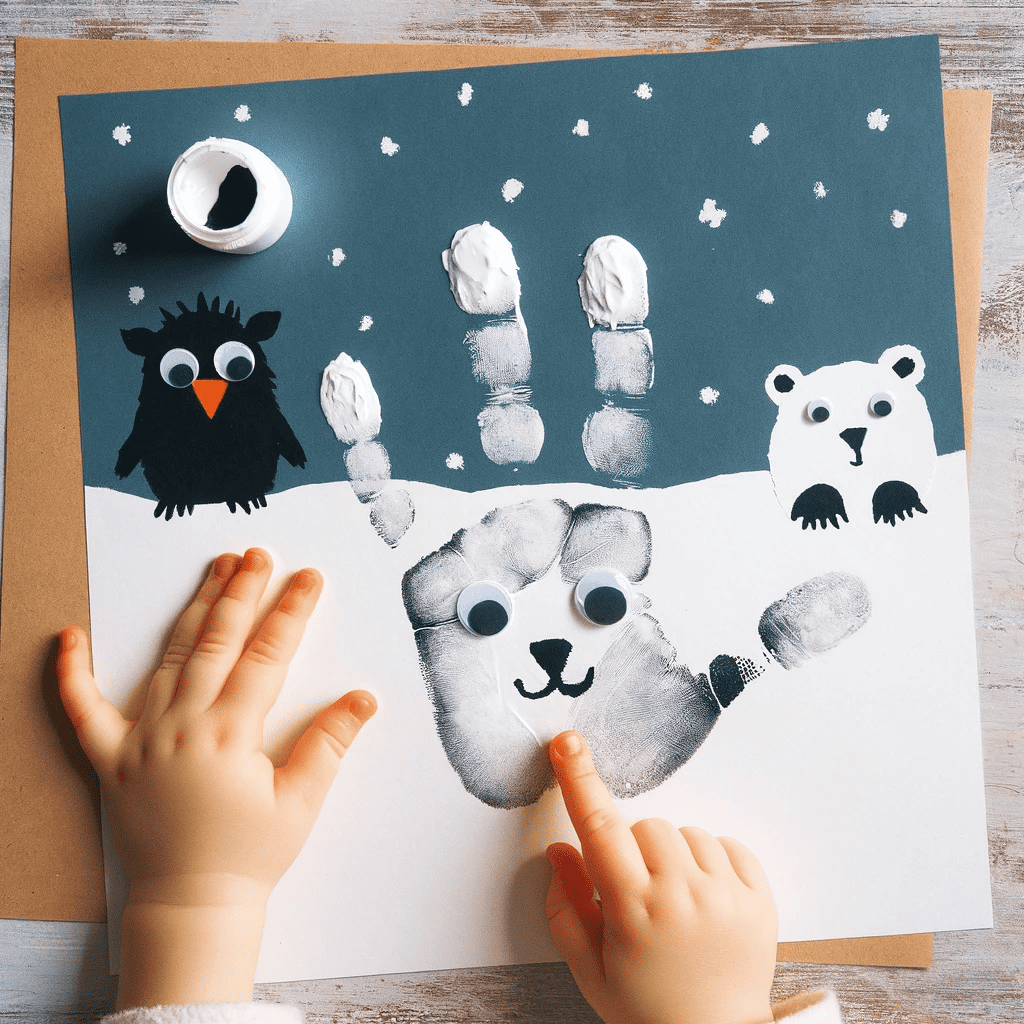 Materials: White and black paper, paint, googly eyes.
Steps:
Paint your child's hand with white or black paint and press it onto paper.
Once dry, add details like googly eyes and cut out the shape to make arctic animals.
Tissue Paper Christmas Tree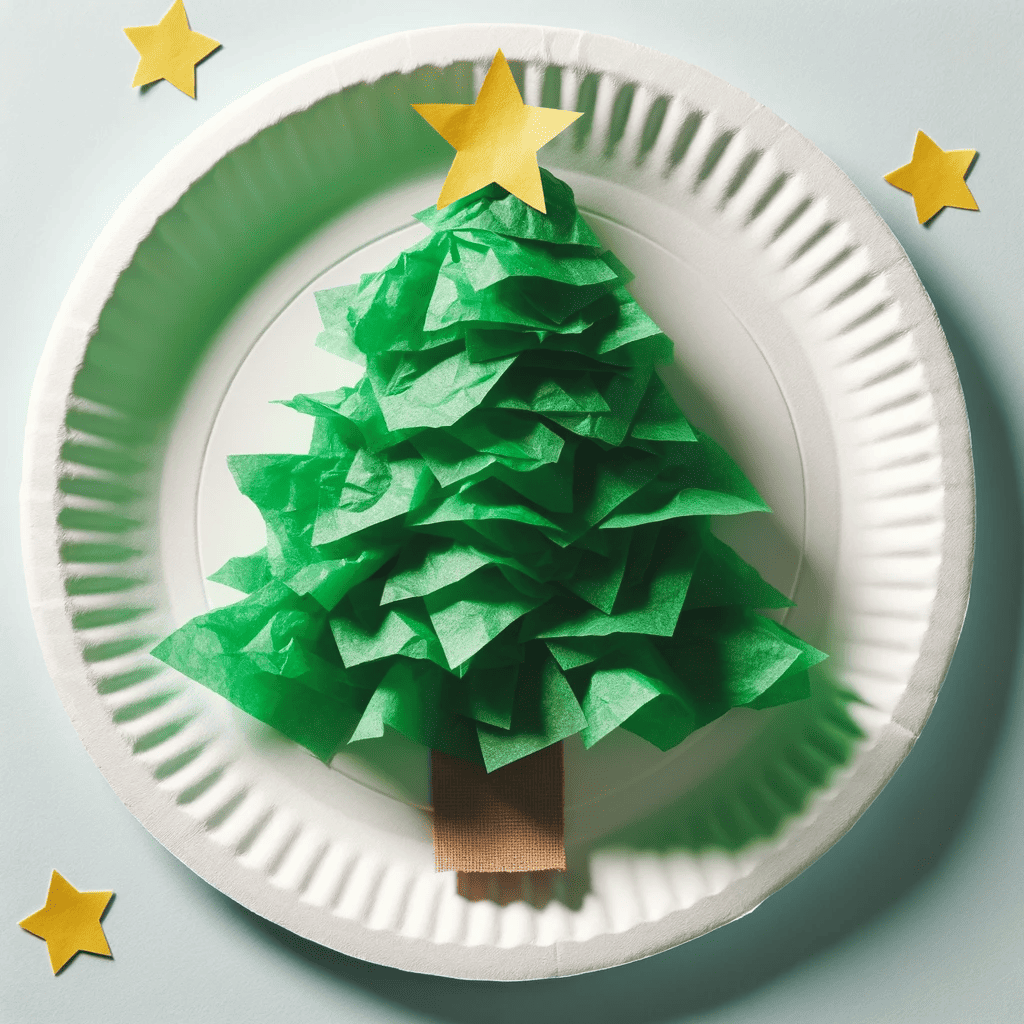 Materials: Green tissue paper, paper plate, star stickers.
Steps:
Cut the tissue paper into squares and scrunch them up.
Glue the tissue paper onto a paper plate in a tree shape.
Add star stickers for decorations.
3. Winter Crafts for Toddlers
Toilet Roll Penguins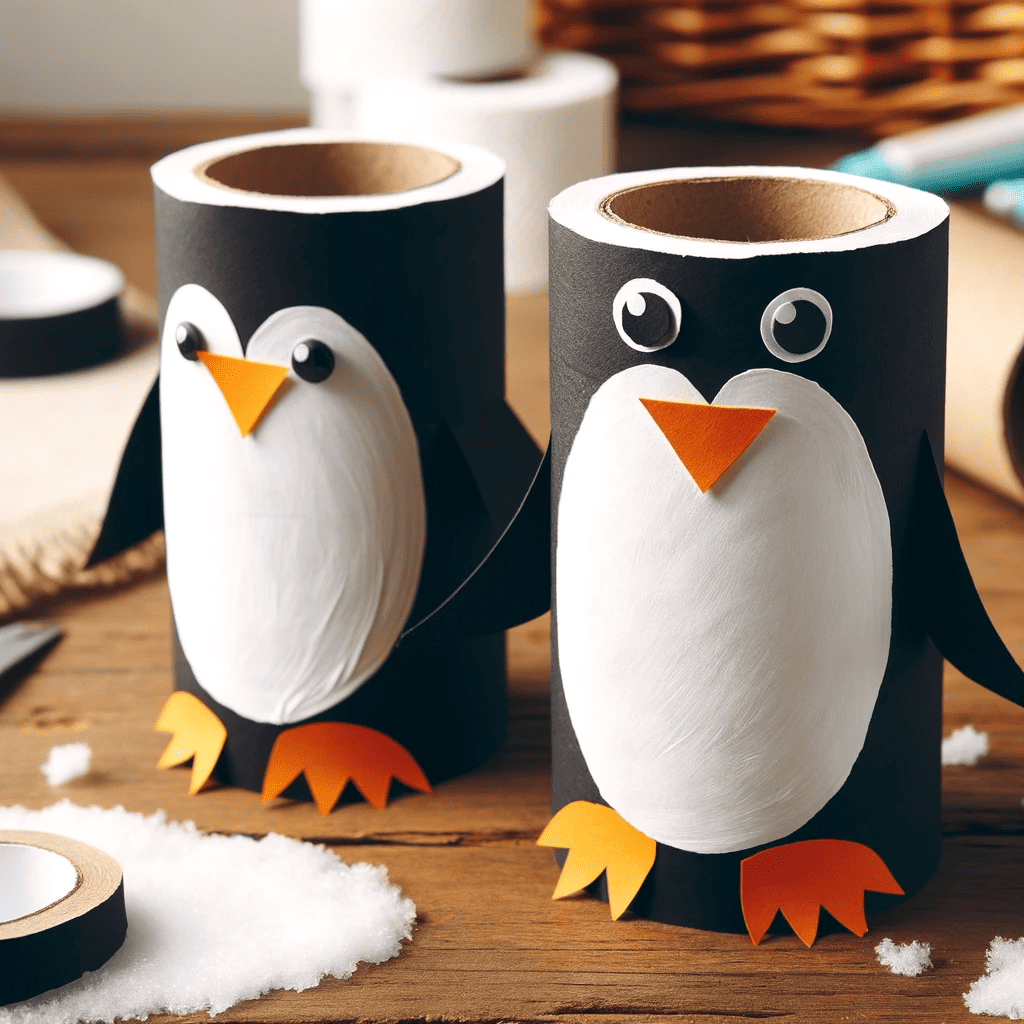 Materials: Toilet paper rolls, black paper, white paint, orange paper.
Steps:
Cover a toilet roll with black paper.
Paint a white oval on the front for the penguin's belly.
Cut out a beak and feet from orange paper and glue them on.
Winter Tree Art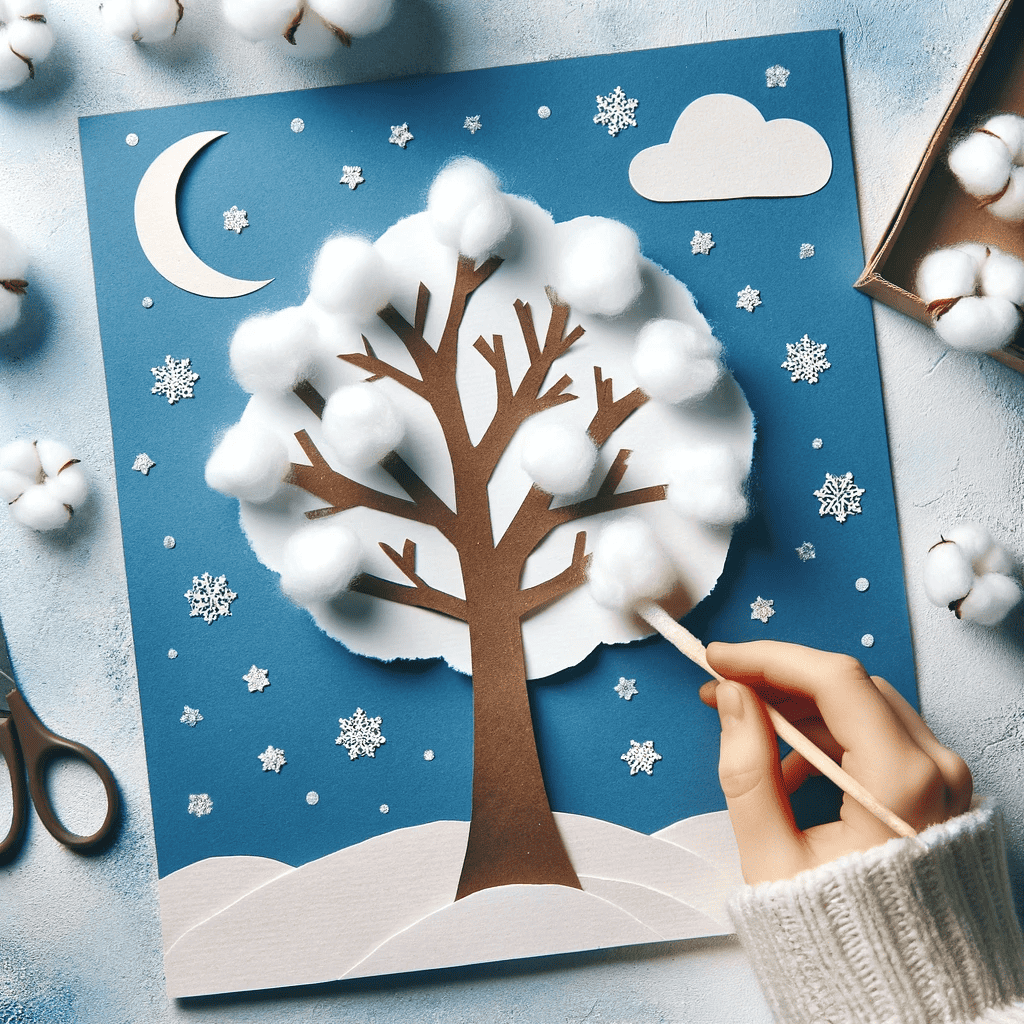 Materials: Brown and white paper, blue paint, cotton balls.
Steps:
Cut out a tree shape from brown paper and glue it onto white paper.
Paint a blue winter sky background.
Glue cotton balls to the branches to mimic snow.
4. Fun Winter Craft Ideas
Popsicle Stick Snowflakes
Materials: Popsicle sticks, white paint, glitter/stickers.
Steps:
Glue popsicle sticks together to form a snowflake shape.
Paint it white or leave it as it is and sprinkle with glitter while wet or decorate it with stickers.
Let it dry for a sparkly snowflake craft.
Construction Paper Mittens
Materials: Construction paper, yarn, stickers.
Steps:
Cut out mitten shapes from construction paper.
Decorate with stickers and other craft supplies.
Punch a hole at the top and thread yarn through for hanging. You will need to help your child with this.
Easy Peasy Paper Snowflakes
Materials: White paper, scissors.
Steps:
Fold the paper into a triangle several times.
Cut out small shapes along the edges.
Unfold to reveal a unique snowflake design..
Cute Penguin Finger Puppets
Materials: Black felt, white felt, orange felt, googly eyes, glue.
Steps:
Cut out a penguin shape from black felt.
Add a white felt belly and an orange beak.
Glue on googly eyes.
Make a small slit at the bottom to insert a finger.
Snowy Day Picture Frame
Materials: Popsicle sticks, white and blue paint, glitter, photo.
Steps:
Paint the sticks white and blue, then sprinkle with glitter.
Arrange in a square to create a frame.
Glue a photo behind it.
Arctic Animal Crafts
Materials: Construction paper, googly eyes, cotton balls.
Steps:
Cut out shapes of arctic animals from paper.
Decorate with cotton balls for fur.
Add googly eyes.
Snow Globe Craft
Materials: Jar, glitter, water, glycerin, small figurines.
Steps:
Glue the figurine to the jar lid.
Fill the jar with water, add glycerin and glitter.
Screw the lid on and shake to create a snow globe effect.
Cotton Ball Snowman
Materials: Construction paper, cotton balls, glue, markers.
Steps:
Draw a snowman shape on paper.
Glue cotton balls onto the drawing.
Use markers to add details like eyes, nose, and buttons.
These winter craft ideas are perfect for little hands and offer a fun way to explore creativity during the winter months.
Whether you're looking for a simple project for younger children or more complex crafts for older kids, there's something here for everyone. Enjoy crafting and creating memories together! Just in case your kids are bored of winter and need more color beyond white, blue and black then check out more fun colorful craft November ideas here.
Was this helpful?
Good job! Please give your positive feedback
How could we improve this post? Please Help us.