Key Takeways
1. Accessible Materials: Many of the crafts use everyday items found at home or natural elements gathered from outdoors, making them budget-friendly and accessible.
2.Thanksgiving Themes: These projects embrace the Thanksgiving spirit with fun themes like hand turkeys and pumpkin pie garlands, perfect for festive decoration.
3. Family Bonding Time: Crafting together offers a wonderful opportunity for family bonding, creating cherished memories during the fall season
without the need for expensive materials.
November is a fantastic month for getting crafty with the kids! Here's a list of fun and simple November craft ideas, perfect for little hands and big imaginations. I'll also include what materials you need and step-by-step instructions to make it super easy and enjoyable!
November craft ideas
1. Thankful Turkey Craft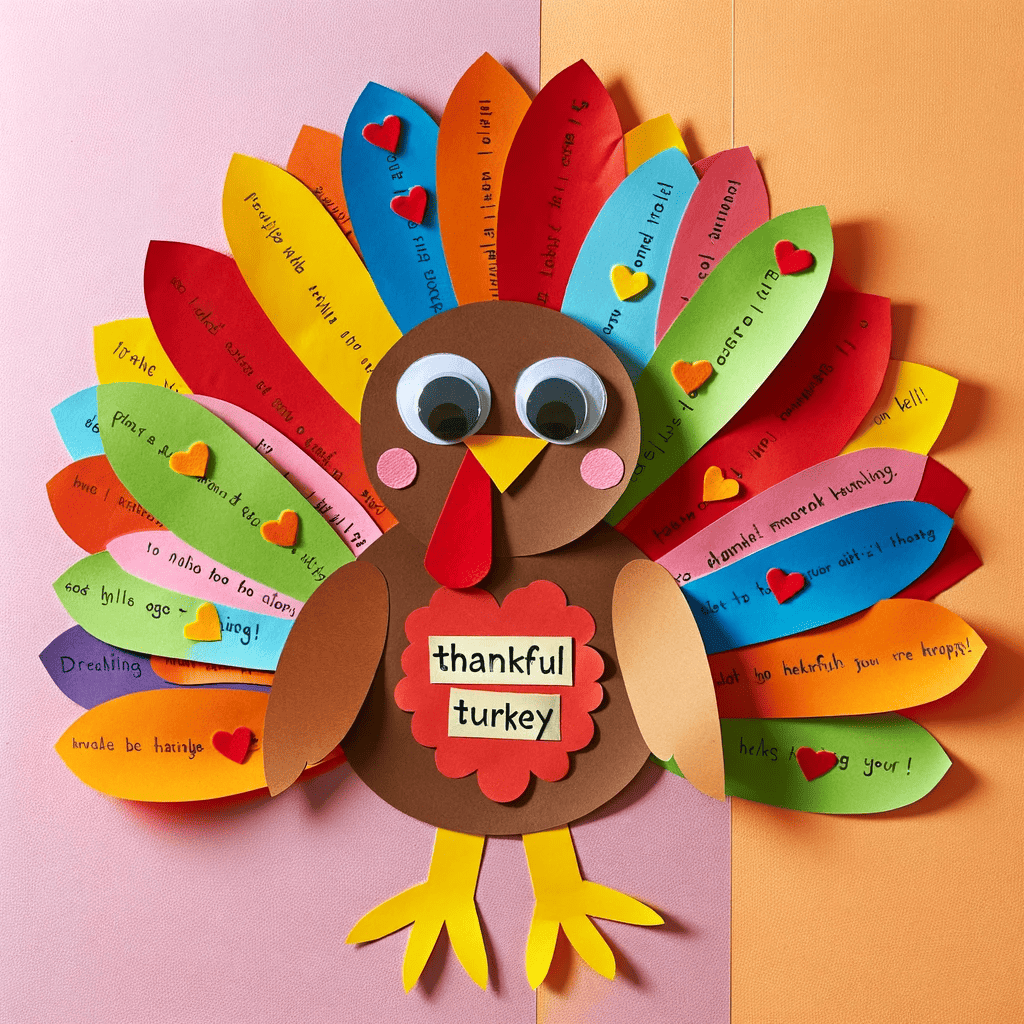 Materials:
Construction paper (various colors)
Scissors
Glue
Googly eyes
Marker
Steps:
Cut out a brown circle for the turkey's body and a smaller red circle for the head.
Cut feather shapes from different colored papers.
Let your child write what they're thankful for on each feather.
Glue the feathers in a fan shape behind the body.
Add the head, googly eyes, and a small orange beak.
Draw legs and feet with the marker.
2. Autumn Leaf Mason Jars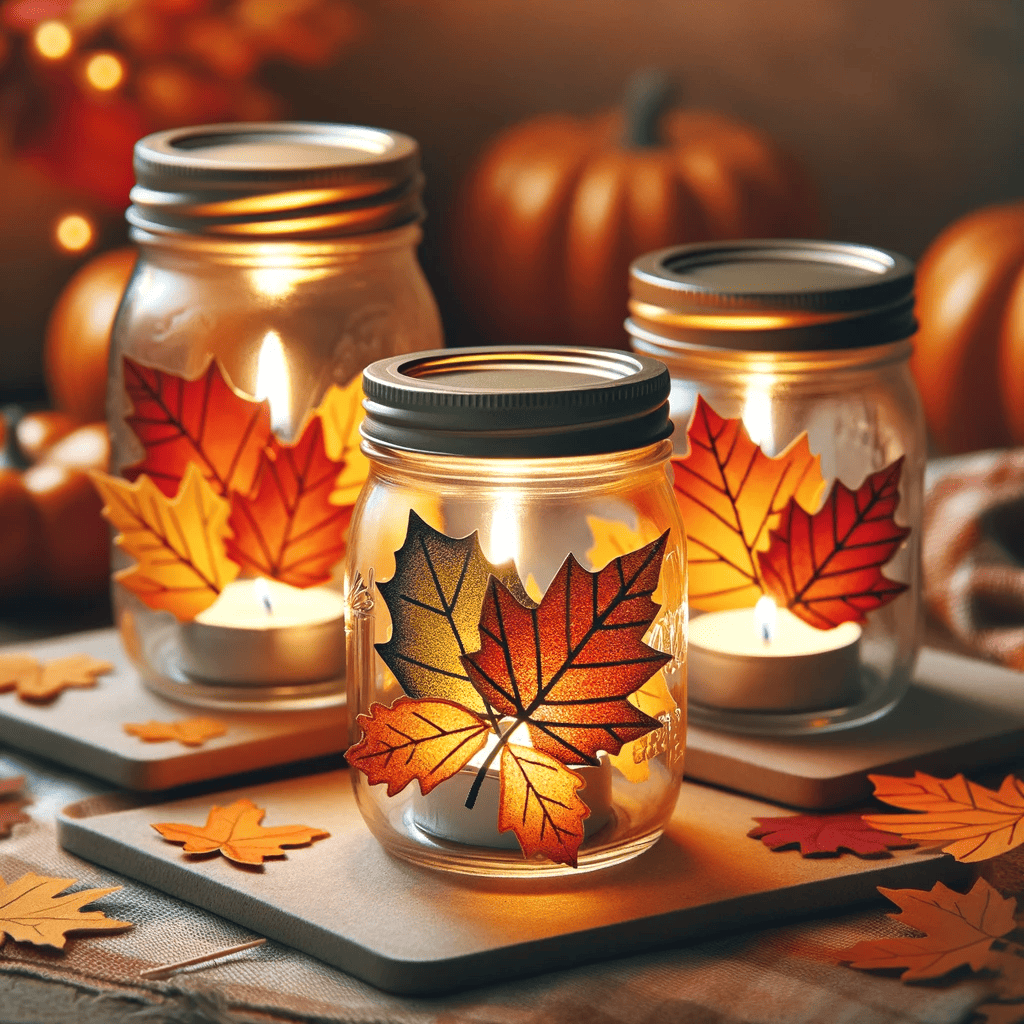 Materials:
Mason jars
Mod Podge (or similar adhesive)
Sponge brush
Real or faux autumn leaves
Tea lights (battery-operated)
Steps:
Clean the mason jars and dry them well.
Apply a thin layer of Mod Podge to a section of the jar.
Stick a leaf on and smooth out any bubbles.
Continue until the jar is covered.
Seal with another layer of Mod Podge.
Once dry, place a tea light inside for a cozy, autumnal glow.
3. Handprint Hedgehogs
Materials:
Brown paint
White paper
Marker
Paintbrush
Steps:
Paint your child's hand with brown paint.
Press it onto the paper with fingers spread out.
Once dry, add details like eyes, nose, and spikes with a marker.
4. Pine Cone Owls
Materials:
Pine cones
Felt (various colors)
Glue
Googly eyes
Steps:
Cut felt into shapes for wings, beak, and ears.
Glue the felt pieces onto the pine cone.
Add googly eyes.
Display your cute owl family!
5. Paper Plate Pilgrim Hats
Materials:
Paper plates
Black and yellow construction paper
Glue
Scissors
Steps:
Cut the center out of a paper plate.
Cut a hat shape from black paper and glue it to the plate rim.
Add a yellow paper buckle.
Wear and enjoy during Thanksgiving dinner!
6. Colorful Leaf Wind Chime
Materials:
Fallen leaves (various colors)
Thin string or yarn
A stick or dowel
Paint and brushes (optional)
Steps:
Collect fallen leaves and let them dry if needed.
If you like, paint the leaves in bright colors or patterns.
Tie a string to the stem of each leaf.
Attach the strings with leaves to the stick or dowel at varying lengths.
Hang your wind chime where it can catch a gentle breeze.
7. Button Tree Art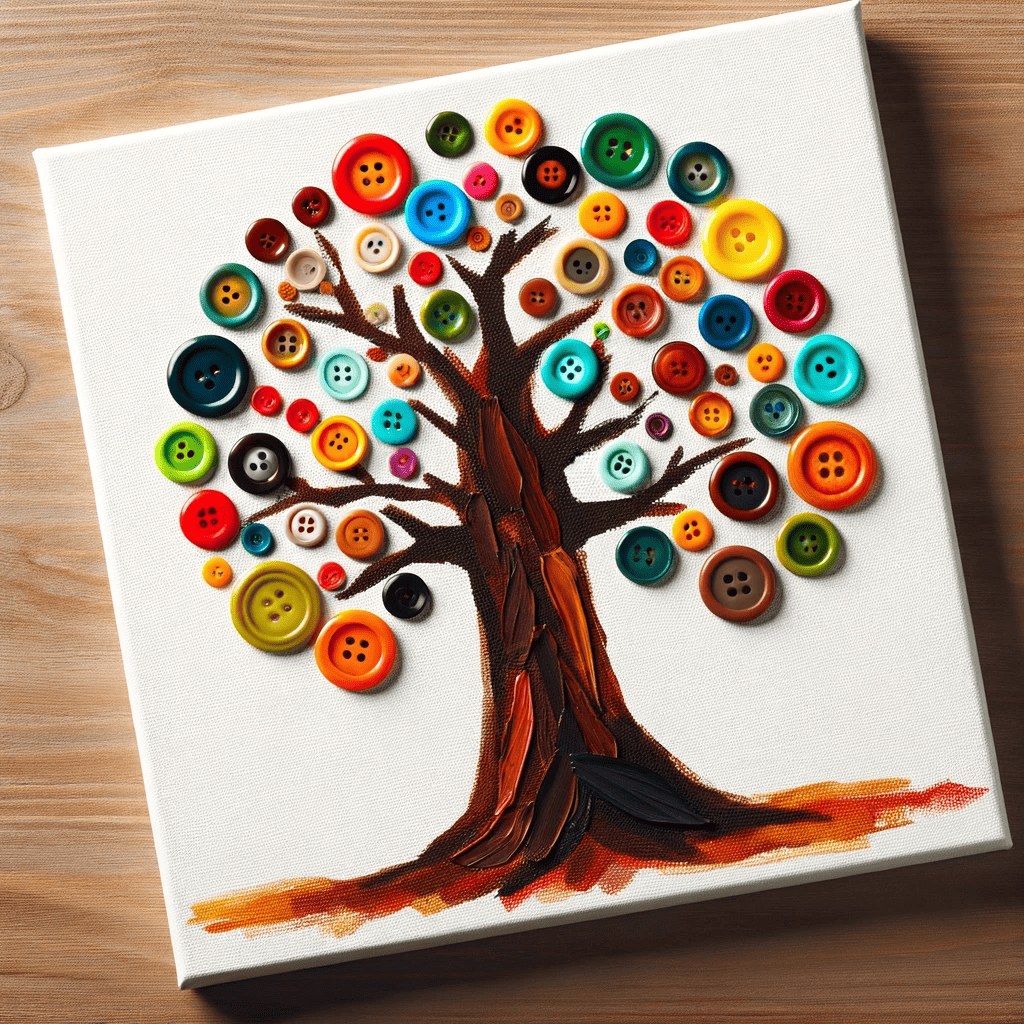 Materials:
Canvas or thick paper
Paint (brown and green)
Assorted buttons
Glue
Steps:
Paint a tree trunk and branches with brown paint on the canvas.
Once dry, dab green paint to create a foliage effect.
Glue buttons onto the branches as 'leaves'.
Display your vibrant button tree art!
8. Sock Snowmen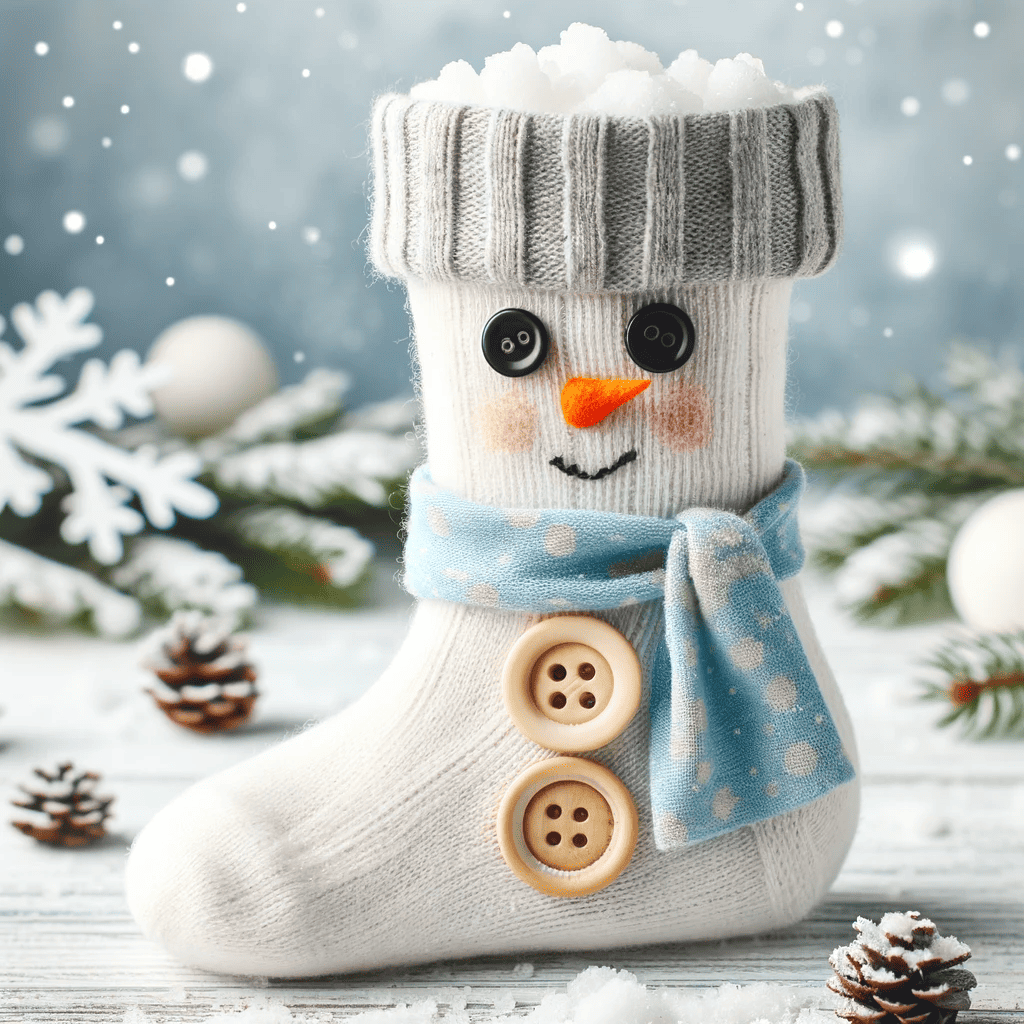 Materials:
White socks
Rice or cotton balls for filling
Rubber bands
Buttons
Scraps of fabric for scarf and hat
Markers
Steps:
Fill the sock with rice or cotton to form a snowman shape.
Use rubber bands to create two or three sections (head and body).
Decorate with buttons for eyes and a fabric scrap for the scarf.
Draw a smile and nose with markers.
Add a fabric scrap on top as a hat.
9. Paper Bag Pilgrim Puppets
Materials:
Brown paper bags
Construction paper (various colors)
Scissors
Glue
Markers
Steps:
Cut out hat, clothes, and hair shapes from construction paper.
Glue them onto the paper bag to create a pilgrim's outfit.
Draw faces on the bags with markers.
Put your hand inside the bag to bring your pilgrim puppet to life!
10. Pumpkin Seed Mosaic
Materials:
Pumpkin seeds
Paint (various colors)
Glue
Cardboard or thick paper
Steps:
Paint the pumpkin seeds in different colors and let them dry.
Sketch a simple design on your cardboard or paper.
Glue the colored seeds onto the design to create a mosaic.
Allow it to dry and display your colorful artwork.
Each of these crafts not only offers a fun activity but also helps develop creativity and fine motor skills in children. Enjoy crafting these with your little ones!
Easy Thanksgiving Crafts
Thankful Tree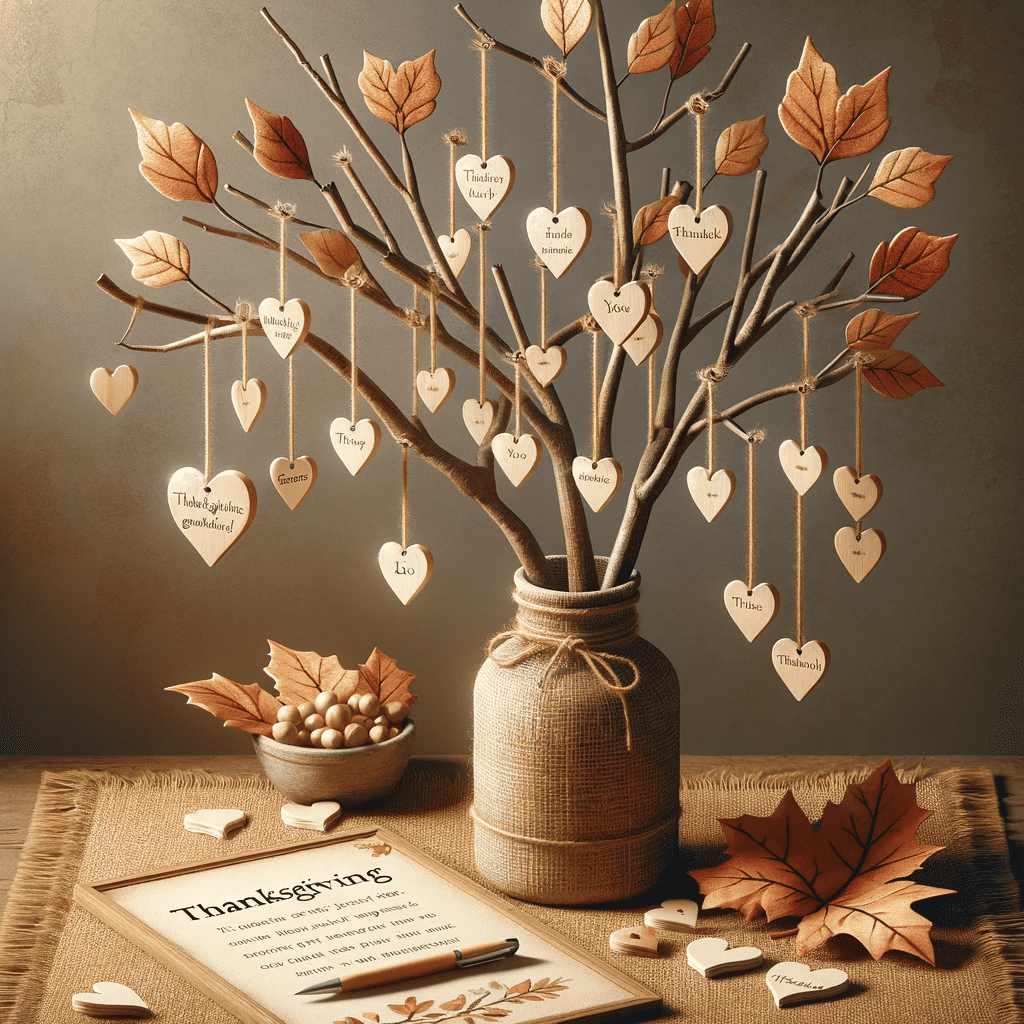 Materials: Branches, construction paper, markers, vase, glue, wooden heart
Steps:

Go on a nature walk and collect branches.
Cut leaf shapes from different colored construction paper.
Have your child write what they're thankful for on each leaf or wooden hears.
Glue the leaves onto the branches.
Place the branches in a vase, creating a thankful tree.
This craft is a great way to teach gratitude and makes a perfect Thanksgiving tablescape.
2. Fall Collage
Materials:
Large sheet of construction paper or poster board
Glue or glue stick
Scissors
Fall-themed items: colored leaves, magazine cutouts of pumpkins, apples, acorns, etc.
Additional decorative elements: stickers, glitter, fabric scraps
Steps:
Gather fall leaves during a nature walk. Cut out fall-themed pictures from old magazines or printouts.
Let your child lay out their fall items on the paper to create a scene or abstract design.
Once they're happy with their layout, help them glue each item onto the paper.
Encourage them to add extra decorations like stickers, glitter, or fabric scraps to enhance their collage.
Once dry, display their fall collage in a prominent place to celebrate the season.
3. Thanksgiving Coloring Page
Materials:
Printable Thanksgiving coloring page (free template)
Crayons, colored pencils, or markers
Steps:
: Download the free printable Thanksgiving coloring page above.
Provide a comfortable space with all the coloring supplies.
Let your child color the page, encouraging them to use a variety of colors and to be creative.
Once they're done, display their coloring page as part of your Thanksgiving decor or on the fridge.
This Thanksgiving coloring page is an excellent and easy idea for kids. It's not only a fun activity but also helps in developing fine motor skills and creativity. If your child is interested in some Dinosaur activity then check out this guide.
4. Handprint Turkey Card
Materials:
Construction paper (multiple colors)
Paint (brown, red, orange, yellow)
Markers or crayons
Googly eyes (optional)
Glue
Steps:
Paint your child's palm and thumb brown (for the turkey's body) and each finger a different color (for the feathers).
Press the painted hand onto a piece of construction paper to create the turkey's shape.
Once the paint is dry, add a beak, legs, and a wattle with markers or crayons. Stick on a googly eye if available.
Fold the paper in half to turn it into a card.
Inside the card, help your child write a Thanksgiving message or express what they are thankful for.
Let your child decorate the front and inside of the card with more drawings or stickers.
This handprint turkey card is not only a fun and easy craft for young children but also a heartfelt way for them to convey Thanksgiving greetings.
It's perfect for kids to give to family members or friends, adding a personal touch to the holiday celebration.
Cute Thanksgiving Crafts
Hand Turkey Art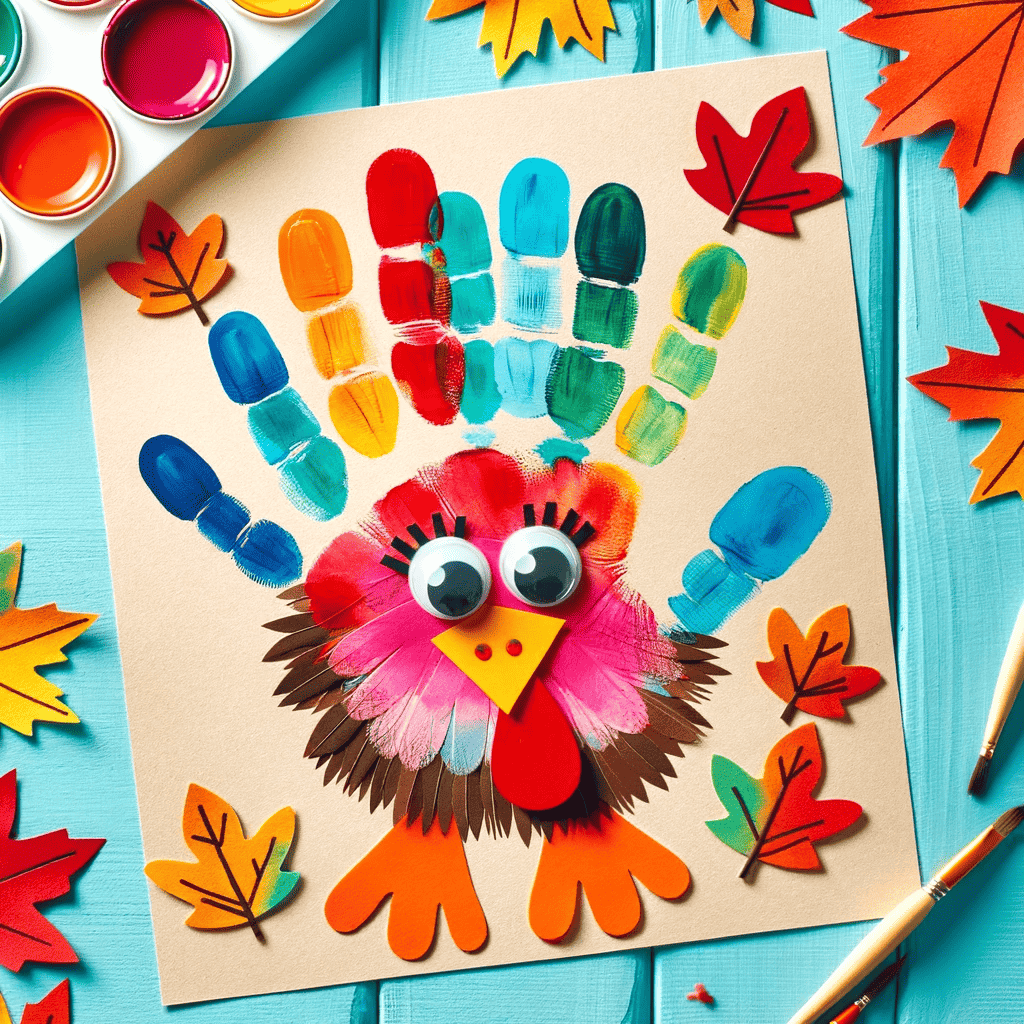 Materials: Paper, paint, markers, googly eyes.
Steps:

Paint your child's hand with fall colors and press onto paper to make a turkey shape.
Once dry, add googly eyes and draw a beak and feet.
Decorate the turkey feathers using markers or tissue paper.
This fun Thanksgiving craft is perfect for young children and a great activity for the big day.
Traditional Thanksgiving Crafts
Pinecone Turkeys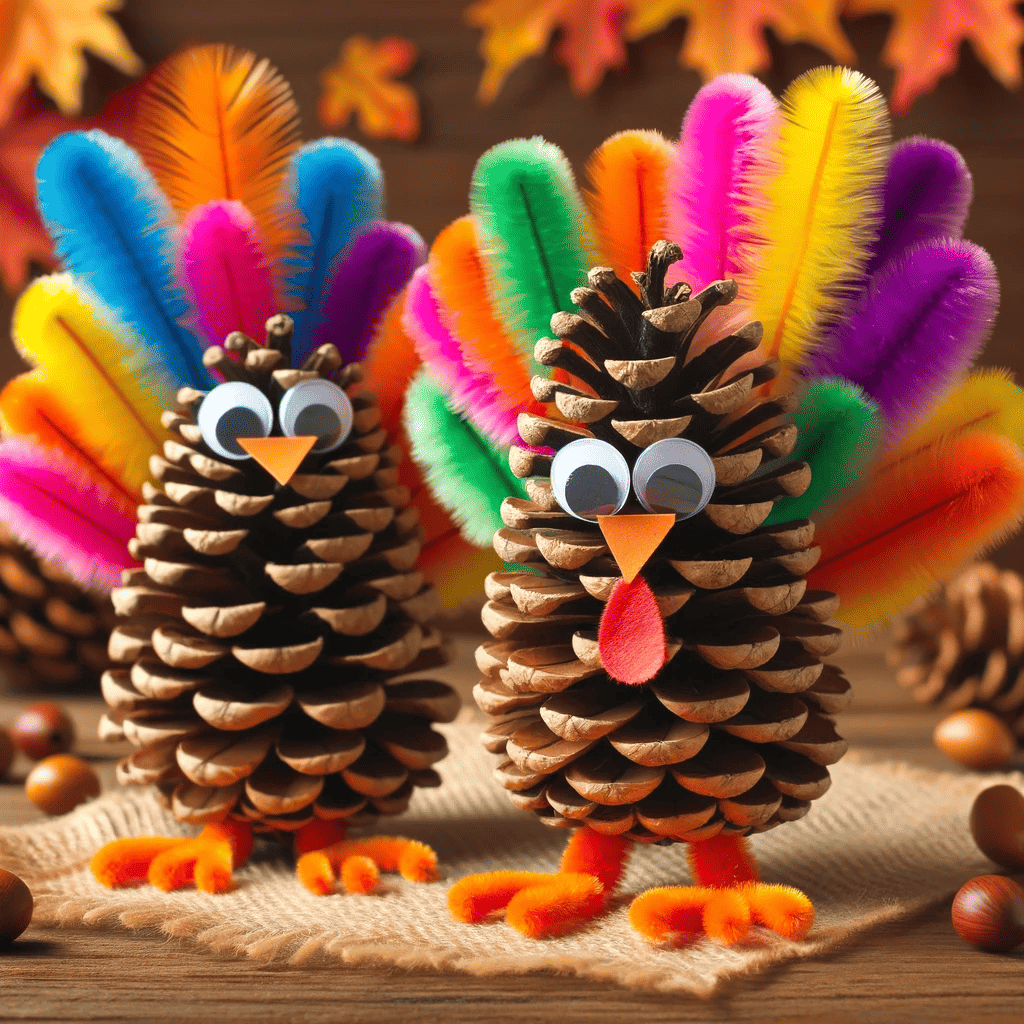 Materials: Pinecones, pipe cleaners, googly eyes, feathers, glue.
Steps:

Find pinecones on a nature walk.
Use pipe cleaners for the turkey's legs and neck.
Glue googly eyes and a small red feather for the head.
Insert colored feathers at the back of the pinecone for the tail.
These pinecone turkeys are a traditional craft and make adorable decorations for your Thanksgiving dinner table.
So there you have list of November craft ideas suitable for kids of all ages. From hand turkeys and thankful banners to pumpkin pie garlands and festive turkey headbands, these crafts are perfect for young kids and older children alike.
Using simple materials, often found at craft stores or around the house like popsicle sticks, coffee filters, and bubble wrap, each craft project becomes a delightful activity. These easy crafts not only add to the
Thanksgiving festivities but also create wonderful memories. So, grab your glue, scissors, and a little imagination, and enjoy this beautiful fall season with some creative and fun Thanksgiving crafting!
Was this helpful?
Good job! Please give your positive feedback
How could we improve this post? Please Help us.