To start bullet journaling, you need to have at last some basic bullet journal supplies.
You don't have to purchase branded supplies or buy the most expensive ones because you only need to use the right things based on your needs.
This article will help those, especially beginners, choose the best bullet journal supplies to help create beautiful journals to keep track of activities, budgeting, plans, etc.
There are several tips from professional journaling artists to select the most suitable tools for your journaling activities.
What Supplies Do You Need to Start a Bullet Journal
To begin with, you have to understand that supplies in bullet journaling come in various types and different sizes. For sure, you don't need to have them all.
Not only will they cost you a lot of money, but you will also end up buying things that you don't use if you insist on having too many supplies.
Some people love to collect art supplies hoping that once they need them, they can use them. However, you also have to keep in mind that some supplies can dry out, defect, or be damaged if you keep them for too long.
Related : Bullet journal for kids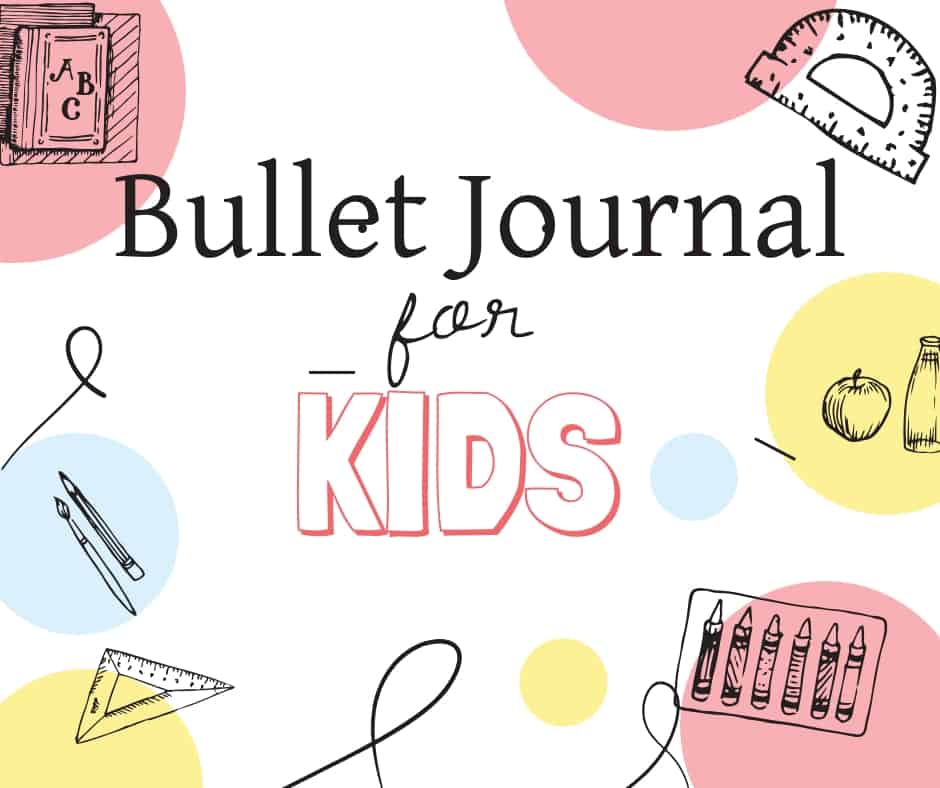 Therefore, it is best to create a list of supplies based on your journaling concept and writing style. To make your own bullet journal, you need to understand your own journaling preferences firstly.
The three basic supplies for bullet journaling consist of journaling media, writing media, and decorative media. Here are some illustrations for you.
If you feel more comfortable writing on a lined notebook, you do not buy the dotted journal or plain journal.
If your handwriting style is cursive, choose fineliner pens, brush pens, a Stabilo point, or a pointed nib fountain pen.
Never choose broad nib pens because those pens are usually for black lettering, gothic fonts, or Victorian lettering style.
In addition, to beautify your journals, you also need decorative elements. As bullet journal beginners, you also need to state your preferences.
If you like a clean journal, all you need is a pen set, like gel pens or sharpie pens.
However, you can decorate your planners with different washi tapes, patterned papers, and even dried flowers to make your design look cute or elegant.
Some pro artists also use ink stamps, candle wax stamps, sticky notes, and other ornaments like movie, sport, or concert tickets, a piece of a brochure, tissue papers, etc.
Related : Bullet journal ideas for students
I personally recommend you set your preferences by understanding your journaling and writing styles.
If you haven't decided, try to find some bullet journalists as role models.
You can search from Instagram or Pinterest for some best examples of bullet journaling and use them as references. Then, create a wish list of some best supplies that you need to visualize your own bullet journal.
Bullet Journal Supplies for Beginners
As bullet journal beginners, I can understand if you get confused about which supplies to buy first. Always keep in mind the three basic supplies mentioned earlier.
To simplify things, you only need a notebook, stickers, and several pens to start journaling. Still, choosing the right notebook, stickers, and pens can be daunting.
In this section, I will give more descriptions of these basic necessities so that you can find an easy way to start your first journal.
1. Notebook
The first art supply you need to prepare is your notebook. Notebooks are classified based on their covers, sizes, and papers.
Notebook cover
A leather cover, a hardcover, and a softcover journal are the options for the book covers. They have their advantages and disadvantages.
A leather cover is the best choice in journaling. It looks more classy and elegant.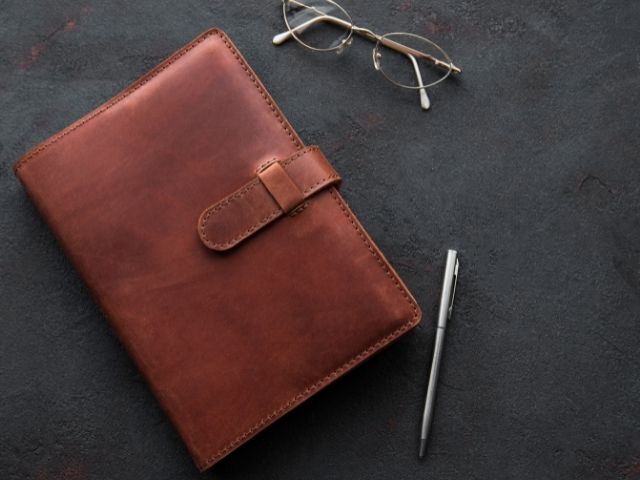 The leather cover comes with so many designs, such as buttoned, belted, and tied. Some are refillable, but some are not.
Usually, this kind of notebook is more expensive than the other types of a notebook. However, if you also want to keep your journal for a long-time collection, it is absolutely worth buying.
The only downside of a leather cover is it is hard to maintain. You need to frequently clean it by wiping it with special leather liquid.
Otherwise, mold can quickly appear and ruin the appearance of your beautiful journal.
Moreover, if you live or travel in a humid tropical place and the leather is the genuine one, mold can come within days.
A hardcover and a softcover notebook are also popular. Both of the cover types are great choices if you choose a modern style of journaling.
Some cover comes with a pen loop, while some others don't.
Some people love to have a plain cover journal to treat as a canvas to draw or write something.
On the other hand, many prefer a printed cover as they don't need to personalize it.
Binder clips can give so much flexibility to the owner. This kind of notebook can be torn or fill up quickly.
The sizes of journaling notebooks usually come in B5 (the biggest), regular, A5, B6, A6, pocket, passport, and card book (the most petite) sizes. Choose the size based on your purpose.
If you love traveling and usually journal during your trip, choose a traveler's notebook that generally comes in regular, A6, or B6 sizes. Be wise in selecting a different notebook depending on your purpose.
For a more practical reason, you can refill traveler's notebook. It enables the holder to put extra bundle once they run out of paper without buying a new book.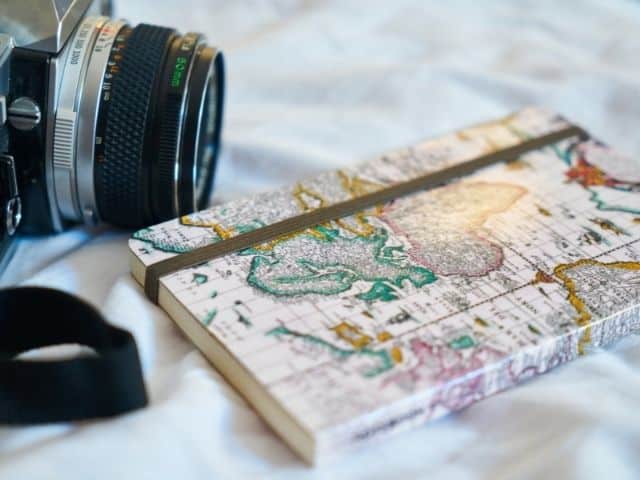 Bullet journal supplies : Paper types
Next, if we are talking about the papers, the choices are endless depending on your purpose and the paper quality.
There are blank pages for those with a high sense of creativity. This option is one of the best ways for those who love decorating their planners.
There are also a line, grid, and dot grid journal.
The line and grid notebook are for those who demand neatness in writing.
People need the line and grid to ensure that their handwriting is neat and whatever they put as decoration will be aligned well.
On the other hand, the dot journal is for someone who loves flexibility and limitless creativity but stresses preciseness at the same time.
The dots on the paper will help them navigate everything on the paper.
Notebook papers also come in different grammages or weights. The more the grammage is, the thicker the paper is.
Papers are also grouped based on how they are made: hot pressed and cold pressed papers.
Hot pressed papers are smoother, which is suitable for writing.
The paper won't get easily damaged when using a good eraser to erase the sketch with a mechanical pencil.
On the other hand, the cold-pressed paper has a rougher surface that can trap liquid from ink or watercolor.
Suppose you use pigment like Winsor & Newton calligraphy ink, Sharpie pens, or Tombow dual brush pens. In that case, the color stays better, for it absorbs better.
Regardless of the cover, weight, and quality, notebooks come in beautiful colors. Choose one that describes your personality because your journal tells a lot about you.
Lastly, you can also purchase readily available journal inserts or spreads if you are lazy to prepare your journal pages.
The first kind of spread is the monthly calendar. The calendar is usually one page per month, consisting of a table where you write your monthly plan in general.
Next, weekly and daily spreads can break down your general plan into more detailed plans. The only thing to do is to write your projects, and you are done.
Related : Bullet journal spread ideas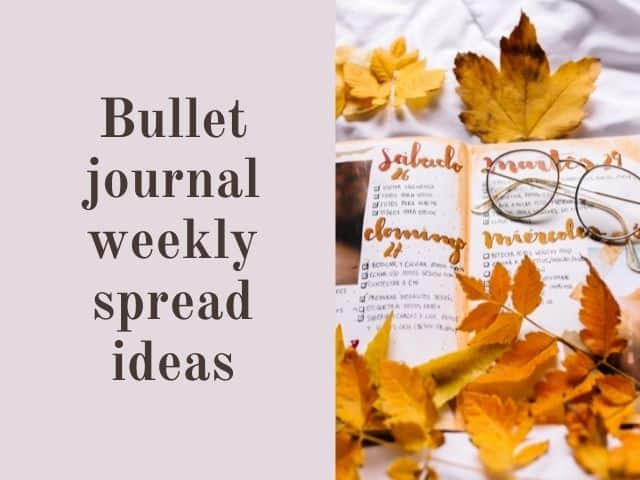 The essential thing in choosing a notebook for bujo is the archival quality. Because you need a lot of effort to start journaling and be consistent in doing it, you need a long-lasting book.
2. Stickers
I bet everyone agrees that the best part of bullet journaling is decorating.
When we discuss bullet journal decoration elements, the easy way to do it is by adding stickers.
There are many kinds of stickers sold online and offline. You only need to match the picture with the theme of your journal.
Having floral-themed stickers is a great option because flowers, plants, and leaves are highly demanded among bullet journalists.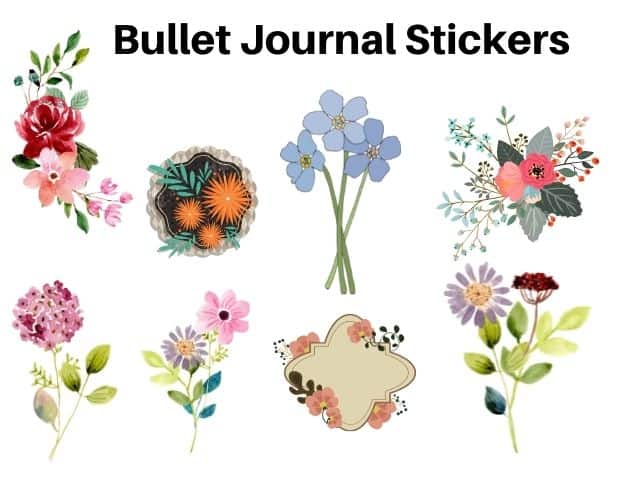 Other themes like people, animals, emojis, and famous places or landmarks, are also good choices to buy.
You can also make your DIY sticker.
How to make DIY stickers and make them part of your bullet journal supplies:
First, you can choose online pictures and print them on sticker paper. Second, you can also digitally and manually draw your stickers yourself.
You can watch tutorial videos available on YouTube to create your own bullet journal stickers for references.
Other stickers that are commonly used in journaling are bullet stickers.
They usually come in basic shapes like circles, triangles, or rectangles with various colors, from pastel colors to vibrant colors.
Like the name, this kind of planner stickers is used to create bullets or numberings. The stickers will enable you to create a better to-do list or create numbered pages.
3. Pens
Pens are my favorite supplies because different pens can make a huge difference in your planner's total look. I usually buy several pens to express my creative outlet.
The best pens to buy are black pens.
Buy black pens from various sizes and types to help you set up your daily activities, monthly spreads, and yearly planner.
Many bullet journal artists use fineliner pens, for example, Staedler Triplus fineliners or Sakura Pigma Micron size 0.05 to 0.5, for most of their writing.
The fine tip will make your planner look sleek and neat.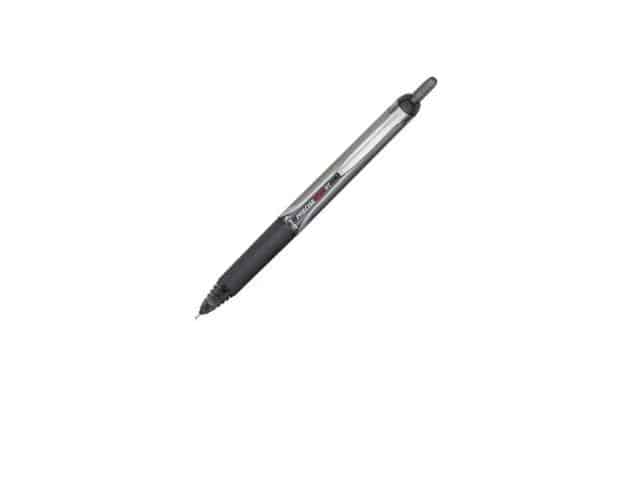 For the titles, like the name of the days or month, bullet journal artists usually combine fineliners and medium-sized pens in their designs.
The purpose is to give a highlight on your planner, you can use colorful pens.
Many people love Zebra mildliners as it comes with both brush and hard tip in one pen.
The hard tip is perfect for creating straight lines, while the brush pen is perfect for cursive and modern lettering.
Many planners' favorite brush pen is Tombow dual brush pens because the nib is soft, making the cursive letters more stand out.
Another great option of fun colors is Pilot Frixion pens.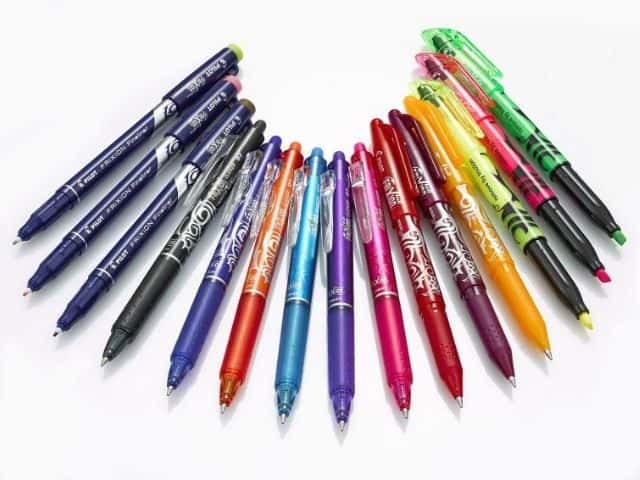 It comes in a set of gel pens with various types to choose from, like ball tips, slim models, clickers, fine tips, and medium tips.
A pro tip for bullet journal beginners is always creating your personally-made color-coding because remembering various brands' color codes or numbers is difficult.
By doing so, you can better memorize your favorite colors of the popular markers like Posca or Copic.
Seeing the pen tips, some artists love to choose the hard tip because it is easier to control. Meanwhile, some others prefer the soft tip for its flexibility to use.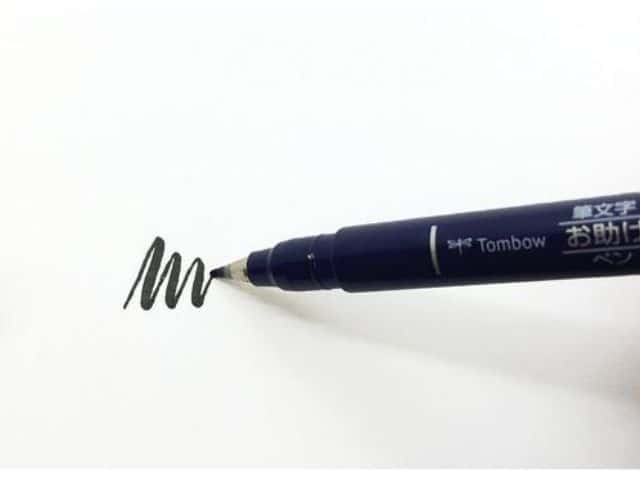 An even better idea is when you use some black paper for journaling, either for the inserts or as a black cover. This way, you can use white ink gell pens or glitter pens for a readability purpose.
To give a little bit of bold design, add some gothic letters or black-lettering using broad nibs or parallel pens.
A classic planner's favorite pen is a fountain pen. A fountain pen is a traditional tool for journaling consisting of two parts, a pen holder and a selection of nibs.
You need to dip this kind of pen into ink—it can be black or colorful inks to start writing.
Cheap Bullet Journal Supplies
After talking about the three most essential tools in bullet journaling, we will move to some recommendations to provide cheap supplies.
You don't have to purchase all bujo supplies to start journaling. Some of the best things are sometimes creating your art supplies.
You can make your DIY notebook by using many different techniques, including stitching and binding.
Use fabrics, ribbons, or papers to laminate the cover and make it beautiful.
You can even make a fountain pen yourself.
You can make the pen holder from bamboo or wood and the nib from soda cans.
Countless tutorials are available online.
You can also use used papers from magazines or brochures as decorative elements.
The idea is, bullet journaling is not an expensive activity if you know the trick and want to work a little bit harder.
This way, you can start journaling without extra cost.
Bullet Journal Accessories
Apart from the three bujo tools mentioned earlier, there are other important things that you need to create beautiful spreads for journaling.
They include rulers, stencils, erasers, scissors, paper clips, a cutter, a pencil case, a correction tape, and a rotary.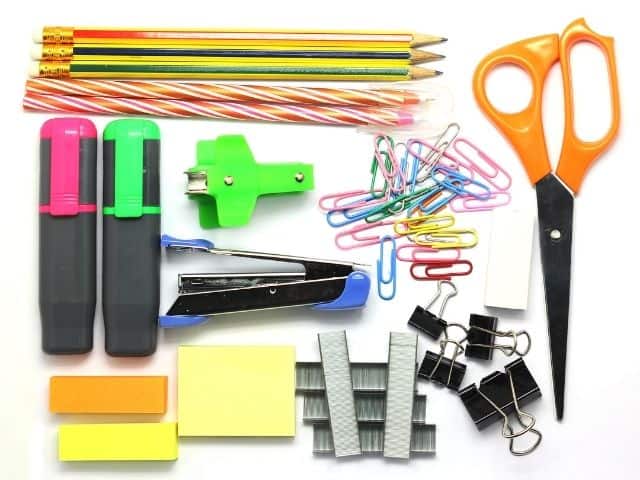 Remember, you don't have to purchase everything. Select the ones that you need to save space and budget.
For your information, bullet journal stencils will be helpful for planners who are in favor of practicality, especially in design.
However, some planners highly pursue authenticity, which makes them value originality.
Another example is some planners feel enough about cutting things with scissors.
Meanwhile, some others may use different kinds of cutters, including sophisticated die-cut machines.
Always start by choosing the ones based on your needs and preferences because buying all of the supplies is not a wise option to take.
With some creativity, you can even use your little buddies Crayola markers for bujo.
Art Bullet Journal Supplies
Taking bullet journaling to the next level, some planners consider their activities as a creative process. It means that their journal is not only a planner but also an art.
To get into this level, you need to work extra. Therefore, some additional supplies are required to transform your notebook into a piece of art.
There are so many ideas that pro-bujo artists offer.
The options are endless, from the elegant dried flower touch to the eccentric and eclectic decoration from threads or wires.
For planners who love painting or sketching, they will give illustrations on every page or the side of the page they write.
Some studies show that visualizing your dreams or plans will help you realize them.
Based on this premise, some pro planners decorate their notebooks with colorful drawings to trigger their brains to act upon the written goals.
This kind of artistic bujo can be kept for a long time as beautiful memorabilia as a reminder for our future selves about our dreams and visions.
Since you have dedicated a lot of time to creating your bullet journals, they are not meant to be thrown away.
Best Online Places to Buy Bullet Journal Supplies
If this is your first bullet journal, it is highly recommended for you to find a bullet journal community in your region.
You can find helpful information from the member, primarily related to what bullet journal supplies to purchase and where to get them.
Many online marketplaces provide countless bujo supplies.
However, the best place to find them is not through the online market.
Reading bujo artists' blogs is the best thing to do as initial research, especially when you are still new in this field.
Some artists or blogs give you references of the best supplies with their helpful reviews.
Related : Bullet journal spread ideas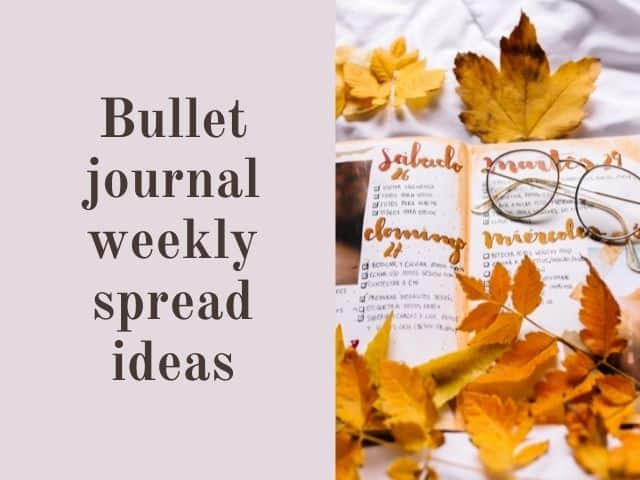 Some artists also join an Amazon associate program.
They use specific products from Amazon and provide honest reviews of the products.
Then, they write a post or make a video, along with affiliate links on where to purchase them.
Apart from blog posts, artists' social media like Instagram can give you much information about the best supplies for journaling. Usually, the brands will provide them with a small commission for promoting their products.
All you have to do is finding the artists that you like.
It can be from their journaling styles or based on their popularity on the internet.
After you find your favorite journals, follow their post and learn from their recommendations, including the art supplies they use.
The popularity of bullet journaling has increased.
There are so many new things, techniques, and supplies used in journaling.
As bullet journal beginners, you need to update yourself with helpful information to help you create your desirable journals.
Learning about bujo is not a single-day process. Therefore, in this large area of ideas and creativity, choose one that becomes your distinctive style and start your journaling passionately.
Before you go don't forget to get the Personalised Growth mindset kit for children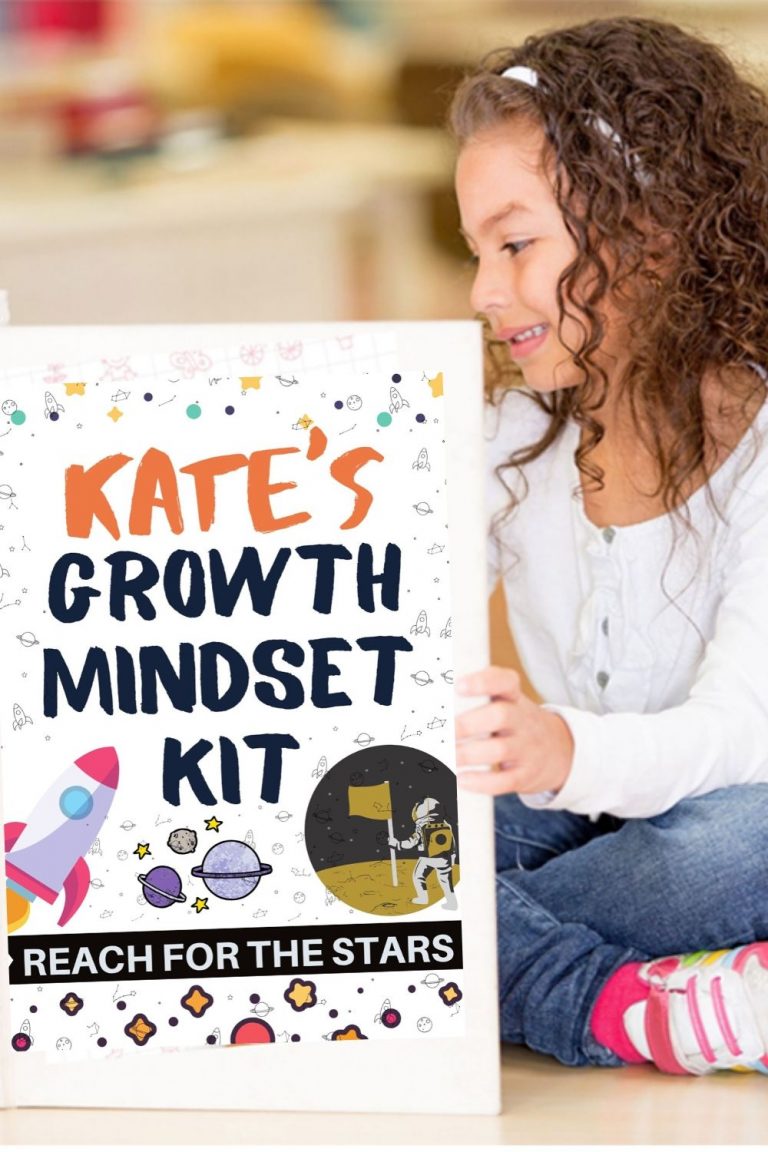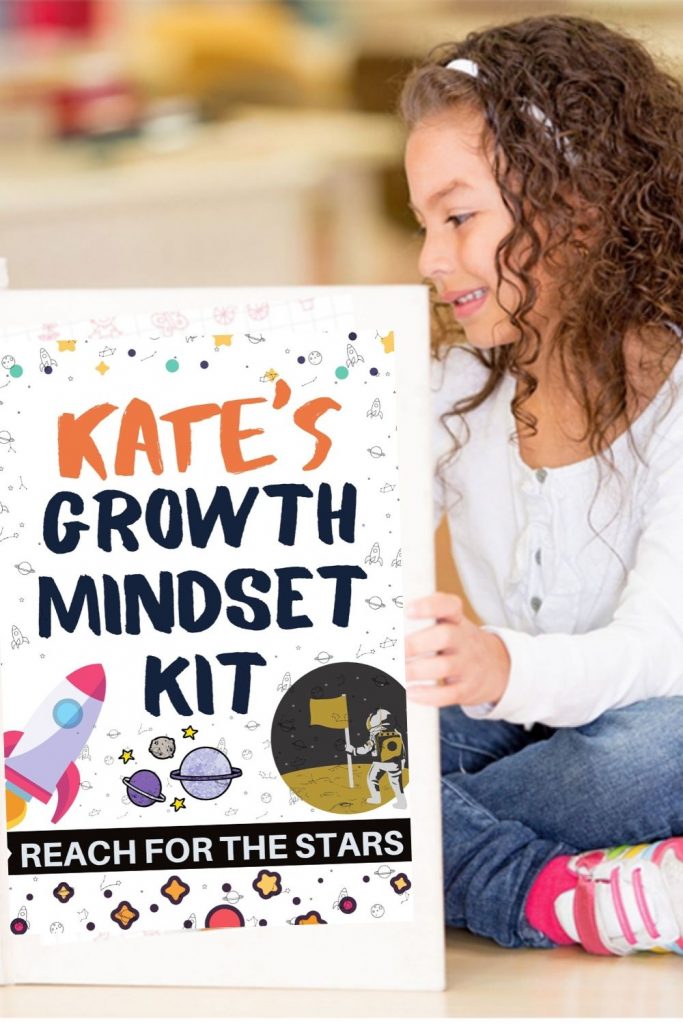 Was this helpful?
Good job! Please give your positive feedback
How could we improve this post? Please Help us.