Do you start bullet journaling? Do you need simple bullet journal layouts ideas that are best suited to your style and personality?
These elegant yet straightforward bullet journal layouts can be the best option for you. You can find many ideas that make your bullet journals look fancy but neat and easy to follow.
It is essential to keep your bullet journals neat and readable. Too many decorations and colors will distract your eyes and make your journals look crowded.
Crowded and overwhelming designs overshadow the focal point of your bullet journals—the contents, and you will end up focusing more on the designs, not the contents.
Below are a few ways to organize your bullet journal:
As a planner—to organize your plans, goals, and activities.
As a brain dump—to share your thoughts and express your feelings.
As a healing method—to keep you engaged in activities that can help your brain, mind, and soul focus. Attaining peace is very crucial to maintaining your mental health.
In this article, you will find some great ideas to make your monthly spread, daily log, and other important things on your bujo spread simple. Don't worry, since we always try to give you the easy way to create your minimalist spreads.
There are also examples from high-profile bullet journalists that you can use as inspiration.
How Do I Layout My Bullet Journal?
The first step is always the hardest because you may get confused about writing or putting on your blank page. However, it is always a great idea to start thinking about your bullet journal system.
1. Bullet Journal System:
A bullet journal system is how you arrange your journals. Then, you follow the same pattern for the whole year throughout your bullet journal notebook.
The system can cover some of (but not limited to) the following list:
Monthly spread
Your monthly spreads consist of short-term monthly plans, goals, special events, or activities. Generally, you can set up a two-page monthly calendar, consisting of each date of the month in a box with some space to write down your plans.
To save up space, you usually write in it in the form of bullets. Your plans or activities are not written in a detailed manner but in a general way.
Your weekly spread has seven days of the week where you can put more detailed plans or activities for each day. You elaborate on the things you've written on the monthly spread.
However, you can also add up some other things, including your weekly shopping list, cooking plans, meal planning, workout plans, weekly chores, events, etc.
Daily spread
The daily pages are where your specific daily tasks are written. You can write your to-do list, appointments, mood, and weather.
You can also record what you have done during the day and use it as a reflection. If you experience great things or even bad ones, you can also use your daily spread as your 'brain dump' to release all of your feelings and emotions.
Future Log
The future log consists of dreams or visions you want to realize in the future, and this is where your long-term plans are written.
Usually, you can set up your future log on the last section of your bullet journal notebook. You will add up your plans for next year on this log.
Collection Pages
You can write about almost anything you are interested in on the collection pages, starting from recipes you have tried, movies you wish to watch, and songs you repeatedly play.
You can also add a little quote that moves you, favorite biblical verses you strongly believe, and many more in the collection pages of your bullet journal.
The best thing to manage your collection pages is by arranging them based on the category.
2. Bullet Journal Method
The next thing to consider is your bullet journal method. This method will help you to do journaling more effectively and efficiently.
Here are some bullet journal methods you can adopt for your simple bullet journal layouts:
Bullet Journal Key
The key consists of symbols you use to save up your writing time. You can create your own symbols to indicate priority, the status of your activities, appointment, weather, moods, etc.
If you use a bullet journal key, your journal can also look cleaner and neater. The key can also help you to locate activities more quickly.
Index Pages
Index pages in bullet journaling share the same function as book indexes, and you just write items and the pages where you can find them.
One of the reasons why index pages are essential is that they can quickly help you locate specific tasks or activities.
Writing on your bullet journal index pages is a continuous activity as you keep updating your bullet journal notebook.
After you create your bullet journal system and bullet journal method, now you can start setting up your bullet journal spreads and filling them up. You can also decorate them by using the best bullet journal supplies.
More minimalist bullet journal ideas can be found in the following sub-headings, including setting up the logs and writing in each of the spreads you decided on earlier.
Related : Bullet journal weekly spread ideas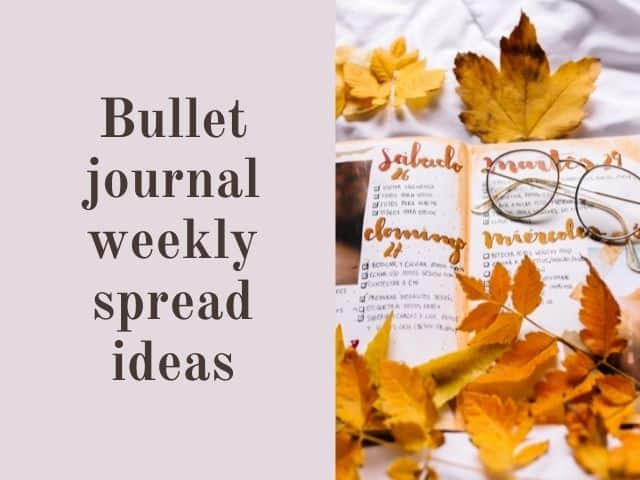 Simple Bullet Journal Layouts
Creating your bullet journal can be a therapeutic activity after you are busy with all the hustles and bustles of your daytime activities.
First of all, you have to be aware of all the little things that happen in your life and start to write a reflection of your day in your notebook. Then you can create short-term, medium-term, and long-term goals and write them all as a reminder.
You may not know how useful it is until you create your first bullet journal. You will find yourself to be a more organized person, and it will help you be stress-free.
Moreover, creating the journal itself can also be a fun activity for relaxation. You play with colors and decorations and finally share all your dreams, plans, feelings, etc.
In this section, let's try to create minimalist bullet journal layouts.
1. Lines
The kinds of lines you draw to create your log will make the overall look of your minimalist bullet journal layouts. Here are several types of lines that are suitable for your minimalist approach:
Straight line
Dotted line
Dash-dotted line
Dash line
Wavy line
Zig-zag line
Swirly line
Decorative lines
Each of those lines gives a different look and personality to your minimalist look. For example, straight horizontal lines will provide a sense of straightforwardness and boldness.
On the other hand, wavy or swirly lines give your simple bullet journal set up a more feminine touch. All you have to do is match the lines with your character and the theme you want to bring up in your bullet journal notebook.
2. Colors
Simple bullet journal layouts are usually made out of monochromatic colors from a grey or black pen. However, a mixture of two to four colors will also be great.
If you love colors, you can choose pastel or soft colors or pops of colors. Just keep in mind that you don't put every color you have on a single page.
Carefully select your colors will keep your journal sticks on minimalist pages.
3. Materials
One of the most basic yet the best bullet journal supplies is a black pen.
The black pen is a must-have to create easy designs. You can use it to create logs or spread, write the journal, or decorate it.
Purchase several different sizes of pens—a fine liner, medium liner, and thick one. This is how you can emphasize the essential elements of the journal: the title, the content, the decoration.
Several other supplies can be used to beautify your journal. For example, you can use colorful markers or crayons to write your bullet journal key. You can make each color represent a specific event or status.
Adding stickers are also a fun way to make your design stands out. A washi tape is also a great way to elaborate your spread.
Choose stickers or a washi tape that matches the theme. The key is never to overuse them to create simple bullet journal layouts.
4. Themes
If you have a new bullet journal, you can write your monthly spreads in several different ways. We call it themes.
Each theme represents a particular month. It means that for the whole month, you are going to use the theme to create your monthly log, monthly goals, or monthly task list.
Matching the theme with specific events in a particular month is also a good idea. For example, you can have a Valentine's Day theme for February, a Halloween theme for October, and a summer theme for June.
You can also create your own theme, for example, a BTS theme if you are a fan of the band, a cupcake and candy theme if you love sweets, or a vegetable theme if you are a vegan.
Choose some easy designs that you can set up your journal quickly.
A particular theme for each month will make your planner looks neater and more organized. You don't have to do everything at the beginning of your journal setup.
Add more drawing and decoration depending on your own needs.
Related : Bullet journal doodles
Simple Bullet Journal Monthly Spread
In this particular topic, you will find the guide to create your monthly spread. To begin with, let's make your monthly log—where all the important information of the month is written.
You can either create a small calendar at the top, followed by your monthly log, or a two-page monthly log with bigger boxes in which you can write all the details. Write the date clear enough for you to read.
Next, use your best hand-lettering skills to write down the month on the top of the page. You can use your black pen or colored pen—depending on your style and theme.
After the basic monthly log is ready, decorate on both the left page and the right page.
Then, prepare the other monthly plans, such as your saving tracker, mood tracker, habit tracker, etc.
Related : Bullet journal for students
There are some excellent habit tracker ideas. You can either create symbols or create a separate one-page habit tracker to write on the main monthly log indicating whether good habits are made daily.
You can also have habit tracker stickers—something like dotted stickers with different pops of color. Reward yourself with the sticker if you can make one good habit as you plan.
Apart from your basic setups like your monthly log and monthly tracker, it is also a great place to put your collection pages. Start with a monthly book collection—what to read in one month, followed by your movie collection—what to watch in one month.
Suppose you still have much space on the collection pages. In that case, you can also glue some movie tickets and other things as decorative elements.
Simple Bullet Journal Weekly Spread
To create a beautiful weekly spread, you need to know the basic principles of doing rapid logging.
Rapid logging is an essential part of bullet journaling. This is how you write and organize your plans, to-do lists, events, etc.
As stated earlier, you need to create certain symbols to help you organize your bujo. For example, the most common symbols used in bullet journalist are: dots (Ÿ) to indicate actions to be done (to-do list), dashes (-) to suggest things to remember (notes), and circles (¡) to show special events in your life that you won't miss (events).
Related : journal prompts for kids
Then, you can also use a particular symbol—like a star (*)—to indicate priorities. By having those symbols, you can locate different tasks quickly.
Whatever tasks you write on your daily layout or your weekly layout, there must be some that haven't been completed. This way, you have to consider whether you still have to perform the task in the next week or month.
This is what is called a migration of a task. When a task is migrated, you can provide another symbol (for example (>)) to indicate that you have moved the task to the following week or month.
To make minimalist bullet journal pages, make sure you follow the rules and system you've created earlier. Also, you have to be sure that your system is simple and easy to repeat so that your journaling activity won't take so much time.
For example, for any unfinished task, cross it out by using your black pen. Then, decide whether or not you still need to do the job.
Because you need to record every page on the index page, be sure that you write your page number. A simple way to do it is by putting the page number on the central bottom of the page.
If you follow your system well, you will be able to do journaling continuously, even if you only have a little time. The only thing to consider, yet the best way to create simple bullet journal layouts, is to do the activity stress-free.
If the primary purpose of journaling is to help you organize your life, making your journaling activity a complicated task is not worth your time and efforts.
If you can make a simple bullet journal setup, why don't you make the complicated one?
Related : Bullet journal mood tracker
Simple Bullet Journal Ideas
The best minimalist bullet journal ideas can be found on Ryder Carroll's social media and blogs. Many bullet journalists look upon him as the father of bullet journaling.
Ryder Carroll is famous for his simple bullet journal layouts. Use his idea as the foundation of journaling, then you can elaborate spread based on your own need.
On Ryder Carroll's blog post, you can find the whole things you need to know to start journaling, from your very first page to the last one.
You can find affiliate links on his social media to purchase his phenomenal products, including the famous Ryder Carroll's bullet journal book.
Minimalist Bullet Journal Setup and Ideas
Apart from Ryder Carroll, there are tons of other bullet journal artists on the internet. In this section, we will give you many best minimalist bullet journal spreads.
Straightforward
Because we are talking about a simple layout, a minimalist log with slight decoration is the key.
Color Set
To have simple bullet journal layouts, you don't have to always write with your black ink. Using a few shades of colors can be a great start to write on your new pages.
Maintain the Elegance
You can still use decorative materials for your minimalist bullet journal. However, always try to make your pages look classy.
Never overuse decorative materials or stamps. Let the content stands out.
Be Monochromatic
Use your black ink for everything—writing title, making logs, filling your journal, and even decoration—and that's it.
Ready to Use Journal Notebook
Only do this when you are so into journaling, but you don't have much time to setup. There are plenty of ready-to-use notebooks or printable spreads on the internet.
Don't hesitate to try them, for it doesn't lessen your journaling purposes. Once you have more time, you can craft every blank page of your journal yourself.
Here are some of the best minimalist bullet journal spreads for your simple bullet journal layouts. Don't forget to document your bujo journey on your social media accounts to inspire more and more people to do journaling.