If you are looking for the best way to organize, keep track of your habits and improve productivity while being creative then try out the following bullet journal weekly spread ideas.
Weeklies are journaled pages that includes an ongoing task log, to-do lists, notes, weekly trackers, and everything else to make your week more organized.
If you are thinking about starting a weekly spread, but a little bit confused about which weekly log will be best for you then, here are some bullet journal weekly spread ideas to help you get started.
What is a bullet journal weekly spread?
Bullet journal weekly spread encourages you to plan your goals and plans for the week ahead.
Before starting the week, you can draw up the layout for the upcoming week and add daily tasks for the next seven days.
You can lay out the entire week, or every day of the week, or both, according to your needs.
Many people still find the weekly bullet journal spread beneficial, even if, they are a fan of a daily journal spread.
Related : Bullet journal notebook for kids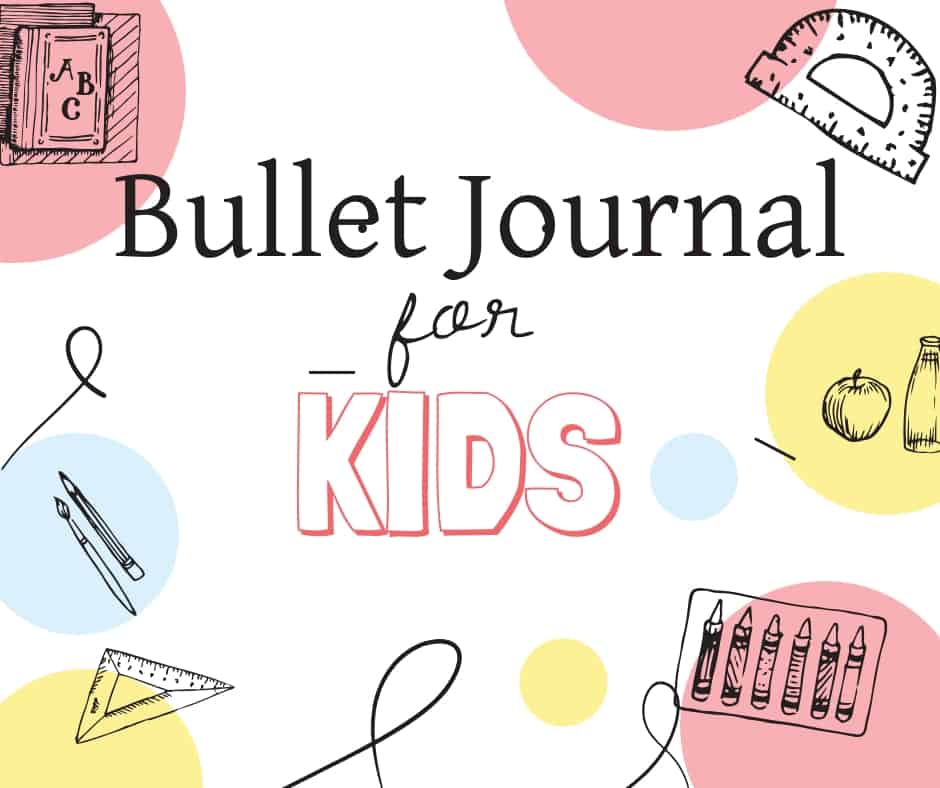 There are endless ways to set up weekly goals, which rely on your personal preferences and how much you have to log in. This will change all year round and it depends on your schedule and goals throughout the year.
What goes in a bullet journal weekly spread?
Typically, all the days of the week are included in a weekly spread.
Since you create your pages, these pages will be personalised for you.
You can add items and planning tools as much as you want. Make it simple and clean if you want a minimalistic journal spread.
Below are some things you can include into a bullet journal weekly spread:
To-Do List
Notes
Weekly Tasks
Meal Tracker
Mood Tracker
Reminders
Energy level
Water Intake
Appreciation Log
Affirmations
Upcoming Birthdays
It basically includes all the things that you need to achieve your goals for the week.
Related : The awesome adventure journal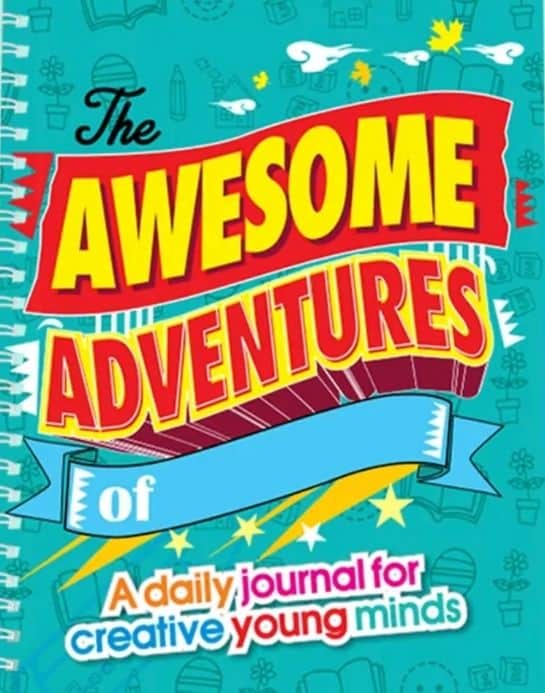 What is a weekly Bujo spread?
An organizing thread that lets you keep track of everything in your busy life is known as bullet journal or BUJO.
Just like the monthly spread gives you an overview of the month ahead and your weekly spreads give you an overview of your week ahead but in a little more detail.
A monthly spread will show you your next month's activities. In a weekly spread you'll get a rundown of your upcoming week from your weekly streams.
Using a bullet journal weekly spread you can record the tasks you have completed, the tasks that you still have to complete, and what tasks you would like to change or cancel.
Check out Personalised Growth mindset kit for children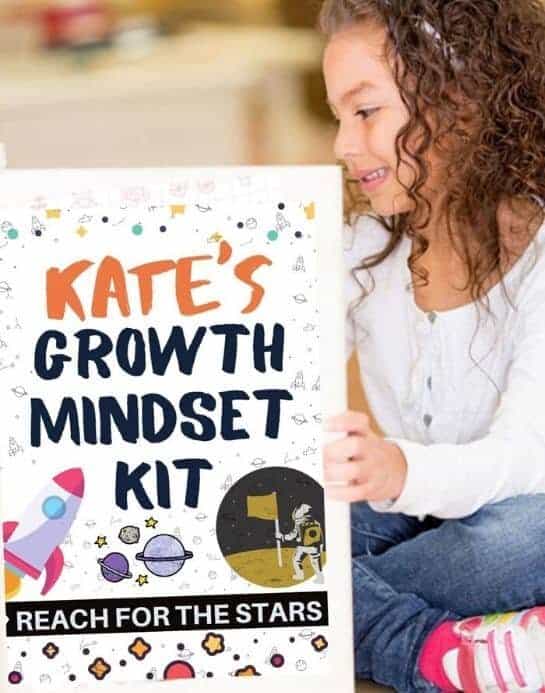 How do I plan my weekly bullet journal?
The most exciting thing about creating a weekly bullet journal is the idea generation part.
You can take a lot of artistic freedoms, try new designs and disperse ideas, or if you're in a rush, keep things as basic as you can.
The thing that matters the most about your weekly schedule is that every week you keep up with it.
Here, I am going to show you some bullet journal weekly spread ideas. But before that below are some points to remember:
Your weekly schedule basically means that you create it every week
You divide each page into 3 parts, one for every day of the week and one for the weekend with a horizontal layout.
Perhaps adding your work schedule would be beneficial
The basic elements of a weekly spread is that you should be able to easily monitor your to-do list.
You can add a box for every day of the week with dates if you want a quick tracker.
Write the list and appointments on your to-do colomn. As you complete them, mark them off.
Notes, quotes, or other forms of habit trackers can be added to any extra space. Mix and match to fit your schedule. You can make them as workable as you want.
Doodle in the frontiers to add additional graphics to make it more exciting.
Now, let's go through different types of bullet journal weekly spread ideas:
Minimalist bullet journal weekly spread ideas:
A minimalist bullet journal will usually have the following pages:
Bullet Journal Key.
Cover Page.
Future Log.
List of monthly inspirations cover.
Spreads inspiration every month.
Bullet journal spreads weekly inspiration.
Daily task.
Finances.
How to arrange bullet journal notebooks?
Firstly, purchase a blank notebook. It can be lined or unlined whatever you prefer. Then include some of the bullet points below :
Number all the pages of the notebook.
Index on first 2 pages.
Future Log on next 2 pages.
Monthly Log on next pages.
Begin Daily Log entries after monthly log on the next blank page
Don't bleed or trigger 160 GSM paper fantasies. You can experiment with the colors and even with the thickness of pages.
What is the best pencil for drafting a bullet journal?
Use 0.3mm pencil to predetermine your minimalist spread.
Do I need a brass ruler for creating a bullet journal?
For precise straight lines, a ruler is essential. Especially if incredible minimalist spreads are created.
Bullet journal weekly spread ideas minimalist with Printable Stickers
via journal spiration on Instagram
If you want to start a bullet journal, you can try a minimalist theme.
A minimalist theme is suitable for people with minimalist lifestyles as well as limited drawing skills and busy schedules.
You need to start your own minimalist Journal from the beginning to the end. It doesn't have to be difficult to start or maintain a bullet journal.
You just need a painted notebook, a black pen, and some ideas of things you would like to keep track off.
The bullet journal's original purpose is to improve efficiency and organizational activities.
Spend time and be imaginative with your monthly and weekly streams in your minimalist bullet journal. The first couple of pages are all about getting the bullet journal up and running.
Bullet journal weekly spread ideas for students
Open your notebook, look at your the timetable and get back to what you were doing before if you want to find out what you would like to include in your bullet journal.
Bujo encourages you to take notes quicker and keep it all together.
Here are some things to include in your bullet journal weekly spread for students:
Hand in dates
Contact details for tutors and group members
Class timetable
Important dates such as semester start/end, reading weeks, hand-ins, etc
Grade tracker
Budget
Daily logs
Vocab list
The financial details of the students
passwords
Study tips
Study time tracker
Study topics tracker
Mental health tracker
Exam calendar
Reading list
Brain dump
Topics to research list
Meal planning
Assignment progress tracker
Better habits
Feedback tracker
'When exams are over' list
Sticky notes
Masha plans
Back to the school to-do list
Packing list for college
Attendance tracker
One page bullet journal weekly spread ideas:
Use the weekly spread to track upcoming activities and events, so you plan ahead for the whole week.
You can also have a one-page spread where you can write or update your to-do lists regularly and block certain days of the week if you're busy on that day
Here are some One-page bullet journal weekly spread ideas: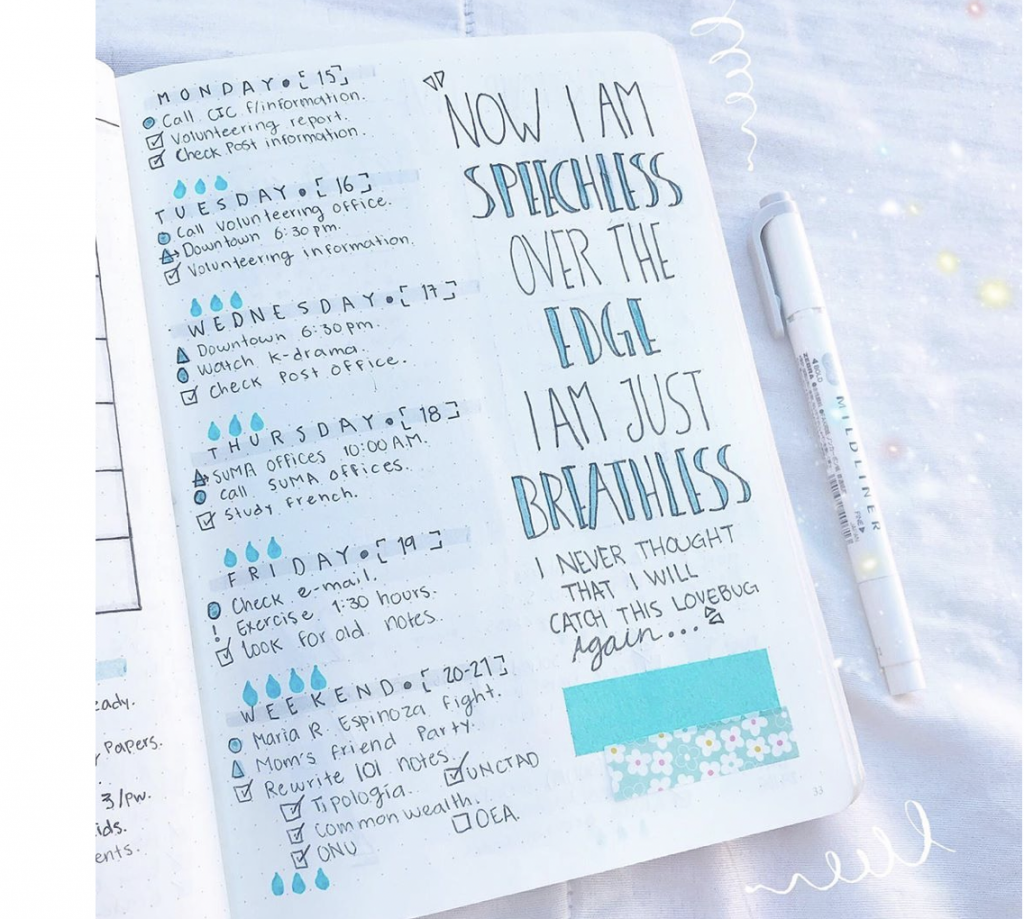 Image by @romsbujo
You can package all your weekly reminders and activities like the image below.
Image by @neko_mystic
The month is cursively written on top and emphasized with a little washi tape. The weeks are marked with a Zebra Mildliner which leaves space for tasks and events.
Image by @planwithlissa
This weekly page is full of lovely ideas. In association with personal doodles, you will love all the stamps and stickers to build a useful page that also serves as a memory guard.
Image by @mindfulbujo
Clean lines help to maintain a lot of details on this weekly page on the dot grid. This page contains two notes, activities and meetings, week goals, tasks, and reminders for every day.
Seasonal weekly bullet journal
You don't need to wait for a perfect time to start a bullet journal.
You can start them In the middle of the year, mid-month, or even mid-a-week.
All you need is a blank notebook when you start a seasonal bullet journal.
Here are some examples of seasonal weekly bullet journal ideas:
1. Mistletoe Christmas
via dotty. daydreams on Instagram
This seasonal weekly spread is inspired by the color scheme of red and green Mistletoe and Christmas. This bulletin journal is more intimate and meaningful when you draw the artwork by hand.
2. Orange Autumn
via lacquered world on Instagram
This is an autumn-style color scheme that uses various orange shades. It gives a wet, seasonally suitable effect for the autumn season.
3. Summer Travel
When people use visual prompts rather than pure text, there is a stronger reminder of recall. This layout is a good way to make sure your holidays are forever remembered.
4. Winter Theme
via xpaperwingsx on Instagram
Most people find themselves using their journals in winter more because, during this season, many people spend more time at home.
Distress Oxide, one of the most favorite coloring supplies in the bullet journal community. The blue is achieved with it to add the wintery impact of this weekly layout.
5. Springtime Theme
via haleyshappyplans on Instagram
This layout contains several spring succulents. To animate the pages of this weekly stream, you can use stickers and bright colors.
Use your weekly logs to schedule your spring cleaning events and projects that reflect the development and new beginnings.
Conclusion
Hope you like the above bullet journal weekly spread ideas.
Do not be afraid to experiment with different styles and layout.
Bullet journal are meant to be fun and whichever style you choose, make sure you enjoy the process of creating a bullet journal.
Don't forget to add other things in your weekly spread, such as mood tracker, birthday notifications, food preparation, weather, etc.
Before you go don't forget to get the Personalised Growth mindset kit for children