Christmas is an annual festival celebrated by Christians commemorating the birth of Jesus Christ. It is celebrated on the 25th of December as a religious festival. Family and friends gather together and have a Christmas dinner followed by playing games. If you are planning a fun game, you will definitely need exciting Christmas team names.
One of the essential characters on Christmas is Santa Claus, Saint Nicholas, or Kris Kringle, whose long history is steeped in Christmas tradition. He is considered a jolly man, with a white beard and red dress, who brings toys and presents for the kids on the eve of Christmas. 
Children eagerly wait for Santa to receive their gifts from the chimney as they imagine that Santa would come from the sky and throw their gifts inside the house via the chimney. People of all ages celebrate Christmas with devotion and love.
Here are some interesting team names you can use when playing Christmas games with family and friends!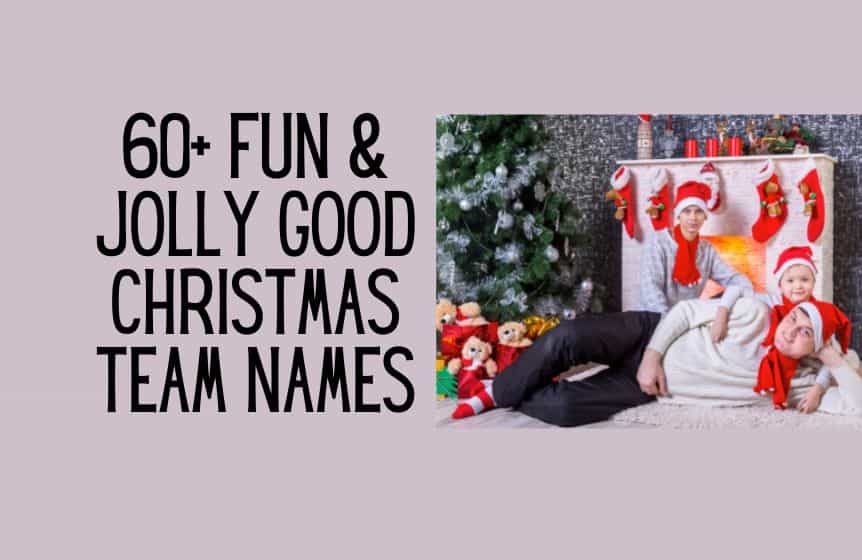 Funny Christmas team names
Some funny Christmas team names are as follows;
Jingle bell team
Santa's little worker
Santa the ho ho ho
Angry Santa
Santa in the house
The Nicholas
Jingle all the way
Jingle bell ring
Jingle bell swing
We sleigh
Xmas night
Xmas team
Naughty elves
Chimney stories
Fairy lights
Elves and the city
Santa and their elves
Reindeer's legacy
Mistletoe
Snowy city
Frosty flakes
Xmas frost
Christmas Company
Holly jolly
Holly month
Jingle gang
Jingle bellies
Not so quiet night
Beer gang
Here for the whiskey
Here for the beer
Santa Ho ho ho
Ho ho lite
Fairy stories
Xmas trees
Lights and trees
Flakes and snow
Windy Xmas
One horse open sleigh
Bobtail rings
Jingle bell rock
Jingly feet
Bushel of fun
Snowin' and blowin'
Sweet and candy
Xmas cupcakes
Xmas bakery
Xmas and frosty air
Sugar plum
Trick and treats
Xmas lights
The holiday team
Garland doors
Santa and the chimney
Naughty Santa
Rascal elves
Reindeer's sleigh
We sleigh together
Xmas eve night out
All fun no sleep
Mistletoe steps
Tree-mendous friends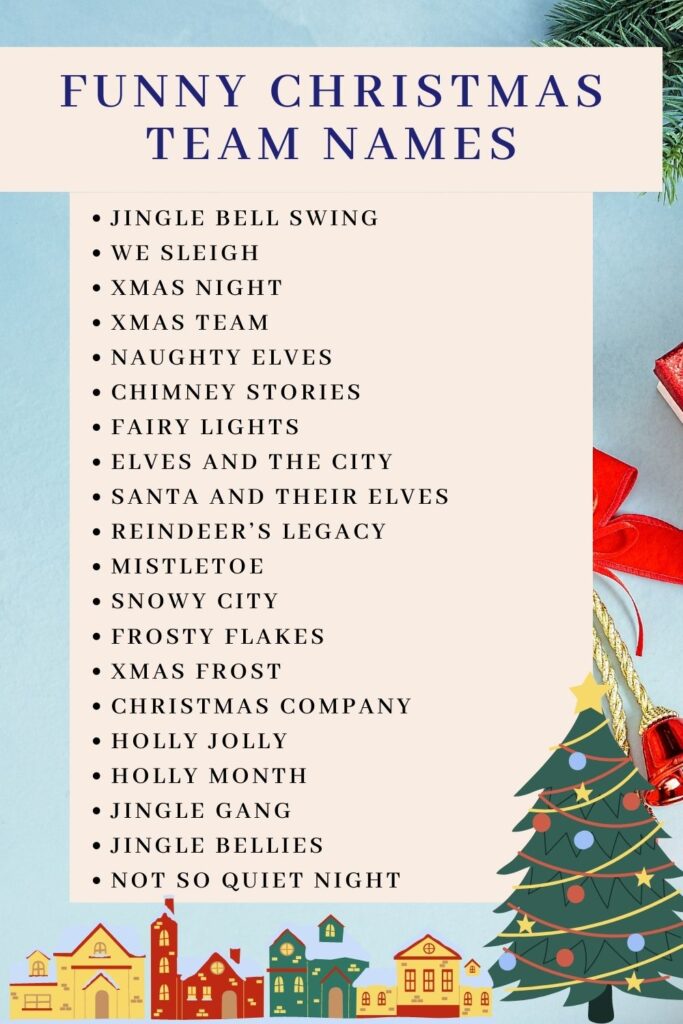 Santa Claus beard
The jolly holly
My lit friends
Never fir get you
Feeling Santa-mental
Snow and fun
Wassup team
Snowy express
The jingle humms
Free to chill
Take a Break
Be clause i love you
Get on the polar express
Enjoy at polar express
The major Santa
Sharing is caring
Elves on shelves
Red socks
Fun Christmas team names
Here are some fun Christmas team names :
Santa cap
High elf-esteem
Team nice
Team polar express
Team golden balls
Team lights and music
Snow angel
Jolly good times
Jollies hollies ho ho ho
Meowy Christmas
Holy Christmas
Smarties cookies
Cookies and trees
A December to remember
Snowy December
The December gang
Friends in December
Xmas December and us
Winter breeze and city lights
Pepperminty friends
Hot fudge drizzle
Xmas sales
Music everywhere
Xmas dress show
Xmas mannequin
Merry Xmas team
Very merry Xmas party
Sleepy hollow brownies
Sundae with Xmas drizzle
The best wing
6 pack Santa
Gym freak Santa
House full Xmas
Looney tunes at Xmas
Best or bust at Xmas night
The tomorrow team
Chimney climber
Lights and ice
Ho ho ho heros
Candy cane shelves
Cookies
The stocking stuffers
The red stocking
The stocking factory
Crew of Chocolates
Polar express party
Sleigh ride
Christmas group chat names
Here are some Christmas group chat names ideas;
Little elves
Elvie shelvie
Tree-mendous peep
Santie pie
Cocoa and butter
Don't open your gift early
Luck card
Santa Lucky
Sparkly luck
Magic wand
The gift stories
Distance makes the heart grow
Dasher, dancer and prancer
We the clause family
Santa giving gifts
Mistletoe
Dance the night away
All I want for Christmas is you
Christmas wrapping
Wonderful time
The time if the year
Santa's love
The gift hampers
Polar express train ride
The dream train
The Jingly dreams
Winter-themed Christmas names
Have a look at winter themed Christmas names ideas;
Frosty roads
Snowy eves
naughty dress
Santa in action
Frosty lakes
Streetlights and Xmas trees
Xmas cookies
Lets bake together
Eating is fun
White Christmas
Fun for everyone
Family and friends
Love at first sight
Gift hampers
Jingle bell rock
Ho ho ho we are back 
Related : Catchy green team name ideas
Santa coming
Garland ideas
Home Decor
Xmas carols
Xmas travel plans
Xmas pranks
Driving home for Xmas
Nicholas bebe
Winter Wonderland
The wow moment
Cool breeze
Home full of jingle
Joy to the world
O Christmas tree
Trees with funky lights
Lights twinkling
Wrap it around the tree
The big star
Festive fiesta
Winter windy
Ho's and bro's
Xmas excitement
Nutcracker smash
Nutcracker bash
So much humbug
Throw Xmas party
Alice in Xmas Wonderland
Razzle dazzle
After School
The 3 month vacays
No prank December
In Santa's good book
Funky fest
Xmas preps
The golden night
Happy birthday christ
Helping poor
Charity work
Donate and share
Love is sharing
Food for life
Alcohol you later
Bring the night
Hit the show
Show up at the bar
The bartender
Booz night
Xmas night
Xmas day
Xmas dinner
Xmas lunch
Bar b que tonight
Christmas cookies
Christmas for everyone
Spiritful eve
Spirit and joy
The goodwill gala
Sandle and cocktail
Cookie cocktail
We love cookie
Throw party
Party at his house
Xmas prayers
Sending goodwill
Love your self
Xmas cloack
Christmas ho ho ho
Celebrations with Santa
Wrap and rum
Tipsy night alcohol
Magic in her street
Sparkly streets
Sparkle in drizzle
Drizzle night
Love and Xmas
Love in the air
Jingle and mingle
Stocking and food
Delish food
Xmas treats
Frosty vibes
Jingle bells everywhere
Crisscross
Friends forever on Xmas
We love Xmas
Food we like on Xmas
Street food
Rum and whiskey
What is the best way to choose a Christmas team name?
The best way to choose a Christmas name is to find the fun, winter, and Santa element, which gives positive energy and the holiday season vibe.
Exciting and joyful names help defines the fun Christmas vibe as a team and family.