Are you wondering what fun activities to indulge yourself in during Christmas? Why don't you try these fun Christmas trivia questions with answers? These themed Christmas quizzes are based on general and not-so-general Christmas facts which you can quiz your family or friends with at your next Christmas party.
Holiday trivia can be much fun, especially when you compete for small prizes. In the spirit of healthy competition, you can use these to spice up your next Christmas family gathering. These printable trivia sheets come with choice questions and an answer sheet for your personal use.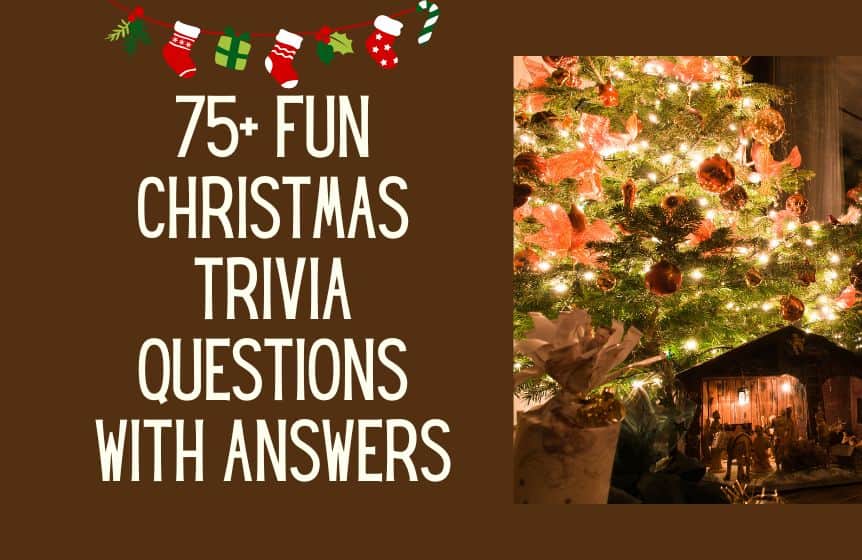 Fun Christmas trivia questions with answers
What popular Christmas day beverage is also called "milk punch"? EggnogWhere was baby Jesus born? Bethlehem.
What do people typically put at the top of a Christmas Tree? An Angel
Which Angel is known as the announcer of the birth of Jesus? Angel Gabriel
In the popular Christmas song, what words follow "silent night"? Holy Night
In Charles Dickens's "A Christmas Carol," what was the first name of Scrooge? Ebenezer
What are Christmas Trees also called? Yule-tree.
Where did baby Jesus's family members flee from Bethlehem? Egypt
What is the other name by which Jesus is known? Emmanuel
What do you leave for Santa on Christmas Eve? A glass of milk and some cookies
Which one of Santa's reindeer shares a name with another popular holiday mascot of Roman origins? Cupid
In many countries, putting up Christmas trees is a tradition. But in what country did this tradition originate? Germany
Frosty the Snowman had a nose that was made of what household item? A button.
When does boxing day happen? The day after Christmas
Christmas trivia questions with answers for adults
Instead of a White Christmas, Elvis is going to have a…? Blue Christmas
What sponge cake is typically served around Christmas time? bûche de Noël
Santa Claus has two other popular names. What are they? Kris Kringle and Saint Nick
St. Nicholas, regarded as the real-life inspiration for Santa Claus, was born in what country? Turkey
What Christmas song has sold the most records of all time? White Christmas by Bing Crosby
The popular Christmas song "Jingle Bells" was originally written for what holiday? Thanksgiving. 
What was the first company to include Santa Claus in its advertising? Coca-Cola
Who assembled the first strand of electric Christmas lights? Edward H. Johnson, Thomas Edison's friend and partner.  
Which act has the most Christmas music number 1 hits? The Beatles
The quote, "Christmas doesn't come from a store, maybe Christmas perhaps means a little bit more?" is attributed to which popular writer of children's books? Dr. Seuss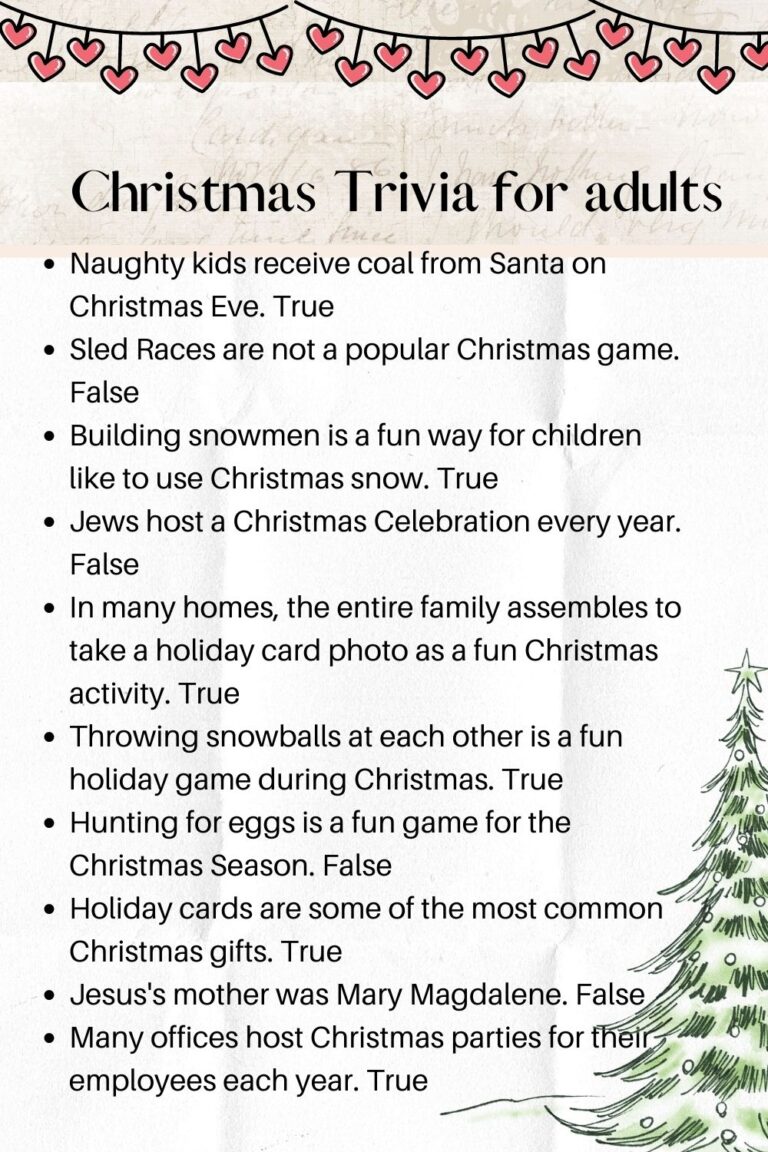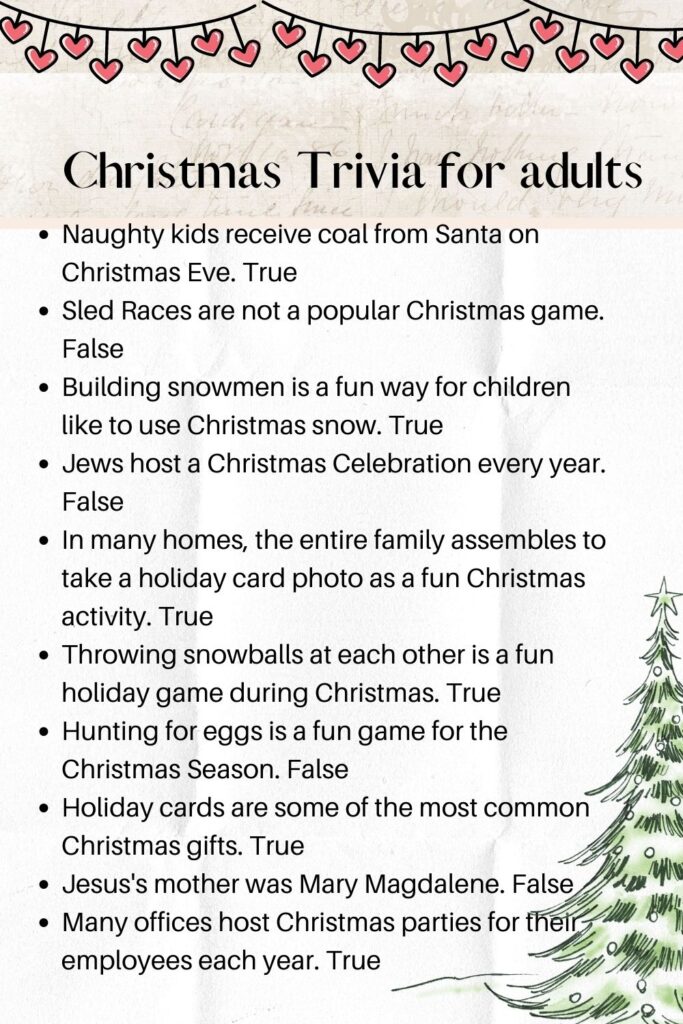 True or False Christmas trivia questions
Naughty kids receive coal from Santa on Christmas Eve. True
Sled Races are not a popular Christmas game. False
Building snowmen is a fun way for children like to use Christmas snow. True
Jews host a Christmas Celebration every year. False
In many homes, the entire family assembles to take a holiday card photo as a fun Christmas activity. True
Throwing snowballs at each other is a fun holiday game during Christmas. True
Hunting for eggs is a fun game for the Christmas Season. False
Holiday cards are some of the most common Christmas gifts. True
Jesus's mother was Mary Magdalene. False
Many offices host Christmas parties for their employees each year. True
Until 2018, Home Alone was the highest-grossing Christmas movie of all time. True
Christmas movie trivia
What is the highest-grossing Christmas movie of all time? The Grinch (2018), grossing over half-a-billion dollars.
In-Home Alone, where is the McCallister family going on vacation when they leave Kevin behind? Paris
In the Christmas classic, "How The Grinch Stole Christmas," with what three words are The Grinch described within the movie? Stink, Stank, Stunk
Tom Hanks is a legendary Hollywood actor known for playing six roles in which Christmas animated classic movie? The Polar Express
What happened when a bell rang in the Christmas classic "It's A Wonderful Life"? An angel got his wings.
What is the name of the real-life department store on which the movie "Miracle on 34th Street" is based? Macy's
In the Christmas classic film released in 1964 titled "Rudolph the Red-Nosed Reindeer," Rudolf's elf friend goes by what name? Home
What was "The Little Drummer Boy" called initially? Carol of the Drum
In the holiday movie Elf, which actor plays Buddy the Elf? Will Ferrell
What is the name of the action movie in which Bruce Willis seeks to reconcile with his wife at a Christmas holiday party? Die Hard
In the Christmas hit movie Elf, the Elves follow a particular code. What was the first rule in this code? Treat every day like Christmas.
Disney movie Christmas quiz
In the Christmas movie "Frosty the Snowman," what special personal artifact made Frosty come to life? His hat. 
The other reindeer bullied Rudolph because of what facial feature? His bright red nose
In "A Muppet's Christmas Carol," what Legendary Actor played the role of Ebenezer Scrooge? Sir Michael Caine
In The Nightmare Before Christmas, who is the Pumpkin King? Jack Skellington
Who is the legendary filmmaker who directed Disney's A Christmas Carol in 2009? Robert Zemeckis
In The Santa Clause (1994), what is the main character Scott Calvin a salesman? Children's Toys
Prep and Landing (2009) parodies which popular action franchise starring Tom Cruise? Mission Impossible
What 2017 Christmas-themed spinoff did Disney create featuring characters from Frozen? Olaf's Frozen Adventure
Which rockstar composed the musical score for A Nightmare Before Christmas? Danny Elfman
Mickey's Christmas Carol (1983) is an adaptation of which Christmas literary classic? A Christmas Carol by Charles Dickens
In The Nightmare Before Christmas, released in 1993, what name does the primary antagonist go by? Oogie Boogie
What beloved Old Hollywood actor plays the lead character in "It's A Wonderful Life"? Jimmy Stewart
Related : Disney trivia questions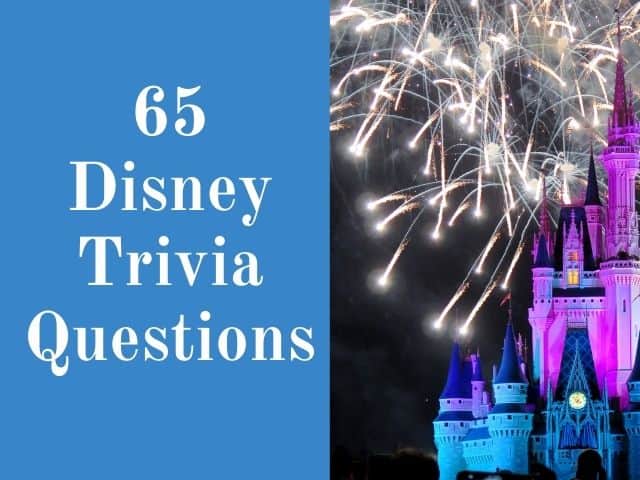 Unusual Christmas quiz
In the Christmas poem titled "Twas The Night Before Christmas," images of what food dances in the children's minds as they sleep? Sugar Plums
Why do people kiss each other under the mistletoe during Christmas? For good luck
What Jewish holiday is sometimes held during the Christmas season? Hannukah
When does the holiday season usually end? Early January
What Christmas story introduces the popular grumpy green monster who hates the holiday? How The Grinch Stole Christmas, written by Dr. Seuss.
What country came up with the concept of Boxing Day? The United Kingdom
In "A Christmas Story," what happens when you stick your wet tongue to a frozen pole? It gets stuck on it.
During Christmas, in which direction should you stir mincemeat for good luck, clockwise or anti-clockwise? Clockwise
What meal is typically served as the main course during a traditional Christmas dinner? Turkey and Stuffing
Why are candy canes shaped like Shepherd's Sticks? To remind people of the gifts the shepherds brought to baby Jesus.
How many total gifts were given in the popular Christmas song "The Twelve Days of Christmas"? 364 gifts
During Christmas in Belgium, what shape do people make the festive bread called "Cougnou" into? Baby Jesus
Which Swedish furniture company made the largest Gingerbread man in history? Ikea
In the UK, what fruit is placed in the stockings of well-behaved kids? Tangerines
What beverage do Swedish children leave for Santa Claus? A cup of coffee to energize him
General knowledge Christmas questions
Which beverage company gave Father Christmas his red and white uniform? Coca-Cola
Based on Christmas lore, which region of the Earth does Santa Claus stay in? The North Pole
What phrase means "Merry Christmas or Happy Christmas" in Spanish? Feliz Navidad
What country do Candy Canes come from? Germany
What does your true love give you on the third day of Christmas? Three French Hens
What gifts did the three wise men give baby Jesus? Gold, Myrrh, and Frankincense
Which country is the biggest exporter of Christmas Trees in the world? Canada
What Christmas special was adapted from the popular Christmas comic strip known as Peanuts? A Charlie Brown Christmas
What fairy tale-inspired gingerbread houses as a Christmas snack? Hansel and Gretel
Which US president banned Christmas Trees in the white house? Theodore Roosevelt
Three of Santa's Reindeer have names that begin with the letter "D." What are those reindeer? Dancer, Dasher, and Donner
When was the first tree lit up in the Rockefeller center? 1933
What type of bird typically appears on Christmas cards? A robin
What vegetable allows Santa's reindeer to fly? Carrots
What US State has a town called Santa Claus? Indiana
Hopefully, these free printable Christmas trivia quizzes, coming at no additional cost, can help you host the perfect game night during Christmas. You can split the questions into game cards or sheets as you see fit. You can also reference the answer key to see who gets the most right answers.