Are you an expert in country music? Well, then, try your hands at this country music trivia. These country music trivia questions cover stars and songs from every era of country music. Do you like country music from the 60s or the 80s more? How about the 90s or the 2000s? Whatever your answer, this is the ultimate country music quiz for you.
This quiz is sure to excite true country music fans. See who's the biggest Johnny Cash fan, who has heard the most Dolly Parton records and who can name specific Toby Keith song lyrics. You can use these with your friends and your family at your trivia nights. 
New country music trivia
Like any other music genre, country music is constantly evolving. New songs and new artists shake up the genre every day. The following set of questions test people who have been following the genre intently and watching how it evolves. How well do you think you will do? How well do you think your friends will do? You can't know any of that unless you actually try. So what are you waiting for?
In what city is there a famous mural celebrating country legends? Nashville, Tennessee.
Which breakout country star won the fourth season of American Idol? Carrie Underwood.
What type of music did Lil Nas X transition to after starting with country? Hip Hop.
What type of instruments is country music most popular for? String Instruments.
Who released the crossover hit song "I Hope You Dance"? Lee Ann Womack.
What two genres of popular music are adjacent to country music? Gospel music and folk music.
What is the name of the album released by Kenny Rogers before his death? You Can't Make Old Friends.
Where does the term country music come from? The term suggests that it originates from rural America.
Which country artist recently broke the world record for most decades on the US Hot Country Songs chart? Dolly Parton.
Where is the country music hall of fame located? Nashville, Tennessee.
80s country music trivia
The 80s was one of the most exciting eras of country music. Other genres were seeping in, influencing the sound and spawning interesting new subgenres. Are you an expert in 80s country music? Well, test out your knowledge with this 80s country music trivia.
According to George Strait, where do all his exes live? Texas.
What two country musicians teamed up for the 1983 hit single "Islands in the Stream"? Kenny Rogers and Dolly Parton.
Which United States icon released a final number one single known as Moody Blue that chartered on the country charts? Elvis Presley.
How many Grammy Awards has Willie Nelson won? Ten.
Which artist released the hit song "He Stopped Loving Her Today"? George Jones.
What was Kenny Roger's first song to be a major hit? Lucille.
A biographical movie was inspired by a Loretta Lynn song of the same name. What is the song? The Coal Miner's Daughter.
Is it true that the Bellamy Brothers are really cousins? No, they are biological brothers.
What band was named artist of the decade in the 80s? Alabama.
"You act like you were just born tonight" is the first line in what Roseanne Cash song? Seven Year Ache.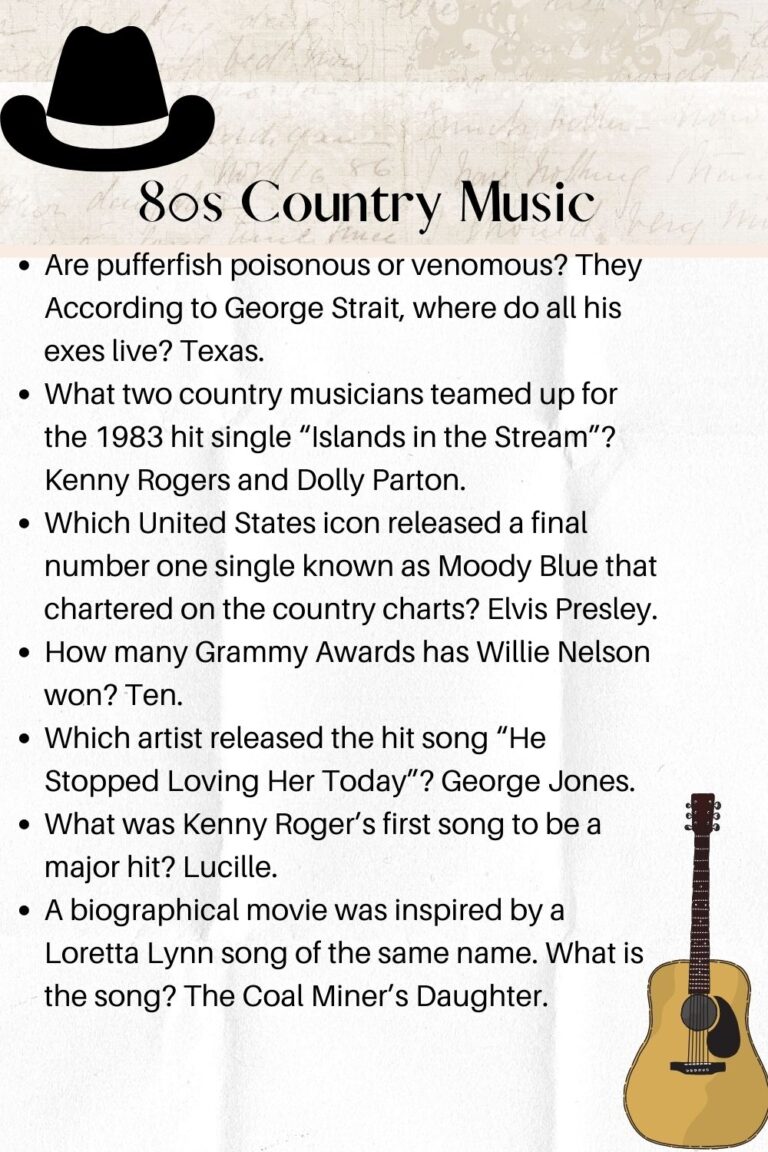 60s country music trivia
The 60s was one of the golden decades for country music. So many music legends got their start in the genre in the 60s. How well do you know these artists? How familiar are you with their legacies? How well do you know the legacy songs that shaped and influenced the genre? Well, this 60s country music trivia tests all that.
Which legacy female country artist, who died in a plane crash, was one of the first people to transition from country music to pop music? Patsy Cline.
The 1960s hit song "Jackson" was a collaboration between which two artists? Lee Hazlewood and Nancy Sinatra.
Which country music legend managed to turn his life around after being incarcerated several times in his youth? Merle Haggard.
How many of the singles released by Hank Williams reached top ten on the Billboard Country & Western Best Sellers chart? 55.
Which country legend received the nickname "The Singin' Cowboy"? Gene Autry.
Which artist, who popularized honky-tonky country music, made the first hit version of "Blue Christmas"? Ernest Tubb.
What was Johnny Cash's first single? Hey Porter.
Who has won the most country music association awards? Garth Brooks.
Who was the first woman to be added to the country music hall of fame? Patsy Cline.
Which song did Johnny Cash release in 1969 that hit number 2 on the pop music charts? A Boy Named Sue.
90s country music trivia
Some of the greatest country music stars in history got their start in the 90s. People like Reba McEntire and Garth Brooks. It is fair to say that the 90s was one of the most important decades for country music. And so, how well are you familiar with the country music of that time? Well take this 90s country music trivia quiz to find out.
What Australian country music legend, married to Nicole Kidman, also served as a judge for the Australian version of American Idol? Keith Urban. 
Which country music legend remains the only American artist to have nine diamond albums? Garth Brooks. 
Who is the best-selling female artist in country music history? Shania Twain. 
Which country music legend starred in a TV show where she played a fictionalized version of herself? Reba McEntire. 
Who made the 1997 number one hit "(This Ain't) No Thinking Thing"? Trace Adkins. 
With how many other artists did Travis Tritt collaborate with on the Grammy-winning "Same Old Train"? Nine. 
Who released the classic country album 'no fences? Garth Brooks. 
Which artist released the song Hillbilly Shoes? Montgomery Gentry. 
The hit song Achy Breaky Heart was released by which artist? Billy Ray Cyrus.
Who released the song A Little Less Talk And A Little More Action? Toby Keith. 
Related: Fun art trivia quiz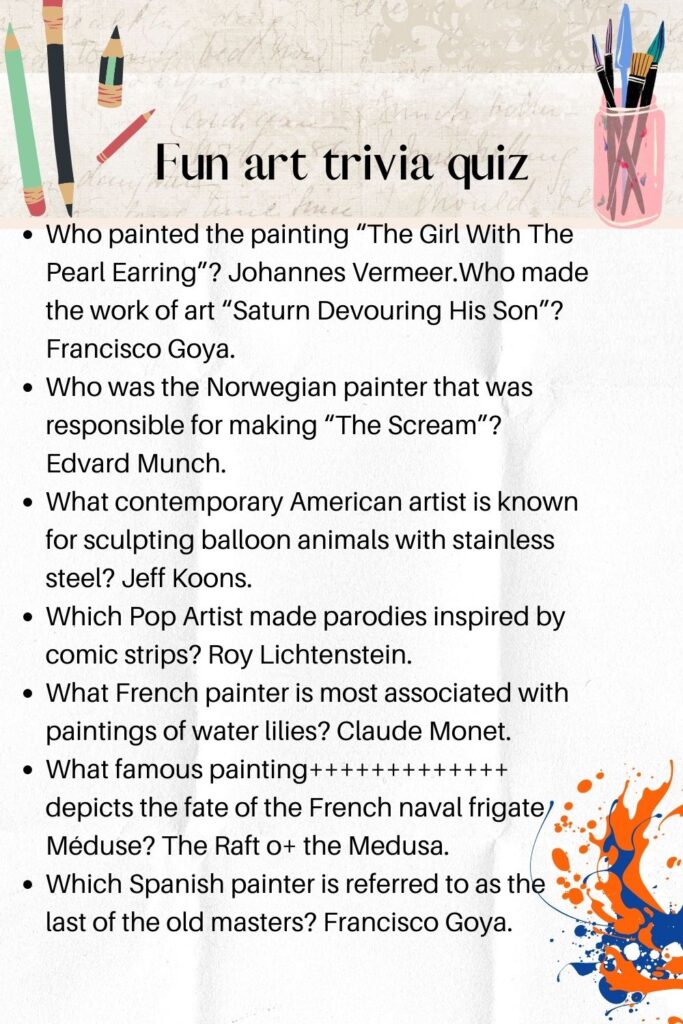 Easy country music trivia
If you are a casual listener of country music, this quiz has everything you need. If you've at least been paying partial attention to the genre, you should be able to answer most of these questions. Otherwise, the quiz could also act as a country music crash course. Get to know the fundamentals of the genre and learn why people love it so much.
Which of the biggest stars in pop music, that is rereleasing her old albums, got her start in country music? Taylor Swift.
Although the song "I Will Always Love You" was popularized by Whitney Huston, which country music star first wrote and recorded it? Dolly Parton.
Who is regarded as the father of country music? Jimmie Rodgers.
What type of hat do most male country musicians love to wear? Cowboy hats.
The twangy instrument in most country music songs is…? The steel guitar.
Where does the name "Grand Ole Opre" come from? Grand Opera.
Where is regarded as the birthplace of country music? Bristol, Tennessee/Virgina.
Which country music star serves as a judge and a coach on Nashville Star, Clash of the Choirs, and The Voice? Blake Shelton.
Who recorded the first country music song to sell one million copies? Vernon Dalhart.
What is the best-selling album in country music history? Double Live by Garth Brooks.
2000s country music trivia
Country music changed significantly at the turn of the century. Even though the sound is not as "pure" as it was, the genre has reinvented itself to find new meaning and new audiences. There are a few singers and songs which helmed this reinvention. How well do you know them? Take this 2000s country music trivia quiz to find that out.
Which legacy country music star released a cover of "Hurt" in 2002? Johnny Cash.
Miley Cyrus is the daughter of which country music star? Billy Ray Cyrus.
Taylor Swift's first hit song is named after a country musician. Who is it? Tim McGraw.
Which country music singer released the breakthrough hit song "Jesus, Take The Wheel"? Carrie Underwood.
Who is the most awarded female country recording artist? Loretta Lynn.
Which famous country singer has received more Academy of Country Music Awards than any artist in history? Miranda Lambert.
In 2010, the Dixie Chicks renamed to…? The Chicks.
Which country music legend has written multiple theme songs for Pixar's Cars franchise? Brad Paisley.
What won the best country award at the Grammys in the year 2000? Breathe by Faith Hill.
In 2007, Flip-Flop Summer Tour was the highest selling country tour. Who headlined the tour? Kenny Chesney.