Facebook users get the full authority of their Facebook profile page, especially in handling the Facebook friends list. In this article, we will be looking at how to hide mutual friends on Facebook.
Back then, people used to hide their profiles entirely to hide mutual friends on Facebook. But now, Facebook CEO Mark Zuckerberg and his team introduced different options to hide mutual friends on Facebook by editing the Facebook Privacy setup. 
Now, let's look at how you can hide mutual friends on Facebook using the new custom settings introduced by Facebook.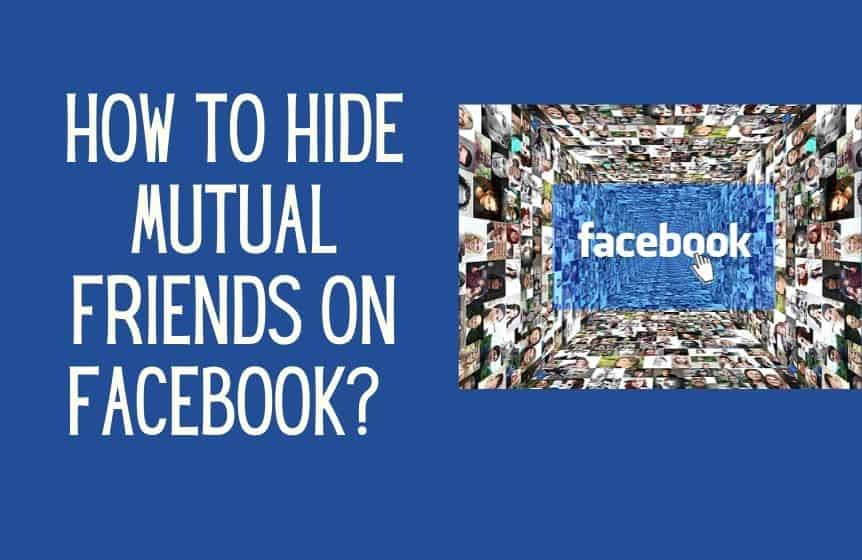 How To Hide Mutual Friends On Facebook Using iPhone & Android?
If you use the app's mobile version, you can follow the easy steps below to hide mutual friends.
Let us first learn the direct way to hide mutual friends on Facebook using an Android:
As the first step, open the Facebook app on your Android phone.
Click the Menu bar and scroll down to the "Facebook Settings and Privacy."
Click on How people can find and contact you
You will get an option called "Who can see your Facebook friends list?" click on it.
Hide Facebook mutual friends list using iOS:
After opening the Facebook application, tap on the menu at the bottom corner on the left side.
Choose the Settings option and tap on "Account Settings" and the "Privacy" option.
Similar to the Android, you will find "Who can see your friends list" and select "only me."
By doing this, you can hide mutual friends on Facebook from being viewed by others. But your current Facebook friends will be able to view your mutual friend's list.
How To Hide Mutual Friends On Facebook Using PC?
The number of privacy tools can confuse you while using Facebook on your PC. One important thing to remember is that the hiding mutual friends option is possible no matter what device you use.
The only thing that might change is the privacy feature of Facebook that slightly differs based on the device.
Below is a straightforward guide to help you hide mutual friends on Facebook using your PC or desktop computer:
Login to your Facebook account, then tap on the down-arrow located on the top right corner on the right side of the screen.
You will find the menu icon to choose the "Settings" option.
Tap on "Privacy," located on the left-hand side.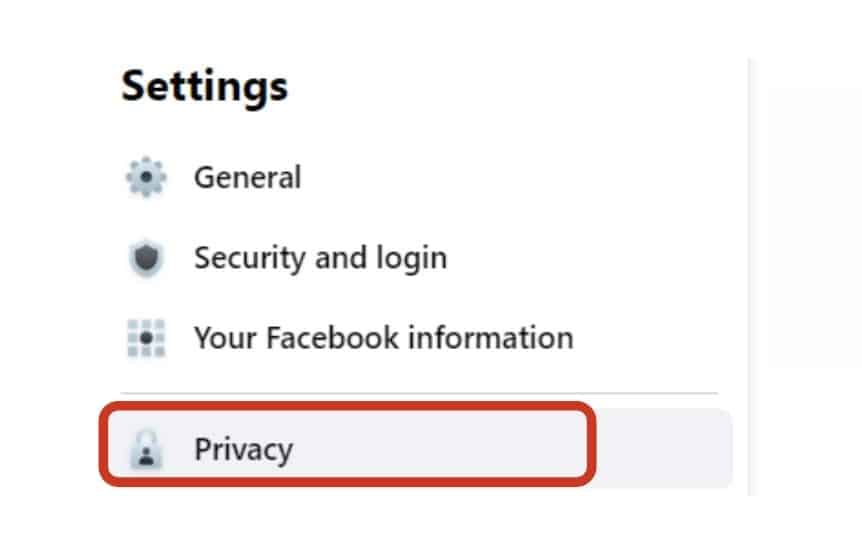 Edit the "Who can see your friends list?" and a drop-down arrow will appear.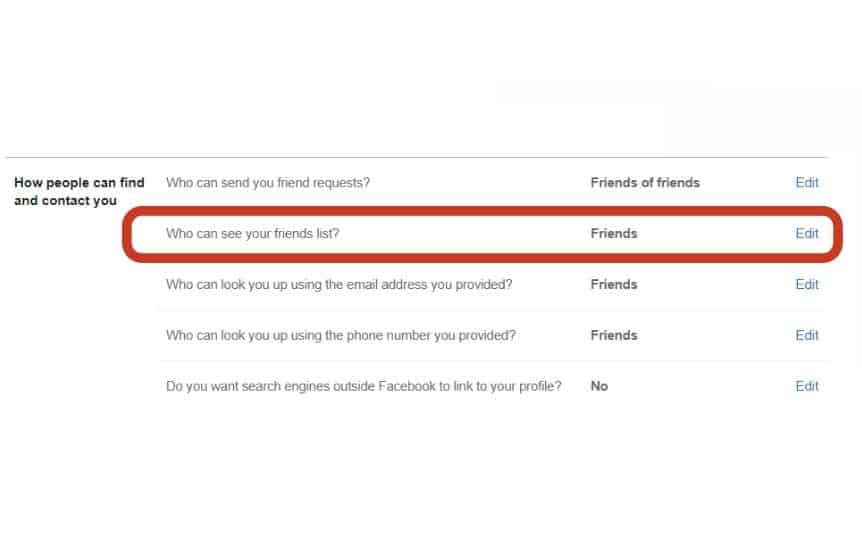 Then change the option to "only me," and it is done!
These steps will help you hide your mutual friend's list from others, but you can also ask your friend to follow these steps. If they hide their list, they will not be able to see your mutual list.
As a bonus tip, you can ask specific people to follow this method if you do not want that particular person to view your mutual friend list.
How To See Mutual Friends On Facebook?
There are over 2 billion Facebook users from all over the world, and Facebook provides an option in which you can find your common friends with others.
You will always be surprised to know if you and a stranger have a very close common friend in real life. But on Facebook, it is very common to find mutual friends (friends of friends) between you and a random stranger.
The best part is that nowadays, even family members are sending friend requests to each other on Facebook. So, the possibility of having common friends is increased.
If you want to view mutual friends on Facebook, follow the step guide:
Open the Facebook application and go to the "Facebook Timeline or Profile" of any current Facebook friends. 
In the timeline, choose the "Friends tab." Here, you will find the count that will show the number of mutual friends you and the other person share.
Then you can choose the "mutual friend" option to find the whole list of people you share as common friends.
This is how to see mutual friends from the profile of the person.
Here is a fun fact, the main reason for knowing mutual friends started when people wanted to increase their friends' circle.
How To Hide Friends List From Certain People?
So far, we have learned how to hide mutual friends on Facebook using different devices. But in the below steps, you will learn how to hide a full list of friends from particular people.
Open your Facebook account by logging in to the website or the application.
Tap on your name and click on the "Friends tab."
Here, you will find a pencil icon; tap on it to lead you to the "Edit privacy option."
Here, click on the down-arrow icon on the top corner of the "Who can see your friends list?" option.
Choose the "Custom option" and then type the "Names" of two people you want to hide each other from.
Then save the changes you made after choosing the done button to complete the process.
The two people you choose will not see each other on your friends list by doing this procedure.
If you are trying to hide the entire list of friends from one person, you might want to type every name of your friends to finish the process. This is the only way to hide friends list from certain people for now. Feature to complete hide is yet to be released. 
Before you go, don't forget to check out, how to fix can't send a friend request on Facebook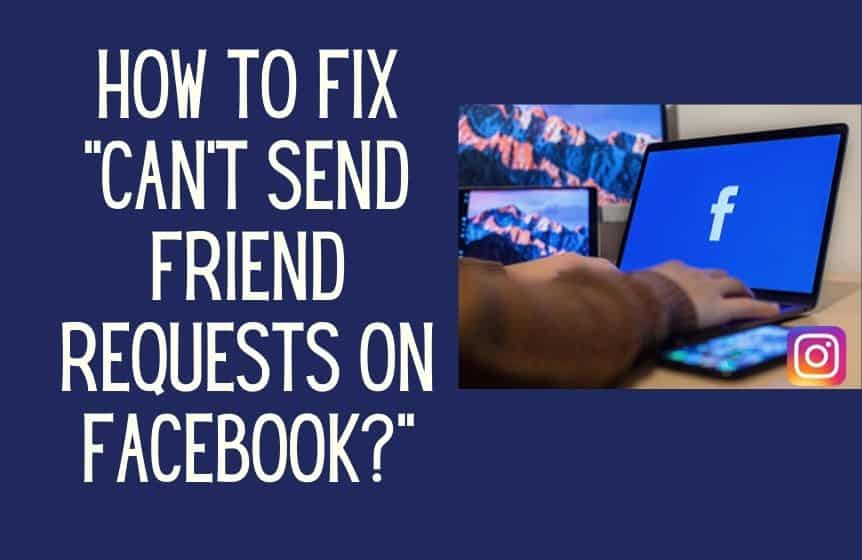 Was this helpful?
Good job! Please give your positive feedback
How could we improve this post? Please Help us.