Part of the appeal of Drake's music is how relatable his lyrics are. People post and share the Canadian rapper's lyrics on multiple social media platforms all the time. Have you been looking for the perfect drake captions for Instagram? Then look no further than this article. 
Get the best of Drake's lyrics from his solo work and his collaborations with Lil Wayne and DJ Khaled. These are the perfect Instagram captions that really make your Instagram posts pop out. These best drake lyrics are the perfect way to express yourself on your social media posts. And so, without further ado, dive in.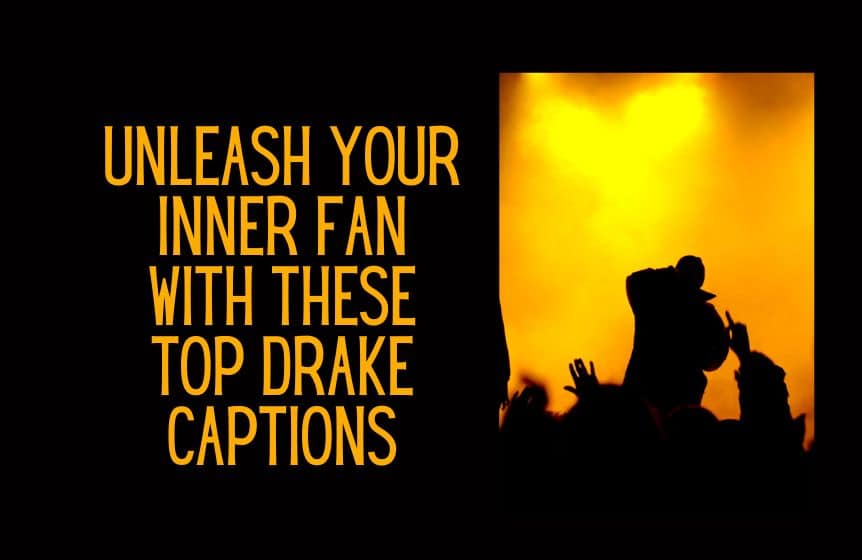 Best Drake Captions for Instagram
The best thing about Drake lyrics is that they remind us of the good things we have been through, the challenges we have overcome, and the best things still to happen. The following collection of Drake Instagram captions will really make your posts pop out. Whether you are a femme fatale or certified lover boy, these are relatable. 
Last name Ever, first name Greatest. 
But I'm happiest when I can buy what I want, get high when I want. 
If you thinking I'mma quit before I die, dream on
Started from the bottom, now we're here. 
If you had a twin, I would still choose you. 
I'm Harlem Shaking through the pressure
I'm always going to work like I got something to prove. 
They would rather run up on me than towards their goals. 
I'm way up, I feel blessed. 
Drake Captions About Life
For someone who has overcome as many challenges as he has and has arisen to the top of his industry for so long, Drake has a lot to say about life. If you want to share some of that advise, then these are the perfect captions for you. These are some of the greatest quotes that are sure to resonate with your followers and invite interactions to your posts.
I've been losin' friends and finding peace. But honestly, that seems like a fair trade to me. .
Don't worry 'bout your friend's story when I had her alone
I was born to make mistakes not fake perfection
Before you give up, think about the reason you held on so long
Say my days are numbered but I keep waking up. 
I swear this life is the sweetest thing I've ever known
Related: Baddie captions for Instagram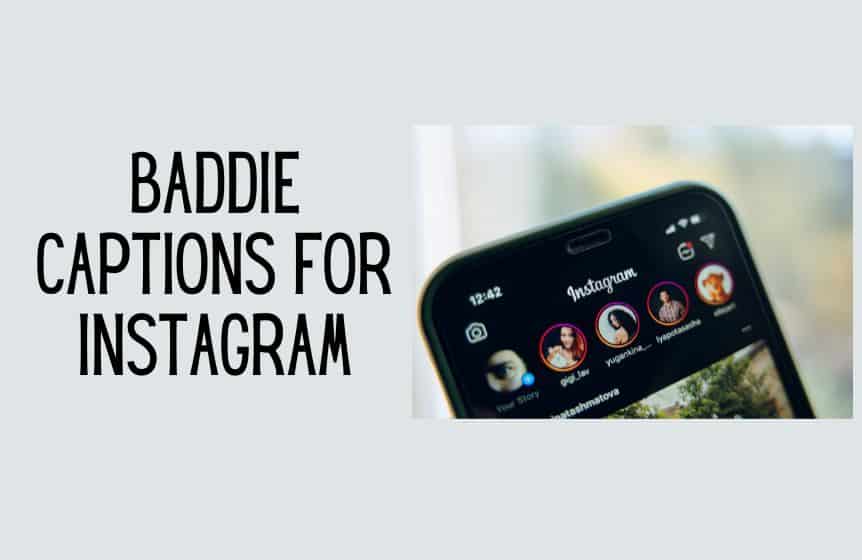 Drake One-Liners
Drake's music is full of sage wisdom, but it is also full of awesome one-liners. This goes all the way from his older stuff to his latest album. Using these good captions is a great way to make your next post make your followers think or get a laugh out of them. Here. Aubrey Drake Graham's versatility is your gift.
Champagne poetry, these are the effortless flows.
Higher powers taking a hold of me.
I got a really big team, and they need some really big rings.
First couple of rows, you gon' see the real guys.
No new friends!
And I'm not drivin' nothin' that I gotta stick the keys in.
I want your hot love and emotion endlessly
I'm on a twenty-four-hour champagne diet.
It's a big gap between us and the game.
"I can't really see another squad tryna cross us.
Time got a funny way of tickin', things are so much different.
You're my right hand. You're my go to.
God's plan, God's plan, I hold back, sometimes I won't
Got the whole squad on that real shit
You're the missing piece I've been longing for.
If you let me, here's what I'll do: I'll take care of you.
Why do I want an independent woman to feel like she needs me?
Zara heels bound to give you zara toes.
I mean besides Rick Ross, Aubrey the biggest boss here.
Just walked in with a girl that's making triple what I'm making, what an entrance.
Looking in the mirror, kiss my face, I'm too conceited.
You know I gotta turn my girl up.
Looking in the mirror, kiss my face, I'm too conceited.
Don't you wanna dance with me? I can dance like Michael Jackson.
I'm so proud of you.
And they saying I fell off, ooh I needed that.
Got me on flights overseas, and I still can't get across to you.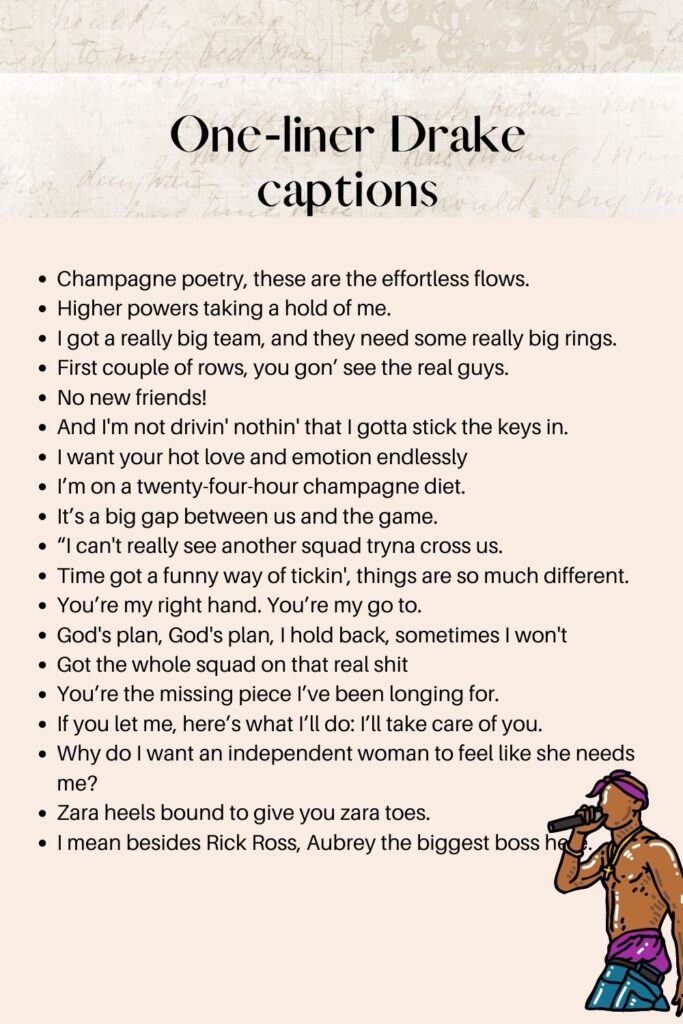 Best Drake Quotes
If you want to hype up yourself or your best friends, or rile up your rivals on Instagram, then your go-to captions should come from Drake's albums. These quotes are a fun way to capture and relay very specific thoughts and feelings about a way of life or even a night out.
Pray the real live forever, man. Pray the fakes get exposed. 
The reward for hard work is more work!
When writing the story of your life, don't let anyone else hold the pen
I know my funeral gon' be lit 'cause of how I treated people
My squad is full of people that would ride with me till the end. 
My team is good, I'm rich, I'm blessed. 
We do things that people pay to document. 
Somewhere between I want it and I got it. 
And the dirt that they threw on my name turned to soil and I grew up out it
All I ever needed was the squad so, that's what's up.