Nintendo is the pioneer and still one of the most popular console game providers in the world. Its latest innovation, Wii U, has caught people's attention, especially younger players, because it gives so many options in its Wii U games for kids.
However, parents and young kids often get confused on choosing the best Wii games suitable for younger children and the whole family members.
You can find plenty of fun games that can be played alone or with family members, ranging from classic games to new games on Wii.
Kids tend to spend hours on Wii sports, Wii music, or other timeless game titles. You can also play the classic board game on Wii.
However, as parents, you don't want your kids to play games that are not designed for kids, like open-world crime games such as CSI: Crime Scene Investigation or Driver.
This article will help you find the best Wii U games for kids according to their ages and gender.
Wii U games for kids age 3 – 5 Years Old
Below are the best Wii U games for kids aged 3 to 5 years old:
1. Wii Music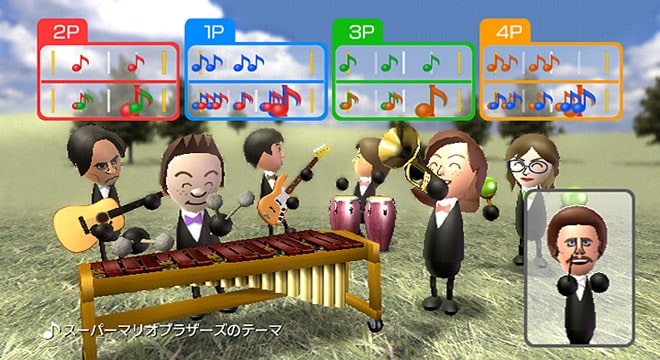 The first Wii game that is suitable for young players is Wii Music.
Children as young as 3 years olds can easily mimic certain kinds of gestures with their Wii remote.
It is one of the best games for 3-year-old kids because it can train their gross motor skills as they move the Wii remote with their fingers and hands then dance along with the music by using all the muscles in their body.
In addition, this game also helps the children to feel the music, making them more sensitive to sound, pitch, and tones. This game has a single and a multiplayer mode.
2. Just Dance
The second game that is highly recommended for kids is Just Dance series.
There are a lot of Just Dance games, from its first launching in 2009 (Just Dance) to the newest one in 2023 (Just Dance 2023).
However, for younger players, it is best to choose Just Dance Kids Series that comes in three titles . Just Dance Kids, Just Dance Kids 2, and Just Dance Kids 2014.
Just Dance Kids series feature popular pop musicians for kids like Demi Lovato, Selena Gomez, and One Direction, as well as favorite characters from children's movies like The Rugrats Movie, Despicable Me, and Gnomeo and Juliet.
Parents must know that the best title of this series is Just Dance: Disney Party that features Disney princesses and characters that your kids love.
You can complete both Just Dance: Disney Party and Just Dance: Disney Party 2 in your collections.
Both of them have lists of popular Disney songs from films and TV shows.
3. Sesame Street
There is no doubt that Sesame Street series is among the best Wii U games for kids. Not only it is fun to play, but it also contains many educational elements.
Your kids can learn basic linguistic skills, including alphabets, numbers, phonemes, and vocabulary.
In addition, the Sesame Street series also teach your kids some values like healthy eating habits, physical exercises, advantages of relaxation, etc.
The best feature of this game is the parents' control tool, which enables parents to keep on track of what their children are playing, especially control the screen time.
Moreover, the game is also designed with Grover Wii Remote cover that enables young children to play easily with their Wii controller.
4. Nickelodeon Fit
Talking about the educational game, Wii U and Nickelodeon collaborate to create a child-friendly game for 3+-year-olds.
Although the game is specially designed for younger children, parental guidance is often required.
The good thing is the designers of the game also collaborate with young children's education experts to supervise the creation of the game.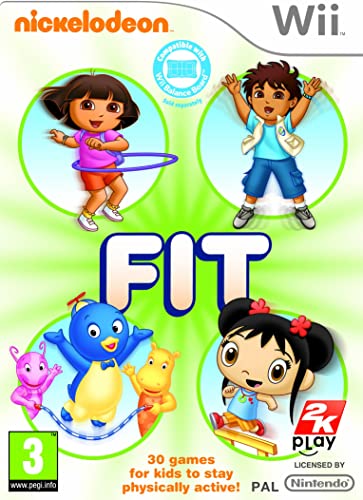 Therefore, you can ensure that the physical exercises present in the game are suitable for young children and can contribute to your children's physical and emotional development.
One great way to motivate your 3 years old to learn a coordinative movement is to buy them a game that teaches them how to do so.
For sure, Nickelodeon Fit is a good fit because young kids love to mimic their favorite characters on Nick.
Most parents compare this game with Wii Fit game. Both share similar purposes with different characters.
Wii U games for kids that are 4 – 6 Years Old
Kids aged 4 to 6 years old have developed more motoric skills to play a bit more complicated game.
If you want to find the best game for kids in those age range, this will present as an appropriate guideline.
5. Mario Kart Wii
Once your small children can use the Wii U controller well, they demand a higher difficulty level.
Mario Kart Wii is a good start to introduce a more complex way of playing games on Wii.
Your little kids may enjoy this racing game together with the entire family members.
The multiplayer mode enables this game to be played by up to 10 people at a time.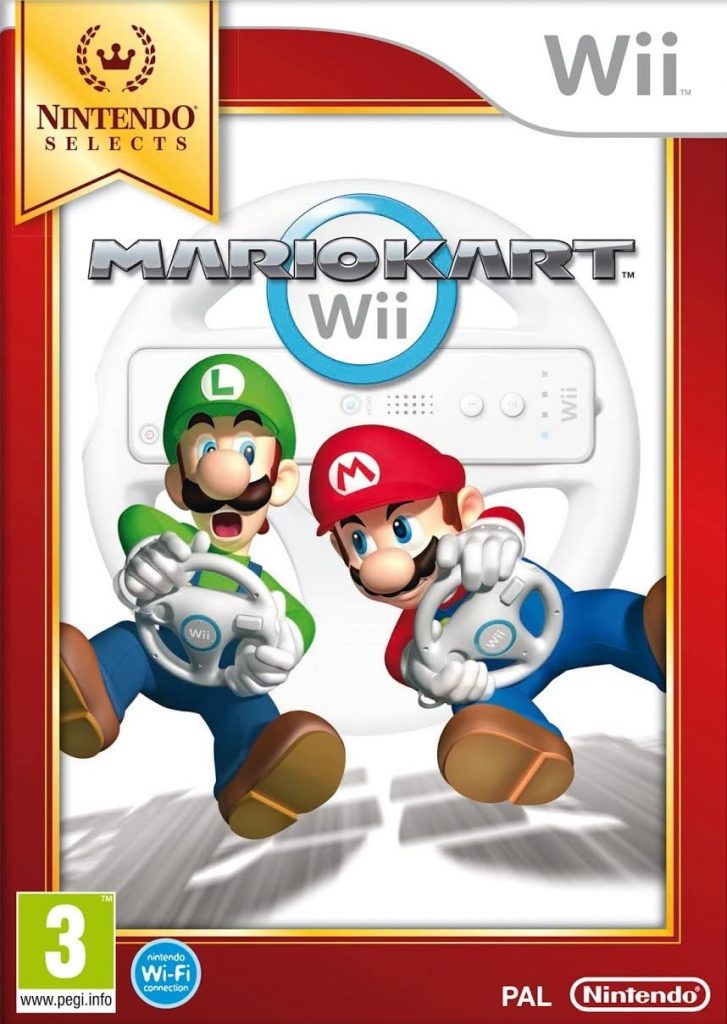 Moreover, Mario Kart is a classic game that can connect the bond between parents and children.
Although it presents a classic setting that can bring nostalgia to lifetime Mario Kart fans, some modern tracks are also available to attract younger players.
You can solely use your Wii controller or buy a steering wheel accessory for a better racing experience.
6. New Super Mario Brothers
Most Mario games, including New Super Mario Brothers, are perfect to introduce your little kids to more complex fingers coordination while operating a Wii controller.
This action game will satisfy your kids' curiosity to complete one of the most popular games in the world.
New Super Mario Brothers are similar to the older 2D version with some enhancement in its graphics and storyline.
This game is unique because it teaches children to collaborate and compete at the same time.
However, parental guidance is still needed because oftentimes, the players have to decide to help other players or put them in danger.
Minimum cartoon-like violence is also present in the game.
Best Wii U games for kids
7. Super Smash Bros.
Young kids and older kids will love this fighting game because different characters of Nintendo universe will appear in this game.
Although it is a fighting game, there is no blood, sexual content, or gore scene in this game. However, younger kids of 4 or 5 years old still need guidance from parents.
5+ years old will find it so entertaining because they can learn how to customize this game in their preferences.
This game is also filled with secrets and Easter eggs that bring this game so much fun for older children.
8. Mario and Sonic at the Olympic Games
If your kids are huge fans of sports, you can give them this Wii Sports game. Kids will learn about authentic sports played in Olympic Games such as athletics, aquatics, gymnastics, etc.
There are plenty of titles found under the Olympic Games series, including Beijing, Rio, Winter Olympic, and Tokyo Olympic Games.
Most Olympic Games series can be played in both Wii U version and DS, but some others require Wii U motions.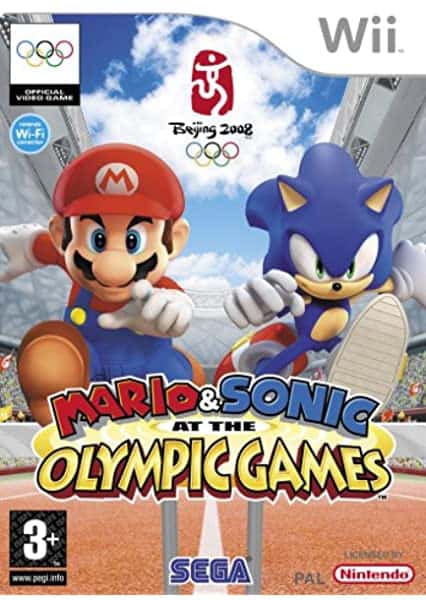 Especially for the Tokyo Olympic Games (2019), it only plays on Nintendo Switch. Many reviews said that it is best to purchase the physical copy than the digital version of this Tokyo title.
9. Donkey Kong Country
If you only have little time to accompany your young children to play, you must consider Donkey Kong Country series on your purchasing list.
Young kids can play this game with limited assistance from their parents but enjoy it to the max as it provides them with great adventures.
There are several titles available. Donkey Kong Country Return is the newest one.
Players need to complete each level and collect items and letters to unlock characters.
You can find a Funky Mode that makes the game so much easier to play for your younger kids. Older kids may enjoy co-operative mode for a lot higher difficulty level.
Therefore, this Donkey Kong Country is a perfect game for family playtime.
Wii U games for kids aged 7 Years Old and above
This section will guide parents to choose the best Wii U games for 7 years old and above.
10. Sonic Colors Game
Kids will love this adventurous Sonic Colors game because of the sophisticated graphics and catchy audio and music in the video game.
This racing game comes in single and multiplayer modes, with an outer space amusement park created by the legendary Doctor Eggman.
This game is suitable for children aged seven and above because it has a higher difficulty level to complete the game.
Even though the storyline is said to be for all ages, you cannot deny that the track is even more complicated as the game is leveled up.
Moreover, there is also violence presented in the game as the players will crash and fight against the opponents that are non-human creatures.
11. Super Mario Maker
With so many Mario Game series, this one is absolutely for Mario fans who want to experience the best Wii U games for kids.
In this game, players can create Mario games themselves from scratch using a Wii U gamepad controller and then play it on their Wii U console.
Therefore, tons of new Mario games are created worldwide that players can select from the easiest to the toughest level.
In the end, your children can interact with a community of Mario fans worldwide and exercise their creative mode.
12. Lego Jurassic World
Most Lego games can be played on a family game night. Lego Jurassic World is a perfect choice if you have seven years old or older kids.
Although this game is available on Wii U console only, it is still a good game for those who love adventure games.
Moreover, players can customize their distinctive dinosaurs by conducting experiments in the game.
Although there are gunfire scenes, Lego Jurassic World is not a violent shooting game.
Because the game is using different characters from Lego, there is no blood or vivid injury scene.
Like typical Lego games, the defeated characters will scatter into pieces of Legos once they got shot.
Therefore, parents do not have to worry about disturbing scenes during the game.
13. Lost In Blue: Shipwrecked
If you try to find the best Wii U games for kids who love adventure, have curiosity, and are eager to exercise fun yet crucial survival skills, Lost in Blue: Shipwrecked is the best choice.
They will play a 3D character of a castaway and try to survive on a deserted island.
Some violent scenes appear in this game, including hunting animals for food.
However, there is a guarantee that there will be no blood in this game.
Once killed, the animals will fall and change into pieces of meat.
Because players need a perfect strategy to play this game, older children can enjoy the game better.
Moreover, this game is categorized as a slow-paced game that is less suitable for younger children as they get bored quickly.
There is also a survival mode for this game.
14. Super Mario Bros U
Any title of Wii U Mario is always a fun Wii game. Super Mario Bros. U is without exception.
There are so many new additions to this game.
There is a new character, new challenges, new modes, and other new game features that make Super Mario Bros. U is a super good game for the whole family.
You can play this game with your classic controller or Nintendo switch.
15. Super Mario Party
Super Mario Party offers tons of mini-games.
Kids 7 years old and older will love this game because it is a quick-paced game.
Kids who can easily get bored will find it interesting to finish the game quickly.
However, some games require more complicated finger coordination in operating the remote control, which make this game less suitable for younger kids.
Minor violence presents in this game that parental guidance is needed in some of the scenes.
15. Harry Potter
Who doesn't know Harry Potter? Wii U has all Harry Potter titles that are considered the best Wii U games for kids 7+ years old.
Every Harry Potter title is made based on its respective novel and movie.
Thus, skilled players will find it fun and thrilling to be part of the adventure of finishing and revealing secrets in each game.
As depicted in Harry Potter movies, the atmosphere of the game is quite dark and eerie.
Parental guidance is advisable to avoid exaggerated fears or trauma for younger kids.
16. Lego City Undercover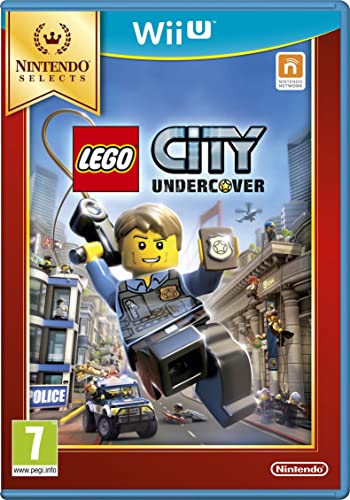 This game is about crime and justice. Therefore, violence often appears throughout the game.
Although there is no excessive blood or such things, it sometimes presents crude humor that may be inappropriate to younger children.
To have parents sit next to their children while playing the game is a great idea to filter any unsuitable content.
17. Reyman Legends
Many agree that Rayman Legends is one of the best Wii U games for kids because it is so much fun to play this game.
Although many said that the game is suitable for kids of all ages, we recommend this game for 7+ years.
Parents can enjoy this game, too. They can play with the older kids and let the younger kids watch because the story plot is so funny and enjoyable to watch.
18. Star Wars
Wii U has launched many titles of Star Wars games.
One of the most popular titles is Star Wars: The Force Unleashed.
Star Wars games come in Lego, Angry Birds, and its original 3D characters.
Choose one according to your kids' preferences.
The fighting scenes are not gory and scary at all. Ultimately, kids will have fun using their favorite weapon, lightsabers.
Wii U games for girls
Under this heading, We present several recommendations of the best Wii U games for kids, especially girls.
19. Hannah Montana
In Wii U, there are two Hannah Montana games, namely Hannah Montana: The Movie and Hannah Montana: Spotlight World Tour.
From the name, these games are made based on Disney original shows and movies.
While Hannah Montana: The Movie is made in line with its original Movie, Hannah Montana: Spotlight World Tour allows the players to act as if they are Hannah in her nine worldwide tours.
Related : Shoreline map
Girls will enjoy playing the game as they can sing and dance along to the songs.
Moreover, they can roleplay their favorite characters of Hannah and Miley Cirrus while completing quests in each stage.
The legendary Nintendo Legend of Zelda is also a perfect choice for girls.
The success of all the games in this series proves that Legend of Zelda is a must-have for Nintendo Wii U players.
The game always appears on the list of the best Wii U games for kids of all time.
It is the story plots and the 3D graphics that make this game outstanding.
Some of its famous titles are Twilight Princess, Breath of the Wild, Skyward Sword, and The Wind Waker.
The game is suitable for 6+ years old kids or younger, as long as they have already understood the plot.
21. High School Musical
Girls who love singing and dancing will adore High School Musical Wii U series.
They can experience fun karaoke and dancing game based on several different High School Musical movies.
Your little girls can play the game in single and multiplayer mode.
The great thing is this game is suitable for all High School Musical fans of all ages.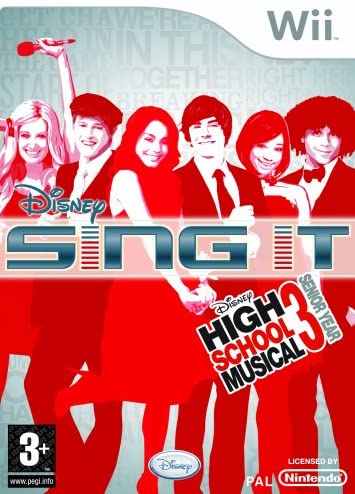 If you wish to see all the different characters from the above titles in one game, Nintendo Land is the greatest option.
With the setting of Nintendo Land amusement park, you can experience playing a fun Wii game based on the legendary as well as the new Nintendo stories.
On the other hand, if your children want to see all their favorite Disney characters in one game, Disney Infinity is the best option.
This action-adventure genre video game will make you love the Disney character in different ways.
Those are some recommendations of the best Wii U games for kids based on their age groups and gender.
We only select the best kids games so that parents will be happy playing the kids game in the living room.
To save much money, you can purchase a used or renewed game. However, for a better gaming experience, we recommend you get the new one.
Conclusion
We hope you enjoyed the list of Wii U games for kids above. Which is your family's favorite Wii u games for kids? Share with us in the comments below.