Who doesn't like posting pictures on Instagram to document all the significant events in their lives? But when it comes to writing a caption on Instagram, there are only a few formatting options at your disposal. If you want to spice things up on Instagram, we will teach you how to make line breaks on Instagram.
Adding line breaks on Instagram is not that difficult. However, as this particular Instagram feature is not that obvious, people think it's rocket science.
How to make line breaks on Instagram caption?
Unlike social media platforms like Facebook and LinkedIn, Instagram is famous for one reason only. It lets users share aesthetic pictures. But that doesn't mean you cannot post captions with your Instagram posts. 
If you want to share an Instagram post with a lengthy caption (summary of a blog post or a short WiKi), you might use line breaks. Line breaks are also necessary if you are sharing long Instagram bios.
Using Line breaks, you can adequately format lengthy texts, whether an Instagram post or your Instagram bio.
If you can, it is advised that you do not post lengthy Instagram captions. You must understand that Instagram users come to this platform to enjoy aesthetic pictures. They do not have the time to read long captions.
But if you have to post lengthy beautiful captions, here is how to make line breaks on Instagram.
There are two ways you can add line breaks on Instagram.
1. Using symbols
The first way is to add line breaks using symbols. You can use symbols to add line breaks for Instagram captions and bios.
When you are using symbols to add line breaks, you can continue writing directly into the Instagram app. (Text area)
Now the question is, which symbols can you use? Well, it is up to you. But you can add either dash & periods. You can also add any special characters, special space, bullet points, bullet lists, or other punctuation marks to add line breaks on Instagram.
2 Using dash or emojis
Furthermore, you can even use emojis to create a new line break on Instagram.
Whether you use dash periods or emojis, each will help you create line breaks for your Instagram bios and long captions.
When you add symbols or emojis to add a new line break on Instagram posts or Instagram bios, know that they will be visible.
For instance, you can see a simple dash creating a line break on Instagram. Here is how to add a line break using a dash or an emoji.
Open Instagram, and type in the Instagram profile bio for your Instagram account or caption your Instagram post.
Tap on "Enter Button", "Enter Key" where you need to add a line break.
Use a single "dot" to make the line break as minimal as possible.
Now tap on "Enter" to add the next paragraph on your Instagram bio or post.
It is the easiest way (step-by-step guide), and the most common workaround to add line breaks for Instagram captions. (Photo description)
The method mentioned above works for almost all types of content.
How do you skip lines in Instagram messages?
Having the line break visible might not be the best option for everyone out there. Some people would rather create a line break using invisible symbols. This brings us to the next method for adding line breaks on Instagram.
Do you want to add line breaks without using visible symbols, or emojis? If yes, you will need to use the Notes app on your phone.
The invisible line breaks help you create clean line breaks.
Open the notepad app, scheduling app, scheduling tool, or any text editor on your smartphone.
Type in the first new paragraph, and at the end of the last character of the line add the following series of invisible space.
Now copy the invisible line break from below. (Blank space/blank line) The hidden space is inside the brackets below. [⠀⠀⠀⠀⠀⠀⠀⠀⠀]
You can use it multiple times in your Instagram post to add a more extensive line break. This is especially useful when you want a line break between your Instagram photo caption text's main paragraph and the hashtag part of the post.
Remember to organize lengthy captions so that the Instagram post does not lose its visual appeal.
How to add line breaks in Instagram comments?
We have seen above how to make line breaks on Instagram for both Instagram posts & bios using symbols and invisible characters. You can add a line break the same way in Instagram comments.
There is one more variation, though. Instead of using invisible characters, you can use a series of underscores to add line breaks in Instagram comments sections.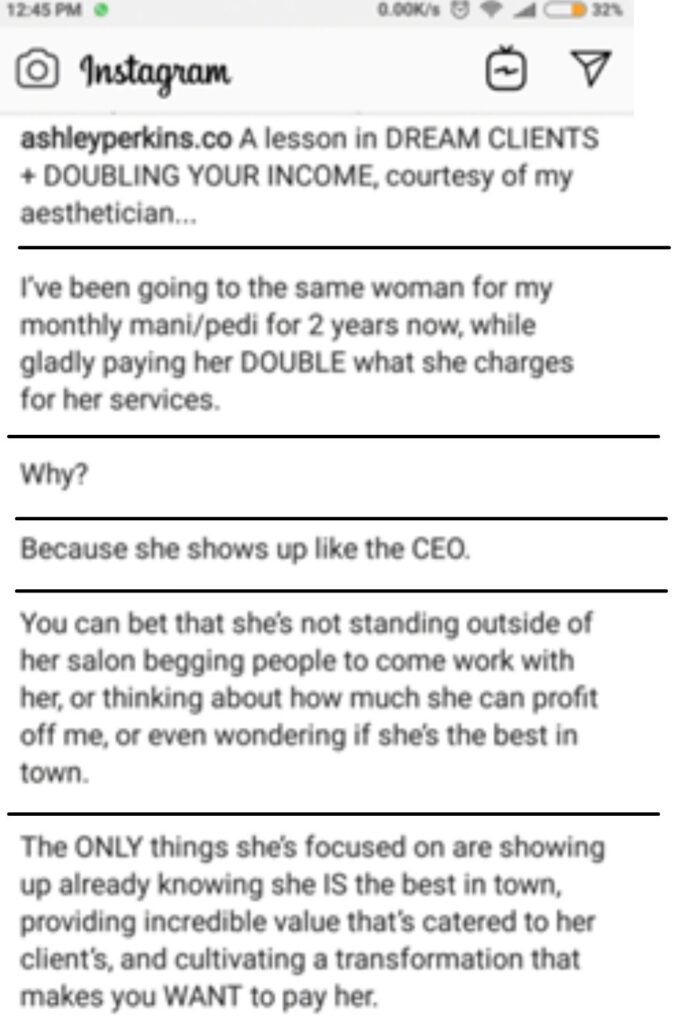 Write the first comment paragraph of your Instagram comment, and then copy the series of dots inside the bracket below.
After the last sentence of the first paragraph, add the following series of dashes.
[_____________________]
After you have inserted the dashes, hit the Enter again, and continue writing the second paragraph or the following line of your comment.
Continue adding the series of dots for as many individual paragraphs as you want to add to your comment.
It is the best way to add invisible Instagram line breaks to lengthy posts on your Instagram feed. But remember, the line break limitations.
Do not write big paragraphs that are annoying to read even after adding line breaks between long lines of text.
Best app for Instagram line breaks
In the above section, we have looked at how to make line breaks on Instagram using both invisible symbols and a continuous series of dots & dashes.
Certain third-party mobile apps let you add line breaks for Instagram posts, Instagram bios, and IG captions.
The first App is Caption Writer. It comes with a free version and is available for iOS, Android devices, and other mobile devices. It can be downloaded from the app store.
This app gives the users a draft space to write their multi-paragraph captions.
Another app that helps in adding line breaks on Instagram is GramSpacer.
Let us know if you want us to write an informative article on Instagram line break generator apps, other handy Instagram hacks, or how to generate a list of email lists from your Instagram.
Was this helpful?
Good job! Please give your positive feedback
How could we improve this post? Please Help us.