A prayer journal can be a good addition to your current bullet journal. You can also use the prayer journal ideas in this blog to enforce positivity in your child.
To make your prayer journal more personal, you need the best prayer journal ideas. Thus, your prayer journal will become a beautiful journal full of key bible verses and prayer requests.
Writing a prayer journal is a beautiful way to document your goals in life and then communicate them with God to ask for His blessings. Therefore, this article will provide several prayer journal ideas that can nourish your relationship with God while crafting a prayer diary that suits your own needs.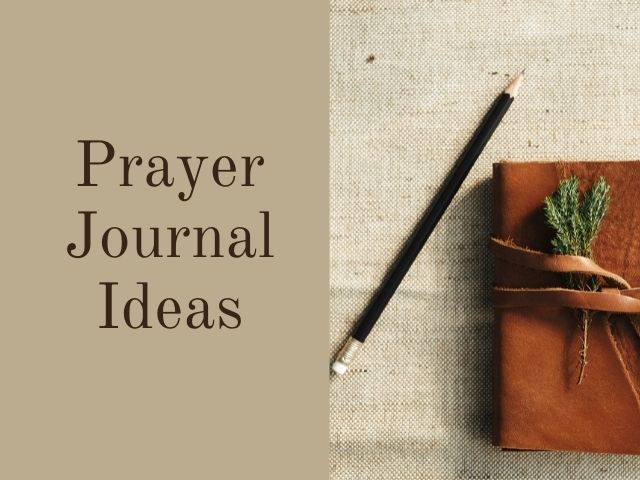 What is a prayer journal?
To begin with, you need to clarify the idea of a prayer journal so that you know what to write or put in it.
A prayer journal is a journal or diary containing your spiritual progress, prayer intentions, spiritual goals, biblical quotes, and other specific bits and pieces of information that you want to share with God.
You can put them all on a daily or weekly basis. Then, you can evaluate your spiritual progress every month or at the end of the year.
Many people enjoy having a prayer journal to keep track of everything they need to say to God and accomplish in life rather than just reciting a prayer and completely forgetting it afterward.
However, is it the only reason why people create a prayer journal? Below are several other reasons why.
What is the purpose of a prayer journal?
Apart from keeping track of the prayers, people create a prayer journal for some reason. Here is the summary of the purpose of a prayer journal.
First, people use it as a way to praise the Lord.
The prayer contains more than just prayer requests. Your prayers may include bible passages as means to praise the Holy Spirit.
In some prayer journal ideas, you can even use your prayer journal as a way to document your bible study. This way, in every prayer time, you open your holy book and your prayer journal—reading the Bible first and then writing the prayer journal.
Next, you can write your prayer list so that you can track when God answers some of them.
A prayer journal is also a great place to write down Bible reading plans if you are committed to Bible studies. This way, you can memorize more key bible verses because you recite them and write them down.
In addition, a consistent attempt to write a prayer journal can create a discipline of prayer. In whatever condition, you will devote your time to fill in your journal.
This will make you have a closer relationship with the Lord because you talk to Him as a habit.
Instead of only come to the Lord in your difficult times, you build a long-lasting communication with God on an everyday basis.
Related : Bullet journal doodles ideas
If you often give services in the church, you can use the prayer journal to write your sermon notes. Some prayer journal ideas present ways to write the prayer journal in an easy-to-follow format or template to understand what you want to say better.
Otherwise, you can also write sermon notes in the form of a summary of what you heard in the church.
Many people also claim that writing a prayer journal gives you peace. You can always look back to the last week's pages of your journal and then create praise reports and see how many promises of the cross have come to you.
Psychologists also believe that writing the things you dream of helps you to visualize your vision better. Therefore, many people register their prayer intentions and even color them to make more explicit pictures of the near future.
A prayer journal is also a great addition to your child' growth mindset activity emphasizing positivity and a can-do attitude.
Above all, you can exercise the power of prayer and see how much miracle happens in your life if you pray continuously. With prayers, God will grant all of the things you wish—of course, with extra hard work and a determined mind.
By looking at those benefits of writing in a prayer notebook, you can learn better to be a prayer warrior—someone who never stops praying and praising the heavenly father.
What should I write in my spiritual journal?
A good prayer journal may consist of several parts. Talking about sections of the prayer journal, you can use a prayer journal template or a printable prayer journal, or a DIY prayer journal.
There are several things to write in the spiritual journal. Here is prayer journal prompts you can follow.
What is your favorite biblical quote?
A great way to start is by writing your favorite saint quotes or key bible verses on the book's first page. These quotes will help you to focus on the reasons why you start prayer journaling.
Write the quotes in big fonts on the middle of the page to make sure you read them every time you open your journal. Decorate them to make it more eye-catchy.
Journal templates to add into your prayer journal :
Talking about a journal entry in a spiritual journal is slightly different from a regular bullet journal with daily, weekly, monthly, and yearly plans in the prayer journal.
You can add some additional prayer journal sections, for example, a gratitude journal, an answered prayers section, a love letter to God section, an intercessory prayer section, a Lectio Divina section, etc.
The choices highly depend on your goal and the spiritual progress you wish to attain. You can constantly adjust the section based on your own needs.
What is meant by a to-do list in a prayer journal?
A to-do list generally means a list of activities to do. In a prayer journal, you can create a to-do list related to your spiritual life.
For example, when to pray, where to give services or charities, whom to contact related to your spiritual growth, etc.
You can also write what concrete actions you must do related to the prayer intentions or request.
By having those prompts, you will not get confused on deciding what to write in your prayer journal pages. We hope that those prayer journal ideas will help you start your prayer life.
How to make a prayer journal?
How to make the journal is the central part of this post. There will be tons of prayer journal ideas that will help you set up your new prayer journal.
Setting up a prayer journal ideas
There are different ways of preparing your prayer book. You can choose between the following options:
A ready to write prayer journal
One easy way to create a prayer journal is by using journal templates. There are many printable journal templates available on the internet with various designs and themes.
The printable journal setup is suitable for those with no time and a novice drawing ability. All you have to do is print the templates on a piece of paper and stick them on any notebook you have.
Using printable prayer journals is a simple method that both adults and young children can do. You can directly bind the printed sheets by using staplers or strings and create a book out of them.
The advantages of using printable materials include minimum time preparation, fewer decoration attempts, and not many art supplies needed. Even when you only have a black pen, you can still make a beautiful prayer journal and write your meaningful prayers on it.
DIY Prayer Journal
Because the name is a homemade prayer journal, you have to start with a blank page. The first thing to consider is what kind of notebook you want for your journal.
Depending on how you decorate your journals, you can use a regular composition notebook or an exclusive notebook with unique papers—such as watercolor papers.
The pros of having this homemade prayer journal are that you can personalize it based on your tastes and preferences. This kind of DIY prayer journal is the right thing for those who want to document their prayer lives and channel their interests to draw or do artsy things.
A DIY journal is certainly not a simple prayer journal since you have to devote more time to make it look beautiful. However, it is a great way to exercise your spiritual discipline since you need to praise the Lord in the most beautiful things you can do.
You can do almost anything on the blank pages. Furthermore, many said that making a homemade prayer journal is a perfect therapeutic activity to heal your soul during your hard time.
Cover and Journal Inserts for your prayer journal :
Another easy way but still one of the best prayer journal ideas is by purchasing a journal cover. The covers are usually made of leather or fabrics with a particular design that you can add some booklets called journal inserts into it.
This kind of homemade prayer journal gives you more flexibility.
First, you can add more bundles of inserts once you are running out of blank pages. Second, you can keep the inserts from last year's journal in a box and treat them like a treasure or a time machine box.
This way, you can continually evaluate the effectiveness of your prayer method since everything is documented more neatly.
One of the essential prayer journal ideas is to select the most suitable art supplies for your prayer journaling activities.
Apart from the kind of journal we discussed earlier, collecting pens and coloring tools are always great ideas.
Black pens in various sizes are crucial. More than that, brush pens, glitter pens, watercolor pans or tubes, as well as crayons and colored pencils are great additional supplies.
You can also collect brushes, palates, erasers, rulers, and other basic stationaries.
You don't always need to purchase branded items. Instead, use everything available in your local area because the tools are just supplements.
Your creativities and willingness to keep writing on your prayer journal are vital to creating a fantastic journal.
Prayer journal ideas for bullet journal
After considering what prayer journal you want to create and what supplies you need to purchase, you can now view other prayer journal ideas.
Go digital
Why don't you go digital if you don't feel like you like the manual process? You can have your spiritual guided journal on your tab or smartphone.
By doing so, you can update your journal anytime and anywhere you want. You can even publish your prayer journal online in your blog, web, YouTube, podcast channel, and other social media.
Although they are relatively new ways of writing a prayer journal, they can reach more audiences so that you can invite more people to pray together. Many people may get inspired after reading your online prayer journal.
You can even join the Amazon associate program, give affiliate links, and then include them in your posts. This way, you can generate dollar, general monthly income that becomes your hard work bonus.
Go beyond the ordinary
Another great way to create your prayer journal is by using extraordinary things in your journal.
Collect dried plants and flowers to decorate your pages.
You can also draw things and print them on sticker paper. Voila, you create your personalized stickers for your prayer journals.
Expand your creativity by putting a small and colorful envelope on the inner side of the front cover. Put printable prayer cards inside the envelope.
You can take one printable prayer card consisting of God's word in your daily prayer. These cards can be used as prayer prompts for a long time, so you will have a variety of verses to recite in your prayer.
A Christian Gift
Spread the habit of prayer to the people around you and think about giving a notebook as a gift to other people. Create a note stating that you hope the person to use the notebook as a prayer journal.
If you want to take it further, you can even set up several templates at the start of the journal and let the receiver fill in the template with their prayers. This way, you spread the good habit and help other people to attain spiritual discipline.
Conclusion
Those are several best prayer journal ideas for you. You can use your quiet time to praise the Lord while documenting your spiritual process in a journal by having a prayer journal.
By doing so every day of the week, you will be able to see how loving God is in answering your prayers. You can use the journal as a record to witness how miracle works in your life and feel grateful about it.
Before you go don't forget to download the personalised growth mindset kit