Many people consider February to be the month of love because of February 14th—Valentine's day.And while some associate it with romance and mushy love letters, love is not only between couples but can be expressed to others like our friends and family. This is why these Valentines writing ideas cover all kinds of love. 
They help inspire learners' writing activities at different levels. Whether your students are in middle school or high school, you will find the appropriate Valentine's day writing prompts here.
Some are great for older children, while others suit younger children. Have fun creating your beautiful stories with these Valentines writing ideas.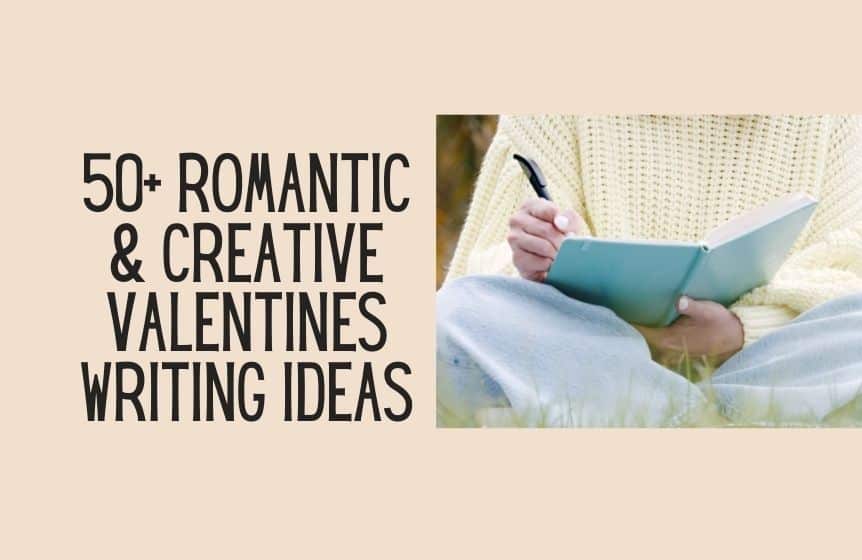 Creative Valentines writing ideas
Can animals also feel love? Why or why not? Explain your reason.
Write a short story about Valentine's day adventure you would have if you spent a day with cupid. What secrets would you share with them? What would you want them to tell you?
How would you spend the day if you could become your favorite cartoon character on Valentine's Day? Describe the adventures you would do.
Make a list of Valentine's day gifts you would give your friends and family members and the reasons behind the gifts.
"With you my best friend, I have everything I need. I don't even need a valentine." Write a brief letter to your best friend appreciating them and tell them why they are better than a Valentine's date.
"This valentine's day card is my token of appreciaton from me to you for being such a good friend." What other lovely notes would you write on the card before giving it to your friend?
Write an acrostic poem that contains these words: Valentine, Hearts, Love, and Friend.
Create a list of ways to make a friend feel your love for them.
Romantic Valentines writing ideas
Write about a person you feel attracted to. What are some special things about them?
I'm tired of being a secret admirer. Every time I see you, I feel____. Vividly describe what you have been feeling.
Write about something special you would go to lengths to give your crush when they date you.
Write about who you think the cupid's arrow hit you on Valentine's day.
You're tasked with hosting Valentine's day party at your school. What activities would take place? What makes it worth the time?
What is your favorite Valentine's day memory? Describe it.
What would it be like if you could organize a party with a valentine's day theme at your home? Describe what would be expected for it to be a success.
What kinds of personality traits make you feel endeared to someone? List at least five traits.
Write a love letter to your Valentine's date. Let it have a sweet message that will make them feel happy and loved.
The doorbell rings, and when you open it, you find your crush standing there with a wrapped gift and a Valentine's card. Describe how the day goes.
Describe different ways you could love using your five senses (Sight, smell, taste, feel, hear).
What would be the setting, and what would you serve if given a chance to organize a romantic dinner?
Do you have a fantasy destination, either real or fictitious, that you think is romantic? Describe what makes it charming.
Can you buy love? Should people use money when trying to win affection? Why do you think it's right or wrong?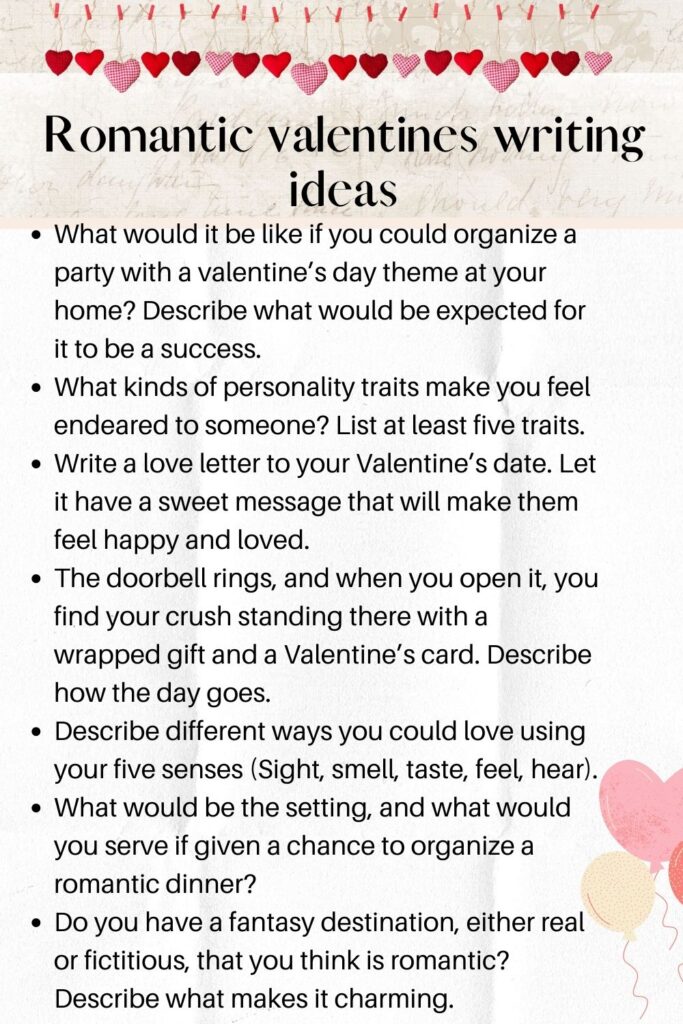 Mystery valentines writing prompts
If you prefer love stories filled with mysteries, then these Valentines writing ideas are ideal for helping your writing process during the month of February.
Why do you think people give treats and flowers as a sign of affection? If you had any resource at your disposal, what would you gift your crush, and why do you think it would make them like you back?
You are a magical fairy in a love story. You have the power to create love potions. What are the ingredients? Who would you give it to and why? Make it much fun.
You are making candy hearts for your class for Valentine's day party. What are some of the sayings you would write on them?
Imagine you met someone from outer space who has no clue what love is. Explain the idea of love you would tell them to make them understand why we all need love.
Your pet is your sidekick on Valentine's day. You want it to deliver a special gift to a good friend on this special day. Describe the adventure that takes place.
Someone left you a gift at your doorstep, but it's no ordinary gift you would expect from someone you know. What would it be to make you feel special, and how would you find the mysterious sender?
When people say that someone has a golden heart, what do they mean And do you think you have a heart of gold? Why or why not?
You get a chance to gift your crush something special for Valentine, but you need to know what they like. What fun ways would you use to find out what they like without asking them directly?
What is the worst thing that has happened to you on Valentine's day? Give a brief detail of what happened.
Love is one of the best things that happen to people. It is also one of the causes of pain and heart breaks. Write a story showing how love can bring both pain and joy.
We say that you love someone with your heart. Why do you think the heart is used as a symbol of love?
Valentines day writing prompts for kindergarten
You can nurture the writing skills of young writers with helpful prompts that guide their writing activities. Help them come up with cute stories using these Valentines writing ideas.
What do you know about Valentine's day? Is it a special day for you? Why or why not?
Write five sentences about love.
Write about three people who mean a lot to you.
I like gifts because____
What is the best Valentine gift you would give to your best friend?
What can you do to make others feel special and loved?
How do you feel when someone buys you a present?
Write something nice about five students in your class.
What are the best gifs you would give your friends on Valentine's day?
Write three extraordinary things about you that you would like others to know.
What would happen if more people showed love in the world?
I love to show love to others because____
The five best gifts I would wish for are____
Write a list of 5 things you love and why you would love it if someone gifted them to you.
What is love? Make a list of 5 things that define love.
A Valentine's card can be a great way to show someone you care about them. Write three short messages you would write on your Valentine's day greeting cards.
What are the different ways you could show your friends or family members that you love and care about them?
Write your family members' names and something special you would do to show them how you love them.
Make a small list of little love messages you would give some of your classmates to make them feel appreciated on Valentine's day.
Related : Romance writing prompts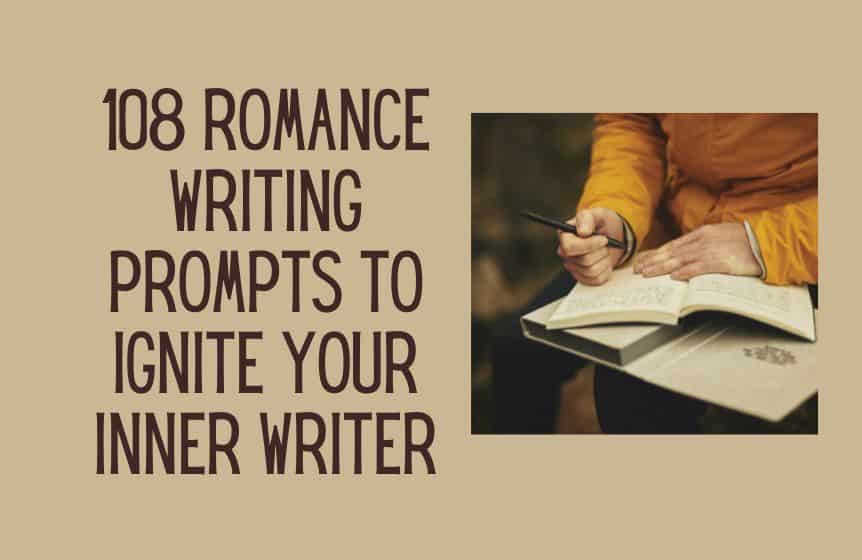 Valentines story ideas
The following set of Valentines writing ideas will help you get your creative juices flowing and come up with creative stories: 
You find a cute love letter on your desk signed by an anonymous secret admirer. Write a story about what will happen.
Imagine you are creating a newspaper article titled, "Is Valentine still a thing?"
Which fictional character would you love to go out with? Dedicate Valentine's letter to them.
Write a love story between your favorite superheroes. How would they meet? Why would they be madly in love with each other?
Write a story in which you are the main character in the craziest Valentine's day story.
Give at least two reasons why you think love is the most important thing that could heal the world.
Think of a fun valentine's day activity you would attend if you had any resources needed. Describe the activities you would partake in that would make it worthwhile.
What would it be like if you could recreate a romantic scene from your favorite book in a way bound to make the story more interesting? Write a short story.
The history of Valentine is, ironically, a tragic story. Write a story about why you think Valentine's day became a day associated with love and romance.
Whether you are looking for sentence-writing practice for your younger students or to better the essay-writing skills of the older ones, these Valentines writing ideas are a perfect way to engage them. You can also buy a package of pre-cut paper hearts and teach them to write cute Valentines day messages for their loved ones.