There are a few virtual dice websites that can be used in the classroom and also for playing games. Let's go through some of the best online dice that are easy to use and free.
What is virtual dice?
It is the same as a physical dice which has 4, 6, 8, 10, 12, and 20 faces. A virtual dice allows you to roll the same set of numbers at random. The good thing with an online dice is that you can roll it virtually anywhere.
It is more popularly used in classrooms when teaching maths or even doing science simulation.
Online dice is also used for playing games. Imagine wanting to play a board game but realised that the dice is missing. Now you don't have to worry as there are plenty of sites that allows you to roll a dice for free.
Best Free virtual dice websites :
1. Diceapp.io
It is a simple website that allow users to roll up to 9 dice at a time.
The fun thing is that it also has a coin flip feature that can show a happy face for HEADS and a monkey for TAILS.
The good thing about this app is that it is ad-fre. It is suitable for classroom settings. Or even when needing to roll a dice when playing games with children at home.
The app is free to use and has a very clean feature.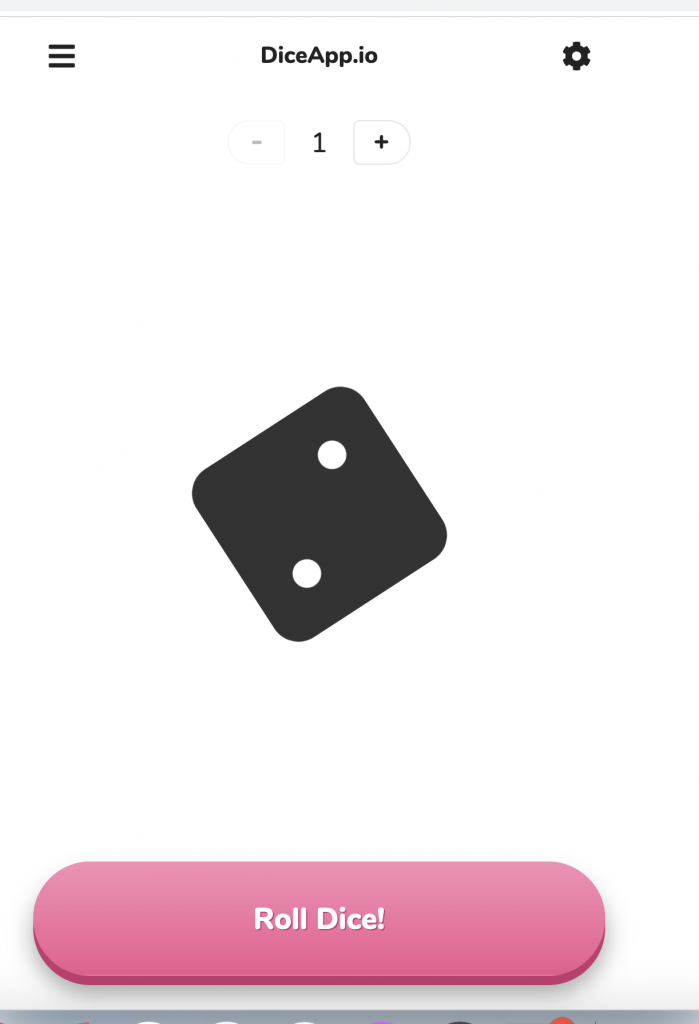 This is a feature from Google main page. All you need to do is type the word Google Dice on Google's browser.
The virtual dice will appear at the top of the browser. You can even choose the color and use other tools like a fidget spinner, calculator, flip a coin and metronome.
There is also a one-minute breathing exercise.
This is a free tool and will work on any device or web-browser.
However, this tool is not suitable for a classroom setting, since it is on Google's browser and students can be distracted from all the other pages that shows up on Google's first page.
Nevertheless it is a simple, free and easy tool to use that is also ad-free.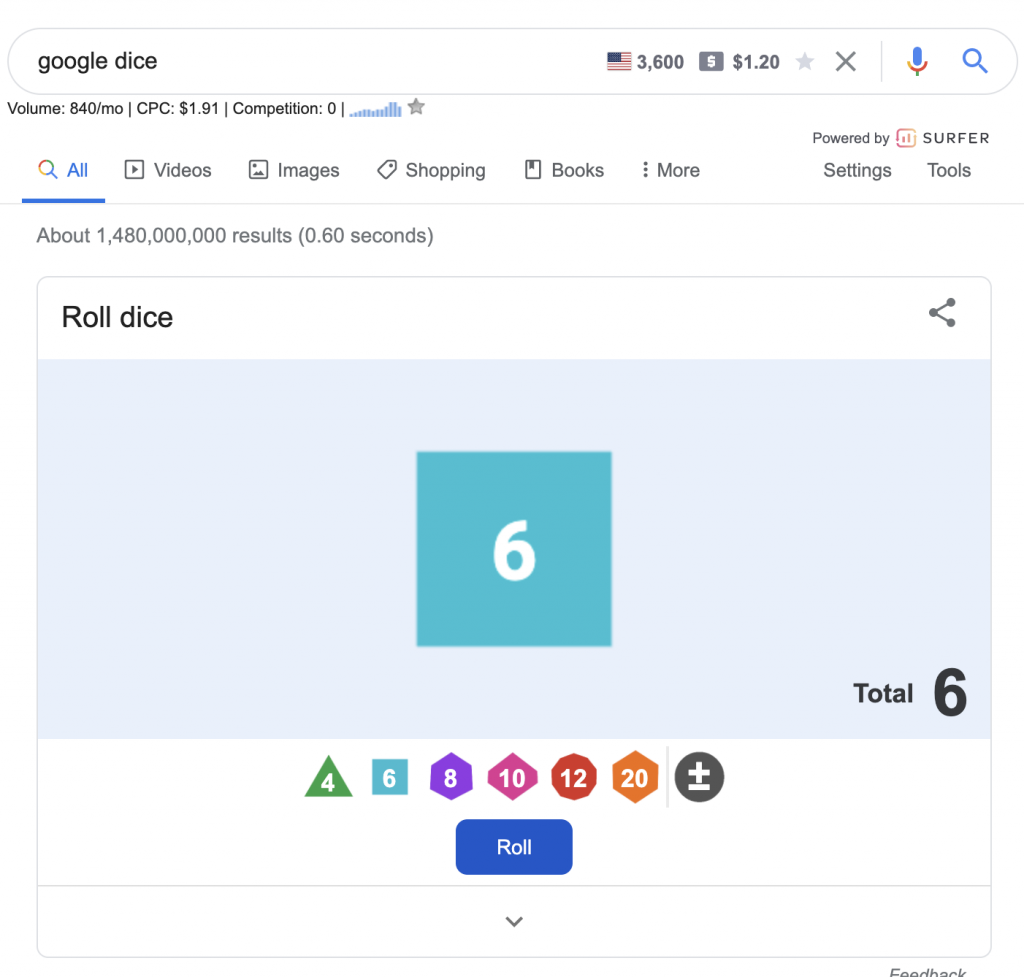 3. Virtual Dice
You can roll up to 3 dice at a time. It has some fun sound effects. To use this tool you will need to have adobe flash player installed.
This tool is more suitable for playing games. The sound effects makes it more exciting.
You can roll up to 5 dice at a time. There are different dice shapes that you can choose from.
This site is free to use but it has advertisements.
It may not be suitable for a classroom setting because the ads can be very distractive. They are located on the right hand-side of the browser and in big images.
Besides being able to roll dice online the site has many games that are suitable for young children. For example, arts, maths, reading, puzzles and more.
3d Virtual Dice Roller:
5. Teacherled Dice
This is a simple tool to use. You can roll up to 3 dices. It comes with a sound effect.
There are no advertisements on this site. However, I do find that the rolls take a bit of time. It is not suitable when you are looking to dice rolls faster.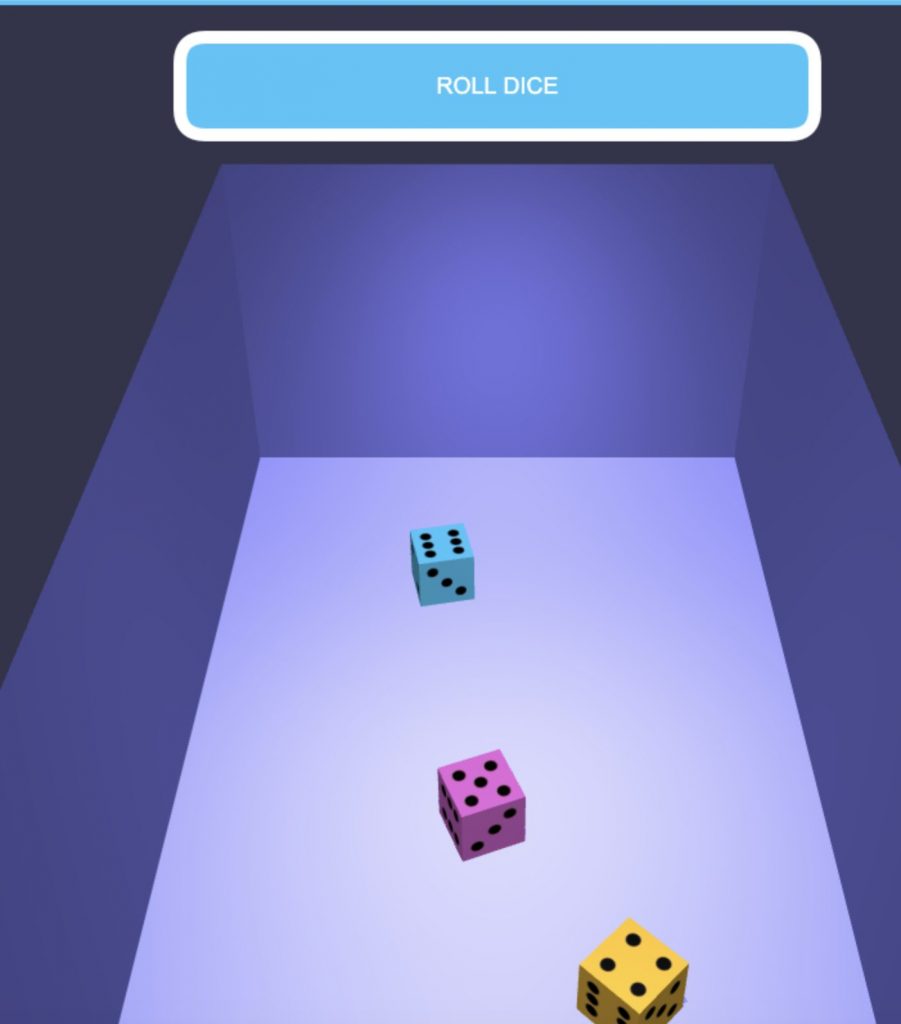 6. Random Dice
This is a simple tool to use. All you need to do is click on the dice and it will roll. This site allows users to roll only one dice at a time.
However, the site is clunky and filled with ads. Not suitable for a classroom setting.
7. ESL Kid Games
This is another free site that allows you to roll online dice.
You will need to click the button to start rolling the dice and click again for when you want it to stop.
It has a clean interface and simple to use. However, there are many ads on it. It does not look appealing compared to the other online dice roller sites.
8. Teach Starter
This is an advance dice rolling tool. You have many options from the number of dice you want to roll and also the faces of each dice.
It is more suitable for older children.
It is free to use and has not advertisements on the site.
What is a 20 sided die?
A 20 sided die is also known as a icosahedron. It is a 20-sided polyhedron.
It normally has a greek or latin number inscribed in it.
A 20 sided die is often used when playing video games. For instance, dungeons and dragon games.
Using this dice players will determine the strategies and attacks it will use throughout the game.
Online 20 sided dice roller:
1.Google Dice
Google allows you to roll a 20 sided dice using its browser. Just type in the word "20 sided dice" on Google browser and the option will show up.
This is another free tool that allows user to roll a 20 sided dice. However, there are ads on this site.
Do note that while this tool is free to use it is not a secured site. It does not have the https extension.
This is another free site to use. It has the similar features as Roll a D20.
It also has advertisements on its site.
The site gives you the option to Roll D3, D4. D6 and D8.
before you go don't forget to check this out
The growth-mindset kit made to help kids discover challenges with confidence. 
packed with amazing worksheets, including ways to manage anxiety and helping children develop positive habits.