Choosing the right name for your character in online video games is essential. We have a list of over 100 best Call of Duty names you can use as your character's name once you decide to hop on board and play one of the greatest games for the first time. The name you select tends to reflect your personality as a player. If you are looking for cool names, you are at the right place. You are still in the right place if you have a COD account and think it's time for a better name.
Call of duty is a legendary first-person shooter video game, with over forty games in the franchise, since its inception in 2003. Initially published by Activision, Call of duty now has many other developers, including Infinity Ward, Sledgehammer Games, Treyarch, and developers who have produced expansion packs and spin-offs.
The game's first setting was World War II, but the Call of Duty franchise now features other settings such as Cold War, modern times, the future, and even outer space.
All these are spread in the original Call of Duty, Modern Warfare, and Black Ops categories. They are available for Windows Pc, PlayStation, Xbox 360, and the Call of Duty mobile, a welcome addition to the popular game.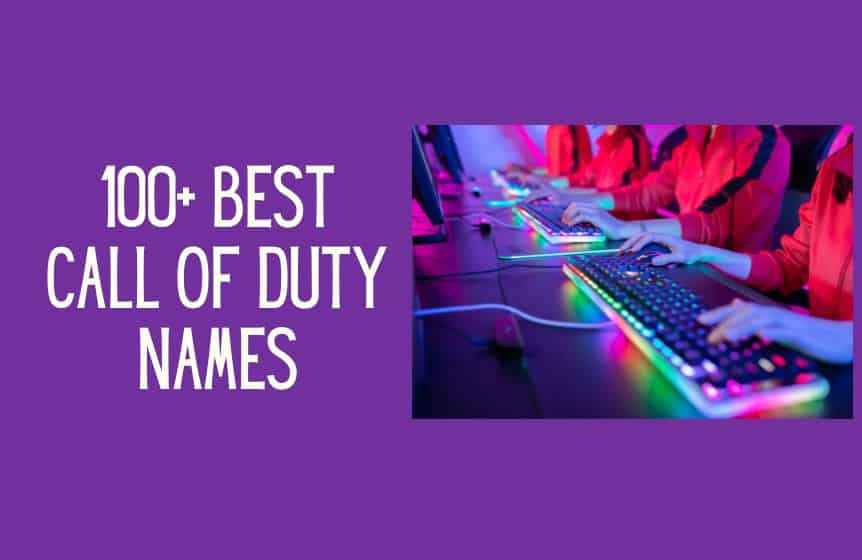 Changing your COD Name
Call of Duty is one of the busiest mobile games. If you are playing COD mobile and want to change your character's name, the only way is to buy a rename card using your virtual currency. Also, ensure the name has less than 14 characters (Including unique characters and special symbols).
Here's a step-by-step guide:
Launch the COD app on your mobile device.
On the bottom left, tap on 'store.'
Next, click on 'Cards.'
Then buy the 'Rename Card.'
Click on the card to be able to change your name.
Write the preferred name in the dialogue box, then select 'OK.'
Funny call of duty names
You need a unique, stylish, or outstanding name to impress other online gamers. Funny COD names can be easily noticeable, as they show your good sense of humor. So, if you are seeking a memorable name, here are some funny names to choose from:
Ghosthunter
Fighter
LastEye
Clansman
PHOENIX
Angry Wolf
Team Buster
PubgStriker
SnippingTurd
Nocturnal
Grenade
Wazir
Assassin Creed
MachineGun
RedFoster
Agent47
Death Machine
Conartist
NoFreeFire
Hawk Eye
Death Truck 7
Champion
Fear
Joe Mechanic
Eagle Assassin
Demon Fire
Noob Hunter
Bruised Soul
Fire Guy
Warlords
ExtremeDanger
Smith Clan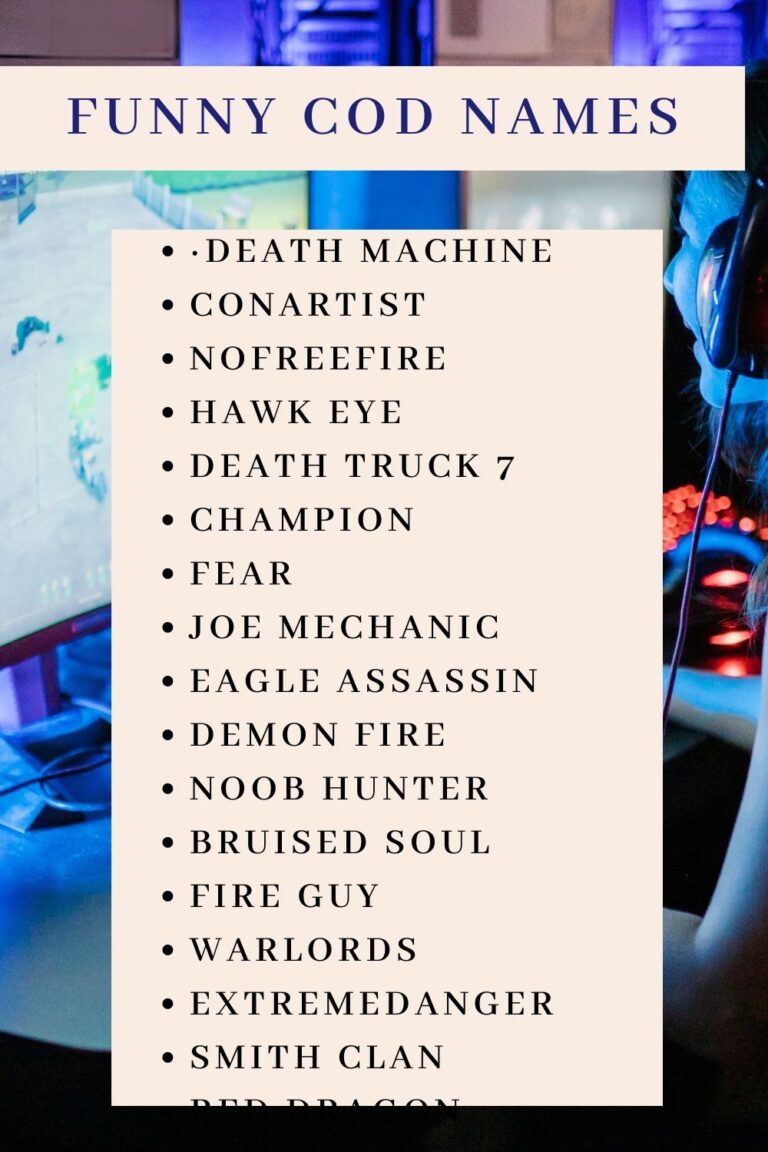 Red Dragon
Mighty Knight
On_Duty
Call of Death
Starboy
HEADSHOTS
Hunter
Troll Army
RagedPsychos
Royalty
AK47
Evolve
Call of Demons
Sergeant Ghost
Rioter
Trollers
Ghost
COD Gamer
Best call of duty names
The great thing about the Call of Duty game is the variety of modes. You can choose between solo missions and multiplayer mode. If you want to be considered among the pro players, join the Call of Duty league, which has a massive audience base. The famous Battle Royale game features 100 players in its matches.
Whichever mode you love, a good name will make you stand out. Here is a list of the best COD games to help you get the best username:
Gangsterpubg
Nasty Shanker
Dynos
Frenzy Shooters
Evildead
Pro Grow Blow
Nosedrills
Dark Warrior
CoolShooter
Grim Leaders
Ninja Dharmaputras
Popeyes
Death gun
Vampiric Ghosts
Thunderbeast
Tilted Stabbers
Troll
Raging Sprayers
Maarenge Marenge
Destuctivevirus
Covert Destroyer
Related : Sweaty Fortnite names
Assassin 007
Blind Assassins
Hidden Power
Silent Commando
Ironman/some other hero
Hacker
Brookie
Spanking Legends
Pubgaddictiv
Terminator x
damntheduty
no_mercy
joe_hoe
2cute2quit
BOT996
MaximusTitan
Cyprus
no_one
DeadHunter
Kill The Mob
Serpent
Ressurect_me
LoneTrooper
strange addiction
riseandfire
Last_laugh
damselindistress
psycho_vipers
Destiny
Radicals
spacebound
DarkClown
bounty_seekers
swagking
Stromtrooper99
Cool call of duty names
You can't go wrong with cool gamer tags. Below is a list of awesome names to choose from and find you cool COD names:
Insaneshooter
Deadshot
Wretched Veterans
Chicken lovers
Faulty Devils
Known Warfare
Odd Hooligans
oODeadBlasterOo
Wild Wrecker
Glistening Prestige
Pubgstriker
Radi3ntBeing
NegativeAura1
Electric Sprayer
Calm Outlaws
Championof7seas
PainCyborg
Annoyed Power
Medical Rebels
Agent47
Purring Coercion
Hungry Admirals
Fiery Destroyer
Lucky Sharpshooter
Ruddy Exterminators
Tango Boss
CãrnageEpidemic
FreëzeLucif3r
77MirrorStar
Plain Privilege
VirulentGãmër
Cloudy Perpetrator
Piece Makers
Lyrical Armed Services
Quarrelsome Strategy
77VenomArchon
Outrageous Dominance
Pubgian
Bub Thumpers
Fanatical Tyranny
Complex Slayers
Nutty Domination
Organic Punks
Brash Thugs
Homely Sharpshooters
Faulty Devils
Under Your Skins
Chickenlover
Hungry Admirals
DashMetalRat
Odd Hooligans
EnëmyD3vi1
Good COD names
Now that you have a good idea of the kind of names that will make you stand out, here is a list of cool Call of Duty names to choose from:
Guttural Gangsters
Chiya Player
Fear Butchers
Zealous Squad
Selfish Soldiers
Nutty Domination
Fanatical Tyranny
Homely Sharpshooters
Straight Gangsters
Quarrelsome Strategy
Cloudy Perpetrator
Optimal Aces
Long-term Occupation
Foamy Gang
Plain Privilege
Abnormal Vigor
Stupendous Knights
Disagreeable Liquidators
Fanatical Tyranny
Regular Discipline
Observant Force
Inimical Thugs
Dizzy Irresistible
Related : Best Fantasy Football team names
Odd Hooligans
Organic Punks
Grieving Butchers
Headhunter
DEADPØØL
PUBG Meri Jindagi
MADMAX
Noobies Choosies
Bad soldier
Nasty Shanker
Grim Noob
Hidden Pwner
wizard harry
Thunderbeast
DEATH MACHINE
Boiled Blood Hunters
Xx-DΞΛDSH0T-xX
Psycho killer
Electric Tank
Nosedrills
Wazir Killers
Sanskari
Heroic Hunks
Agent_47
Sniper
Best Blusters
pubgguru
Bounty Seeker
COD names for girls
Girl gamers are some of the toughest and kick-ass without mercy. If you are one and looking for a good username, here is a list of girls' COD names:
Fuzzy Pack
Quarrelsome Strategy
Disgusted Tyranny
Rapid Hooligans
Cloudy Perpetrator
TriB3z Munro
Mortified Coercion
Hungry Admirals
Martial Warlocks
Straight Gangsters
Instinct
Fuzzy Pack
Championofseas
Fine Bureau
Belshes
Mortified Coercion
Straight Gangsters
Lyrical Armed Services
Vlad's Children
Wishart Wild West
Bloody Devils
strange addiction
Cyprus
Destiny
DarkClown
psycho_vipers
MaximusTitan
spacebound
2cute2quit
damntheduty
no_mercy
bounty_seekers
Ressurect_me
Void
Martian
Crazed
Immortal
Sweaty call of duty names
Do you play the game for hours till you get sweaty palms? You are now a hardcore gamer and need a list of sweaty names to choose from! Below are some sweaty COD names to use while enjoying your quality experience:
swagking
damselindistress
Radicals
Last_laugh
Stromtrooper99
LoneTrooper
Kill The Mob
Serpent
rise and fire
DeadHunter
joe_hoe
BOT996
no_one
turtle neck man
Kung Fu
SamSlammed
Kings Of Chaos
Mystic
alpha_helix
ether_smoke
TomHanks
Chaos Builder
art_of_war
DeathSquad
360 Degree
wind breaker
Major Russells
FentoFantom
TrojanHorse
Lester
Death Raider
the_god_maker
Victor Win
Xtreme
Sick COD names
The main reason some gamers stand out is their unique username (besides their skill, of course). The great thing is you still have more sections to ensure you get the best name. Check out these Call of Duty names:
Outlaw
Avenger
System Detonator
Victory Seeker
Dark Knight
Online Allday
BattleStar
Best Ninja
Yeet to Kills
Archer
NaughtyNick
Major Pain
NoDaysOff
Sharpshooter
SteelHeart
Executioner
Night Watcher
Arrow Head
Silver wolf
DoomsDay
Death Defier
Blaze Fire
Clout Bearer
Mutant
ShadowSlayer
Mayhem
Savage Sam
Matrix
Havoc Bringer
ThunderCat
Fine Sniper
My_cod_name
Arsyn
CutThroat
Technician
Incognito
CommandoFluffy
sick-o-pants
Swordplay
CyberCommander
Slayer
Hellraiser
The_Messiah
No Remorse
Mercenaries
Fantom
Bulletproof
BlowoutBrains
Cold Assassin
Exile Beast
Strong COD clan names
One of the joys of playing Call of Duty is joining clans, going all out against other clans in clan wars, and claiming dominion over the map. You need to pick the best clan name to show that you and other clan members have a strong clan.
Here is a list of cool clan names, so you have the best choices to pick from:
Men of malady
WORST Nightmare
COD Finest Army
Kill on Bounty
A Team
Gladiators
Silent Shooters
Death Machine
Fearless Warriors
Modern Warfare
Ghost Army
Moon Squad
Death Spree
Raging Archers
Radical Art
Digital Warriors
Bored Assassins
Uprising Rivals
The_Special_Forces
Wreckage
Wazir Killers
Armed Services
Villager Raiders
Rhythmic Kills
Invading Troopers
DeadShot
AK47 Shooters
Martian Army
DestinedSquad
Ninja Turtles
Listless Kills
Samurai Army
Zombie Hordes
Fierce Assassinators
Blood Bath
Fanatical Warriors
Ghoul Army
OneclickNinjas
Panda Troopers
Gun Diplomacy
ANGRY KEYBOARDS
Headhunters Squad
MADMAX
Battle Cries
Demon Dancing
Clan of Coats
Undefeated Squad
Death Sprayers
Blind Assassins
Dominance
Welcome Your Defeat
Dark Spirits
Championofseas
Can't Won't Don't
Agent47
Grim Noob
Pubgstriker
Related : Cool clan name ideas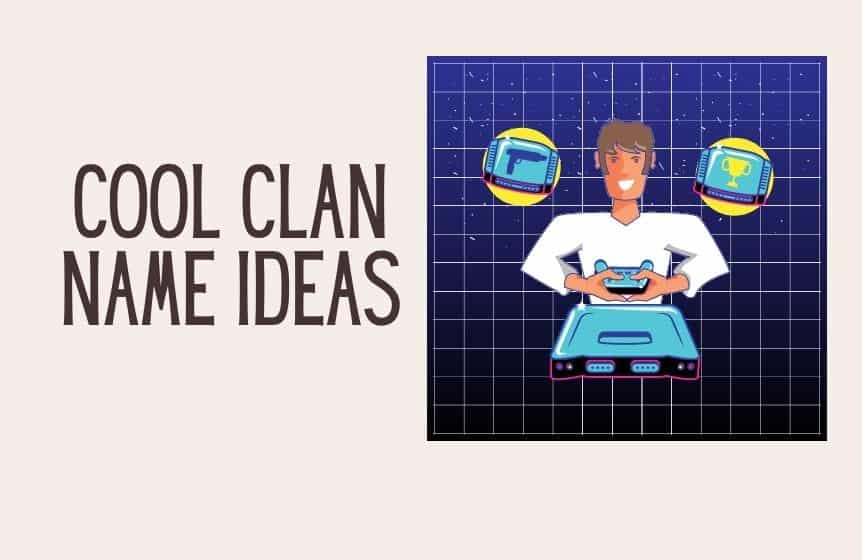 Headshooter
Frenzy Shooters
AK47
God of Blood hunters
Tilted Stabbers
Covert Destroyer
Gangs of COD
Demons and giants
Vampiric Ghosts
Snipe the Hype
AWMLover
Dirty Grenadier
Frantic Saboteur
Loser Hunters
Cloudy Perpetrator
Gods of Undead
Gutsy Studs
Team Supa Struckers
Noobies Choosies
King-Pins
Hungry Admirals
Quarrelsome Strategy
Gun Lords
Electric Tank
C-19 Parasites
Loose Characters
COD names for boys
Cod usernames can speak volumes about your personality. If you want to be seen as a cool guy, here is a list of boys' COD names to give you enough variety to choose from:
Electric Moths
Wazir Killers
Ebony Trolls
Psycho Vipers
Thunder Moths
Grim Leaders
KillingSprees
Call of Demons
White Bats
Royal Bears
Blood Bashers
The Chargers
Boiled Blood Hunters
Denim Plunderers
We Smell Blood
zure Bulls
The Nameless
Onyx Skeletons
Killer G69
Brown Cobras
Spanking Legends
Flame Wolves
Royal Spider
Bounty Seeker
Hungry Chicken Seekers
Conclusion
As you get ready to get your game on and destroy the enemy lines, pick a great name that will relate with your fan base, whether it's a creative name, funny username, or good clan names.
Pick one from the above Call of Duty names (or more for later) to use as your username or inspire a great idea when you brainstorm a name that best suits you.