Would you like to change your Snapchat accounts? You don't need multiple smartphones to access different Snapchat accounts. You can toggle between multiple Snapchat accounts to access them all at once. To switch between accounts, you only need to log out of one. We will show you how to switch accounts on Snapchat.
Like Instagram, you can add different email accounts to your Snapchat account. This allows you to switch between multiple Snapchat accounts using one mobile phone. 
However, unlike Instagram, switching accounts on Snapchat is not as straightforward. In this article, we will show you how to manually switch accounts on Snapchat on a mobile device.
How To Switch Accounts On Snapchat?
On Snapchat, switching between various accounts is an easy process. To finish the procedure, though, takes a little time and effort.
You can instantly choose a different account on IG by just long-tapping your profile picture.
However, to get into a different number of Snapchat accounts, you first have to log out from your current one.
Additionally, you must add your backup account before switching it if you haven't already done so on Snapchat instances.
Follow these simple instructions to find out how to switch accounts on Snapchat, either iOS or Android.
Step 1: Click on your Snapchat profile photo.
Launch Snapchat and navigate to your profile page.
Open Snapchat first on your android phone or iPhone.
Touch on your profile image (Bitmoji) in the upper navigation bar when you are on app Snapchat.
You don't need to be concerned about missing your profile picture of your previous app account because it is accessible from every tab.
Although the "Discover" page is shown in the image above, you can also be on any other tab.
You have reached your Snapchat profile correctly.
You have to proceed to your Settings app in order to exit your account.
Step 2: Click the Settings option.
In the upper right side of your profile, touch the gear symbol to access your Settings.
You must navigate to your Settings when you are on your profile.
You can edit your profile by clicking the gear icon in the upper right corner.
Enter your Settings option by tapping the gear symbol.
You must navigate to the Settings page in order to log out of your account on Snapchat.
The only alternative to being unable to log out of your account in Snapchat is to uninstall and reinstall the clone app.
The navigation to your Settings was accomplished.
Finding the logout icon will be your next step in order to exit Snapchat.
Step 3: Navigate to "Log Out" by scrolling down.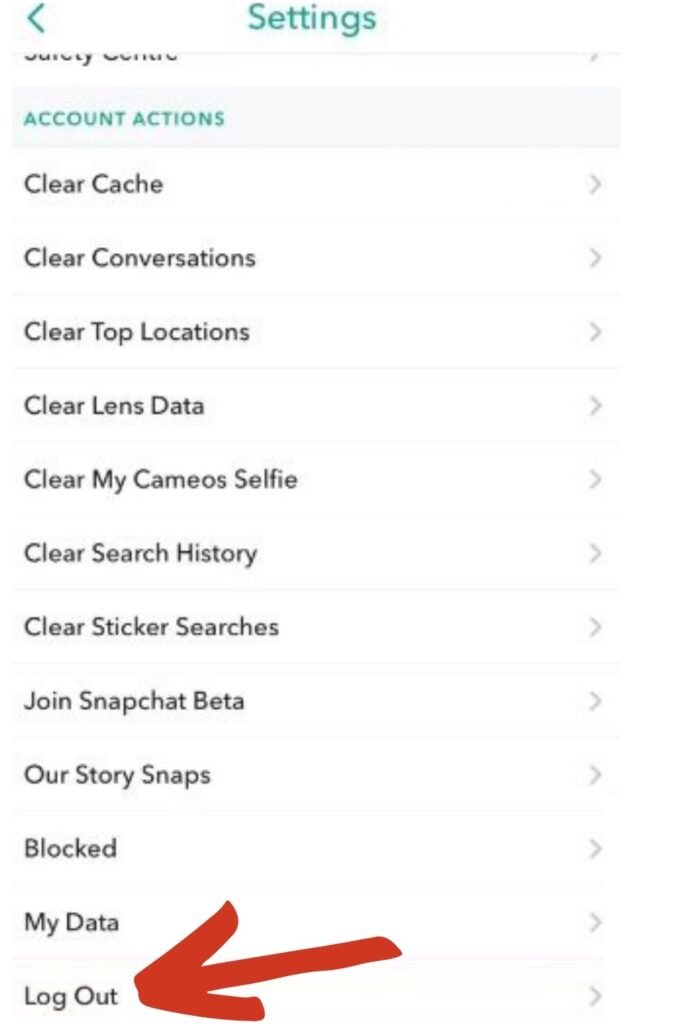 Here on the Settings screen, click "Log Out" when you've reached the bottom.
Your Snapchat username, first name and last Name, DOB, mobile number, and other basic information are listed under different methods when you get to the Settings section.
Finding the "LogOut" option is the one you need to do.
Several sections on the page like My Account, Account Actions, Additional Services, Feedback, Support, Who Can…and More Information—are also highlighted in green.
Upon that Settings page's "Account Actions" section's bottom, there is an option labeled "Log Out."
Scroll down to the page's footer and click the "Account Actions" heading.
Navigate to the "Log Out" tab beneath the "Account Actions" banner.
For your Snapchat account to log out, just hit "Log Out."
In order to complete your logout, hit "Log Out" one more time.
Your Snapchat account has been successfully closed.
You'll discover How to switch accounts on Snapchat using the dashboard in the following steps.
Step 4: Select "Use Other Account"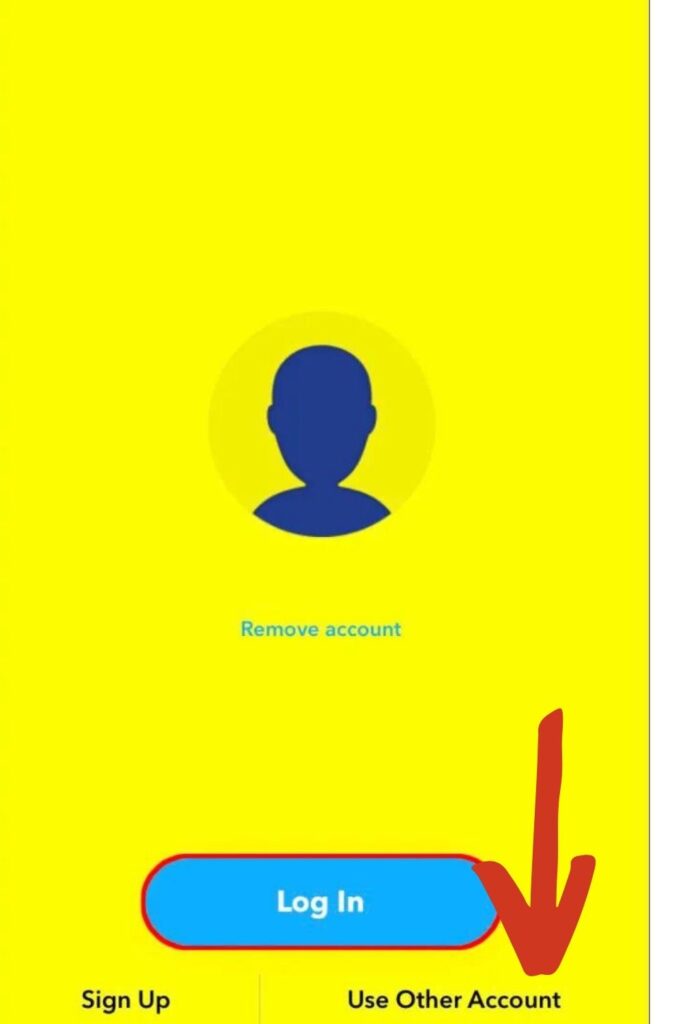 To move to a different Snapchat account, hit "Use Other Account" on the login or sign-up window.
The login or sign-up page will appear once you have signed out of your Snapchat account.
Your current account's profile icon can be seen on the login or sign-up window.
The screen offers the following three options: 

Log In 
Sign Up, and 
Use Other Account

You must choose "Use Other Account" in order to change accounts on Snapchat (How to switch accounts on Snapchat).
This will enable your secondary account to appear on later login or sign-up screens.
It would be best if you didn't press on "Log In" because doing so would merely enter you into your current account.
You must sign in using your other account in the last step.
Step 5: Sign in using a different account.
Enter your second Snapchat account now.
The login page will appear once you have clicked on the "Use Other Account" tab.
You can sign in to another Snapchat account on the login page.
Hit the back button to establish a new account if you don't already have one by selecting "Sign Up" from the menu.
Clicking the "LogIn" option will allow you to sign into your secondary account after entering your login details.
Congratulations—you've successfully got the result for How to switch accounts on Snapchat!
You can access your prior account by signing out of your existing one, pressing on the profile image of your old account, and then entering your Snapchat password.
How To Remove Multiple Accounts On Snapchat?
You can quickly deactivate a Snapchat account if you've added another account. Your account won't be erased, so don't worry about that.
If there isn't room for another fresh account, you're merely deleting many accounts from your Snapchat.
To delete numerous Snapchat accounts, follow the steps below.
Step 1: Log into your Snapchat account.
Consequently, launch the Snapchat mobile app and sign into your account.
Step 2: Navigate to the Your Profile section.
Then go to the top left corner of the page and visit your Snapchat profile.
Step 3: Navigate to Your Account Settings
Select "Settings Gear" by tapping on the symbol in the top right corner.
How To Switch Between Snapchat Accounts Without Logging Out?
You cannot swap Snapchat accounts without signing out of the parallel space app because there is no built-in mechanism.
To access another account, you must always log out of the one you're currently using.
Additionally, you cannot use several accounts simultaneously on social media platforms Twitter, Tiktok, or Instagram without signing out.
So, Snapchat will deactivate your separate account via their server after you sign out of your initial account. Your secondary account will be connected to their server when you sign in.
According to those mentioned above, you cannot run more than one user account server concurrently. However, using several Snapchat accounts without signing in is possible by using various devices. In addition, it hasn't been feasible up until now.
Related : How to see Snapchat messages? Quick guide
Final Words
On Snapchat, there isn't yet a function that makes how to switch accounts on Snapchat simple. 
This is due to the possibility that Snapchat is attempting to deter users from opening up more accounts.
The future implementation of Snapchat's feature (comparable to social apps like Twitter and Instagram) is also unknown.
However, at the moment, switching accounts involves more clicks since users must first log out of their current accounts.
You can employ two different accounts if your profile has both a personal use and commercial aspect.
You can later swap between your primary and second Snapchat app. Additionally, you can access Snapchat with more than 2 accounts added without any problems.
FAQs
Can someone have more than one Snapchat account?
You can use two Snapchat accounts simultaneously, yes. Snapchat enables you to establish several accounts on their application, similar to other social media apps like Twitter and Instagram. This is the most acceptable option if you wish to maintain a separation between your business account and personal accounts.
Two different devices are required if you wish to create a new Snapchat account across several applications. Just one tap will allow you to access both accounts. However, using two Snapchat apps simultaneously on a single device is impossible even if it's a cloning app. It's also important to note that in order to sign in to the second account, you must sign out of your existing Snapchat account .
How to know if someone has more than one Snapchat account?
Here's how to determine whether someone has 2 Snapchat accounts:
Block that contact on Snapchat.
Click the "Add Friends" button.
Navigate to Settings on your mobile phone and enable "Contacts" to synchronize your phone contact details with Snapchat.
By searching the individual's Snapchat display name under "Quick Add," you can see if they have any additional Snapchat accounts.
If a person has 2 Snapchat accounts, disabling one of them should allow you to locate the second account under "Quick Add."
To begin with, you must synchronize your contact details with a new instance of Snapchat.
The friend list on your mobile device won't be accessible to Snapchat anyway.
Can you make a secret Snapchat account?
Yes. On Snapchat, unless someone adds them and you add them again, no one can view your account, whether it is a public profile or private profile.
Can you log into 2 Snapchat accounts at the same time?
No, it's not possible to log into 2 Snapchat accounts at the same time until it could be done with 2 different devices.
Can you have multiple Snapchat accounts with the same phone number?
No, you can only have one Snapchat account linked to your email address or phone number.
Was this helpful?
Good job! Please give your positive feedback
How could we improve this post? Please Help us.