With everyday challenges, and busy schedules it can be difficult to practice self-care ideas that are needed for the body and mind.
Self-care does not need to be complicated or expensive. All it needs is some practice and incorporating it into your daily routine.
Here is a list of 30-day self-care ideas that will help you and your family rejuvenate.
The self-care ideas in this blog post bare a one-word challenge.
I like this because one-word is open to interpretation and you can apply them in any way that is good for you and your family.
Before we explore the one-word self-care ideas, let's first look into the importance of creating a self-care list for ourselves.
Why create a list of self-care ideas?
Self-care is about giving your soul the chance to feel positive and happy.
In our busy lives, we may forget about taking care of ourselves. We may be so occupied about satisfying everyone else's needs that we forget about own feelings.
Taking small breaks regularly can help prevent long-term burnout.
Self-care should not be practiced on holidays or weekends. Rather it should be part of our daily routine.
By taking care of ourselves we will benefit everyone else around us as well.
30 days of self-care ideas:
1.Goals
Set a goal with your kids this month or finish the one you made before. Stick this goal on the refrigerator so your family can be reminded of it
2. Spirit
Focus on spirituality or things that make the soul happy. Spend a few minutes a day meditating or praying with your kids
3. Rest
The body needs this. Let your kids wake up later than usual. Stop forcing them to be productive all the time. Rest their mind and body with sleep.
4. Happiness
Do things that make you and them happy. For example, I have started a new hobby, junk journaling. I do this while my toddler is painting next to me. It makes us both happy 🙂
Self-care ideas for anxiety:
If you are feeling exhausted recently/your kids feeling anxious, give your mind and heart a rest too. Below are self-care ideas for tackling anxiety.
5. Unplug
Unplug from social media or whichever feed that makes you or your kids feel unhappy
6. Recharge
Do the things that will recharge your energy. Check out our self-care activities for ideas
psst, don't forget to :Download the THE GROWTH MINDSET KIT helping children to stay calm and grounded during this difficult time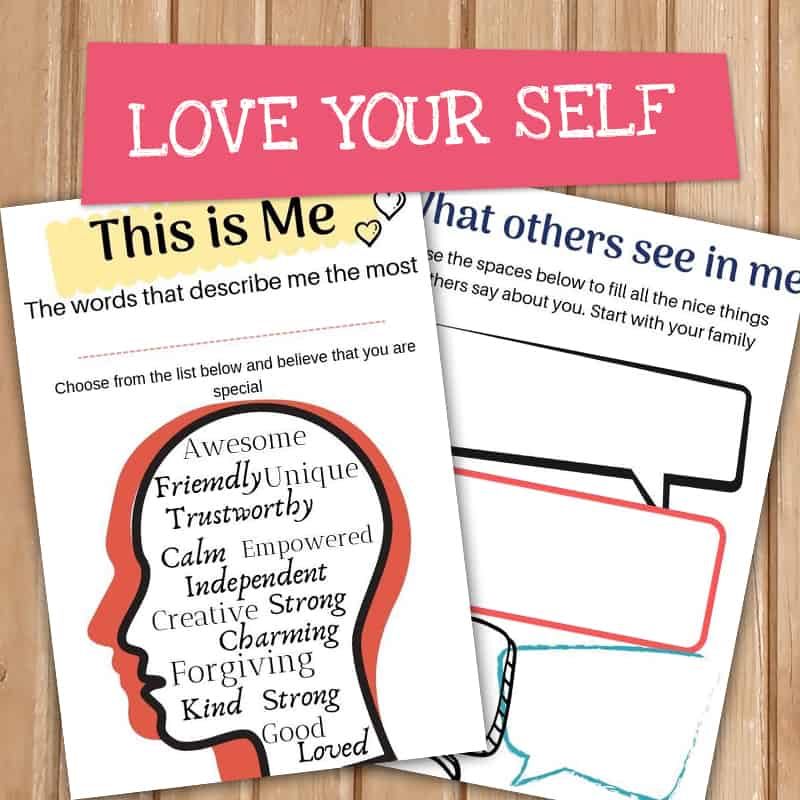 7. Fun
Have a little fun and adventure. Every little small thing counts! Try going on a virtual museum tour with your family. Pick a hobby together.
8. Checklist
Tackle the unfinished to-do-list. Create a routine for everyone at home. Focus on time management
9. Break
Take an afternoon nap. You and your kids can snuggle for an afternoon nap.
10. Growth
Write down the good things that have happened so far this year. Recognize your kid's achievements and remind them of it.
11. Share
Encourage your children to share their feelings. Share your feelings as well. Time is precious. Share with each other and be kind.
12. Cuddle
Cuddle your soul. Have a family cuddle, wrap up in a soft blanket, and have a movie night with your family.
Dont forget….THE GROWTH MINDSET KIT aims at helping children realize how special they are. A great way to reconnect with children at home

13. Plant
Plant something together as a family and watch it grow. You can even do indoor plants. Here are 8 ways to get kids interested in gardening.
14. Feelings
Express your love and feelings to your kids today. Tell them how much you love them. We often get tangled up in day-to-day chores and forget the simple "I love you" to our kids.
15. Box
Create a box filled with your family's favorite things. Each person picks one favorite thing. It can be a movie, book, food, etc. Every day take a turn to pick one person's favorite thing and talk about it.
Self-care ideas for moms:
As a mother, you may feel disconnected with yourself and with your family.
The exhaustion of taking care of everyone else may result in you forgetting about your own mental health.
Here are some self-care ideas for moms who need to reconnect with their body and mind.
15. Connect
Find someone or something to connect with. Do things that makes you feel connected to the world. For example, a zoom call party for your kids. Netflix watch party with your friends. Call an old friend. Your kids and you should feel connected again with the world.
16. Calm
Meditate or do yoga together. Pay attention to your breath
17. Let go
Let go of the things you can't control. Get rid of things your family no longer needs. Ask your child to create a donation box and clear up the space in their room
18. Communicate
Have a screen-free family evening. Open up about feelings, anxieties and even reminisce about fun family times.
19. Sun
Go for a walk. .Get some sun and fresh air. Open the windows and let the air in.
22. Sleep
Focus on a good sleep routine. For example, read a book with your kids and cuddle them. Find ways to relax before bedtime. For me, its always journaling before bedtime
24. Nap
Take a nap today. Let your kids take a nap as well.
25. Music
Create a playlist with your kids and enjoy some music together.
26. Selfie
Take a family selfie today. Then comment on each person in the picture and say something nice about their features
Don't forget to check out the growth-mindset kit made to help kids manage their time at home

27. Dance
Spend 30 minutes just dancing with your kids. Let them choose the song and dance like you are a child again.
Self-care ideas for stress :
Engaging in a fun hobby can help reduce stress. Sometimes all you need is a weekend of just relaxing. Here are some ideas to help you decompress:
28. Movies
Have a movie date with the family. Pop those popcorns in the microwave. Choose a movie you all will enjoy. In fact binge on the movie or series.
29. Stretch
Get your children to like Yoga. You can check out cosmic yoga for kids on Youtube. It will help them relax and a good way to burn off their energy.
30.Relax
Your kids don't have to be productive every day. Have a relaxing day. You deserve it too 🙂
Don't forget to download the smartphone self-evaluation toolkit for your kids
Before you go, don't forget to check out the growth-mindset kit aimed at raising children growing in a tech world.