Key Takeaways
Suitable types of unique and creative Twitter usernames can be achieved by incorporating character limitations, alphanumeric elements, personalized themes, cool and short names to gender-specific and professional options.
Generate Twitter name ideas by considering your interests, adding numbers for uniqueness, incorporating clever wordplay, exploring personal traits or hobbies, and using online name generators for inspiration.
Common Twitter names around the world could include variations like "GlobalExplorer," "SocialMediaFan," "TechEnthusiast," or "TravelLover."
Our Top picks from the article include a variety of Twitter name ideas, including excellent options like "TheLastTweeter," short choices such as "Pyronautilus," and gender-specific suggestions like "TheRadChad" for boys and "SlayAndPray" for girls.
Social media giant Twitter is projected to hit 340 million subscribers by 2024. This means that good Twitter username ideas are quickly becoming scarce. Your username is a unique identifier you could have on that platform. So, picking one that adequately represents you is critical. A great username could help you find the right audience and engagement. Not a lot of people put much thought into picking a suitable username. This is a classic social media mistake. With the help of this article, though, you should easily be able to avoid that pitfall.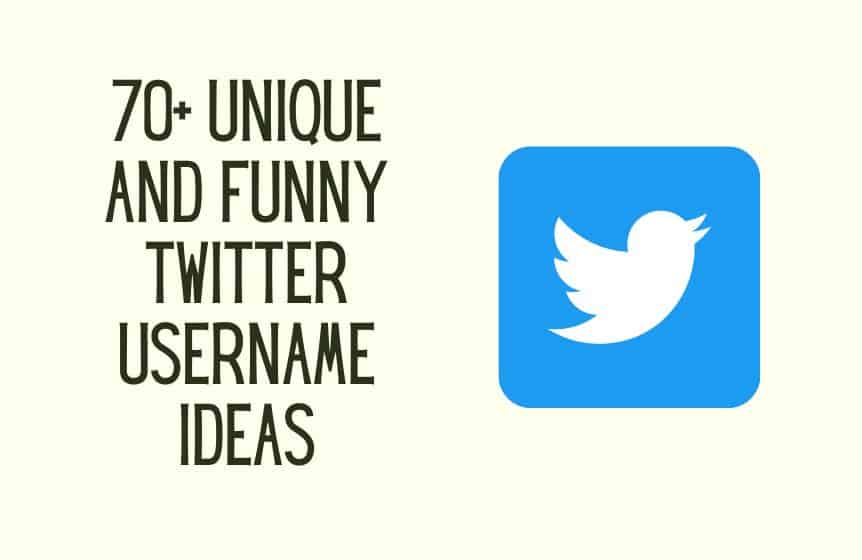 Guidelines For Choosing A Twitter Username
The platform stipulates specific rules and regulations for picking the correct Twitter username. These guidelines exist to maintain a decent user experience while preventing any security issues.
They are as follows:
Your username cannot be longer than 15 characters. Your name can be longer (50 characters) or shorter than four characters, but usernames are kept more straightforward for ease.
As noted above, a username can only contain alphanumeric characters (letters A, numbers 0-9) except underscores. Ensure your desired username has no symbols, dashes, or spaces.
Usernames containing the words Twitter or Admin cannot be claimed. No account names can have Twitter or Admin unless they are official Twitter accounts.
A suspended or deactivated account may claim the username. Suspended and deactivated usernames are not immediately available, so you must select a different username.
While these rules may seem slightly restrictive, they exist for the user's good. Regardless, you can still craft the perfect username for your account.
How Do You Choose A Good Twitter Username?
Your Twitter username is meant to represent you and your account, so you must remember when picking a name. You could include using numbers to make sure whatever you pick is unique. @Adam1997 is more likely to be available than @Adam. To make sure whatever you pick is readable, capital letters and the underscore symbol are your friends. @That_Tech_Kid is more likely to get attention than @thattechkid.
You also want to use numbers that can represent letters as well. For instance, a "4" could stand in for "A." "8" can be used as a "B" or lowercase "g." "7" can be used as the letter "T," 5 can be used as the letter "S," and" 1″ can be used as the letter "I."
With these general rules, you should be able to put a great Twitter username together. But otherwise, we've provided a great selection of names below.
Cool Twitter Username Ideas
These usernames are the way to start if you want to communicate your extraordinary personality and interests. They are simple markers that will help others with the same interests quickly find you.
Cool Twitter Username Ideas
_Back2Back_
_SilentDawn_
0verhaul
4cidic
4spirational
All0rax
Astronautilus
Blast_0ff
BlingRing
Ch4tter
ColonelX
CyberSlayer
DreamK1ng
DriveNArrive
Grandiocity
Huff_n_Puff
InsertNameHere
KeyBoardKid
King_Dom
Lost_Scrolls
M4xine
MessengerX
N3tRunner
Net_Wringer
NotHilarious
PinceNMince
Praetorian1
QotationStation
Queenie
ReasonSZN
RodinsMuse
RothNBroth
Simmer_
Slaeyer
SlipNSkip
Talk_Sh0w_
The_Cyber_Kid
TheClapperKing
TheCloser
TheColdTakeBot
TheLastTweeter
Tricky_99
Tweet_Ouroboros
TweetMachine
Un_canny
UnrealSpiel
VanityNInsanity
VibeSensation
WereHouse
YourFavMutual
Short Twitter Username Ideas
Short and sweet usernames mark some of the most prominent accounts on Twitter. Since they are SEO-friendly, they boost tweets across an extensive range. They are also easy to remember, drawing in a lot of interactions.
Short Twitter Username Ideas
_LostSavior
Action_Faction
Av3nger
B4ller
Clam0r
ClapTrap
CLNimages
DaemonLover
Domin8n
DoomSurfer
Drag0nL0rd
FauxReality
G00dfella
Good2Go
In_Side
J0yB0y
Loki
LostChairman
MorninAssasin
N0Spacing
NeverAsked
NewRoyal
Nineteen97
NotABozzo
Overr4ted
PenDrag0n
Pyronautilus
Rosean_1
ScratNTat
ShaunTheDon
Smart_And
SpringBreaker
St1cky
Starr0
The_Getter
V0ltic
VamPyre
VoidOfMine
WalkinTall
ZucchiniHoudini
Related: Duo names ideas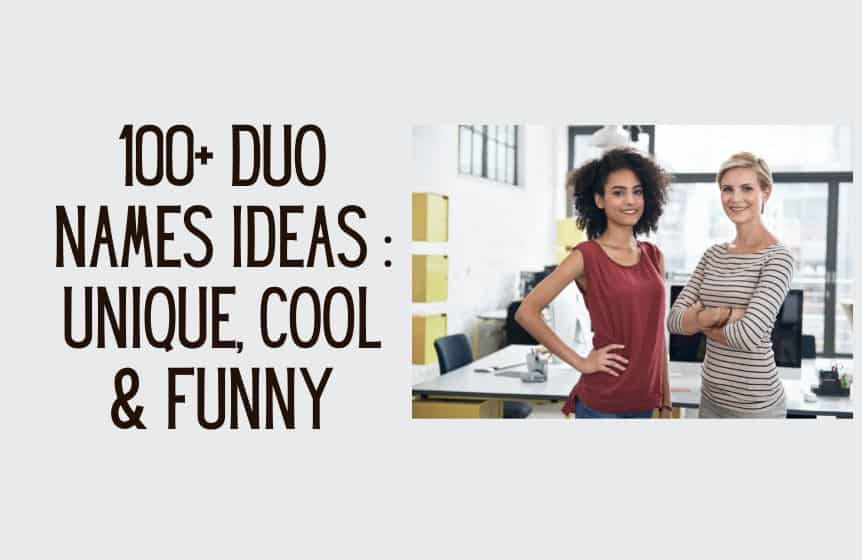 Twitter Username Ideas For Boys
The internet is where anyone can be anything they want to be. On Twitter, your username is one of those few opportunities to share your identity with others. And so here is a selection of usernames that appeal to males.
Twitter Username Ideas For Boys
_HenryTheKing
_Seven11_
23Garland
8abriel
And_rson
ArtKing
BailNHail
Beastly2Day
C4meron
D4niel
D4rkM4gician
DaManCan
EddieEddie
EdgarAllanP03
Ex_Matty
EyeDareU
Fast_Fusion
Fresh4Eva
Gassin
Gh0stBrowser
GuyAboutTheNet
Hoff_Man
HunkVSJunk
Im_Spittin
J0nJ0n
J4ckJ4ck
JohnTheBoss
KingOnline
KingYeat
LicoricePrince
Mason_X
NoGameShame
OliverTwisting
OogieBoogie
Power2Me
RapNTrap
RickyJ4y
RipNTear
RusselHustle
SamoCamo
The_Snow_Bro
The1derBoy
TheChromeDrone
TheLastGymBro
TheRadChad
TheWMachine
Tweeter_Elite
V4mpKing
Wolf3y3
YorkieDude
Twitter Username Ideas For Girls
As with the case concerning boys, here is a selection of usernames that appeal to girls. These names perfectly capture feminine energy and relay that to your followers.
Twitter Username Ideas For Girls
_Violet_
1Girl10Socials
AlwaysElla
AuroraWatcher
Br4tty
Britney_Bestie
D3rryGirl
DasNotGud
EatPrayTweet
elanorian
GraceNBeauty
H1sAngel
Hal0
Harper_
IAlwaysLearn
L0La
LizzyTheQueen
MaybeAvery
Nifty_n_Thrifty
OhMyLady
OlivesNLeaves
PrettyPrime
RightAllTheTime
SacaiBabe
SlayAndPray
So_Fire
TheAmazonian
TheBunnyRiot
TheDazzlingFae
TheFriendlyLady
TheRomanticGirl
UR_BFF
Willower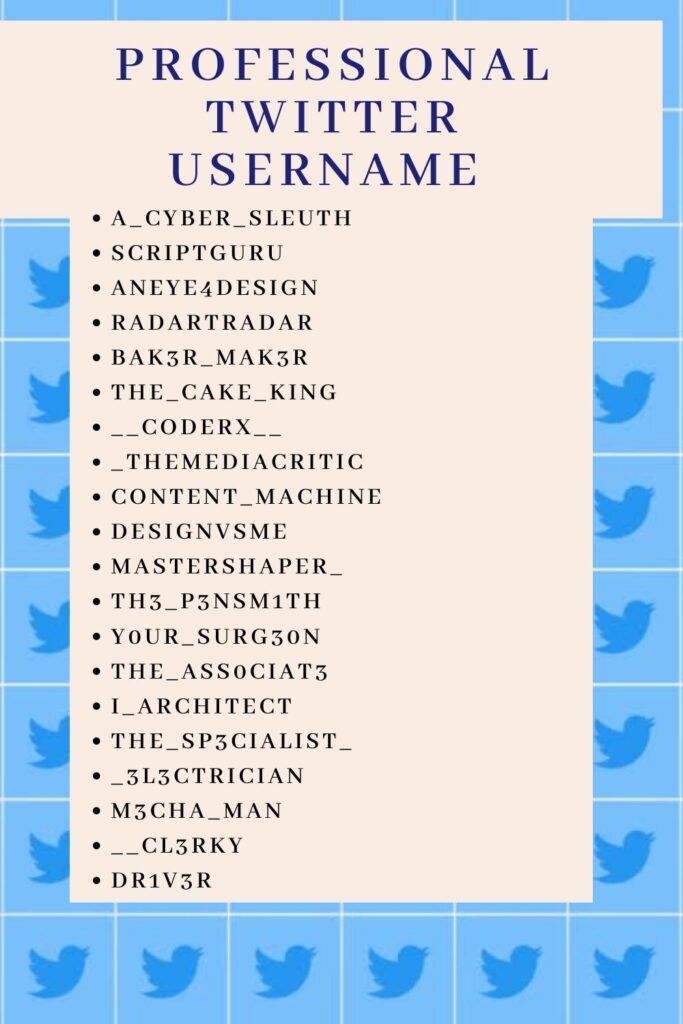 Aesthetic Twitter Usernames
Although some use Twitter for severe discussions and purposes, sometimes you're just there to chill out and vibe. If you want to remind other users not to take your content too seriously, these usernames are for you.
Aesthetic Twitter Usernames
_Booker_
350_Oven
AmblinAround
Attracti0n
B3yondStars
Ballin4Eva
BasedGod
BetterNBetter
BlabberFish
BSTcondition
D0ugh
eXistenZ
G0lden
G0ner
Here_4_U
HopefulRomantic
Its_Whatever
LargesseFR
LikeAPeacock
Liv_N_Learn
LostAengel
MassiveVoice
NeverTweet
New_Line
NotAJerk
NotASissy
Null_Adversity
Pandah_X
Reb00t
Reigning1
RunAway
ScreamIntoVoid
Share_N_Care
Sinema_Lover
SoNotWashed
T3llTale
TheAndromedean
TheAstroGogue
TheAtlantean
TheAuraSupreme
TheCloser_
TheFabledOne
TheKitschBitxh
TheThrillVibe
TooTrusting
Tra_gic
Tri11er
TrillDaze
WunderKid
YummyMummy
Professional Twitter Names
Although Twitter started as an excellent cyber hangout spot, it has evolved into something more severe where personalities like tech CEOs and Presidents express themselves. If you want to stand out from these critical personalities, here are some usernames you should consider.
Professional Twitter Names
__CoderX__
_TheMediaCritic
A_Cyber_Sleuth
AnEye4Design
AttorneyAtLaw
Baker_Maker
Chef_Xtra
Content_Machine
DesignVsMe
DriveNArrive
ElectroFixer
FlyBoy_
GeniusEngineer
I_Architect
MasterShaper_
Mecha_Man
Not2Clerky
NurseSupreme
OptiX_
RadarTradar
ScriptGuru
The_Cake_King
The_Pensmith
The_Seaman
The_Specialist_
TheBizAssociate
TiredCEO
Ur_Actuary
WriteAbility
Your_Surgeon
A_Cyber_Sleuth
ScriptGuru
AnEye4Design
RadarTradar
Baker_Maker
The_Cake_King
__CoderX__
_TheMediaCritic
Content_Machine
DesignVsMe
MasterShaper_
The_Pensmith
Your_Surgeon
TheBizAssociate
I_Architect
The_Specialist_
ElectroFixer
Mecha_Man
Not2Clerky
DriveNArrive
NurseSupreme
WriteAbility
Chef_Xtra
GeniusEngineer
FlyBoy_
OptiX_
The_Seaman
AttorneyAtLaw
Ur_Actuary
TiredCEO
Good Twitter Screen Name
Although your username must adopt certain features to be unique, the rules around your screen name are much more lenient. As such, where your username may be deficient, your screen name could come in to provide clarity. As your screen name can be longer than 50 characters with spaces allowed, you can make it something like your full name, job title, or even an entire sentence.
Here are some excellent, unique screen names you can consider:
Good Twitter Screen Name
A Dragon Rider
Fire For Hire
From Yours Truly
Holy Canoli
I Should Be Working
I Tweet For Breakfast
Into The Fray
Let's Talk About It
Little Bills Wife
Munch and Crunch
Reality TV Apologist
Specialist Commentator
The Bad Take Machine
The Best Nurse
The Chill Vibe
The Cyber Fae
The Electric Specialist
The Gamer Girl
The Love Witch
The Man Mechanic
The Plant Mama
The Psychic Reader
The Tweeter Supreme
The Twitter Doctor
The Untouchable
The Work Shopper
Tweeter on Vacation
Voice of the people
Your Chemical Romantic
Your Favorite Programmer
While there will surely be other Twitter users with similar display names, your username, avatar, and other personal customizations will set you apart. Since Twitter has been operating since 2009, getting a great username has become increasingly difficult. But with these guidelines and examples, you should have a great starting point to make your account unique and draw in interactions and followers. Remember, these usernames are just a starting point. So, feel free to modify or adjust them as you wish.
Also, before you go, please check out the following related articles:
Was this helpful?
Good job! Please give your positive feedback
How could we improve this post? Please Help us.