On Twitter, sensitive content is posts containing explicit material such as nudity, aggression, or anything else considered adult content. This can be in the form of images, videos, and gifs. Adults who are using the platform may want to access the content for research or other purposes. In this blog, we are looking at how to take off sensitive settings on Twitter.
We advice you not to remove the sensitive content setting on Twitter if there are children between the age of 13 to 18 years old who are using Twitter.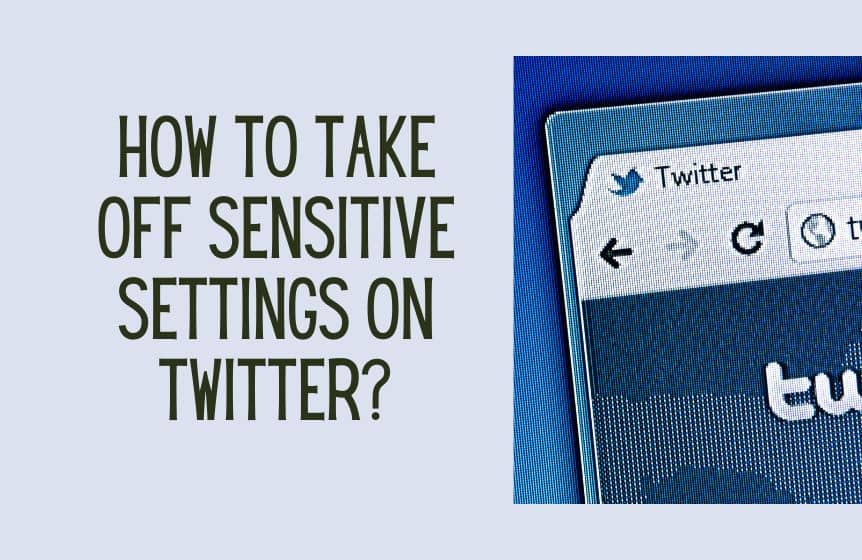 What is sensitive content on Twitter?
Social media sites have standards that place potentially sensitive information in a separate category.
Twitter utilizes sensitive content warnings to guarantee that content intended for children does not end up in the same Twitter feed as content designed for adults.
Warnings about potentially sensitive content are displayed on Twitter by default. They include phrases such as "This media may include sensitive material," "This profile could include potentially sensitive stuff," and "The following media includes presumably sensitive content."
However, if you wish to see information unsuitable for work or school, you cannot just ignore the warning message; instead, you will need to change the sensitive content settings associated with your account.
Follow the steps below to remove sensitive content on Twitter: 
Click More on the left hand side of the screen
Choose "Settings and Privacy" from the menu options
Navigate to the "Privacy and Safety" tab
Select "Content you see," and then tick the box next to "Display media that may include sensitive content."
If you choose to enable sensitive information, the feed you are subscribed to will no longer be filtered.
Uncheck the box and then click the save button if you want to keep private information hidden from other readers of your feed.
You can only change your private or sensitive information settings using the Twitter app on Android devices. This setting is not currently accessible in the Twitter app for iPhone; however, it is coming soon.
Now that we know what sensitive content is, it is time to look at how to take off sensitive settings on Twitter.
Related : What is the lock icon on Twitter?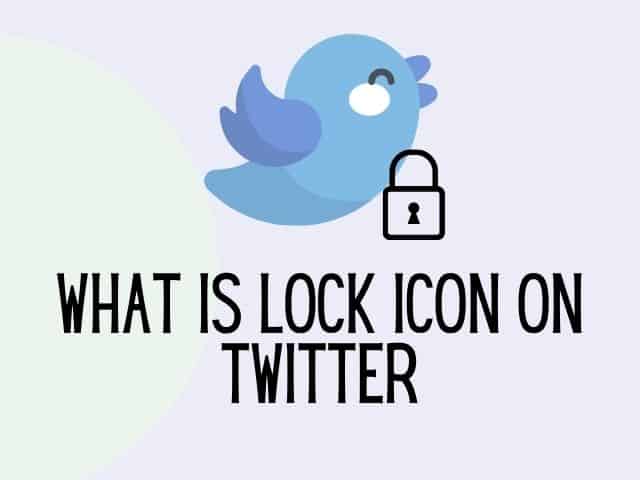 How to take off sensitive settings on Twitter using computer?
You will need to adjust your privacy settings on Twitter if you want to view information that is considered sensitive.
Here is how it works:
· Open the Twitter webpage (Twitter's website) and sign in using your credentials.
· The "Sensitive Content" box, under the profile icon (profile image, profile picture), is not available in the mobile version of the Twitter app, even though users are attempting to adjust the settings within the app. (Twitter's privacy settings, privacy option)
· Any mobile browser program, such as Safari, Google Chrome, Firefox, and many more, may be used to visit the webpage on a mobile device.
· To access your Twitter account details, click here.
· You may access this information by clicking on your profile's image located in the upper left corner of the screen. (left side of the screen)
· Scroll down until you reach the "Settings and privacy" option.
· Choose the option labeled "Privacy and safety." (sensitive warning label)
· Ensure the "Display media that may include sensitive content" box is ticked off after clicking the "Content you view" button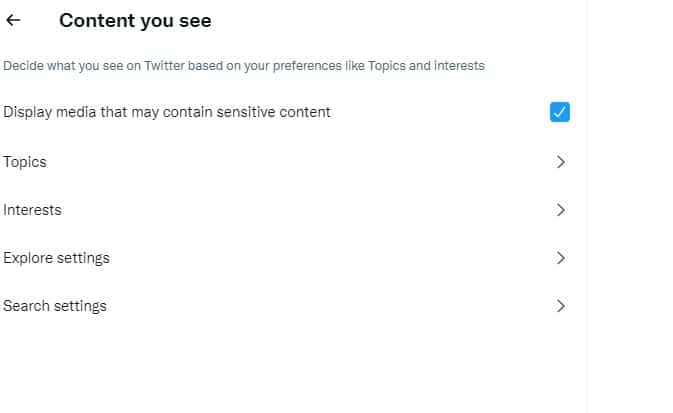 · to display material that could have sensitive content.
· Refresh your Twitter app, and the previously hidden content will now be accessible.
Now you know how to take off sensitive settings on Twitter.
The majority of consumers will find this laborious workaround to be highly frustrating. It is impossible to finish it within the official Twitter mobile app, and it needs many steps outside the app. We'll keep our fingers crossed that Twitter's iPhone and Android applications will soon receive an update that adds this capability, giving Twitter users complete control over the settings for their accounts directly within the social media apps themselves.
Leave a comment below if you are confused about the step-by-step guide on taking off sensitive settings on Twitter.
Why can't I see sensitive content on Twitter?
Sensitive Tweets which include graphic content, misleading informative content, NSFW content, graphic violence, extreme violence, sensitive images, offensive content, inappropriate content, and sexual violence) are typically concealed from Twitter searches.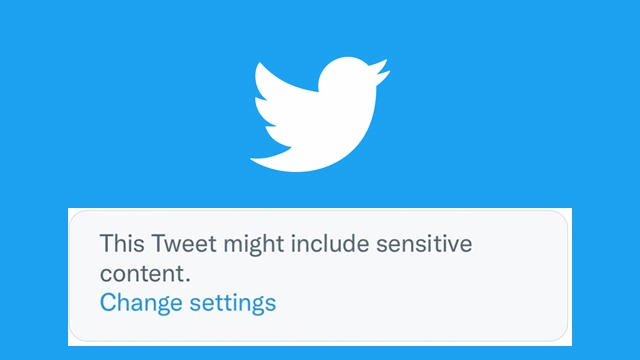 You may not be able to view sensitive content on Twitter if you have the settings enabled. This will prevent you from viewing harmful content. 
Users on Twitter have the option to change this setting. Return to the "Content you view" menu, then choose "Search settings" from the drop-down menu (sidebar menu) that appears. Uncheck the box next to "Hide Sensitive Content" (sensitive content option) after you've reached the "Search preferences" page.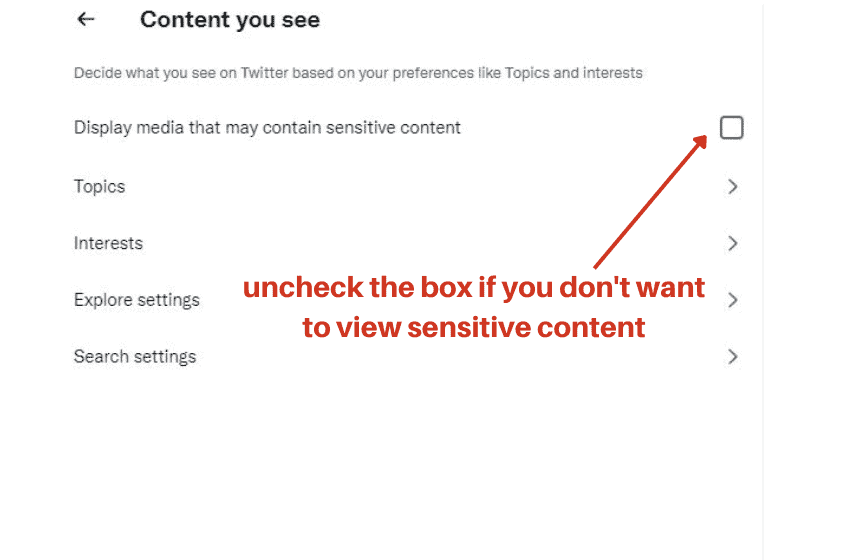 As soon as you've completed that step, you should be able to view sensitive information in your searches and on the Twitter website. If you have those settings turned off, you may be exposed to some legal but harmful content, which is precisely what you requested.
How to skip sensitive content warnings on Twitter?
Even though the tool helps protect users from nudity, violence, and other sensitive topics, it also has the potential to be a nuisance because some false flags hide information that is not harmful. Some iPhone and Android users cannot delete the "Sensitive Content" warning on their devices, even though it is generally possible to do so with just a couple of button presses. These users are unable to get rid of the message.
You will need to follow the steps above to remove sensitive content on Twitter.