In recent years, TikTok has become one of the most widely used social networking sites. Despite its popularity, many users report needing help with submitting videos. This could be a problem, especially for content producers who depend on consistently releasing TikTok videos. This article will look at the common issue "why is my TikTok not posting my videos"?
You've come to the right place if you want to find out why TikTok isn't uploading your videos and what you can do to fix it. The most frequent problems will be covered in this article, along with suggested fixes.
TikTok video uploads can be tricky, but with a bit of practice, you can optimize your videos for the platform's algorithm. The best way to increase views on your TikTok videos is to engage with other users and participate in trending challenges.
Starting a new TikTok account will allow you to rebrand your content and reach a different target audience. For social media marketing, for content creators, TikTok has become an influencer marketing hub, with brands and businesses leveraging the platform to reach a broad audience.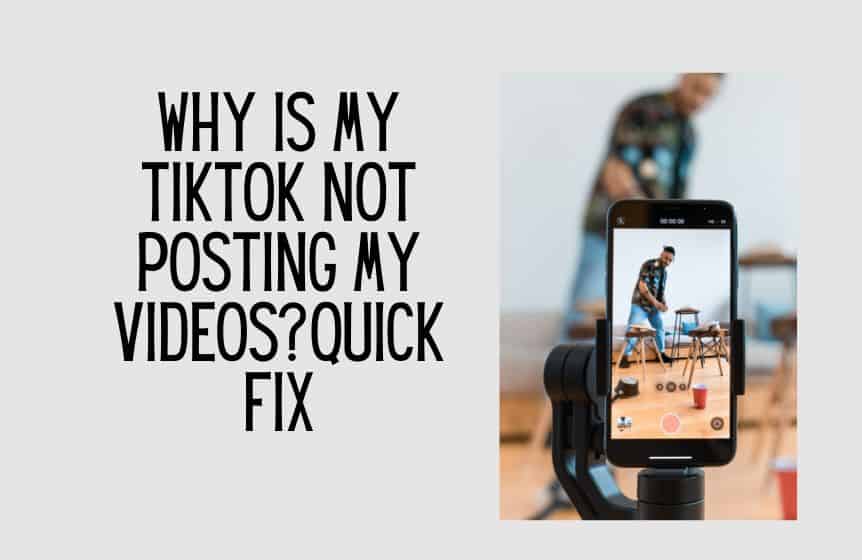 Why Is TikTok Taking So Long to Process My Video?
By keeping your TikTok account updated with the latest features, you will grow your following and increase engagement on the platform.
Technical issues can sometimes occur when uploading videos to TikTok. Still, most can be resolved by checking your internet connection (unstable internet connection) and ensuring your device is not in data saver mode or airplane mode.
There are several reasons why TikTok won't post your video. Fortunately, the majority of problems can be fixed quickly. Let's examine the most typical issues and their solutions.
The below section will look at the most common reasons for "why is my TikTok not posting my videos."
Slow network connection
You should check your network connection first because it's one of the most frequent causes of users being unable to post videos to TikTok.
If you want to determine whether your internet connection is fast enough, we suggest using Speedtest by Ookla. What you must do is as follows the following steps:
Go to speedtest.net in your browser once it is open.
Click "Go."
Wait a short while for the results to appear on the website.
It is the easiest way to check your Internet connection.
Suppose you determine that this is the issue and attempt to join a different Wi-Fi network. You can also change internet plans or restart your router. Remember that a bad network connection may not necessarily indicate that you are the cause of the issue. The provider is frequently the problem. You can always get in touch with them to ask about your internet connection and see if you can do anything to make it faster.
TikTok Servers are down
A video is uploaded to TikTok's servers when you want to submit it. Therefore, you won't be able to offer your movie if the servers are down. To determine whether the servers in your area are down, utilize Down Detector, or any other third-party site.
There isn't much you can do if TikTok's servers are down other than wait for them to start working again and this is one of the common reasons why TikTok is not positing your videos.
There is a bug with the app.
TikTok is not an exception to the rule that apps may break for no apparent reason. The first thing you should do if you think your program has a bug is restart it.
Thanks to built-in app switchers, you can quickly exit an app on both iPhones and Android devices. After quitting the program, locate it in your menu and activate it again. Try uploading your video again to see if the problem still exists.
It's time to check the app itself if you can't submit your video to TikTok. Running a previous version of the program frequently results in various performance problems, including the inability to publish videos. Hence, it is important to keep your app updated.
Not updated app
Follow the instructions below to see if your iPhone is running the most recent version of an app:
Open the App Store.
In the top-right corner (upper right corner), tap the image of your profile.
Look for TikTok and see if "Update Available" is next to it. If you see this option, select it to download the most recent version to your device. If you don't see it, you're already running the most current version of the app.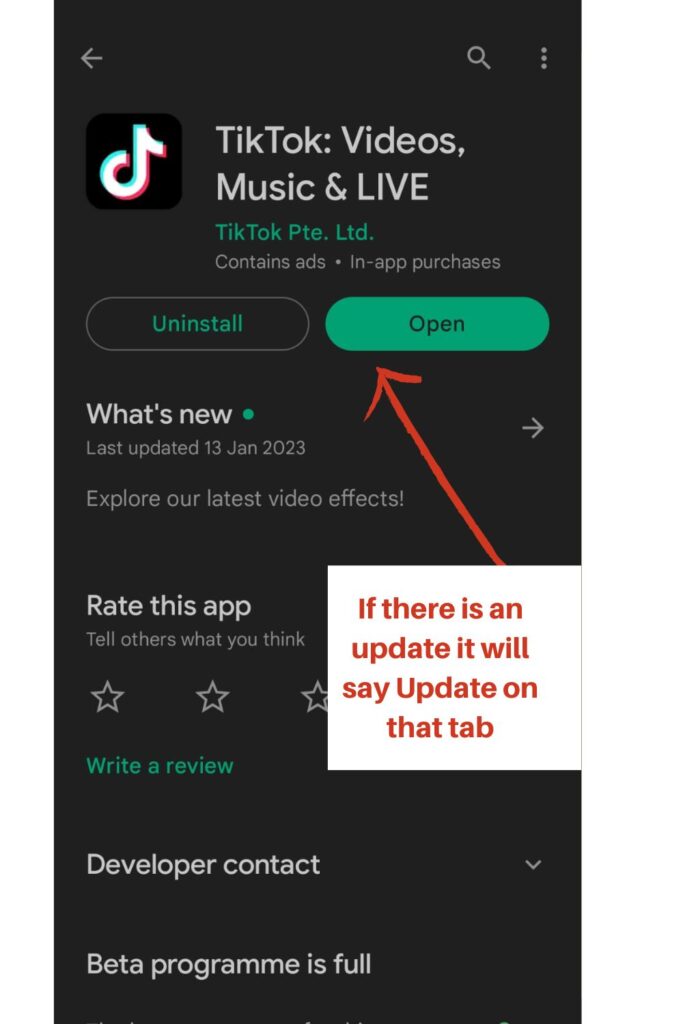 Let us see the following solution to the "Why Is My TikTok Not Posting My Videos" issue.
Following these steps will allow Android users to determine whether they are on the most recent TikTok version:
Activate the Play Store.
In the top-right corner, choose your profile image.
Click "Manage applications & device."
Choose "Updates available" under the "Manage" tab. If TikTok appears on the list, click it and then pick "Update." You already have the most recent version if it's not on the list.
You should reinstall the program if the issue still exists after the update. iPhone users should take the following actions:
TikTok can be found on your menu.
Once a menu is displayed, touch and hold the application.
In the next step, click "Remove App."
Enter "TikTok" in the search field of the App Store.
Click "GET."
Try reuploading your video content after logging into your account.
Using the latest version of the TikTok app is a quick fix.
If you use Android, follow these instructions to reinstall the TikTok app:
On your phone, look for the TikTok app.
The menu will appear whenever you press and hold the app.
Decide to "Uninstall."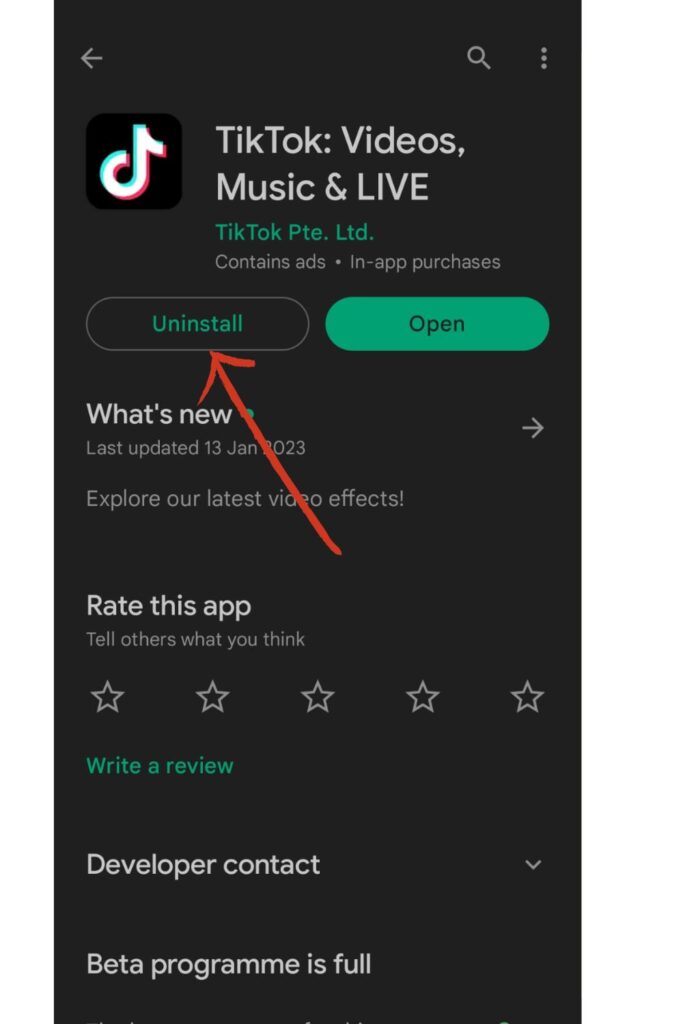 Search for "TikTok" in the Play Store after launching it. Most of the time, there is just one result, or the app directs you to the official app.
Choose "Install."
Reupload the video after launching the app and entering your login information.
Waiting it out is the final choice. Keep in mind that TikTok is a top-rated app that may cease functioning if it becomes overbooked. Contact your pals and find out if they're having the same problem. Most of the time, this problem is solved quickly.
Did you know the best time to post on TikTok is when your target audience is most active (peak times) on the platform?
Your VPN Is Delaying Things
A reliable internet connection is essential for putting any information online, including TikTok videos. A virtual private network (VPN) is a great way to increase your online security and access many otherwise inaccessible websites, but it can slow down your internet connection.
Some VPNs might seriously slow down your internet connection and disrupt it. Therefore, if you believe this is the issue, try removing the VPN before uploading the video to TikTok again.
The Issue Is Caused by Cache Memory
TikTok stores temporary data on your smartphone like other apps do. The app uses this data to enhance performance. This data can be collected, corrupted, and slow down the program. The fact that TikTok users may delete the app's cache memory is amazing (TikTok's cache). To do it, adhere to the directions below:
The first step, go to your profile in the TikTok app by opening it.
In the top right corner, tap the three lines.
"Settings and Privacy" should be chosen.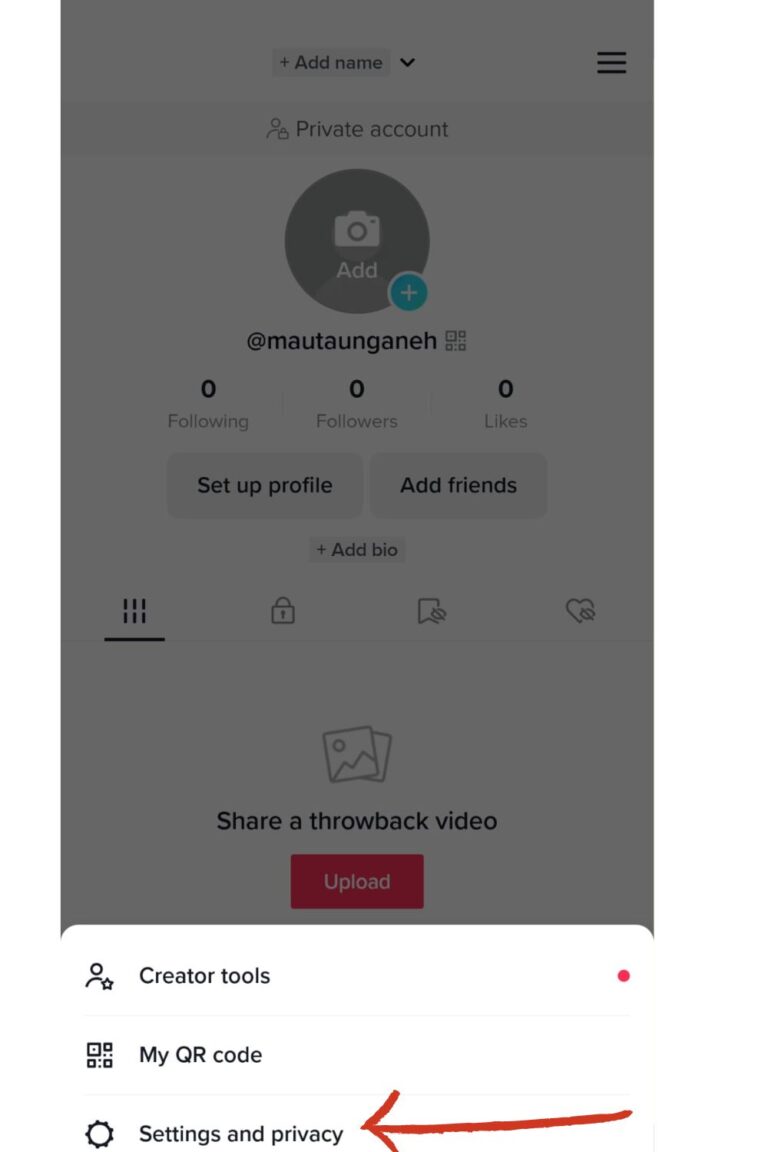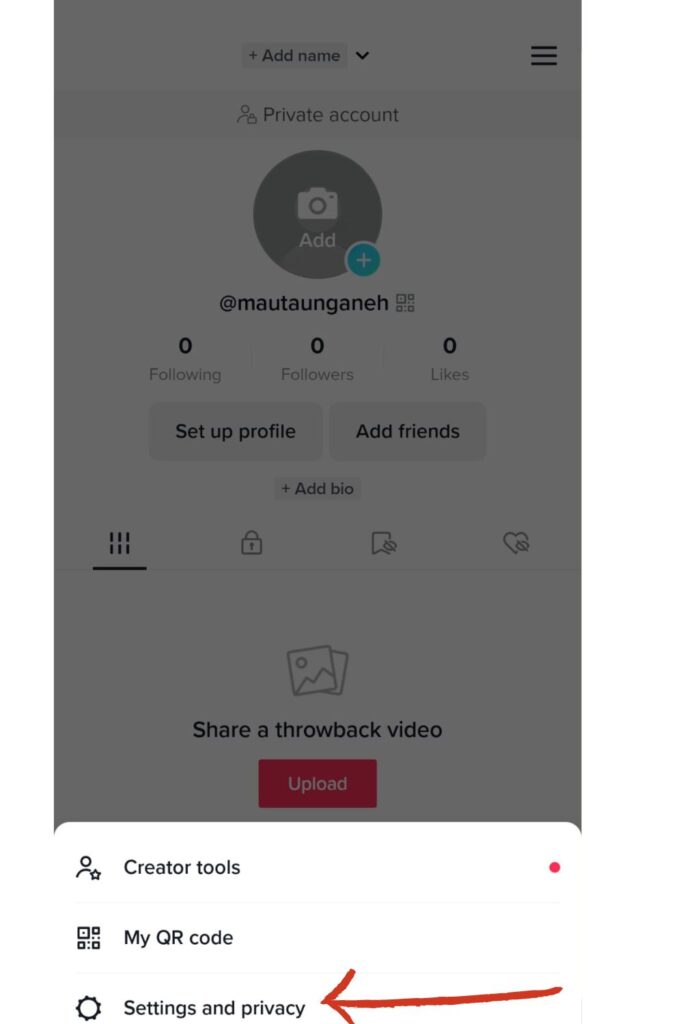 Click "Free up space" under the "Cache & cellular data" menu.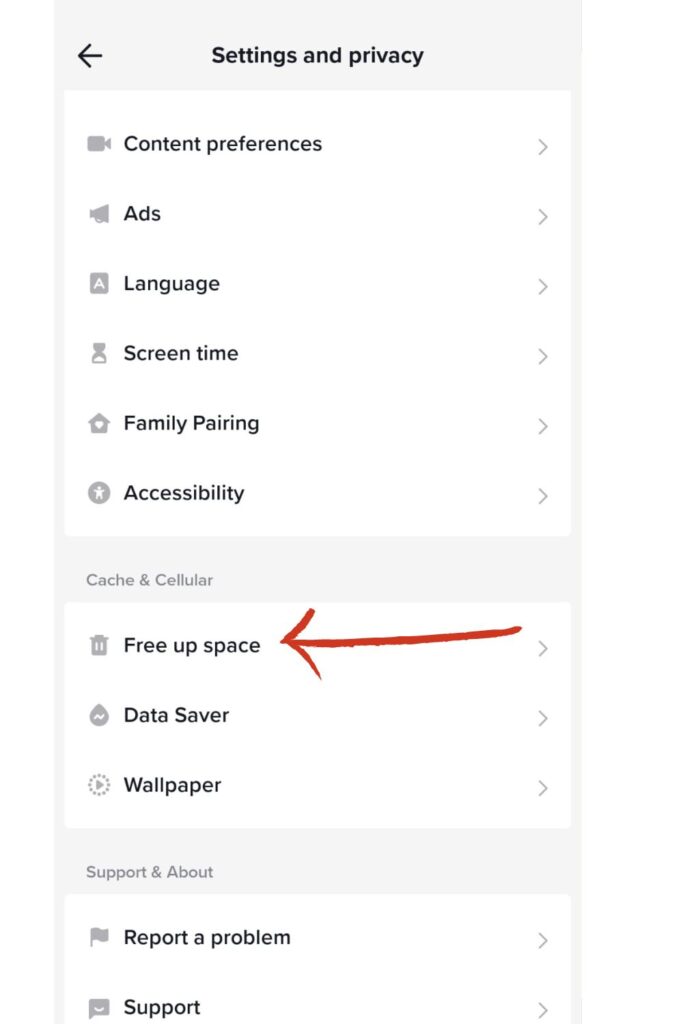 Relaunch the app after clearing the cache memory, then try to submit your video.
The clear cache option (TikTok cache) will fix the issue. Please comment if you face any problems using the simple steps above.
The Video Contravenes the TikTok Community Rules
The TikTok team is doing everything it can to stop inappropriate content from appearing on the app after years of criticism for its use. If you've tried publishing your video multiple times without success, make sure the material complies with the app's community standards.
Also, you might have to remove a video from your TikTok account because it had copyright issues/copyright violations, so it's essential to be aware of copyright laws when posting content online.
Videos that praise or promote risky behavior that could result in severe injury or even death are not permitted on TikTok. Videos/TikTok posts involving the ingestion of substances not intended for consumption, risky driving, or the misuse of various objects won't be posted on the site. Videos that advocate for self-harm, violence, adult nudity, or hate speech are also prohibited.
Other factors besides inappropriate behavior can restrict users from uploading content to TikTok. TikTok, for instance, won't permit you to publish a video with a watermark. Additionally, if your video includes a song that an artist forbids the usage of without permission, you won't be allowed to post it.
Check the community rules for TikTok to make sure your work complies.
Shadowbanning Applied to Your Account
Users risk being shadowbanned for acting outside of TikTok's community standards. The term "shadowbanning" refers to TikTok's algorithms' automatic removal of users from the platform when they engage in actions like spamming or publishing inappropriate information. It follows that users cannot upload content to TikTok or like it.
TikTok shadowbans typically last 24 hours; however they can persist for a few weeks. You can contact TikTok's customer service if you believe the platform has made a mistake.
These are the most common reasons for why you might be facing the "Why is my TikTok not posting my videos."
How To Fix TikTok Not Posting My Videos?
If an error message appears when you upload your TikTok video, you must troubleshoot the issue before trying again.
The only thing left to do is get in touch with the network's customer care if you've tried everything on this list and you're still unable to post movies to TikTok. They'll be able to help and perhaps fix the issue.
You can see that there are a lot of things that can stop your movie from being submitted to TikTok. Fortunately, the majority of issues can be fixed quickly and easily. However, if the problem stems from the app, your only option is to wait until the platform's team resolves it.
Have you been able to fix your uploading problem? Do you have any more advice for our readers? Comment below with your answer and let us know.
Related: Why did I get banned on TikTok live?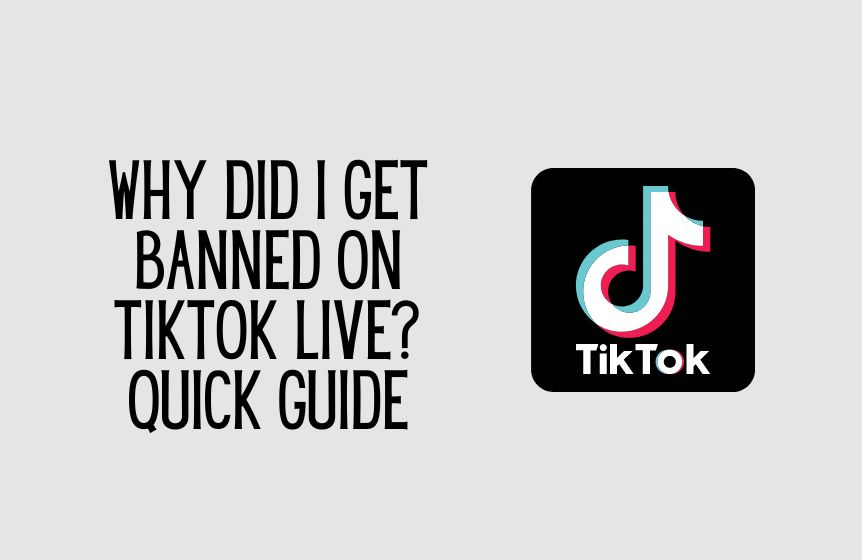 What Does Failed to Upload and Saved to Draft Mean on TikTok?
TikTok server status can sometimes experience technical difficulties, which can cause issues for users trying to upload or view videos on the platform. It is a very common issue.
On TikTok, "Failed to Upload" typically means that the app was unable to upload the video to the platform due to a technical issue. This can happen for several reasons, such as an unstable internet connection, server issues, or a problem with the TikTok app session. It can also occur when a user exceeds the limit of uploads for a given time period.
When a video is "Saved to Draft," it means that the user has chosen to save the video as a draft rather than publishing it immediately. This allows the user to make additional edits or changes to the video before publishing it to the platform. This could be a result of the user not being ready to post the video yet or wanting to add more information or captions before publishing it.
Also, if you encounter any inappropriate content or copyright violations on TikTok, you can report it to the platform for review.
In both cases, it's always a good idea to check your internet connection, ensure your device is not in data saver mode, and check if the app cache is cleared. If the problem persists, you can contact TikTok's support for further assistance.
It's important to regularly update your TikTok account settings to ensure that the right audience is seeing your videos. The main reason for the decline in views on my TikTok videos was a change in the algorithm. TikTok is one of the fastest-growing social media platforms, and a great way to expand your brand's reach and increase your following and brand awareness.
If you're experiencing any issues with your TikTok account, don't hesitate to reach out to TikTok support for assistance. Creating a posting schedule/posting time for your TikTok account will help you stay consistent in your content creation and increase engagement.
You will be disappointed when your TikTok video receives zero views (TikTok views) from your TikTok followers, despite putting a lot of time and effort into creating it.
TikTok uploads can be limited, so it's a good idea to schedule your video uploads for a particular time in advance to make the most of the platform.
You should also adjust the time zones on your mobile device as it is essential for your TikTok account (private account & public account), as it will help you to post your videos/TikTok content/Short TikTok video at the right time for your target audience.
FAQ
Why is my TikTok not uploading and going to drafts?
Restarting the app is one of the first things you should do if you're having trouble uploading videos to TikTok (maximum resolution). TikTok may be restarted on iOS devices and Android devices using the app switcher. This should re-initialize TikTok's resources and files, which might have encountered brief issues while being used. Also, switch to a Wi-Fi connection instead of using mobile data/cellular data to avoid problems when uploading your TikTok videos.
How come TikTok won't preserve my drafts?
This is because drafts are not stored on TikTok's servers like published videos are. On the device from which they were uploaded to the app, they are instead saved locally. This indicates that they are subject to the same restrictions as any other media solely stored on the device.
How can I restore my TikToks to draft status?
To access the camera screen, use the + button. Use the pink record button to record something or upload a video from your collection. Click next after tapping the pink tick. To save it as a draft, click the "Drafts" button in the lower-left corner of the screen.
Is it possible to recover deleted TikToks video?
You can simply recover deleted files using Stellar Photo Recovery if you mistakenly destroyed any of your TikTok videos saved on an SD card. The software aids with the recovery of digital multimedia files from SD cards, Micro SD cards, Mini SD cards, etc., including pictures, movies, and audio clips.
Was this helpful?
Good job! Please give your positive feedback
How could we improve this post? Please Help us.