Instagram hosts both pictures and videos on the platform. You might get the "Instagram pictures not loading" error for various reasons. Before looking at how to fix Instagram pictures not loading errors, it is important to understand the different reasons as to why the error may occur.
This error is pervasive if you are connected to a poor internet connection. Other internal technical errors can also lead to this error.
In this article, we are looking at all the reasons you might get the "Instagram pictures not loading" error and how you can fix it.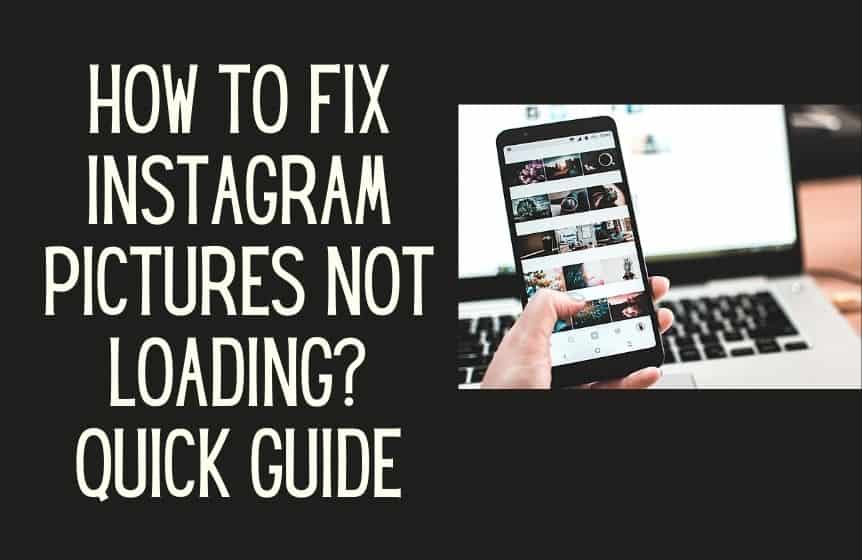 Why won't some Instagram pictures load?
Instagram is popular for sharing pictures. Some check their Instagram Feed to read inspiring quotes embedded into nice nature pictures, and some browse Instagram using specific hashtags to find cool pose ideas for their images.
Let's take a look at some of the common reasons why Instagram is not loading pictures :
1 Poor internet connection
If you go on Instagram and fail to load pictures, the number one reason can be a slow internet connection.
Often, right after you log in to your Instagram account, the network connection might get interrupted, thus leading to the "Instagram pictures not loading" error.
The Internet connection can get interrupted due to various reasons – problems with the internet router, weak mobile data network connection, and no signal. There can be other common network connection issues and other technical Instagram issues.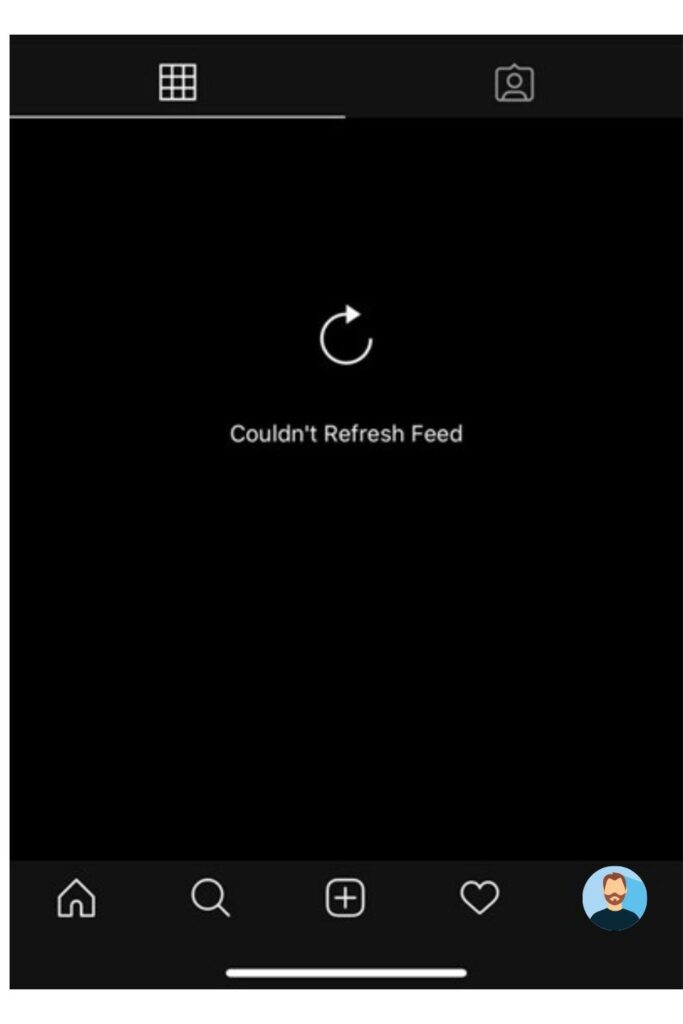 Often the problem arises from your Internet Service Provider. Your IPS might have a fluctuating connection, leading to a total shut-off.
When this happens, you have nothing in your hands. You have to sit down and wait for your IPS provider to fix the problem.
2 Poor mobile data signal
Do you use Instagram on mobile data? When you are outside and find no Wi-Fi connection near you, you are left with no option other than switching to mobile data.
If you have a weak signal on your cellular data, you will encounter the "Instagram pictures not loading" error. Also, while browsing Instagram, you might reach the end of your data pack. When that happens, your internet connection will be interrupted suddenly.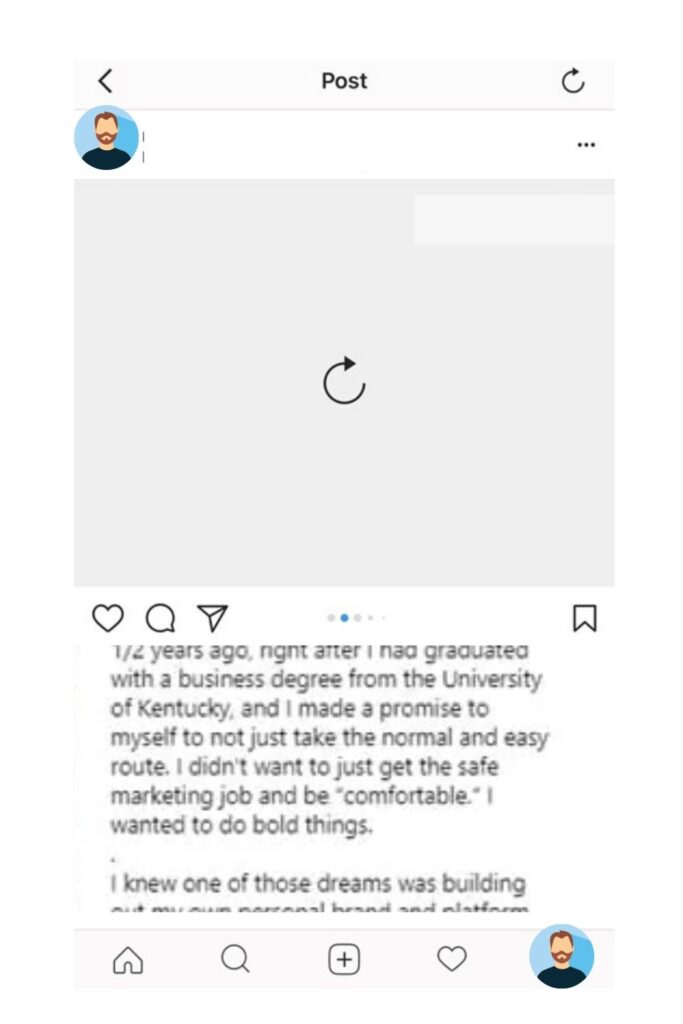 Please check the deadline on your mobile internet data and whether you have a strong mobile signal or not.
3 Trouble with the internet router
And lastly, if your internet router is facing trouble, you will get the "Instagram pictures not loading" error. Even if your internet connection is stable, you can encounter slow loading or complete interruption.
To check if there is a problem with the internet connection causing the "Instagram pictures not loading" error, launch the web browser, and visit any website.
You can also test the internet by making a simple Google search. If you can visit that website, it means that your internet connection is working. It means this problem is generated from an internal Instagram glitch.
4 Problem with Instagram app
The final cause for the "Instagram pictures not loading" error is the Instagram App itself. Several reasons cause the Instagram app to malfunction.
How to fix Instagram pictures not loading?
If the "Instagram pictures not loading" error results from a faulty app, first check if you are using the latest version of the Instagram app or not.
1 Update Instagram app
Just like any other mobile app, Instagram also rolls out new upgrades to its mobile app almost every month. These upgrades aim to give bugs fixes, update time settings, and improve glitches in the mobile app. Don't use an older version of Instagram.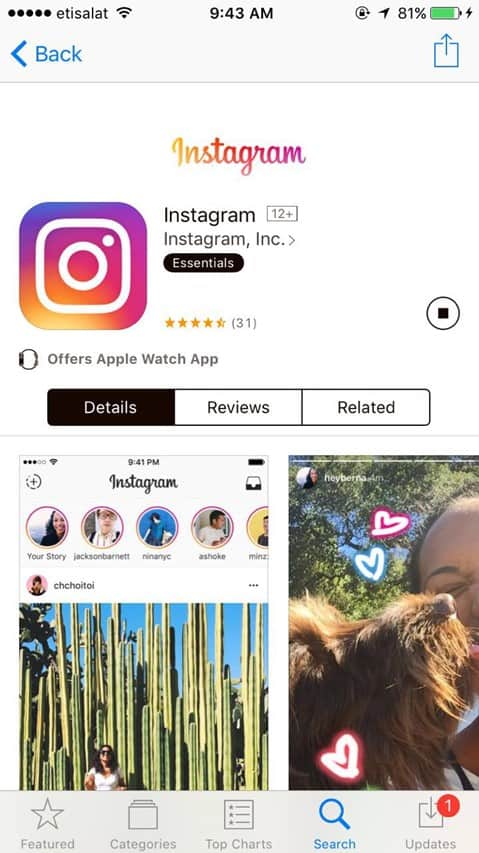 Always install new updates. Always use the latest version of Instagram. New features are often introduced with the latest version of Instagram.
Many people simply avoid updating the Instagram app. This might not cause any big issues in the initial phase, but with time, the app might start to lag and completely stop functioning in the worst-case scenario.
If you have been encountering the "Instagram pictures not loading" error after installing a new Instagram update, try reverting to the previous version of Instagram.
If you still get the "Instagram pictures not loading" error, reach out to the Instagram customer care center (Instagram support).
2 Clear cache
Another common problem is the "Instagram stories & not loading." The solution is the same for both the Instagram photos & Instagram stories not loading.
Like any other mobile app, Instagram also stores user data and app cache files (temporary data) to every mobile that it has been downloaded on.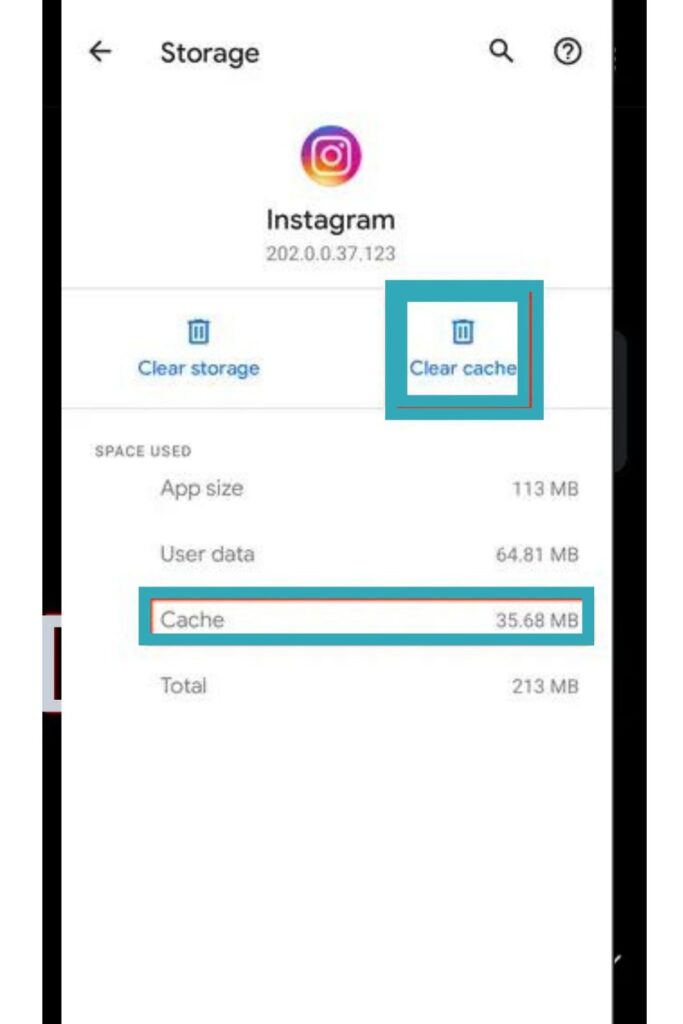 The cache of the Instagram app helps the app make content suggestions, analyze your activity on the platform, and improve the overall user experience.
If the Instagram app stores corrupt data and cache files, the app will start to malfunction. Clear cache files, clear storage, and clear app data to fix the malfunction.
3 Reinstall the app
And the last reason is corrupt installation files. Instagram needs its installation file to operate correctly. If this is causing the "Instagram pictures not loading" on your phone, try reinstalling the app entirely.
4 Switch off airplane mode
Also, please check if your phone is on airplane mode. If it is, turn it off, connect your phone to your home Wi-Fi, or turn on your mobile data. This should solve the error.
Why is Instagram not working on Mobile data?
1 Check cache files
The first reason is faulty Instagram cache files. This should fix the problem. Force quit the Instagram app, and relaunch it.
However, clean the Instagram cache file if this does not solve the problem. If you are an Android user, you can individually clean the cache files for the Instagram app.
However, if you are an iOS user, you have to completely remove and reinstall the Instagram app.
There is an offload feature on iOS devices (iPhone, iPad, Mac). You can delete the Instagram app and retain the user files after reinstalling the app using this feature.
Here is how the offload feature works.From your iPhone open Settings -> General -> iPhone Storage.
Here, you will see a complete list of all the installed apps on your phone. Scroll down until you see Instagram. Tap on it. From the next window, select the "Offload App" feature.
2 Check phone permission
Another reason Instagram might not be working properly on your phone is "Permissions." For operating smoothly, the Instagram app needs many app permissions.
On both Android phones and iOS devices, the Instagram app requires access & permission to use the storage, microphone, camera, contacts, gallery, and other features.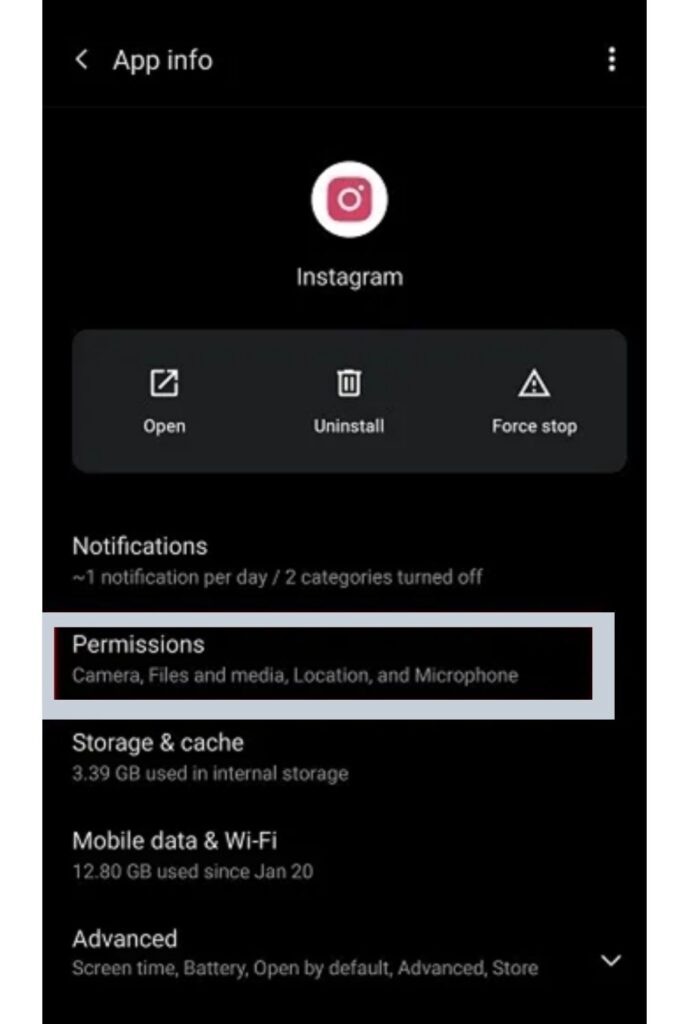 It is a possible solution to the error. Grant the Instagram app all the necessary permissions.
3 Check if Instagram is down
Last month, the popular instant messaging app Messenger was out of service for a few hours. No one could access the platform from any corner of the world.
Just like any tech platform, Instagram can also shut down completely. When the Instagram servers are down, you cannot access Instagram.
There are several open-source status checker platforms, such as Is It Down and Down Detector. 
Instagram tries to make the user experience on the platform as smooth as possible. Over the years, they have made a list of the common error messages on the platform.
The Instagram Help Center contains informative articles on all Instagram features, Instagram policy, how to manage your Instagram account, privacy & security, and lastly, privacy policies.
4 Check for any compatibility issues
Often the "Instagram pictures not loading" error is triggered due to a compatibility issue between the Instagram app, and other third-party apps such as VPN.
In recent times, the use of VPN apps has skyrocketed. These apps are popular as they give users access to content only available in particular geographic locations. VPN helps the user bypass all the regional restrictions.
But VPN can also cause compatibility issues with the Instagram app. If you were using a VPN while encountering the "Instagram pictures not loading" error, try disabling it to launch Instagram again.
Also, if a particular picture has a very high frame rate, it will take a huge time to load.
Related : How to add line breaks on Instagram ?
How to restart Instagram?
If you face any technical problems on Instagram, be it "Instagram pictures not loading", or any other glitch, you can solve it with a simple restart.
The following steps will show you how to restart the Instagram app on an IOS device.
· The first step, close Instagram.
· Tap & hold the Instagram app icon until it starts to shake.
· Next step, hit the big X icon to remove the app.
· Don't worry, Instagram will save your user data.
· Now launch the App Store, search Instagram, and reinstall the app.
· After the installation is complete, log in to your Instagram account using the Instagram credentials.
On your Android phone, here is how you can restart the Instagram app, the biggest social media app for sharing pictures.
· First thing, select apps from your Android device or your Tablet.
· Tap on Instagram.
· And then select Uninstall.
· Now download the Instagram app from the Google Play Store again.
· Log in to your Instagram account.
Along with trying restarting on the Instagram app, also try restarting the phone to solve the error. It helps to solve many common problems.
After you restart the Instagram app, you can continue uploading new photos on the platform like before. You will feel like you are using a completely new account.
We hope you now know how to fix Instagram pictures not loading error.